If you're looking for a good spot for your next big outdoor adventure in Minnesota, look no further than Itasca State Park. This park is located in the heart of north-central Minnesota and is one of the most scenic state parks in the area. While it's best known for being the source of the iconic Mississippi River, there's much more to do and see at Itasca State Park.
History of Itasca State Park
Itasca was first deemed a state park in 1891, making it the second-oldest state park in the United States and the oldest in Minnesota. It received this honor in large part because it contains Lake Itasca, the source of the headwaters of the Mississippi River.
The park was first discovered thousands of years ago by Native American tribes looking to expand their hunting land. The area remained mostly uninhabited for several thousand years until unknown tribes moved into the region more permanently. To this day, there are remnants of houses, statues, and tools left behind by these tribes.
More Recent Exploration
The first documented exploration of Itasca State Park occurred in 1832 and was done by Henry Schoolcraft and his Anishinaabe guide, Ozawindib. During this trip, Schoolcraft gave the state park its name, Itasca, which is derived from the Latin words for "head" and "truth."
After its discovery, Itasca was invaded by loggers, hunters, and adventurers looking to make money off the fruitful land. While this made the region extremely popular, it also led to much of the surrounding forest being cut down by loggers.
It wasn't until 1891, when there was a single pine forest left standing, that Jacob V. Brower led the charge at turning the forest into a state park. The state did this on April 20, and the decision was reached by the margin of one vote. Itasca State Park remained mostly untouched until 1909 when the Itasca Biological Station and Labs were built.
Landscape
Since the headwaters of the Mississippi River are in Itasca State Park, the park's focal point is Lake Itasca. This lake is the official source of the Mississippi, the second-longest river in North America after the Missouri River.
Aside from Lake Itasca and the Mississippi River, most of the park consists of a dense forest of pine trees. Throughout this forest, you'll find more than 150 smaller lakes resulting from shifting ice and glaciers from as long as 10,000 years ago.
The park is over 32,000 acres in size, making it one of the biggest state parks in Minnesota. While most of this area is flat, several small hills and valleys are located throughout.
Wildlife
In addition to lakes and rivers, Itasca State Park is a bit of a bird and animal sanctuary. If you spend enough time in the park, you're bound to run into several of the 200-plus bird species known to roam Itasca. These birds include:
Bald Eagles
Hummingbirds
Loons
Chickadees
Herons
Cormorants
Grebes
Owls
Tanagers
Warblers
Finches
Hundreds more
While birds are the most common animal found in the park, there are also more than 60 different large mammals that you can see.
Timber Wolves
Porcupine
Beavers
Black Bear
White-Tail Deer
Bobcats
Otters
Flying Squirrels
Many More
Ecology
Itasca State Park consists mostly of lakes, rivers, and pine forests. Some pine trees within the park are estimated to be over 200 years old, making them some of the oldest trees in the state. As such, people come from all over to walk through the ancient forest as much as they do to see the source of the Mississippi River.
While red pines are the most common tree you'll find in the forest, you'll also see:
Bigtooth and Quaking Aspen Trees
White Pines
Paper Birch Trees
Various Northern Hardwood Species
Conifer Bogs
Jack Pine Barrens
Eastern White Pines
There are also fourteen different plant species within the park that are members of the endangered species list in Minnesota. Some of these plants can't be found anywhere else in the state, which makes Itasca State Park a hotspot for plant junkies.
Many of these plants and animals can be seen in the Itasca Natural Area, designated in 1965 by the Secretary of the Interior.
Places to Visit in Itasca State Park
If checking out the various birds, animals, and plants at Itasca State Park aren't your thing, here are a few other spots to visit.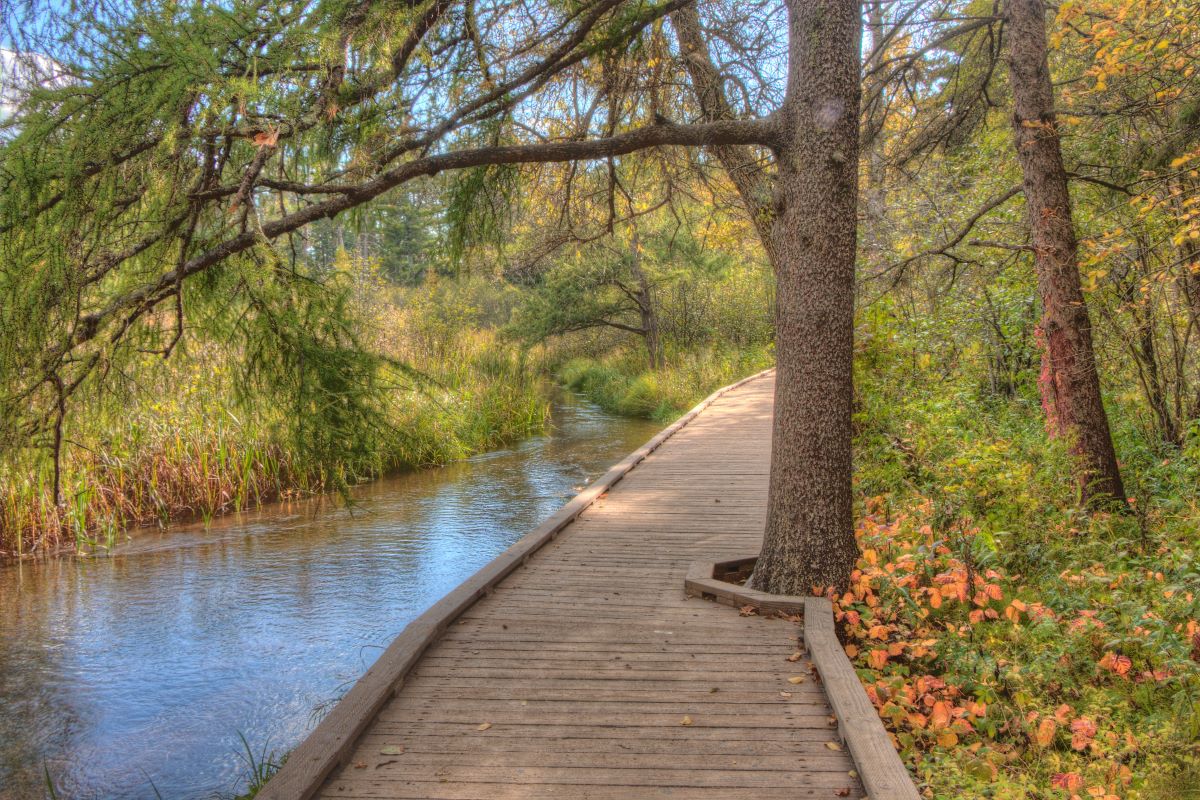 The Douglas Lodge
The Douglas Lodge was built in 1904 and is the oldest existing structure in the park. It's home to a parlor, a restaurant, a hotel, and a clubhouse and has been expanded to include various cabins and guest suites. It's a great place to stay at the park for a time or enjoy a hot meal or your morning coffee.
Do the Wilderness Drive
If you want to take in the sights and sounds of Itasca State Park from the comfort of your vehicle, do so by driving the Wilderness Drive.
The Headwaters of the Mississippi River
You'd be remiss if you didn't make a trip to the Headwaters of the Mississippi River and witness the source of the mightiest river in the country. From that point in Itasca State Park, the river starts its 2,500-plus-mile journey to the Gulf of Mexico. You can even take a picture next to the Headwaters Monument to document your visit!
Brower Visitor Center
The Brower Visitor Center is a great place to start your journey through the park and gather educational information about different things to see and do.
Mary Gibbs Center
This visitor center is named in honor of Mary Gibbs, who risked her life to save the pine forest within Itasca State Park. The center opened in 2005 and tells Mary's story as well as the history of the park.
Camping in Itasca State Park
Whether you prefer a comfortable RV, a cabin, or something more primitive, there are plenty of camping options at Itasca State Park.
RV Camping
There are two campgrounds within Itasca State Park, Bear Paw Campground and Pine Ridge Campground, offering a total of 223 sites between them. Of these sites, 160 of them have electricity and are capable of supporting RVs. The maximum allowable RV length is 60 feet, which includes the length of your towing vehicle, so plan accordingly.
Tent Camping
Each of the 223 campsites in the park can serve as a tent site. In addition to these sites, there are also eleven primitive sites that are only accessible via backpacking. There's also a large group campsite that can hold up to fifty people, making it perfect for family, work, or church outings.
Cabins
If you don't have an RV but don't want to stay in a tent, there are plenty of other options in terms of lodging.
Douglas Lodge
Douglas Cabins
Four Seasons Suites
Bear Paw Cabins
Mississippi Headwaters Hostel
Forest Inn
Most Popular Things to do at Itasca State Park
Because of all the different camping options and things to do at the park, it's one of the most visited state parks in the country.
Hiking
There are tons of great hiking trails throughout Itasca State Park. If you only have time to do one, you should check out Preachers Grove or the Itasca Fire Tower Trail. Both options offer staggering views, but the Fire Tower Trail has a fire tower you can climb!
Fishing
Because there are over 150 lakes in Itasca State Park, including Lake Itasca and the Mississippi River, fishing is one of the top things to do within the park.
Biking
In addition to all the great hiking trails, Itasca is known for having one of the best bike trails in the state. The combination of Wilderness Drive and the trail connecting Douglas Lodge to the Headwaters Area makes for sixteen of the most scenic miles in the park, and it's entirely paved.
Boat Tours
Taking a tour on the Chester Charles II 141-passenger boat is another must-do at Itasca State Park. The boat takes you on a cruise around Lake Itasca and offers a deck with 360-degree views, so you won't miss a thing.
Canoeing
There are also plenty of canoeing and kayaking options in Itasca, including a dock at Lake Itasca. You can also go swimming on Lake Itasca's beach and set up a picnic once you're done.
Hunting
Itasca State Park hosts an annual whitetail deer hunt to keep the deer population in check.
Other Recreational Activities
If you're looking for even more fun things to do, here are some of the most popular activities at Itasca State Park.
Picnics
Playgrounds
Volleyball Courts
Cross Country Skiing
Snowshoeing
Snowmobiling
Fees to Expect
Everyone entering the park will have a daily fee of $7 per vehicle, or you can pay an annual fee of $35. There are additional fees for camping, boat tours, equipment rental, reserving a cabin or hotel room, and reserving the picnic shelter and pavilion. These fees vary depending on the time of year and where you choose to stay. Check out their website for the most up-to-date information!
Frequently Asked Questions
Are there toilets and showers at Itasca State Park?
Flush toilets are available during certain times of the year, and non-flushing vault toilets are available year-round. There are also shower facilities available in Pine Ridge and Bear Paw Campgrounds.
Are there dump stations at Itasca State Park?
Because none of the sites at the campground offer full hookup for RVs, there is a seasonal dump station at Bear Paw Campground and a year-round dump station at Pine Ridge Campground.
Conclusion
As you can see, there's plenty to do and see at Itasca State Park. It's one of Minnesota's most popular and most visited state parks for a reason. From viewing the source of the mighty Mississippi River to exploring the dense pine forest that surrounds it, you should put Itasca on your list of places to visit in Minnesota!
Love spending time outside? Then discover the Minnesota Outdoors to continue learning new ways to reconnect with nature!