Full of seasonal scenery and year-round fun, Lake Bemidji State Park is a favorite place for day visits and camping trips in northern Minnesota. If you're planning a visit here, we've got you covered! Read on to learn what makes this stunning state park so special.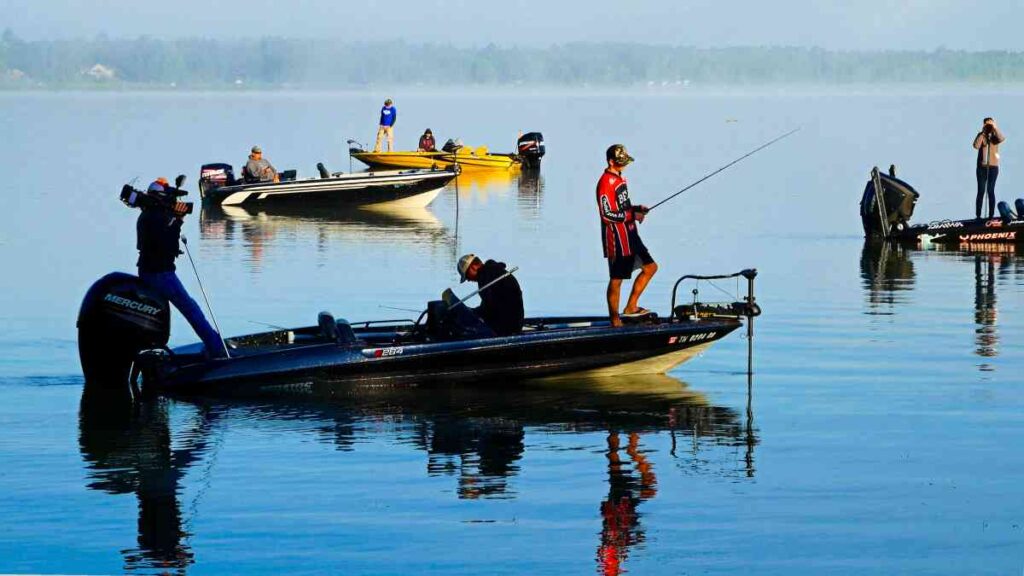 How to Get to Lake Bemidji State Park
Lake Bemidji State Park is located 7 miles from the city of Bemidji in northern Minnesota. If you're approaching from just about anywhere in the southern portion of Minnesota, this state park can be easily accessed by taking Minnesota State Highway 2 to Minnesota State Highway 71 and traveling through the town of Bemidji itself to reach the park entrance.
From the Minneapolis/St. Paul area, the most direct route is to take Interstate 94 to Minnesota State Highway 10, then take Minnesota State Highway 64 just outside of Motley and follow it up to 200, which will then merge into State Highway 71 all the way to Bemidji.
When Is the Best Time to Visit Lake Bemidji State Park?
Lake Bemidji State Park is a perfect pick for visiting any time of year, because it has some amazing things to offer regardless of the season! One of the top draws are the outdoor nature activities, led by a naturalist and available all year round.
If you choose to visit Lake Bemidji State Park in either the spring or the fall, you are likely to catch sight of some beautiful migratory birds. Additionally, in the spring you will see plenty of beautiful new life budding around the park, including wild orchids; and in the autumn, the riot of colors as the trees turn and shed their leaves is something you will not want to miss!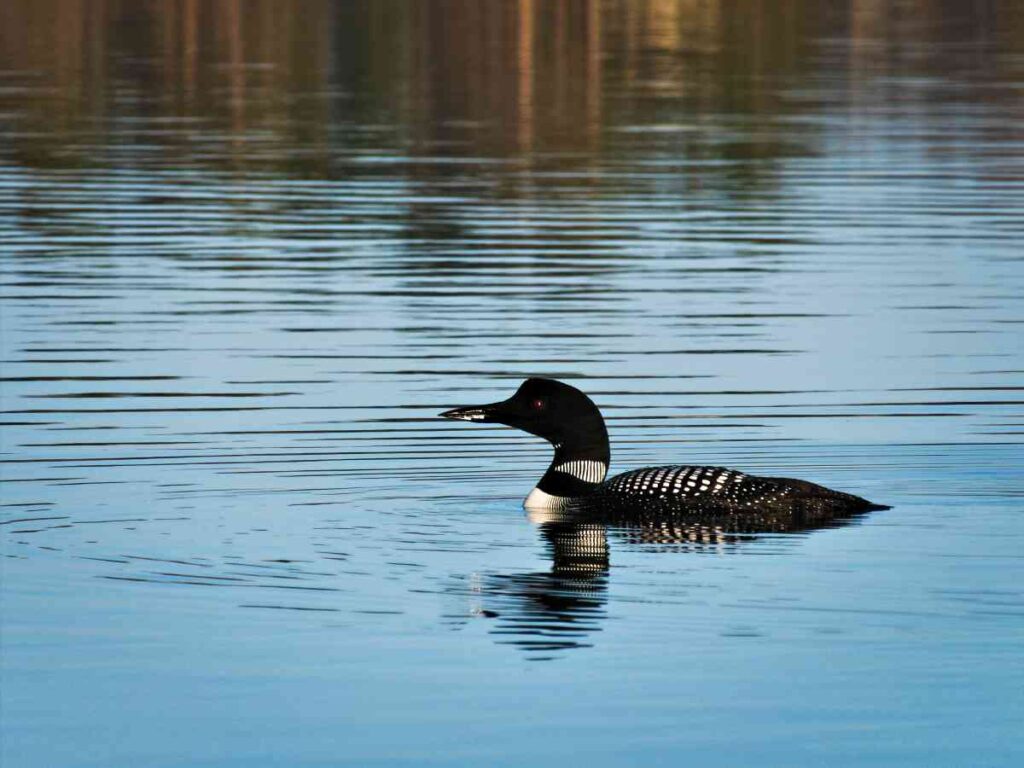 During the summertime, recreational opportunities abound at Lake Bemidji State Park, including hiking, camping, biking, birdwatching, picnicking, swimming, fishing, and boating.
In the winter, outdoor enthusiasts will find snowmobiling and cross-country skiing opportunities at the park as well as trails that can still be hiked in the proper conditions. There are even some camping options available in the winter, too!
Where to Stay at Lake Bemidji State Park
Best Camping Spots
Lake Bemidji State Park offers both camping and cabin lodging. Amenities include two shower facilities, a dump station, and flush toilets, all of which are typically available from the middle of May through the middle of October and are wheelchair accessible; and vault toilets, which are open all year round.
In the summertime, campers at Lake Bemidji State Park will find a total of 95 drive-in sites, most of them in at least partial shade, some secluded enough to offer quite the relaxing and private camping experience. There is one drive-in site that remains available in the winter, as well as a handful of walk-in sites that can be accessed in the winter months depending on the snow cover.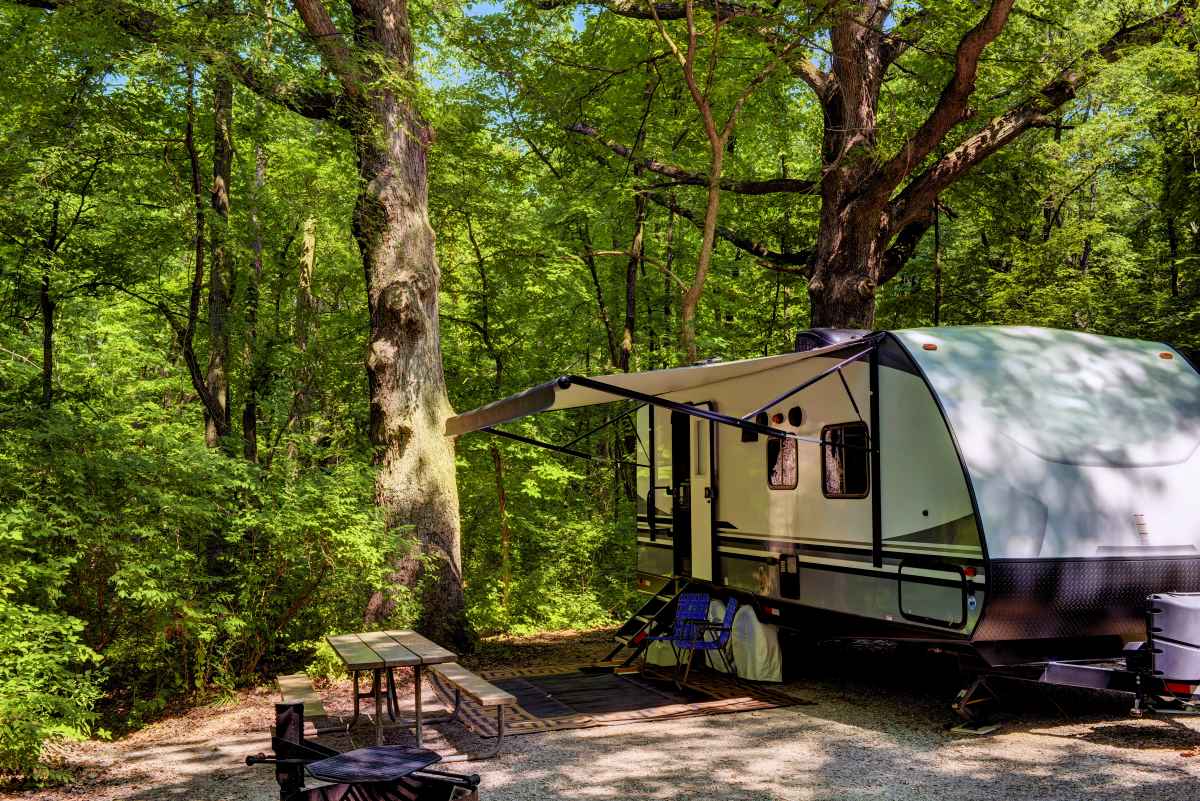 Additionally, campers will find five pull-in sites at Lake Bemidji, two of which are electric, as well as 43 electric RV sites which are each 30 AMP; RV length limits at Lake Bemidji are 50 feet (from the nose of the towing vehicle to the rear of the vehicle being towed). There are also four wheelchair-accessible campsites, two of which are electric.
For groups looking to camp together, Lake Bemidji State Park accommodates with two large group sites, the Lavinia Group Camp and the Bass Creek Group Camp. The Lavinia Group Camp can accommodate up to 50 people and has five electric hookups for RVs at 50 AMPs each, as well as a large area for tents and a private water supply.
The Bass Creek Group Camp is on the more rustic side, with accommodations for up to 30 campers in tents only. Vault toilets are available, and water is provided at this group camp's parking lot.
For those who prefer to stay in a cabin rather than camping out, Lake Bemidji has four cabins to meet your needs. Each of these cabins boasts electricity and heat, a screened porch, a fire ring, and a picnic table, and can be rented at any time of the year.
No additional shelters, tents, or any pets are allowed on the cabin sites, and smoking is prohibited at the cabins as well. There is no indoor plumbing at the cabins, but they are within a short distance of the showers and flush/vault toilets at the campgrounds.
The four cabins include Tamarack and Maple Cabins (which are both wheelchair accessible and sleep five guests each), and Spruce and Balsam Cabins (which sleep six guests each)
Booking, Fees, and What to Bring
Cabins and campsites at Lake Bemidji State Park can be reserved up to 120 days before the first day of your intended stay, and may be booked online at the Minnesota State Parks & Trails website. There is a camping fee and cabin rental for this park separate from the cost of park admittance.
Park entrance fees at Lake Bemidji State Park are $7 for a daily pass or $35 for an annual pass (an additional vehicle is $26 and a handicapped pass is $12).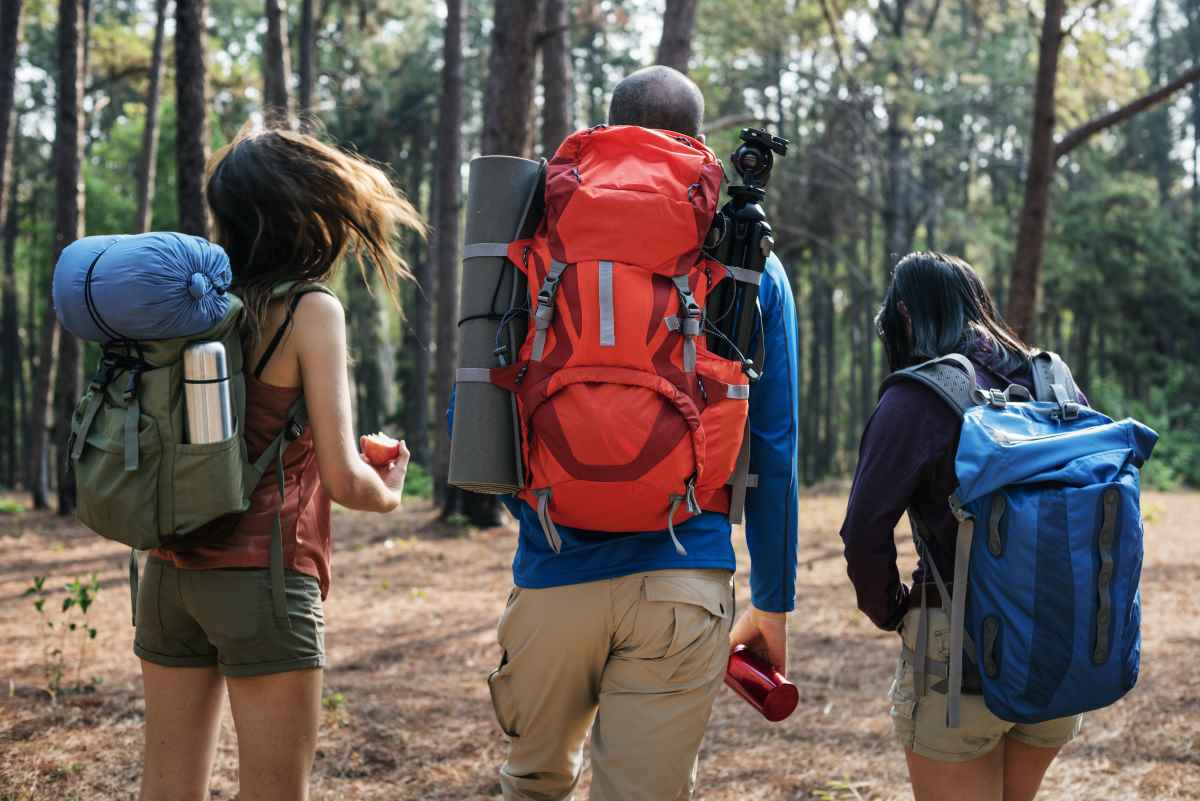 Campers should be sure to bring camping gear that is in good repair, without any holes, tears, or other compromises. It is also advised to bring several sturdy storage containers for any food, drinks, or other highly scented goods such as deodorant you're bringing along. This will help deter curious local wildlife from foraging among your things.
If you are planning to do a lot of swimming, boating, or fishing during your stay at Lake Bemidji, be sure to bring appropriate and safe water gear including swimsuits and life jackets, as well as tackle that is in good repair. Season-appropriate clothing is also highly recommended, including your sun and insect protection of choice, as well as solid footgear for those planning to hike. Bikers should bring their own helmets even if renting bikes from the park.
Lastly, it is recommended to have at least a small first aid kit on hand, particularly if you are camping at the park for several days.
Things to Do at the Park
Hiking
Lake Bemidji State Park boasts two miles of wheelchair-accessible trails and one mile of self-guided trails, which includes the boardwalk for which the park is quite famous. This is a particularly great spot to visit during blooming season!
In addition, there are another 11 miles of trails through the forestland ranging from easy to moderate, and several miles of both paved and rugged mountain biking trails. Paved trail bikes can be rented to folks five feet, two inches and taller, and you must bring your own helmet.
There is also a mile of plowed paths kept open through the winter season, while folks on snowshoes and adventurous hikers may strike off over the snowpack during the cold months.
Fishing
There are lots of great opportunities to fish in Lake Bemidji itself, which is teeming with fish of all sorts and can be enjoyed throughout the season.
Swimming
During the summer months, swimming is a great attraction at Lake Bemidji State Park. This clean and inviting lake is a fantastic place for little ones to splash in the shallows along the beach, while more experienced swimmers can cast off into the lake itself.
Other Recreation
In the wintertime, recreations at Lake Bemidji State Park include many miles of cross-country skiing, skate-skiing, snowmobiling, and snowshoeing.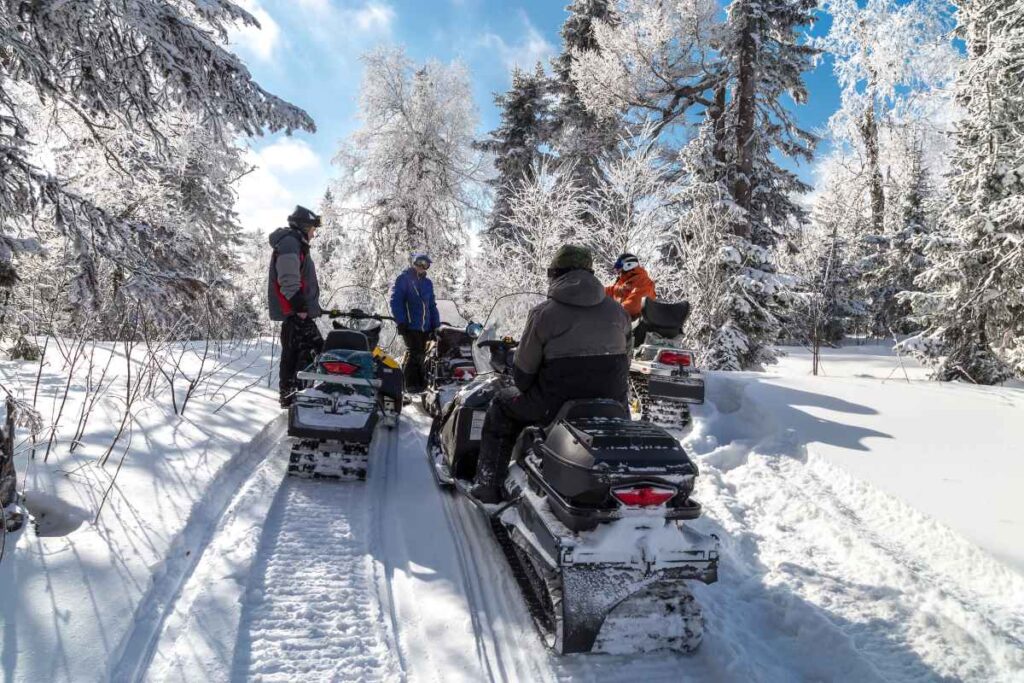 Wildlife enthusiasts and birdwatchers will have no lack of creatures to see, from vireos, osprey, and eagles in the skies and brush to deer, frogs, porcupines, foxes, squirrels, and even black bears being spotted from the hiking trails!
One of the favorite things about Lake Bemidji to many a visitor is the chance to simply soak in the scenery. From Bog Walk Boardwalk to Rocky Point Overlook and all the miles of trail, various other overlooks, and lake views in between, even visiting Lake Bemidji just to soak in the natural beauty of the area is sure to never disappoint!
Wrapping Up Lake Bemidji State Park Visitor's Guide
Excited to visit Lake Bemidji State Park? Love spending time outside? Then discover the Minnesota Outdoors to continue learning new ways to reconnect with nature!