Lake Minnetonka is one of Minnesota's largest lakes. The 14,528-acre freshwater spot has many charms, but few things can top its frozen beauty.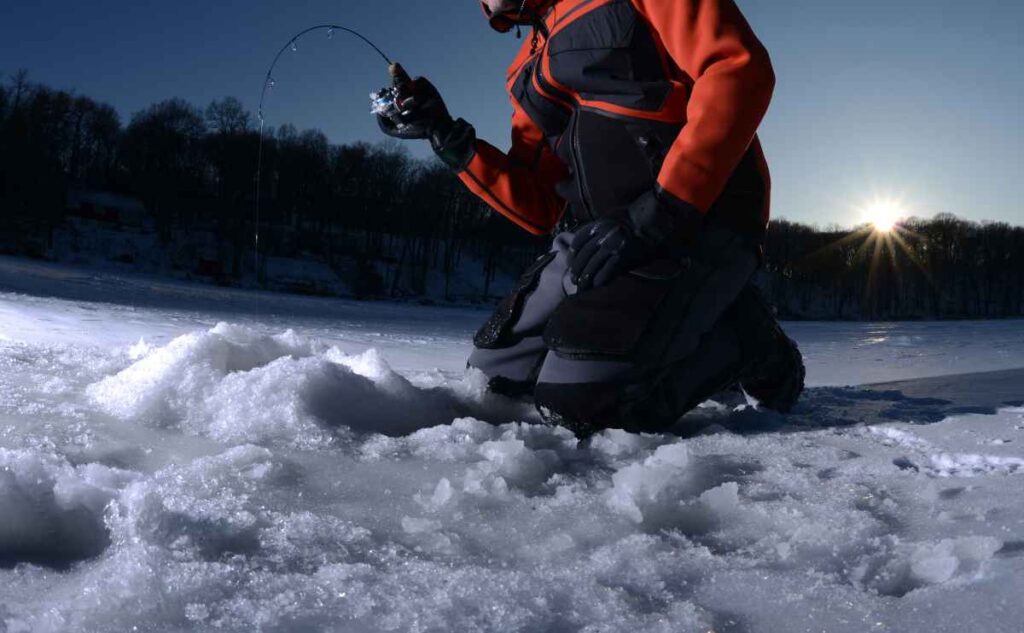 If you've been looking for places to plan an ice fishing trip this winter, there's no better destination. This is a popular lake for local fishermen and boatmen for good reason!
Keep reading for everything you need to know to explore the world of Lake Minnetonka ice fishing.
---
What Is Ice Fishing?
Ice fishing is done through fishing holes carved out of a frozen body of water. It involves making tiny holes in the ice through which a fisherman can then pass a line, bait, and other fishing tools of their choice.
Previously a necessity for sustenance during the long winter months, Lake Minnetonka ice fishing is now a popular hobby for fishing enthusiasts up north.
But unlike the days of ice fishing of yore, ice lake fishing is much easier today. This is primarily thanks to the preparations undertaken by local governments and the evolution of fishing tools.
Lake Minnetonka ice fishing season typically starts between late November and early December.
---
Things You Need to Know When Ice Fishing on Lake Minnetonka
1. You Can Hire a Guide Service
A guide service might be the best way to explore ice fishing on Lake Minnetonka if you lack experience and knowledge about the hobby. It is also the best option if you're hosting a corporate fishing event.
These experienced guides know the lake and nearby areas quite well, especially the best fishing spots to maximize your catch. They will give you fishing tips and teach you how to ice fish and wrestle the famous northern pike.
2. Weekend Ice Fishing Is Free (Just Take a Kid Along!)
If you end up visiting Minnesota in January, consider yourself in luck. Because for an entire weekend in January, you can try Lake Minnetonka ice fishing for free.
These special events are called Take A Kid Ice Fishing Weekend, courtesy of Minnesota's Department of Natural Resources (DNR).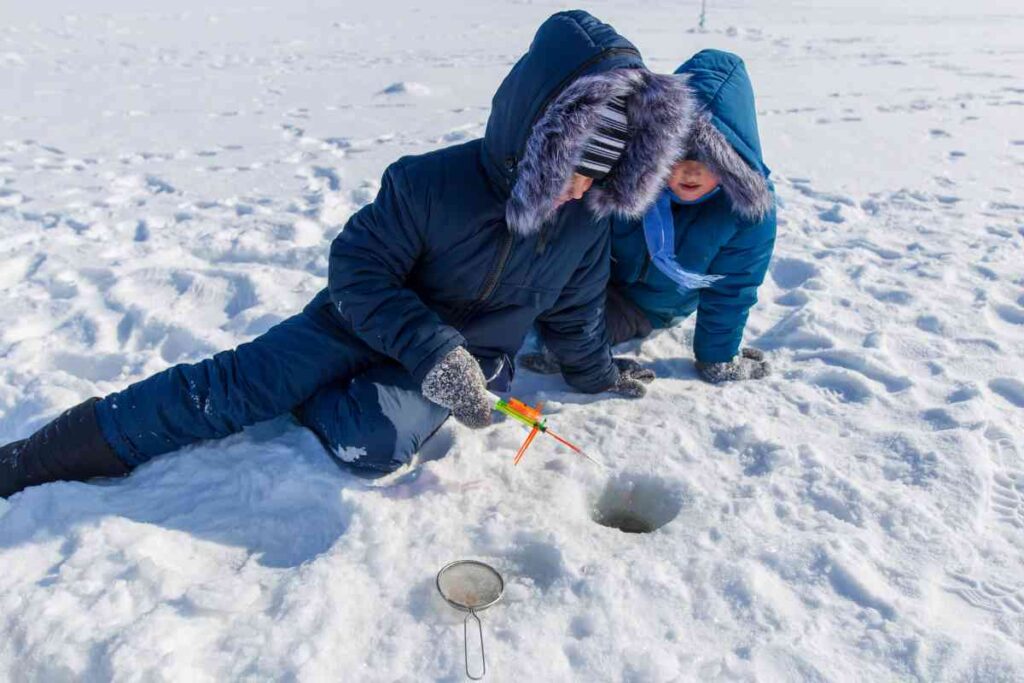 As per the event rules, free Lake Minnetonka ice fishing is accessible to anyone. The only condition is that they bring along a child aged 15 or younger.
Some state parks even include free gear and coaching in the event package. It's a worthwhile deal if you want to enjoy a fun weekend of Lake Minnetonka ice fishing with your child.
Of course, you can fish at other times too. Just make sure you have a valid Minnesota fishing license to ice fish on the local lakes.
3. Dressing Warmly Is a Necessity
When fishing in freezing temperatures, layering up is a no-brainer. Keep as warm as possible when you plan to spend hours out on a frozen lake, regardless of whether you're trying your hand at Lake Minnetonka ice fishing or just watching from the sidelines.
4. You Can Sleep on the Lake
If you wish to extend your Lake Minnetonka ice fishing trip into the night and the next day, you can even sleep on the lake. Just book one of Minnetonka's famous fish house rentals.
They're more luxurious than your daytime Lake Minnetonka ice fishing shelters and fully equipped with modern amenities. They're perfect for staying overnight with your family or group of friends.
---
Factors You Need to Take Into Consideration When Ice Fishing on Lake Minnetonka
Fishing Shelters
Minnetonka's heated ice fishing shelters are perfect for those who don't do well in freezing conditions. These ice houses come in portable and non-portable varieties and remain parked on the ice while you're fishing.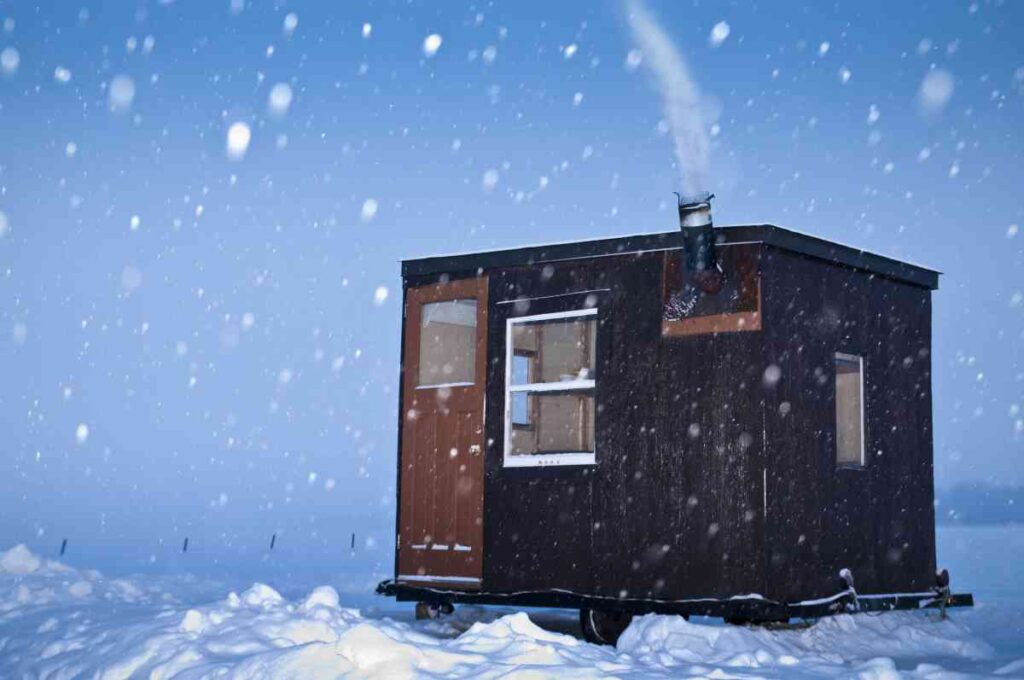 They have temperature control settings and other essential amenities for a comfortable fish house rental experience. Some of these shelters even have stereos, stove tops, ovens, TVs, and underwater cameras to document your adventure.
Just make sure to follow all the rules and regulations for Lake Minnetonka ice fishing shelters.
Most fishing shelters need a marking and license, which must be displayed on the vehicle's exterior.
These heated fish houses are the best choice for anyone looking to fish in a specific area all day. Those who like to move around different spots throughout the day might find going shelter-free more reasonable and practical.
Safety Equipment
It's best to carry the following safety fishing gear to be prepared in case of any emergencies.
Fishing License
Anyone older than 15 years old interested in Lake Minnetonka ice fishing must have a valid fishing license. Those under 15 years of age must be with an accompanying adult with a license.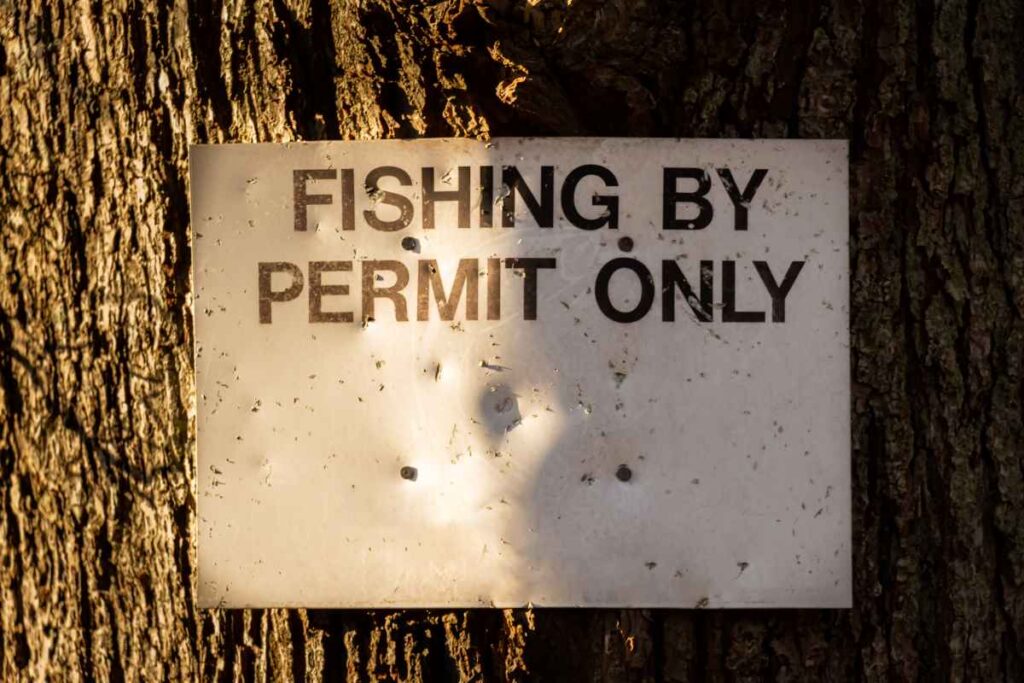 There are exceptions to this rule. The following are not required to carry a fishing license:
Residents of Minnesota's licensed nursing or boarding homes
In-patients of the U.S. Veterans Administration hospital
Minnesota residents enlisted in the U.S. Armed Forces stationed outside the state and visiting on leave
Minnesota residents discharged from overseas duty (those who have served in the federal active service outside the United States in the last 24 months)
---
The Best Spots to Ice Fish on Lake Minnetonka
Lake Minnetonka offers a diverse list of options when it comes to ice fishing. This is largely thanks to the large area it covers with its varying depths, weed growth, and differing water clarity.
In the area for a short weekend? Here's a list of the best spots to ice fish on Lake Minnetonka. These areas freeze early and are easy to access:
Saint Albans Bay
Seton Lake
Black Lake
Carson's Bay
Emerald Lake
Cross Lake
Maxwell Bay
North Arm Bay
Spring Park
Seaton Channel
Note that most fishing sites only allow you to have two lines when ice fishing at Lake Minnetonka. Designated trout waters and streams only allow one line.
Community Ice Fishing Contests
The Department of Natural Resources (DNR) issues over 300 statewide permits every year for ice fishing contests and tournaments. The various fishing communities in Minnesota get together for a competitive ice fishing experience and conduct these contests.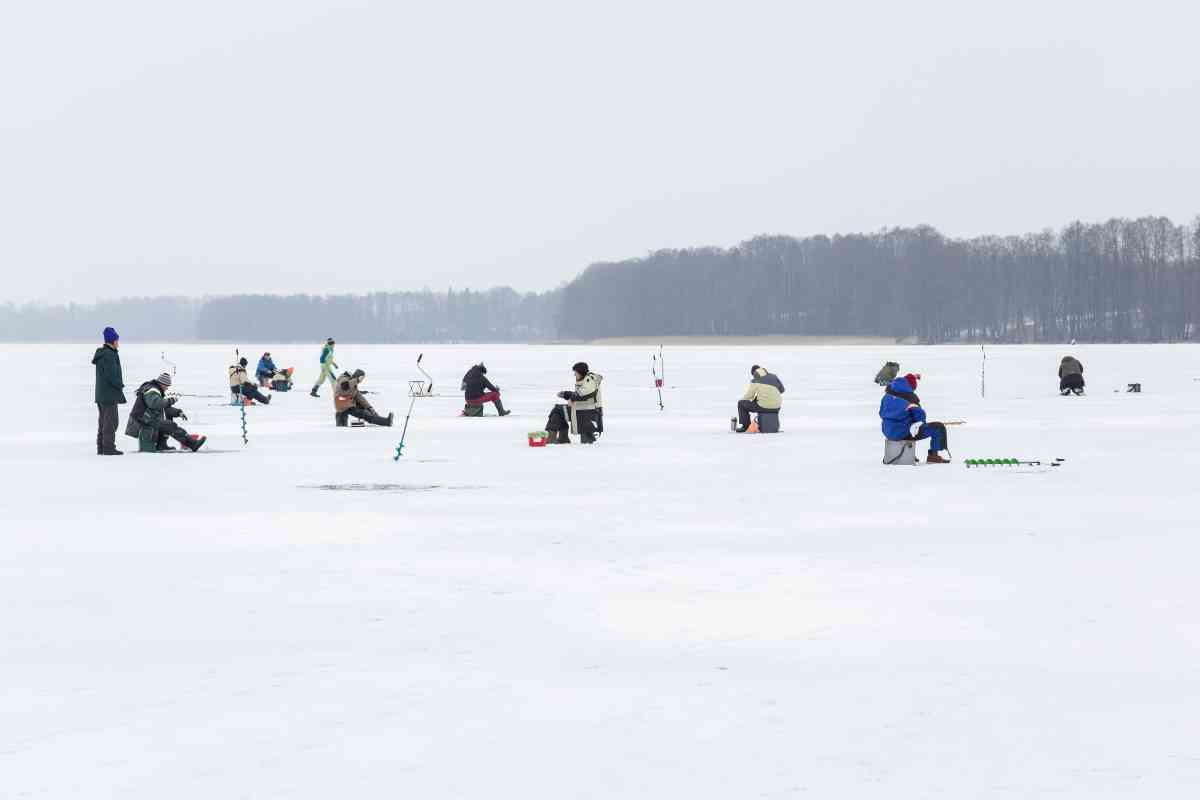 ---
Safety Measures to Take When Ice Fishing on Lake Minnetonka
The DNR provides many resources to spread awareness and knowledge of proper ice fishing techniques. They also appoint conservation officers to keep lake visitors safe and ensure they are following state fishing guidelines.
As responsible visitors, here are some measures you should take when you're out on a Lake Minnetonka ice fishing trip.
Measure the ice thickness and follow the thickness guidelines before getting on the ice.
Learn all you can about the area you're visiting.
Carry a charged phone with you wherever you go.
Learn how to use GPS and a compass.
Carry extra layers to bundle up if the temperature drops.
Wear rubber-soled boots.
Keep your fingers and toes warm by wiggling them frequently.
Avoid running on ice.
Watch your step and look for holes in the ice.
Wear cleats or spikes for traction.
Wear sunscreen – at least SPF 50.
Protect your head, ears, and face from the wind.
Check the ice thickness every 150 feet.
Only use augers less than six inches in diameter.
Do not fish alone and secluded from others.
Take notice of your body's reaction to the cold and notify others of any changes.
Keep safety ice picks around your neck or somewhere accessible.
Vehicles must remain 50 feet apart and change spots every two hours.
While ice conditions can lead to various dangers, thorough preparation will ensure a worry-free fishing adventure. Prepare for your journey onto Minnetonka's icy lakes by reading more on ice safety guidelines and tips.
---
Types of Catch to Expect in Lake Minnetonka
Located in Hennepin County, Lake Minnetonka offers anglers 133.29 miles of shoreline. It is home to more than 50 fish species.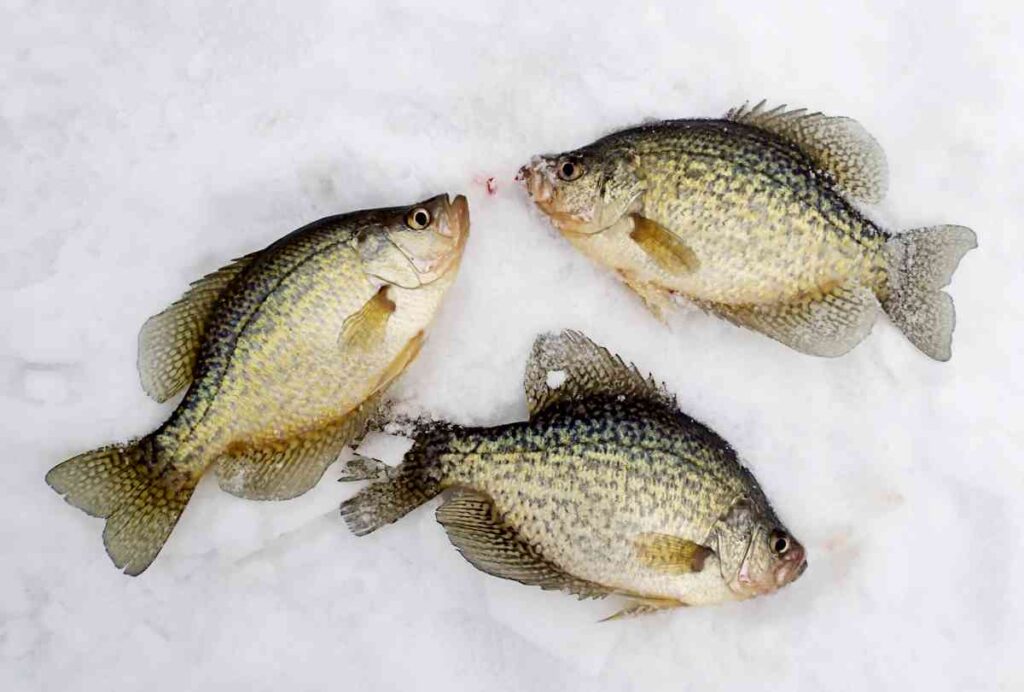 Some of the fish you can expect to catch in the icy winter waters include:
Northern pike
Panfish
Walleye
Eelpout (Burbot)
Trout
Bluegill
White and black crappie
Tiger musky
Musky
Sunfish
Largemouth bass
Smallmouth bass
Yellow perch
Lake whitefish
Pumpkinseed
Tullibee
---
Wrapping Up Ice Fishing on Lake Minnetonka
Lake Minnetonka is a cluster of interconnected lakes and is one of the most accessible areas in Minnesota for ice fishing. We hope this guide helps you plan the best Lake Minnetonka ice fishing adventure in the land of 10,000 lakes.
Want to learn more about fishing, discover more fishing spots, and or read up on the best fishing gear? Then continue your fishing adventure with our comprehensive guides, info posts, and more!
Love spending time outside? Then discover the Minnesota Outdoors to continue learning new ways to reconnect with nature!
Looking for Minnesota winter inspiration? Check out our Minnesota winter guide for activity ideas, winter apparel suggestion, and endless ways to enjoy the snow!