Accommodation can make or break your vacation. If you plan on taking a summer trip to the Lake Okoboji region, take a look at our guide on the best Lake Okoboji hotels first.
Also known as Iowa's Great Lakes, the Lake Okoboji area includes several bodies of water, including West Okoboji Lake, East Okoboji Lake, Big Spirit Lake, and more. This region offers fantastic opportunities for fishing, boating, and beach-going.
You'll also discover a famous amusement park, multiple golf courses, and a nautical museum for endless enjoyment.
So before you start planning your trip to the Prairie State's Great Lakes, read our guide on the best Lake Okoboji hotels to make the most of your vacation.
---
Best Lakefront Hotels
You're probably going to Lake Okoboji for one reason: the lake. Here are the top lakeside hotels that place you a stone's throw away from the glistening waters.
1. Okoboji Commons Hotel
Okoboji Commons offers stylish, upscale accommodation that sets it apart from other Lake Okoboji hotels. The design blends rustic touches with modern finishes, giving the room an urban-chic aesthetic that stands out from the cottage country.
This trendy hotel offers 70 guest rooms and five luxurious suites if you want to indulge in your vacation.
Take a stroll down to the sprawling deck located on East Okoboji Lake and witness the breathtaking views. When nighttime falls, cozy up to one of the outdoor fireplaces and share your favorite ghost story with the kids.
If you're feeling peckish, choose from the snack bar or full-service restaurant that offers unsurpassed food and drink. Okoboji Commons is also conveniently located close to local attractions, so you'll have no problem finding cuisine to satisfy your appetite.
---
2. Fillenwarth Beach
Fillenwarth Beach is a family-owned and operated resort centrally situated in the Lake Okoboji region. Nestled right next to Arnolds Amusement Park and the Iowa Maritime Museum, the prime location offers close proximity to some of the region's most desirable attractions.
With 96 lakeside units, you have a high chance of scoring one that lets you wake up to water views.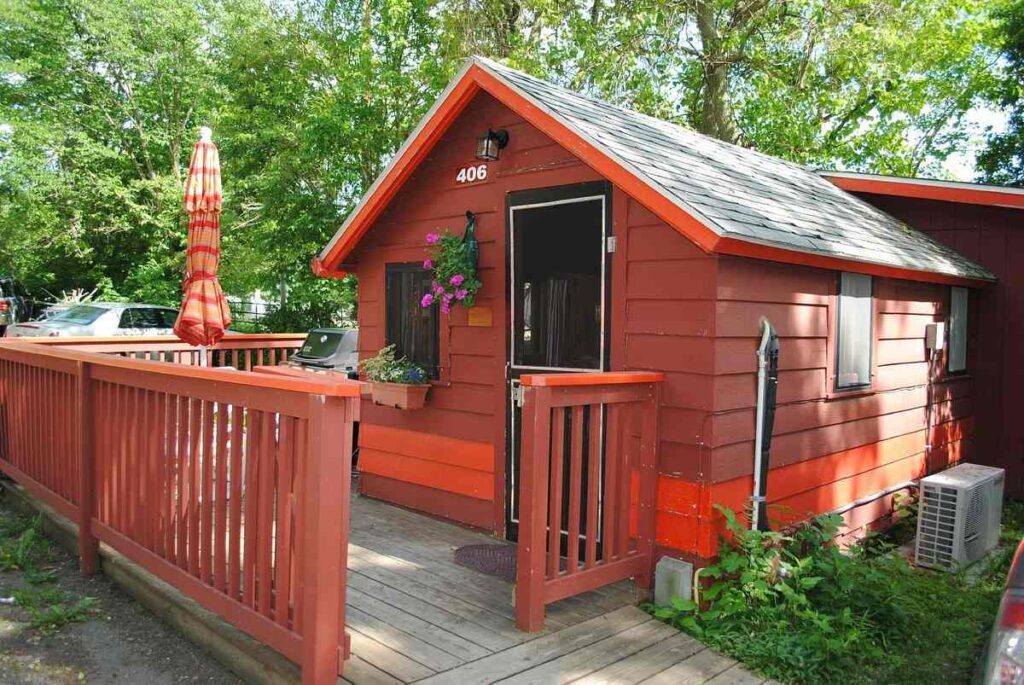 The complimentary in-house amenities set this resort apart from the rest. Take an afternoon boat ride through the gleaming waters or catch a tan on the large sunning docks. Enjoy a dip in the outdoor pool or, if the forecast is unfavorable, the indoor pool.
Fillenwarth Beach also offers fully furnished apartments and cottages that house up to 18 guests, making this a great place to bring the extended family.
---
3. Crescent Beach Resort
Does the perfect summer vacation entail waking up and drinking coffee on the beach? If so, check out Crescent Beach Resort.
Located on Smiths Bay, a small inlet off West Okoboji Lake, Crescent Beach Resort offers the chance to make fond memories with the family in a picturesque setting. The comfortable accommodation includes a well-outfitted kitchen, comfortable beds, and free WiFi.
After getting a good night's sleep, you don't have to go far to check out some fun attractions. Score a hole-in-one at the mini golf course located on the premises, or take a paddle board for a zip around the bay. Or, simply relax on the beach and take in the sweeping view of the lake with your favorite beverage of choice.
You can have all of this at an affordable price tag that rivals other Lake Okoboji hotels.
---
Best Budget Hotels
Choosing budget-friendly accommodation means you can spend more money on food, transportation, and activities. If you want to take advantage of all the endless attractions in this region, check out these affordable Lake Okoboji hotels.
4. Americinn by Wyndham
AmericInn by Wyndham gives you a chance to stay in modern lodging without breaking the bank.
Located centrally in the Lake Okoboji region, this hotel offers all the creature comforts, such as new plush-top beds, large LCD TVs, and free high-speed WiFi.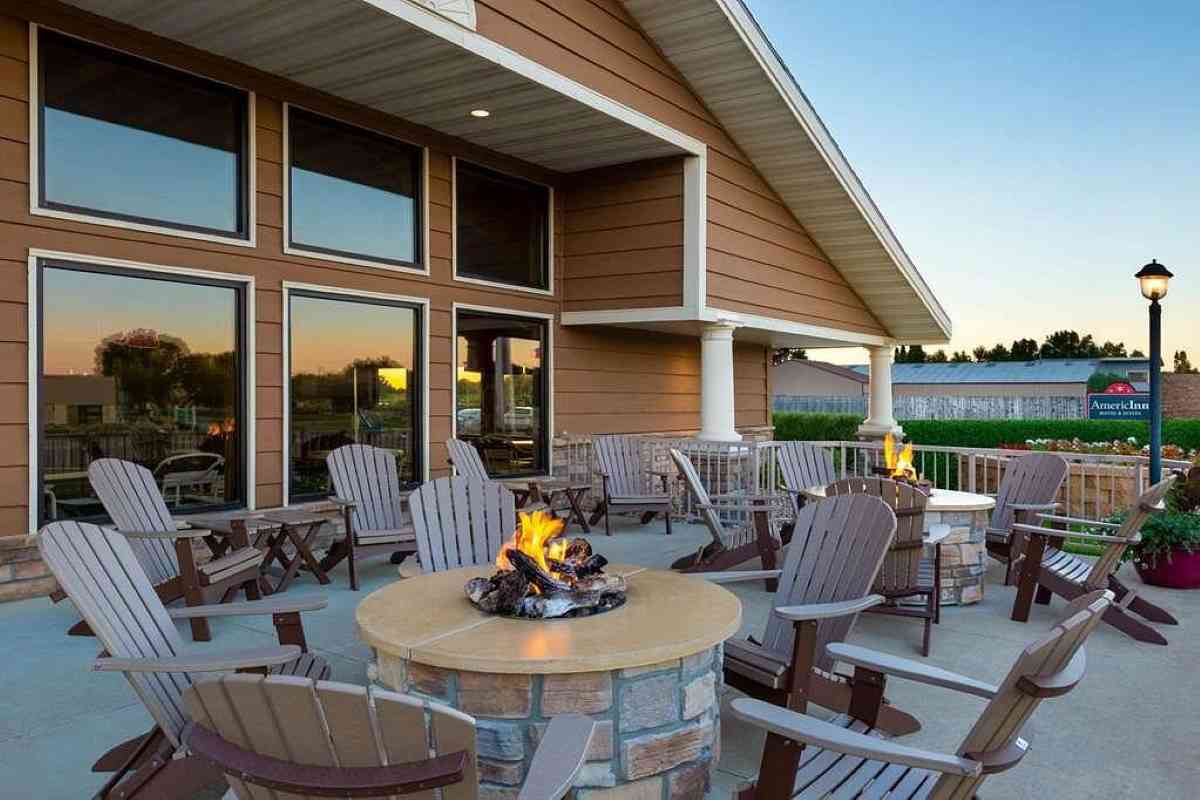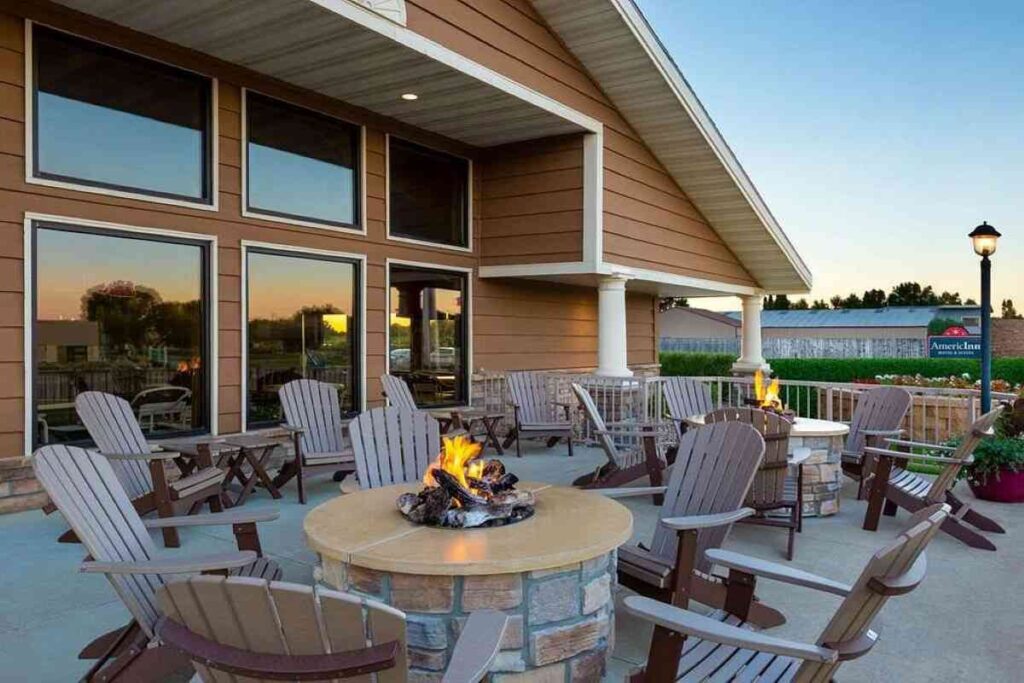 Lounge next to the lobby fireplace where you can play a round of cards with the family or soak up the sun in one of the three patio areas. Don't forget to check out the pool, hot tub, and sauna if you want to indulge in some R&R.
You can even bring your pet for a small extra cost, making this hotel ideal for the whole family, even the fur babies.
---
5. Super 8 by Wyndham
Super 8 by Wyndham provides budget-friendly accommodation so you can make the most of your trip to Lake Okoboji.
Kids stay free at this hotel, so if you're looking for the best Lake Okoboji hotel for the whole family, this steals the top spot.
Each room is designed with comfort in mind and includes cable TV and HBO, so you can catch up on Game of Thrones while you recuperate from your big canoe trip on Center Lake.
After a good night's sleep, thanks to the blackout curtains, fuel up at the free breakfast buffet and take advantage of the complimentary, bottomless coffee.
The central location is hard to beat, with close proximity to multiple lakes and wildlife areas. If you want to seek out all the local attractions, this Lake Okoboji hotel is perfect for you.
---
Best Hotels with Pools
Let's face it, one of the best parts of staying in a hotel is the free pool. If you couldn't agree more, then check out one of these Lake Okoboji hotels with pools.
6. Okoboji Inn & Suites
Okoboji Inn & Suites offers friendly accommodations with many outdoor activities located onsite.
Enjoy a round of cornhole or jenga with the kids, or relax by the fire pit. There's also a trail located right behind the building, so you can start your day with a peaceful nature walk.
This hotel is situated on the highway, which gives you easy access to explore the region by car. Despite the close proximity to traffic, the hotel is quiet and offers a serene atmosphere.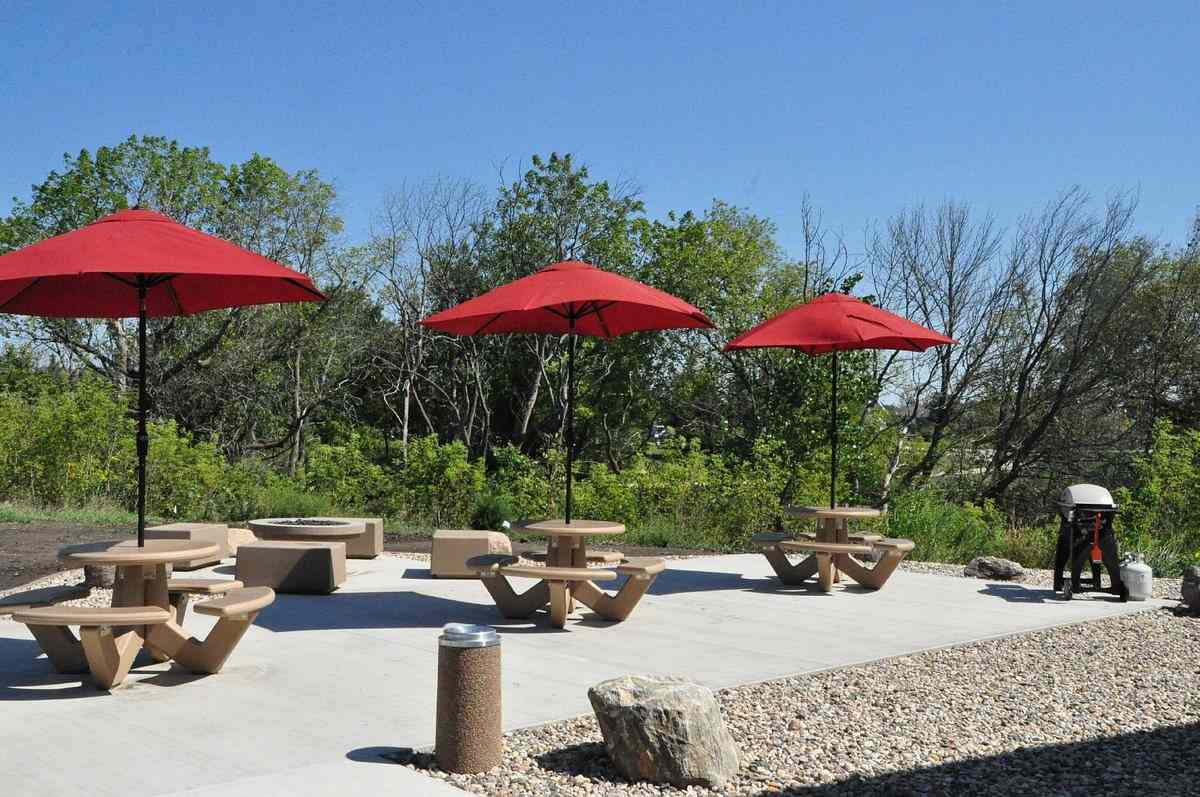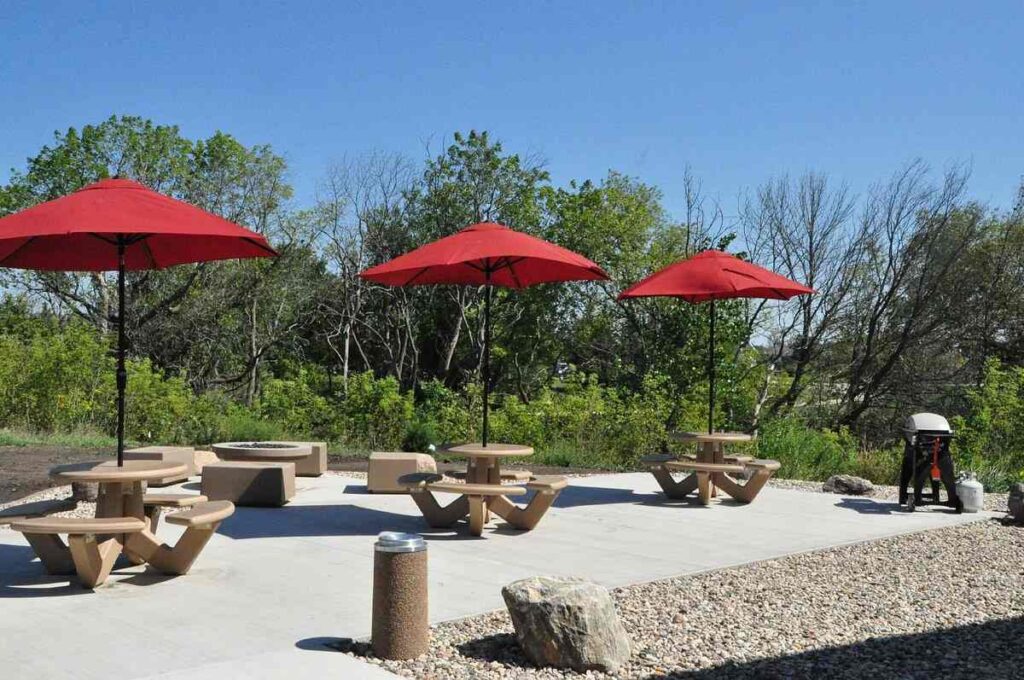 If you feel like staying in, stock up on the free breakfast, then go check out the hotel pool (after waiting the mandatory 30 minutes, of course).
Kids stay free at the Okoboji Inn & Suites, so if you plan to bring the whole family on your summer vacation, this Lake Okoboji hotel has you covered.
---
7. Vintage Block Inn & Suites
If you're a fan of shabby-chic design, you'll love it at Vintage Block Inn & Suites. The design has a lot to fawn over, with rustic touches and vintage-inspired decor that will make your vacation extra memorable.
This hip hotel may seem fancy, but it's still accessible for a wide variety of budgets and includes complimentary breakfast.
You'll love the outdoor area with fire pits, grills, a gazebo, and a pool. If you'd prefer to swim in a bigger body of water, this inn is located a stone's throw away from East Okoboji Lake and includes boat access.
This Lake Okoboji hotel offers large family rooms that sleep up to 10 guests, so if you're planning an out-of-town family reunion, check out Vintage Block Inn & Suites.
---
Best Country Estates
Iowa's Great Lakes region isn't just a tourist, beachy hotspot. Many Lake Okoboji hotels are tucked away in a sea of rolling hills and lush landscapes. If you prefer a quieter vacation to the region, you'll love one of these country estates.
8. The Oakwood Inn
Want to immerse yourself in breathtaking, turn-of-the-century design? Check out The Oakwood Inn for all that and more.
The grand country estate is situated in the heart of Iowa's Great Lakes region and is enveloped by lush greenery and serene woodland. The sweeping grounds include multiple seating areas where you can relax and soak up the breathtaking landscape.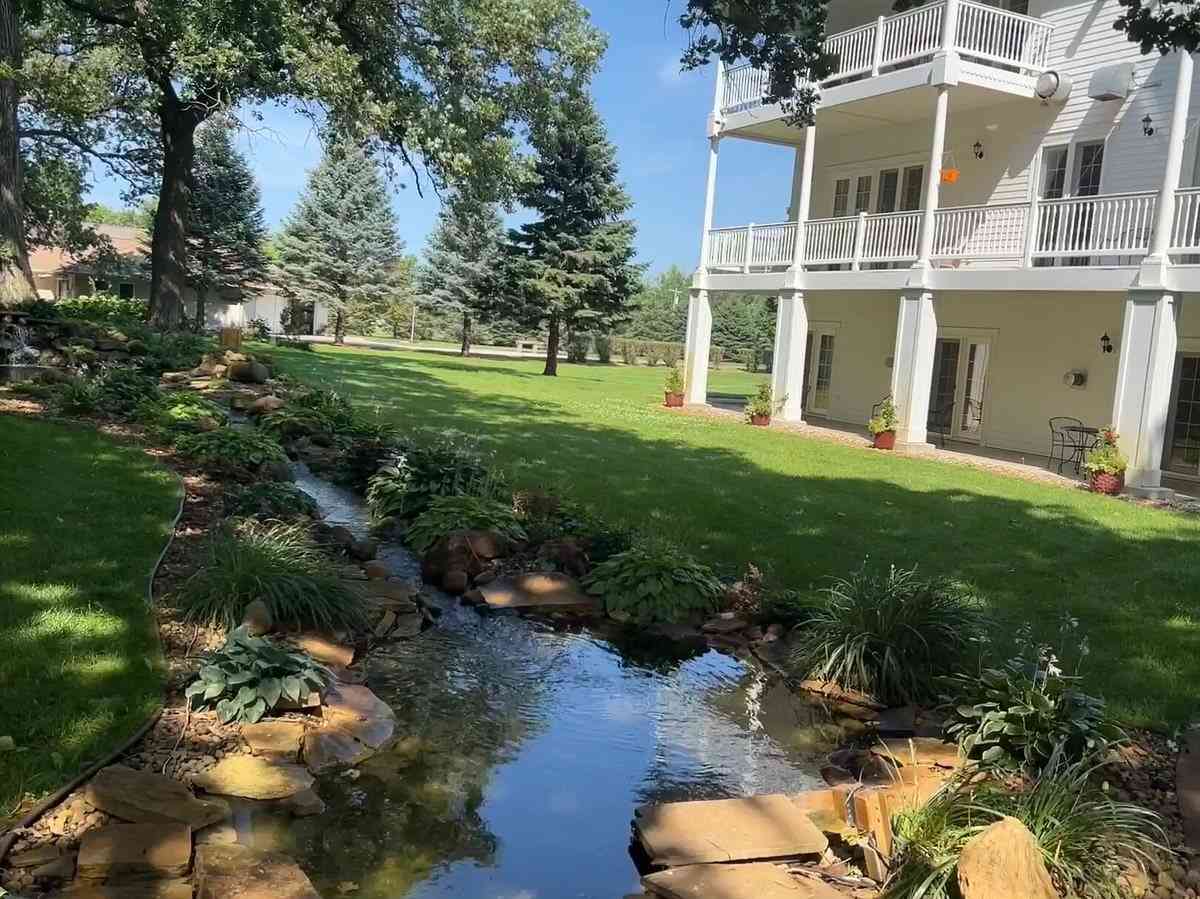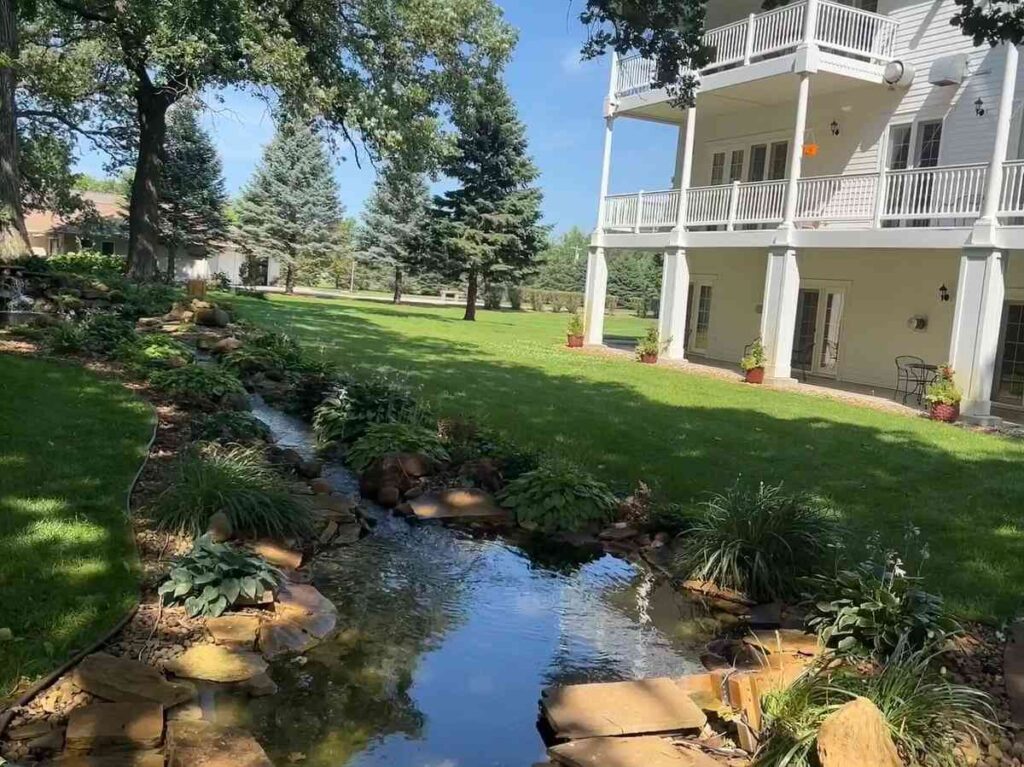 This boutique hotel offers 11 rooms with stunning views of the surrounding natural areas. Each unit includes a fireplace to help accentuate the cozy, historic atmosphere.
Enjoy a free breakfast in the elegant dining room with impressive attention to detail. Even the aromatic coffee was roasted specially for the estate.
The Oakwood Inn is one of the highest-rated Lake Okoboji hotels for a reason. See what the hype is about and book your stay today.
---
9. The Okoboji Country Inn
The Okoboji Country Inn is a cozy spot to regroup after a long day exploring the region.
This bed and breakfast offers warmhearted, friendly accommodation with extraordinary hospitality. The rooms are clean and comfortable, with vintage accents that make it feel homey. It's a breath of fresh air compared to the generic chain hotel decor.
The free breakfasts are famous around here, so be sure to wake up hungry. You can expect over-the-top service with mouthwatering food you'll be thinking about well after your trip.
---
Best Lake Okoboji Hotels: Summed Up
Whether you want to stay at a charming country estate or a budget-friendly lodge, choosing one of these Lake Okoboji hotels will help make your trip memorable. Do you plan on exploring more of the Midwest on your next vacation? Check out our Lodging Page for the top places to stay in the Minnesota region.
About the Author
Latest Posts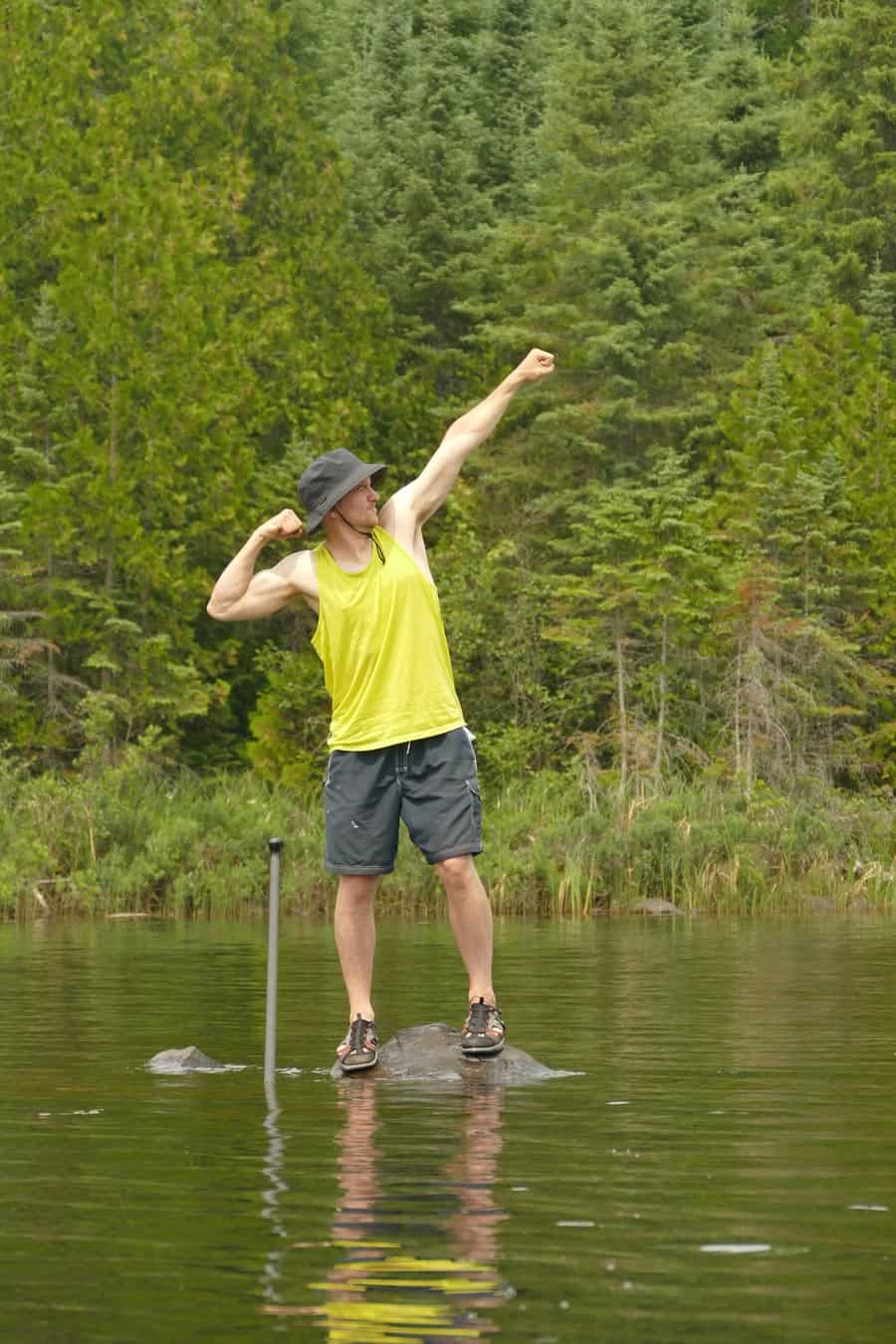 Born in Madelia, MN, to a now 5-generation Minnesota family, Ryan's MN roots go deep.
A painter by day, Ryan founded Life in Minnesota in 2013 with his wife Kelly to chronicle their musings on everything Minnesota. Ryan and Kelly are raising their 7 kiddos in Maple Grove, MN.
When he's not shuttling his kids around to hockey practice, you might find him in the shop working on his leatherwork. Undoubtedly, there will be a family trip to the Boundary Waters Canoe Area every summer, and of course weekends at Grandpa's cabin up north in the summer.