Lake Superior, the largest freshwater lake in the world, is the perfect destination for your next vacation with family or friends.
With beautiful views and endless lake activities, finding the right cabin for your travels is the last thing you need for the perfect getaway. Keep reading and explore the top 11 best Lake Superior Cabin Rentals to help make this process easier.
---
Best Luxury Retreat Cabins
1. Breezy Point Cabins on Lake Superior
With over 130 five-star reviews on TripAdvisor, Breezy Point Cabins on Lake Superior is a great hotel cabin choice for all types of travelers.
This hotel was created in the 1930s and has a timeless setting with twelve pristine cabins. It's perched on the famous and breathtaking Precambrian rock, giving it an exquisite view of Lake Superior.
Although having undergone a total renewal in 2016, Breezy Point Cabins still holds its original architectural style and maintains its bright and personable ambiance.
This hotel offers free parking, high-speed internet, air conditioning, and activities for families and children.
---
2. Grand Superior Lodge
Grand Superior Lodge has everything you need for an ideal romantic or upscale getaway.
With an onsite café, bar/lounge, and pool, this hotel makes it easy to spend your whole vacation here. If you are looking to get out, don't fret. The property offers hiking paths and canoe rentals perfect for a lake day adventure.
There are a variety of rooms and suites, ranging from bridal suites to family rooms. These rooms feature air conditioning, microwaves, flatscreen TVs, and refrigerators, and have a private balcony.
Earning reviews that highlight the night skies, warm fires, exhilarating walks, and breathtaking photo ops, this hotel easily earns itself a place in the top 11 Best Lake Superior Cabin Rentals.
---
3. Larsmont Cottages on Lake Superior
For the traveler looking for a restful and rejuvenating trip, Larsmot Cottages on Lake Superior will provide you with just that. Offering room service, a pool, and a lounge, a stay in these cottages is guaranteed to leave you feeling refreshed and relaxed.
These Lake Superior cabin rentals are known for a positive family-friendly environment and are in a prime location for exploring top-notch nearby restaurants. Its website highlights the Ledge Rock Grille, known for its flavorful lobster enjoyed by locals and travelers, alike.
If you love to explore other local treasures, Larsmont Cottages on Lake Superior are also in a prime location for visiting popular landmarks, such as the Lake County Historical Society Museum and Stoney Point.
---
4. Luxurious Log Cabin on Lake Superior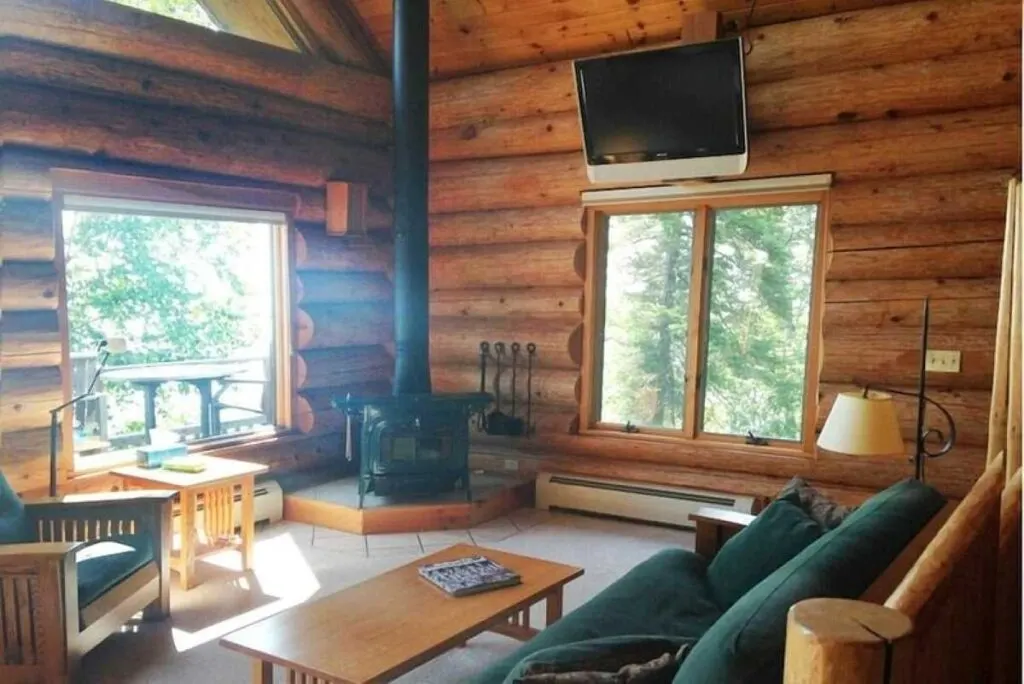 Appropriately named, this Luxurious Log Cabin on Lake Superior is located on 235 feet of the picturesque Lake Superior Shoreline.
It has endless amenities for your upscale vacation including a brand-new sauna, rec room, and cozy fireplace. Perfect for the foodie or chef of the group, this Lake Superior cabin rental also offers a newly renovated and fully stocked kitchen equipped with a Viking stove.
Located 3.5 miles from Tettegouche State park, or drive a bit further to Lutsen Mountain to enjoy a day of skiing and snowboarding. The opportunities for adventure here are endless.
---
Best Pet-Friendly Cabins
5. Beautiful Private Log Cabin
This two-bedroom, one-bathroom stay can house up to six people, is pet friendly, and is a great option for your next family trip. This Beautiful Private Log Cabin offers 270-degree views that overlook Lake Superior and the hills of Tettegouche state park.
Placed on top of a hill that rises 600ft above Lake Superior, the views this cabin provides are not to be missed. Its perfect location in the center of nature allows you to experience gorgeous sunrises and sunsets and the sounds of the morning birdsong and distant waterfall.
Only a quarter of a mile from Baptism River and Illgen Falls, the location and amenities of this log cabin make it an easy addition to our list of the 11 Best Cabin Rentals on Lake Superior
---
6. Rustic Modern Log Cabin with Lake Superior views
With three bedrooms and two bathrooms, this Rustic Modern Log Cabin with Lake Superior Views is available for both short and long-term rentals.
It's a newly built and hand-crafted log cabin with modern amenities to accommodate any traveler. It has a theater room, a washer and dryer, and stainless steel kitchen appliances. It also features a large two-sided deck with a grill to ensure you maximize your views of the lake.
With its close proximity to trails and a personally coded access door, this stay has truly thought of it all. Pet and Kid friendly, it's easy to see why this cabin is listed as one of the 11 Best Lake Superior Cabin Rentals
---
Best Log Cabins
7. Palisade Log Cabin on Lake Superior #39s North Shore
If you're looking for a low-key, classic Log Cabin style experience, look no further. This Palisade Log Cabin on Lake Superior #39s North Shore is sat on five acres of land and has over 460 feet of Lake Superior shoreline.
This Lake Superior cabin rental offers two bedrooms, one bathroom, and incredible views of the north-facing Palisade Head Cliffs. Listen to the crashing waves against the ledge rock, or take a look at night and you might just get a view of the northern lights.
Don't be afraid to stay here in the winter, too. With a new geothermal heating system and a warm wood stove, you're guaranteed to stay warm and cozy throughout your visit.
In a prime location for exploring the wonders on and surrounding Lake Superior, this Log Cabin should definitely be on your radar for your visit.
---
8. Lake Superior Retreat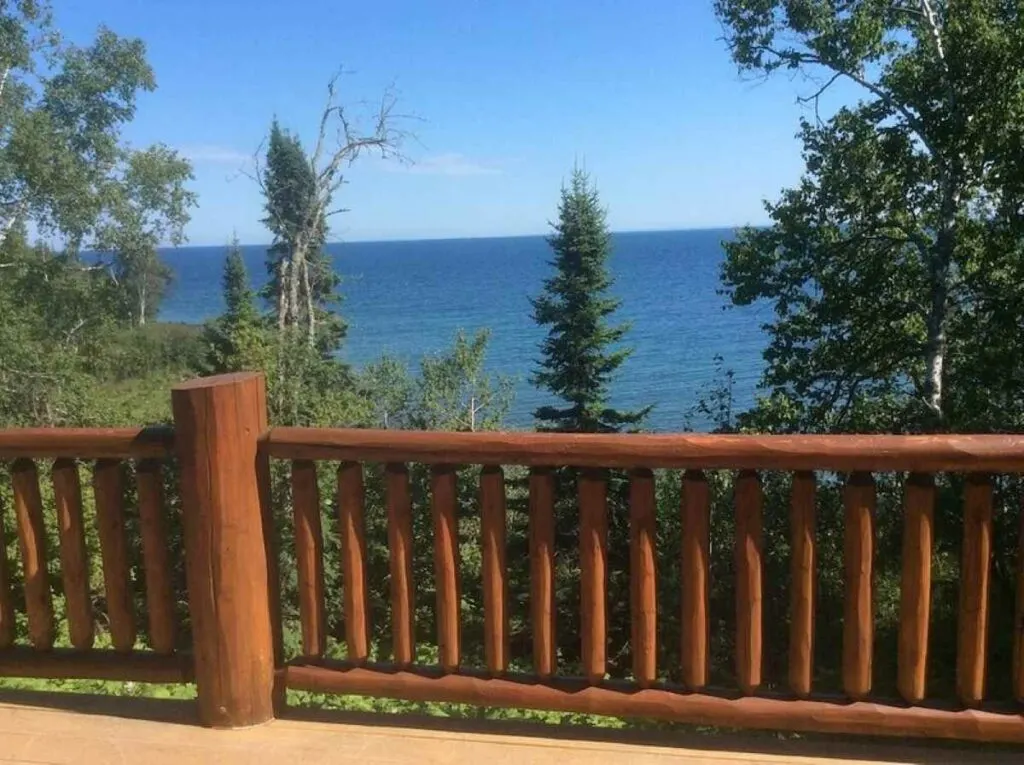 Big enough to fit up to eight guests, this 3,300 square-foot log home rests on 4.75 acres of wooded land. The Lake Superior Retreat cabin offers four bedrooms and three bathrooms and is kid friendly.
If you choose to stay here, you'll have the luxury of exploring the indigenous flora and fauna that grows in this area. From wild raspberries to natural grasses, this landscape creates the perfect home for not only you but also the lovely butterflies that come to visit.
This rental is truly equipped with all that you'll need for your stay on Lake Superior. It advertises views of the lake from every room and has warm rustic Norwegian planking on the interior walls to create a rustic and cozy ambiance for you to spend your time.
With beautiful views and all that it offers, placing this rental on the list of the 11 Best Cabin Rentals on Lake Superior is an easy choice.
---
9. Storybook Northwoods Log Cabin on Lake Superior
Named the Storybook Northwoods Log Cabin, this rental truly looks like something out of a fairytale.
It's placed on a quaint section of Lake Superior ledge rock and has been fully restored and updated. Although it has modern amenities, the owners were sure to maintain its original charm and history of bygone days.
The cabin's large main gathering room has a wood-burning fireplace, game table, and detailed windows that allow for the perfect views of Lake Superior. An outdoor oversized deck sits just near the shoreline and the gas grill makes spending time outside easy and comfortable.
This Storybook log cabin is in the center of the North Shore and allows for access to a variety of scenic trails and top-notch restaurants.
---
Best Cheap Cabins
10. Fitger's Inn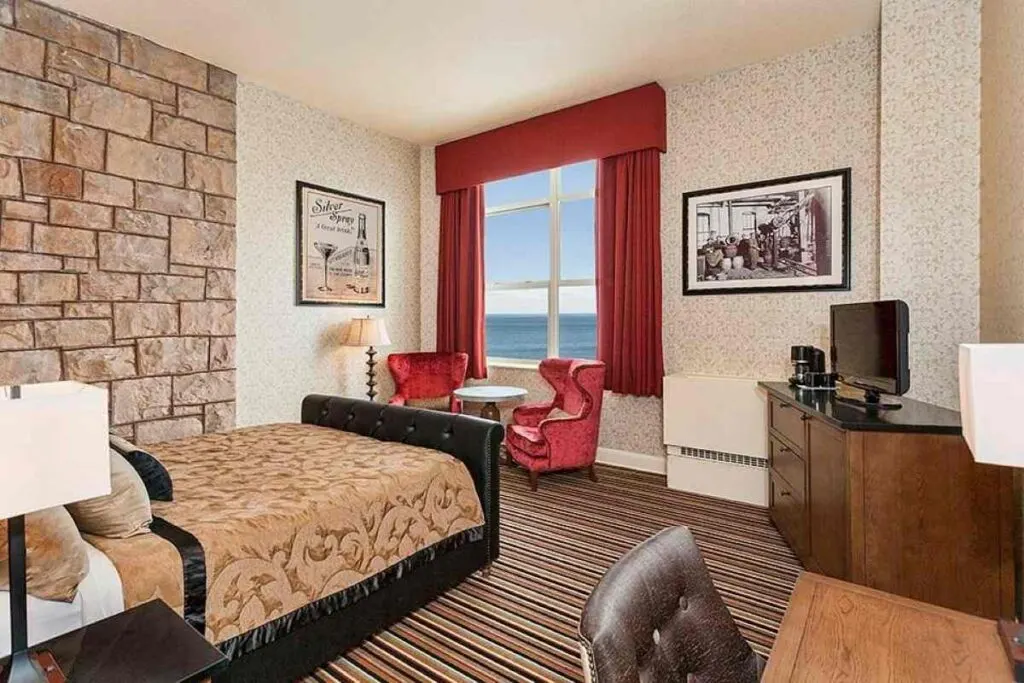 If you're traveling on a budget but still want to experience all that Lake Superior has to offer, check out Fitger's Inn.
The low prices are not due to a lack of a quality stay. This Inn was built in the early 1900s, and has since been renovated and maintains the original architectural integrity. It graces the shore of Lake Superior and is found in Firger's Brewery.
It offers gracious hospitality, fine cuisine, and pristine accommodations. Their rooms are full of personality and found onsite are three restaurants, two nightclubs, a brewery, and a day spa.
With reviews that highlight the professional staff, well-kept rooms, and prime location, this budget-friendly inn makes for the perfect getaway.
---
11. Superior View Overlooking Lake Superior
This pet and family-friendly stay offers two bedrooms, two bathrooms, and an additional loft, allowing it to sleep up to six people. This Superior View Overlooking Lake Superior cabin rental is placed on seven acres of private state land and has amazing views of Lake Superior from any angle.
It allows access to the superior hiking trail from the private road on site and is located in the center of all of North Shore's glory. Whether you're looking for a relaxing trip in or are eager to explore the land, this cabin rental can provide it all.
To make sure you have everything you need, this stay is equipped with internet, wifi, satellite TVs, and a fully stocked kitchen.
---
Time to Start Planning!
Hopefully, this comprehensive guide of the 11 Best Lake Superior Cabin Rentals has given you some direction on where to stay for your next vacation. From budget-friendly stays to luxurious and romantic getaways, the incredible options are endless.
Looking for more travel tips and things to do in Minnesota? Visit our Life in Minnesota blog site for everything you need to know!