In terms of both quantity and quality, you'll be hard-pressed to find a better lake for fishing than Lake Vermilion. Not only is it one of the top lakes in Minnesota for hardcore anglers, but it's also one of the top fishing lakes in North America.
So, if you're looking to book your next fishing trip to the North Star State, you can use this article as your official Lake Vermilion fishing guide.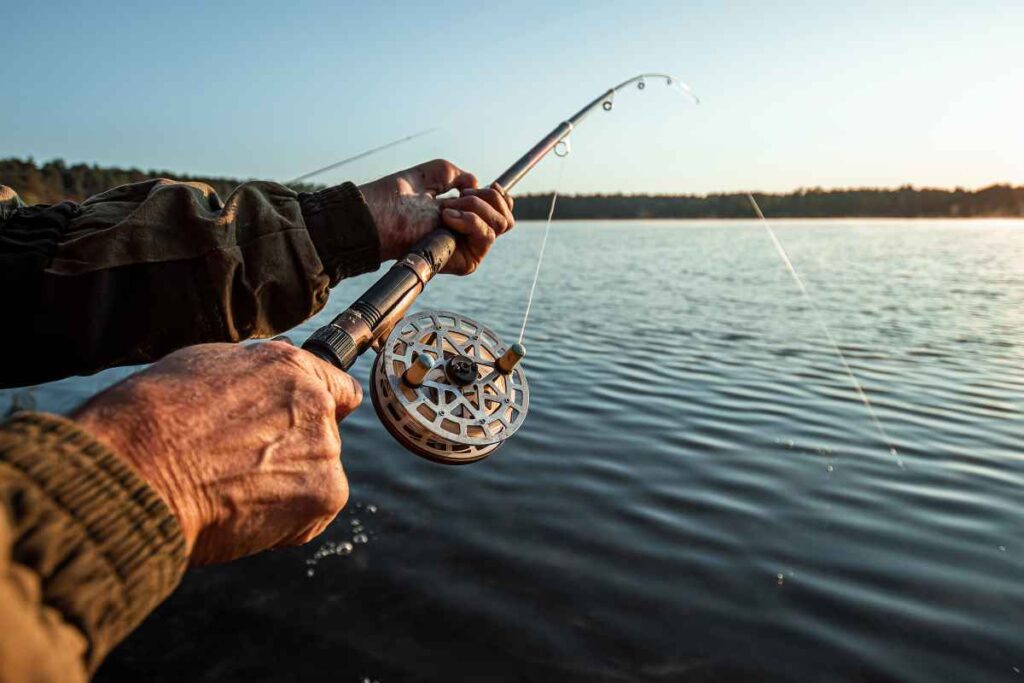 Lake Vermilion Fishing: The Lake Itself
An important aspect of Lake Vermilion fishing is understanding just how massive this body of water is. Here's what you'll have to work with whether you prefer shore fishing or fishing from a boat.
Lake Vermilion has over 1,200 miles of shoreline.
It comprises more than 40,000 acres of total surface area.
There are more than 360 islands in the middle of the lake that you can fish from.
This is a trophy lake for smallmouth bass, largemouth bass, muskie, northern pike, walleye, crappie, and perch.
There are numerous offshore structures in the water that are frequent haunts for trophy fish.
It's the fifth-largest lake in Minnesota.
It consistently ranks in the top 100 best fishing spots in the United States.
Best Time to Fish Lake Vermilion
Now that you know a little more about Lake Vermilion, let's dig into the nitty-gritty details about how to successfully fish its waters.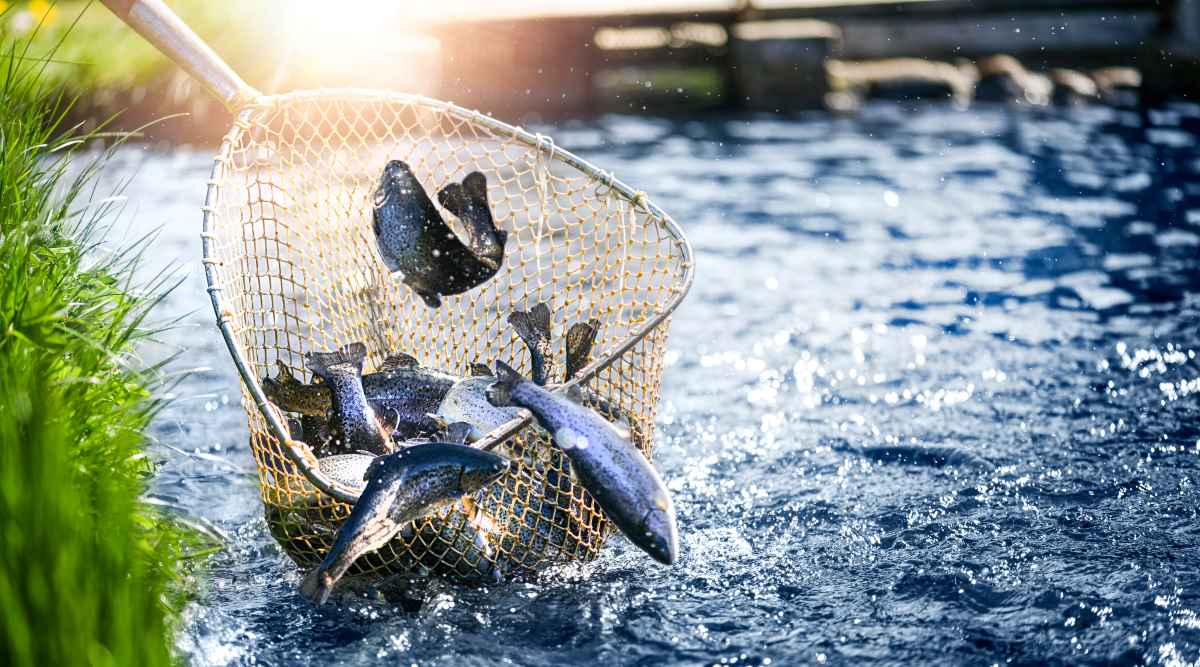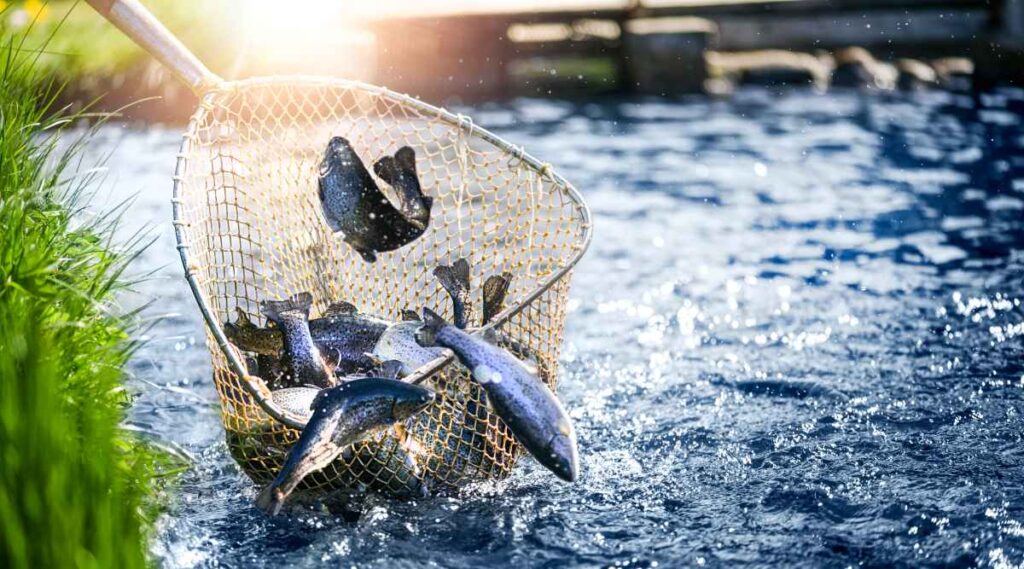 There are a ton of factors that go into when the best time is to schedule your Lake Vermilion fishing trip. It depends on what type of fish you're targeting, what part of the lake you're fishing, and how long the ice on the lake has melted. In general, however, May and June are the two most popular months for Lake Vermilion fishing. It's during this time that you'll run into the most people, but you'll also have the most luck.
Fishing for Perch on Lake Vermilion
There are a few exceptions to the May and June rule, however. For example, if you're fishing for perch, you'll want to head out as soon as the ice melts, which can be as early as late March or early April. Perch tend to gravitate to deeper waters as summer approaches and you'll have a hard time reeling any of them in once they dive deep.
Fishing for Walleye on Lake Vermilion
Walleye are easily the number one prize for Lake Vermilion fishing which is why there's a four-catch limit in place during most of the year. Like perch, walleye tend to stay in the shallows near the main shoreline or around the islands during early to late spring. When summer hits, however, walleye head for deeper waters but not as deep as perch.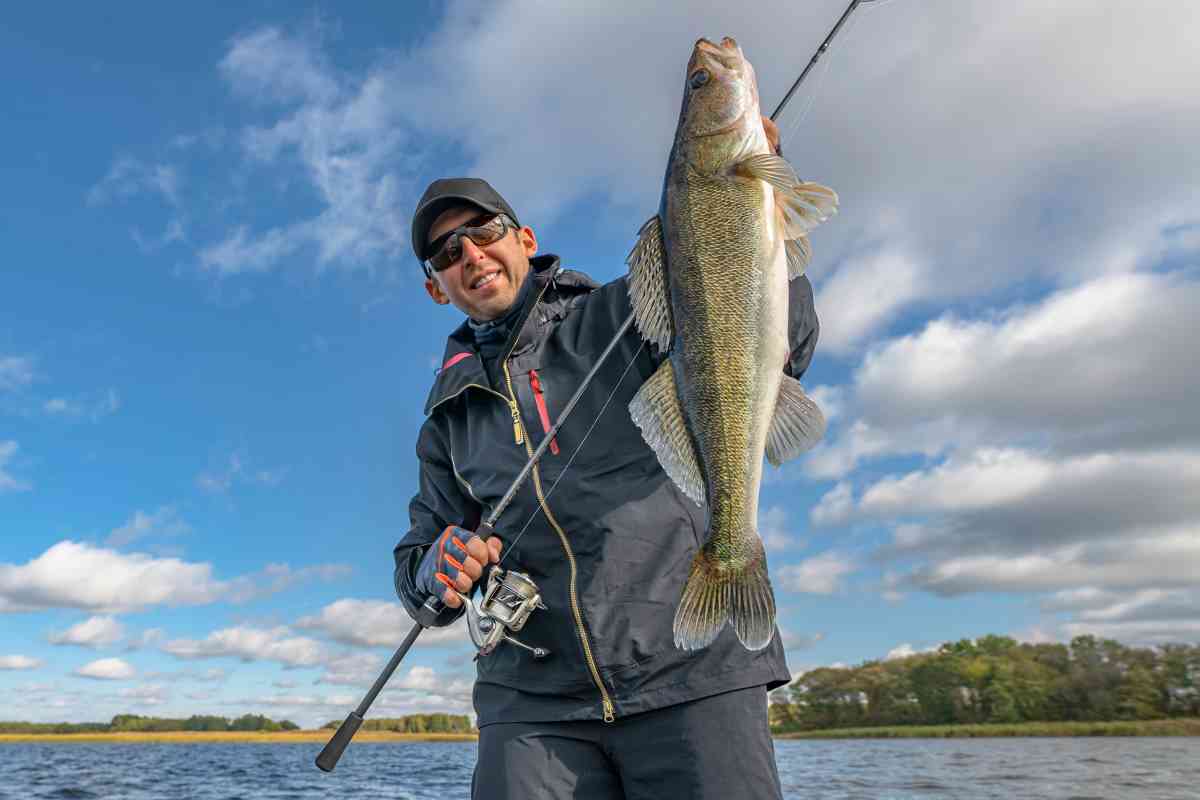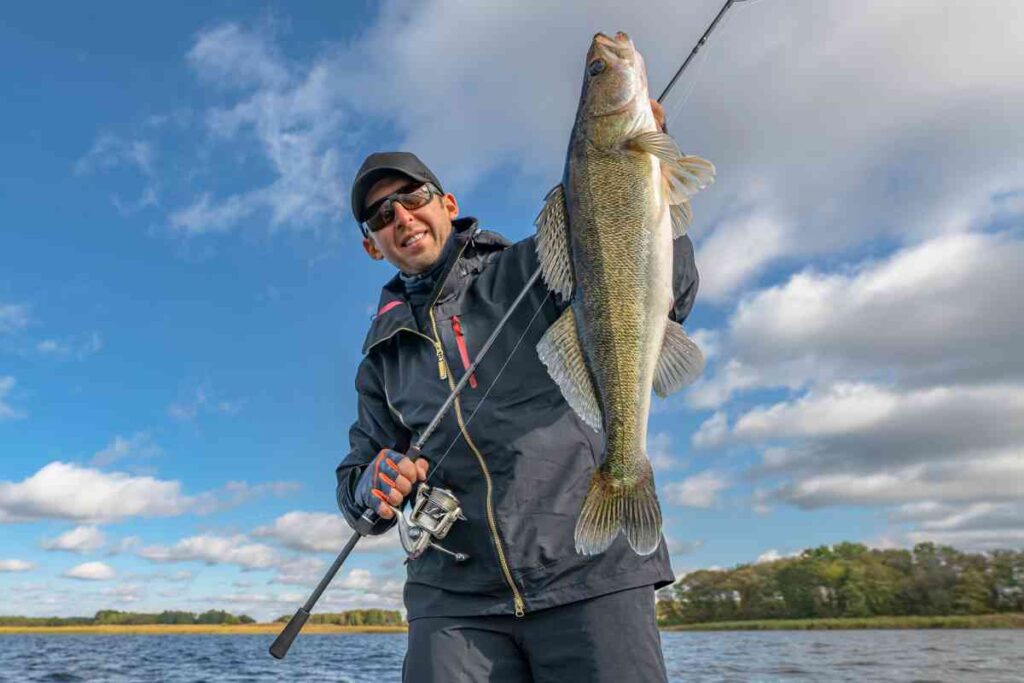 As a result, you'll have to target them at deeper depths, but you can still catch plenty of walleye when summer hits. They typically don't go deeper than 40 feet, which is roughly half of Lake Vermilion's deepest point. In general, most walleye will hang out around depths of 20 to 30 feet during the hottest points of summer.
Fishing for Muskies on Lake Vermilion
In terms of the fight they put up and how big they are, muskies are arguably the top target for Lake Vermilion fishing. Unlike most of the other species in the lake, muskies do their spawning in extremely shallow water, sometimes as shallow as three to five feet. They also prefer to do this in the early spring near marshy bays so plan accordingly.
Throughout the year, you'll have the best chance of reeling in a monster muskie by focusing your efforts around the island shores, rocky areas, and marshy shallows.
Fishing for Northern Pike on Lake Vermilion
Northern pike share a few similarities with muskies in terms of their size and shape, but they're very different in how you want to fish for them. Northern pike like to stick to the deeper parts of the lake and are frequently found at depths of at least 20 feet. In early spring, they do their spawning in the mossy, marshy beds of the lake.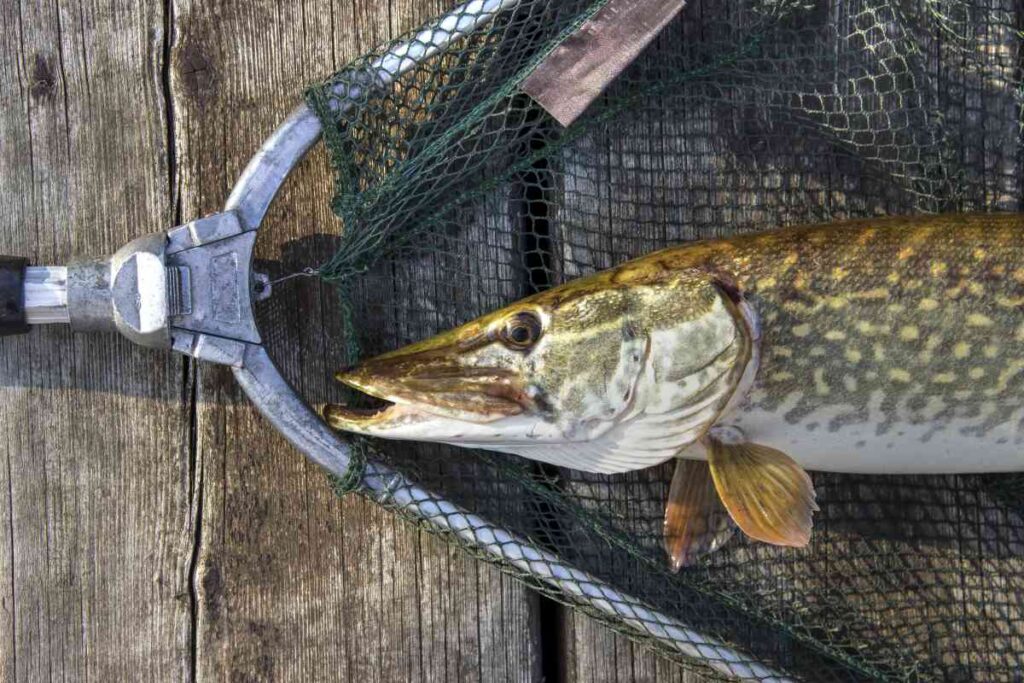 From there, however, the northern pike will go deeper and deeper into the depths of Lake Vermilion as the temperature warms up and the season goes on. In the dead of summer, don't be surprised if they're as far down as forty to fifty feet.
Fishing for Trout, Bass, and Crappie on Lake Vermilion
While each of these fish is very different, you can target them in the same way. They typically hang out in shallow waters during early spring for spawning purposes and gravitate to deeper waters as the summer draws on. Unlike northern pike that go as deep as fifty feet down, trout, bass, and crappie typically hang out in the 20 to 30-foot range.
Lake Vermilion Ice Fishing
Even after the surface of the lake freezes over, you'll still have the chance to do some Lake Vermilion fishing. It's a hotspot for ice fishing and you can catch many of the same fish that the lake is known for at warmer times of the year.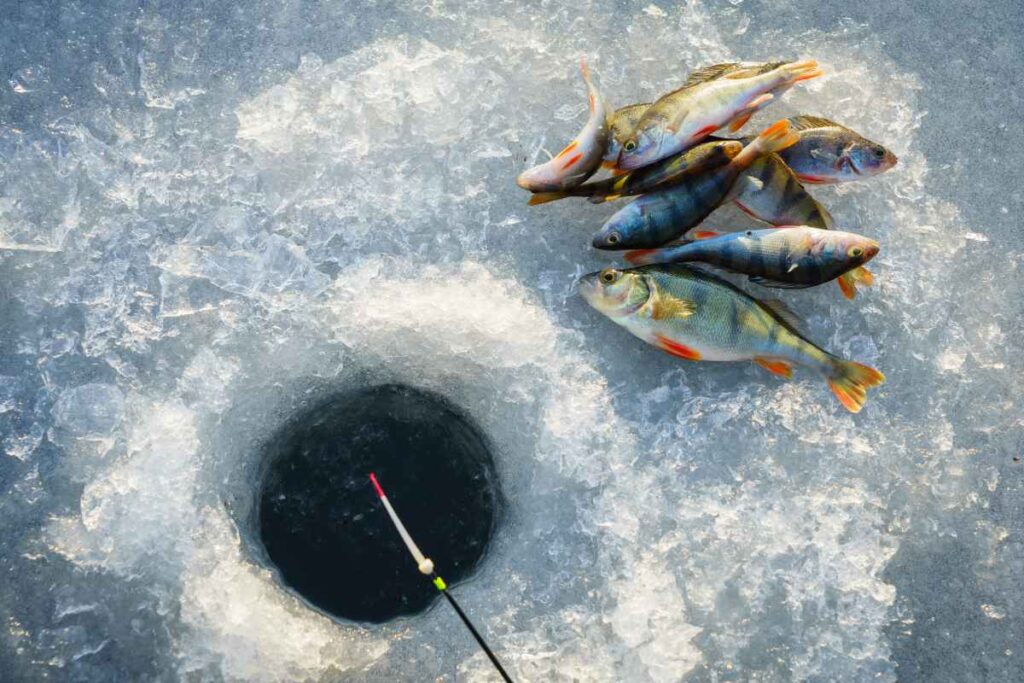 Best Bait to Use for Lake Vermilion Fishing
Because we could write an entire article about the different types of baits and jigs to use for different fish at different parts of the year, we're going to keep it simple. We'll go over the best baits to use for general fishing purposes no matter what your target is or what time of year you're fishing.
Minnow baits
Live baits such as crickets, worms, and nightcrawlers
Giant bucktails and crankbaits are best for muskie
Softbaits and jerk baits are good options too
Spinnerbaits
Small bait fish
In general, the bigger the fish you're targeting, the bigger your bait should be. Muskie and northern pike, specifically, will require bigger baits to attract their attention.
Best Lake Vermilion Fishing Spots
Now that you have a better idea of when to fish at Lake Vermilion and which baits to use, let's look at specific Lake Vermilion fishing spots.
The Bays
Because of how many inlets and islands Lake Vermilion has, there are tons of bays to fish. It's best to target the bays during spring and summer during the early part of the season because most of the fish in Lake Vermilion will do their spawning here. As a result, spring and summer are the best times to go shore fishing on Lake Vermilion, because you can reach most parts of the bays from shore.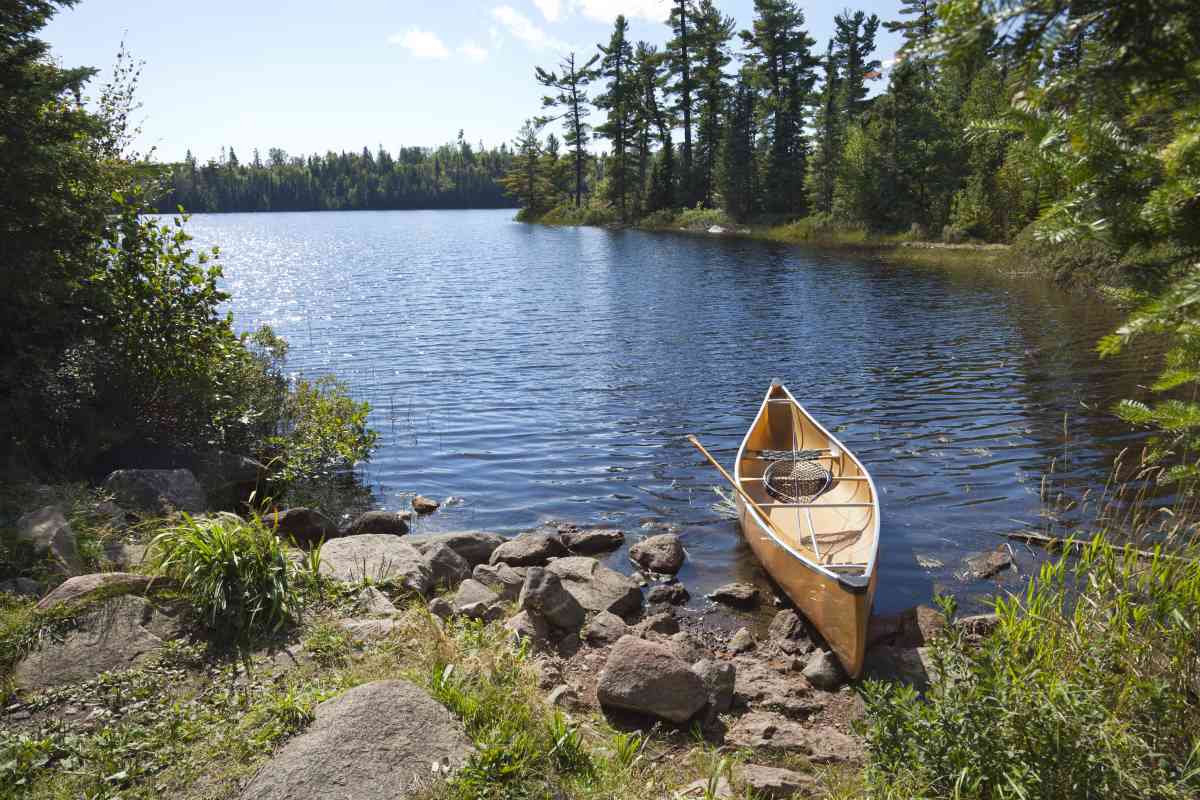 The Channels
You'll be hard-pressed to find a lake with more channels that are more broken up than Lake Vermilion. While you can find nearly any type if fish inhabiting the channels during the spring, they're the best place to find largemouth bass throughout the year. While many fish use the channels as a means of transportation from one part of the lake to another, largemouth bass hang out for longer periods of time.
The Docks
Another good idea for places to try your luck at Lake Vermilion is near one of the many docks surrounding the lake's shore. Lake Vermilion is very developed with lots of homes and marinas, which means there are tons of docks to try your luck at. They're especially popular with largemouth and smallmouth bass, but you can also snag a few muskies in grassy areas.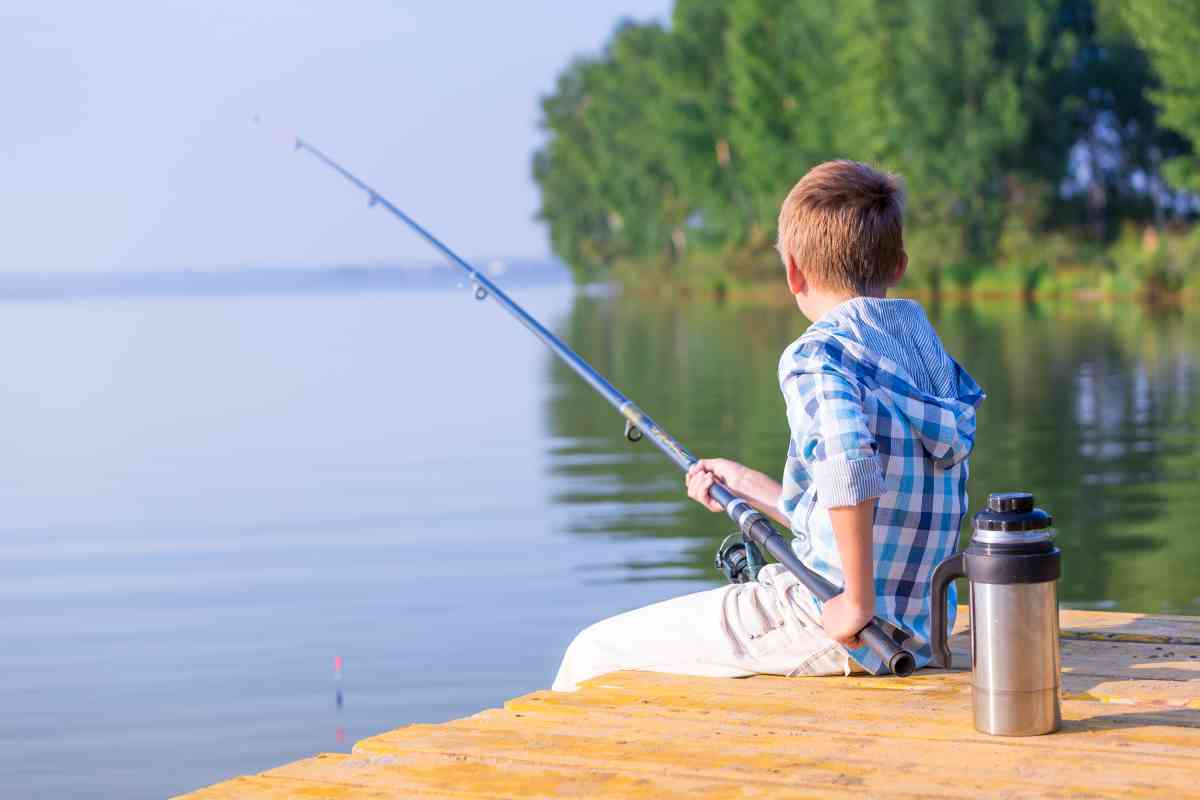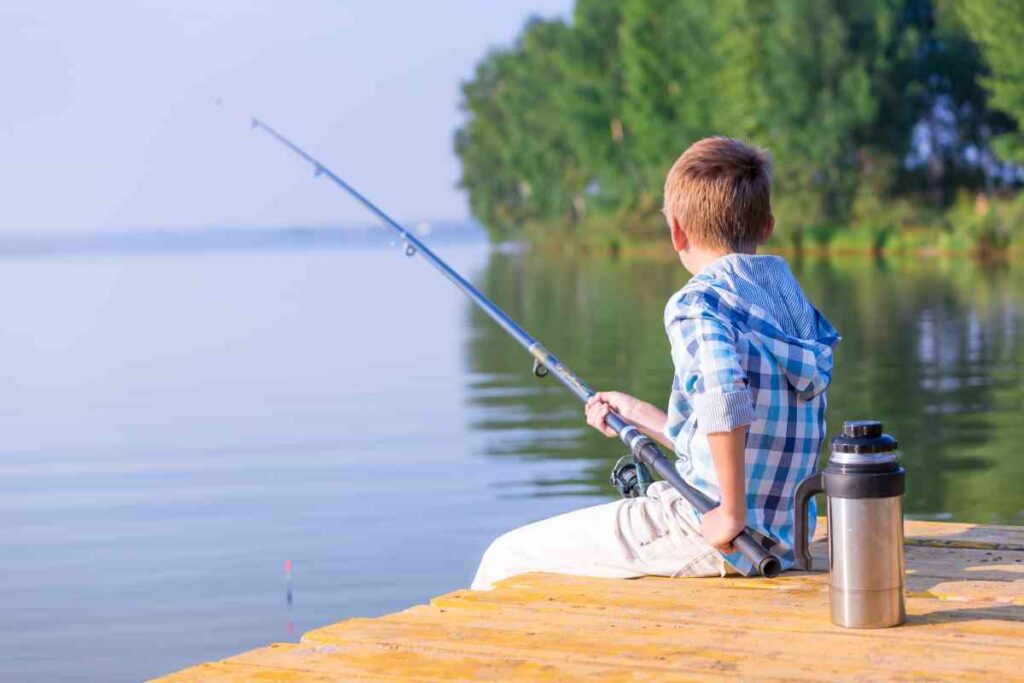 The Drop-Offs
When temperatures start to warm up during the summer, the drop-offs are great places to try. Lake Vermilion has some very deep parts with some areas being between 60 and 70 feet deep. You can catch a wide array of fish at the drop-offs including walleye, muskie, bass, perch, and pike.
The Offshore Structures
Like we said before, there are tons of offshore structures at Lake Vermilion. There are more than 350 islands and countless reefs and they're all good places to try if you're not having luck around the mainland.
The Points
Where there are bays, reefs, islands, and marinas, there are also points. You can catch almost anything at various points throughout the year and it's a good idea to move from point to point.
The Rocks
If the main target on your Lake Vermilion fishing trip is smallmouth bass, you should definitely try your luck around the rocky points. Smallmouth bass, along with several other types of Lake Vermilion fish, love rocks and there are plenty of spots to choose from throughout the lake.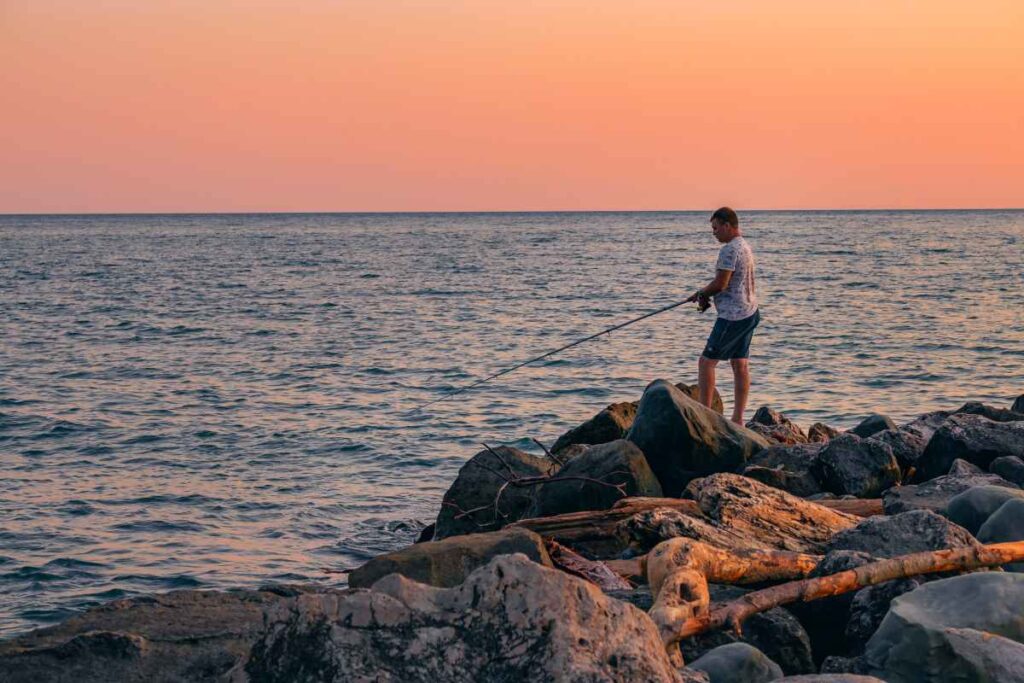 The Weeds
If you can only pick one type of terrain to fish in Lake Vermilion, you should choose weeds. The lake is literally surrounded with weedy areas and they're rife with all sorts of fish. The weeds are a good spot during spring because fish love to do their spawning in the weeds. They're also a good spot throughout the summer and fall because fish will make their way to the weeds in search of food.
Lake Vermilion Fishing on the East End Vs. the West End
One of the biggest decisions you'll have to make on your Lake Vermilion fishing excursion is whether you fish the east end or the west end. While you may think the decision is as easy as which side is more accessible, there's actually a rhyme and a reason as to which side to fish.
When to Fish the East End
The east end of Lake Vermilion is far bigger and more spacious than the west end. There are plenty of offshore islands and reefs to try your luck at and when the conditions are right, it's tough to pick a better fishing lake. However, because of how big, open, and spacious the east end is, it's prone to high winds, which will greatly limit your fishing abilities.
When to Fish the West End
While the west end of Lake Vermilion isn't as big or wide open as the east end, it does a great job of blocking the wind. Again, the west isn't as big as the east, but it's still massive and has plenty of space and solid fishing spots. There are also plenty of offshore structures and miles of shoreline. Additionally, the water on the west end is clearer than the water on the east end, which improves visibility in the deeper areas.
Lake Vermillion Fishing Tips
Be Patient
Patience is always crucial when you're fishing, but especially on Lake Vermilion. If you're only at the lake for one day, it's tempting to move around if you're not having luck at where you start. While this is ok if you have a process that you're following, you should avoid moving aimlessly around the lake. Instead, you should be patient and stick to the plan you had when you first started fishing.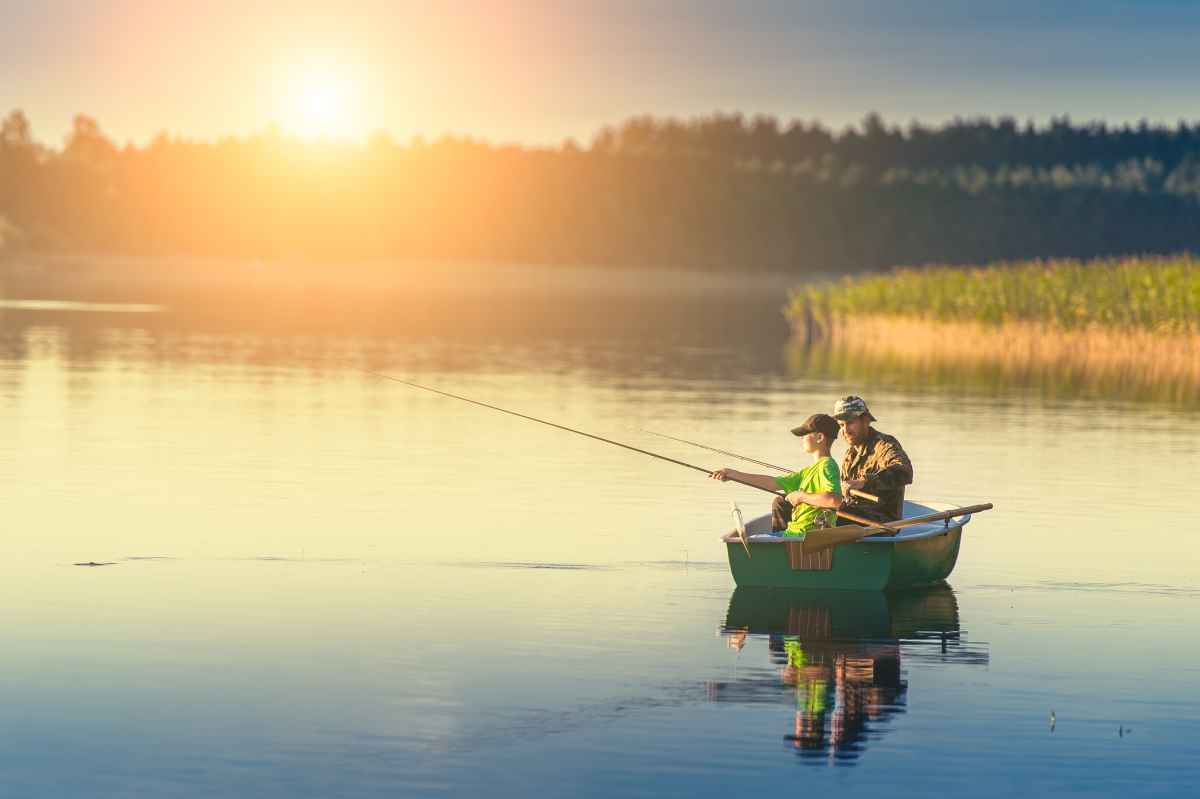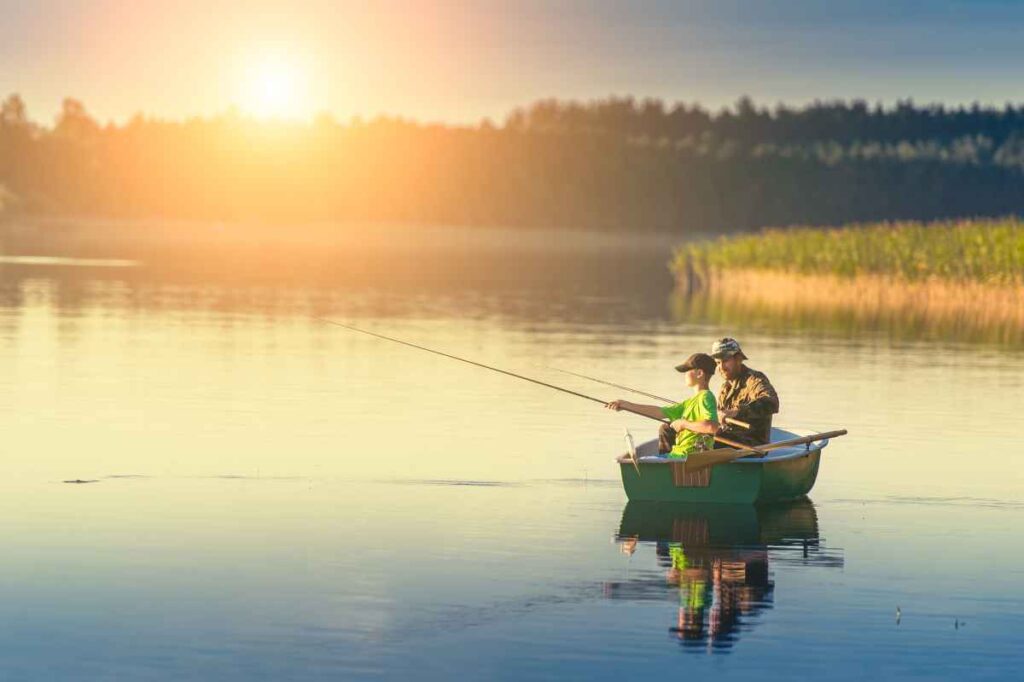 Know the Rules
If you hope to have any Lake Vermilion fishing success whatsoever, it's vital that you know the rules of the lake.
You're allowed to catch a maximum of six walleye, and you can only keep one that's more than 20″ in length. The walleye and sauger season runs from May 14 to February 28.
Musky are the premier trophy fish of Lake Vermilion. You're only allowed to keep one musky that you catch and it must be at least 54″ long. Any other catches must be returned to the lake. The musky season runs from June fourth to December first.
Northern Pike are a prized specimen on Lake Vermilion and there's a maximum of two keepers allowed per person. You can only keep one northern pike that's more than 40″ long, and one pike that's less than 30." If you catch a pike between 30″ and 40″ in length, you must return it to the lake. The northern pike season runs from May 14 to February 26.
Largemouth and Smallmouth Bass
You're not allowed to catch and keep more than six bass regardless of whether they're largemouth or smallmouth. The season runs from May 14 to February 28.
Crappie, Perch, and Other Panfish
The rules about crappie, perch, and other panfish are fairly loose at Lake Vermilion. Unless otherwise stated for supply reasons, there's no cap on the amount of panfish you can catch and no limit to how big they have to be.
Know Your Target
Along with knowing the rules of the lake, knowing your target is the second most important thing to ensuring a successful Lake Vermilion fishing trip. Every type of fish in this lake habits different areas and prefers different types of bait. By knowing your target and planning accordingly, you'll give yourself the best chance of success.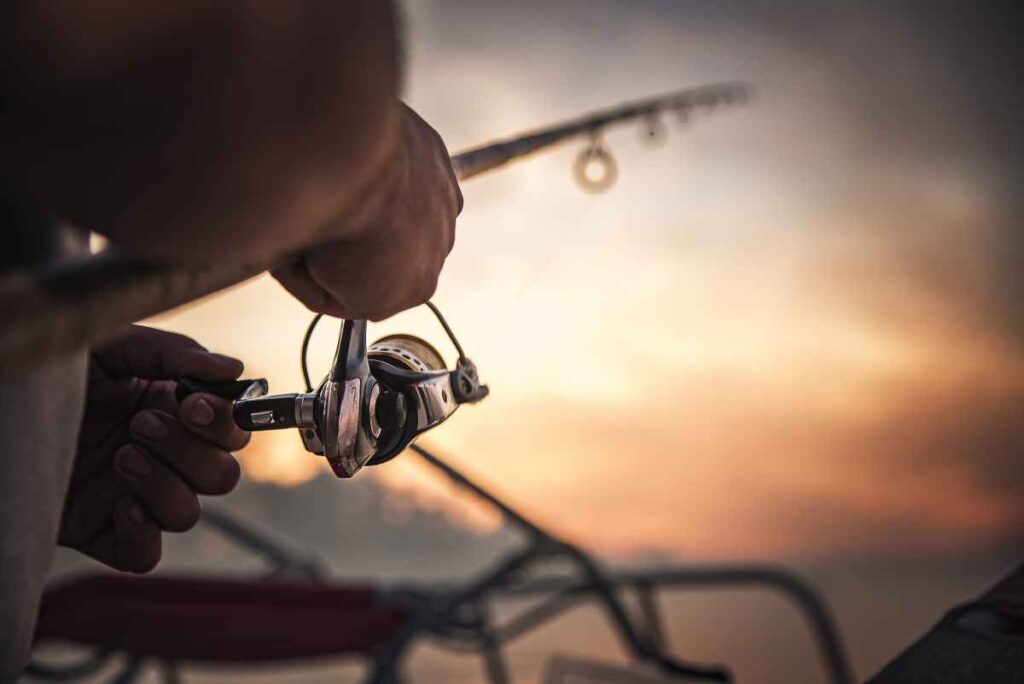 Wrapping Up the Lake Vermilion Fishing Guide
There are few better habits to form or hobbies to pick up than the occasional Lake Vermilion fishing excursion. It's one of the best lakes in Minnesota and North America at large and is absolutely packed with trophy fish. As long as you know the rules and make a plan according to which fish you want to catch, you're sure to have a fruitful Lake Vermilion fishing experience.
Want to learn more about fishing, discover more fishing spots, and or read up on the best fishing gear? Then continue your fishing adventure with our comprehensive guides, info posts, and more!
Love spending time outside? Then discover the Minnesota Outdoors to continue learning new ways to reconnect with nature!