If you're looking for a fun family (or solo!) getaway but go too far, look no further than McCarthy Beach State Park in French Township, Saint Louis County Minnesota. In the Sturgeon chain of lakes, McCarthy Beach State Park receives almost 116,000 visitors a year.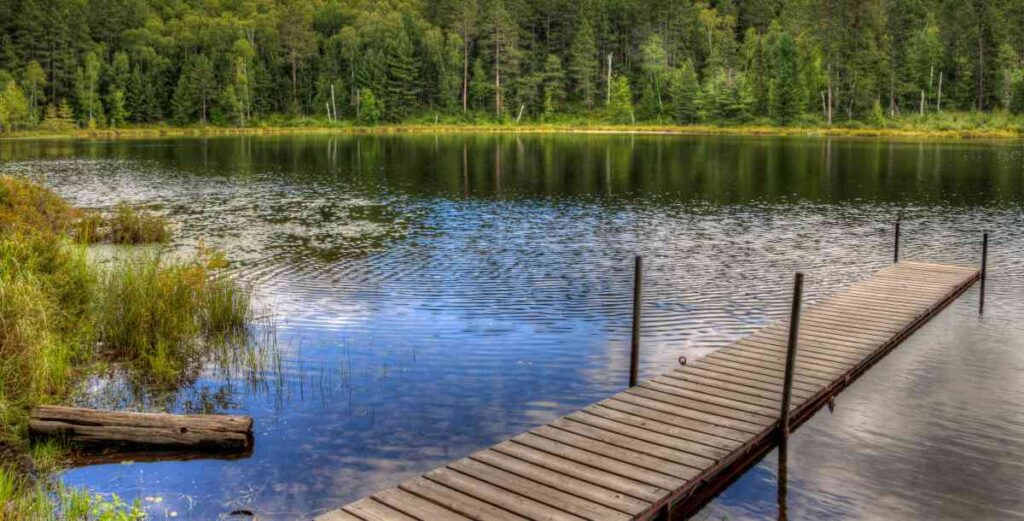 Why? Because McCarthy Beach State Park is a great destination for outdoor activities in close proximity to nature! Think water sports, hiking, picnicking, and more.
So if you're looking for a great nature destination with something to entertain every member of the family, keep reading to learn all about McCarthy Beach State Park.
---
About McCarthy Beach State Park
McCarthy Beach State Park actually includes several lakes across over 2300 acres of nature which can be the backdrops for many different water and nature activities, both during the warmer seasons and in the winter.
Enjoy 18 miles of trails and find everything you need for your visit at the park office and gift shop.
---
Geology and Nature of McCarthy Beach State Park
Geology
The land that would become McCarthy Beach State Park was around for much longer than the state park itself. Glaciers are in fact largely responsible for the shape of McCarthy Beach State Park, including all the hills and glacial till that were left behind.
The earth itself is made from ancient and cooled lava, which was carved by the passing and repassing of glaciers during the ice age. Some of those glaciers even formed some of the lakes you can visit at McCarthy Beach State Park. Just think—you're swimming in ancient water!
Nature
The 116,000 visitors a year mentioned above don't include all of the wildlife you'll find at McCarthy Beach State Park today. There, you share the same spaces as black bears, chipmunks, raccoons, squirrels, timber wolves, deer, and many different species of birds, reptiles, and water creatures!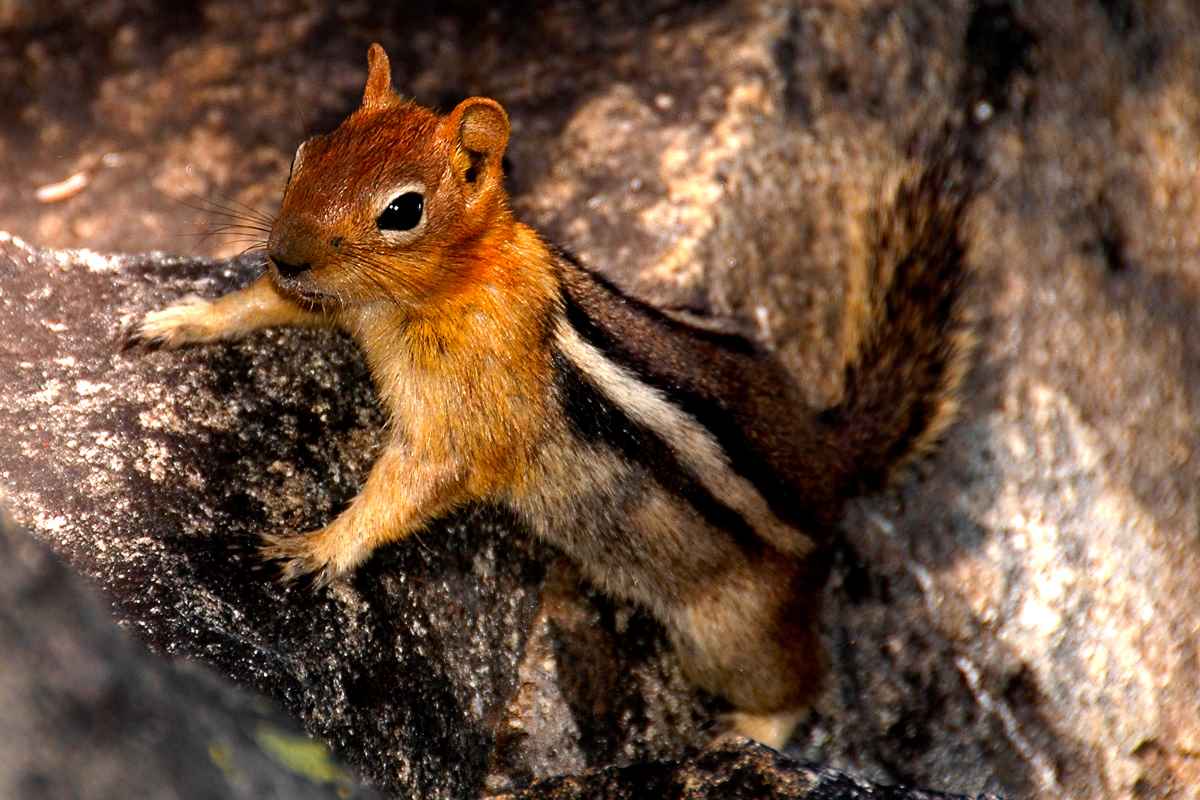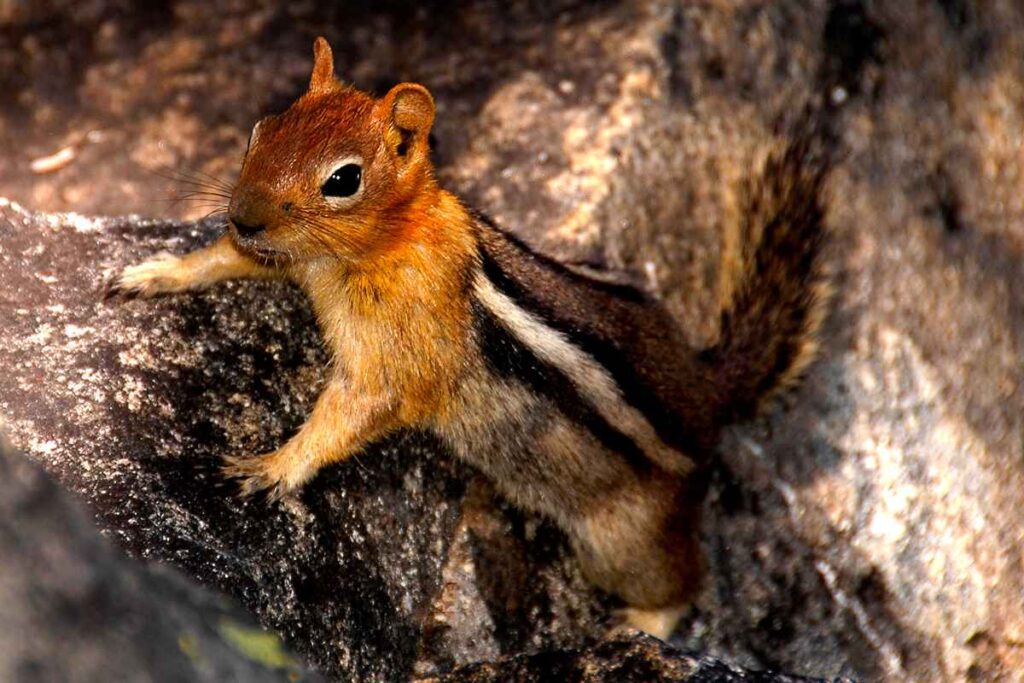 All these animals call the forest of pine and spruce trees their home, and visitors are asked to respect the area as if it were their own home.
---
History of McCarthy Beach State Park
The human history of McCarthy Beach State Park is not nearly as ancient as the geological one, but it's still worth recounting and remembering.
In fact, the birth of the state park was made possible by the construction of a railroad to Sturgeon Lake in the late 1800s. The railroad was built in order to transport logs to the waterways and eventually into Swan River, which would move the timber down to the Minneapolis sawmills.
As railroads usually do, besides the transportation of logs, the railroad to Sturgeon Lake also spurred a human movement. People from all over the Iron Range began to visit Sturgeon Lake and the other surrounding lakes to relax by the water and in nature: a precursor to the state park's lake destination status today.
After the land owner died in the early 1940s, the land was eventually purchased by the state thanks to the help of locals who wanted to immortalize its beauty and helped raise money for the purchase. McCarthy Beach State Park came into existence as an official state park in 1945.
---
Amenities/ Activities
Now that you know how McCarthy Beach State Park came about, let's dive into the many ways you can enjoy its lands!
Park Office
Though the park office isn't exactly a tourist destination, it is a helpful stop to make if this is your first visit to McCarthy Beach State Park. For example, if you arrive at the park in a vehicle, you'll need a parking permit.
The park office is also a great place to learn more about McCarthy Beach State Park. They have great interactive panels, brochures, and helpful staff to give you all the information you need. There you can also find the gift shop, where you can pick out unique gifts, and support the state park in one go!
Hint: You can even borrow fishing rods and tackle from the park office!
Swimming Beach
Did someone say beach? I did! That's right, McCarthy Beach State Park has a beautiful lake beach called sugar sand beach that has been adored by locals since the park's founding.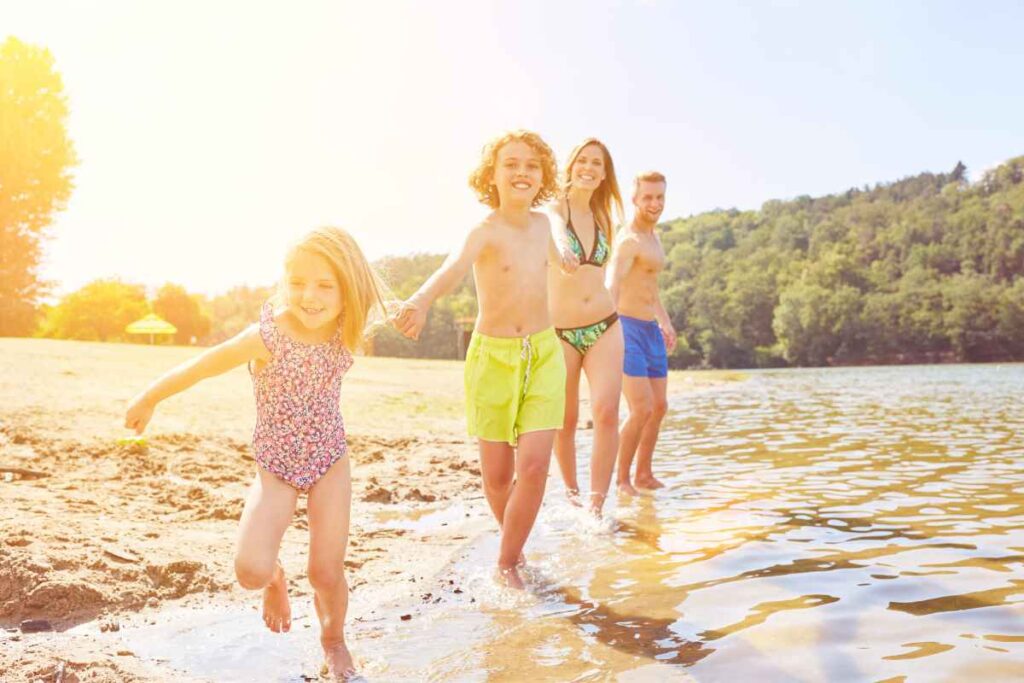 The beautiful beach is kid-friendly (which means more relaxation for the parents, too) and the on-site amenities include a restroom with changing rooms.
What's more, the half-mile-long stretch of sand is perfect for playing frisbee and volleyball. Just be careful not to bother the swimmers! Plus, the beach is close to a camping area, which means you can go for a swim or play some beach sports before hanging out by the campfire.
Camping
The state park has dozens of campgrounds on its property, including drive-in sites, electric sites, walk-in sites, a group camp, and even a horse camp that isn't located in McCarthy Beach State Park but is managed by the park and is connected to it with trails.
Vault toilets are available all year and are wheelchair accessible, whereas showers (handicap accessible), flush toilets (handicap accessible), and dump stations are only open seasonally.
Hint: if you want to camp somewhere with a great view, go to the group camp!
Picnicking
If you're not a fan of spending the night in a tent but you still want to be in nature, then picnicking is a great option for you. Head to the picnic pavilion where you'll find picnic tables, a big fireplace, water spigots, and a vault toilet.
If you decide you want the entire space to yourself, you can even rent the entire pavilion for a private day-long event!
Hiking
Make sure to bring your hiking shoes when you visit McCarthy Beach State Park because Pickerel Lake Loop is a beloved 3.4-mile trail with lots of raving reviews. With a change of altitude of over 250 feet, you'll be on your feet for over an hour. It's certainly worth the burnt calories!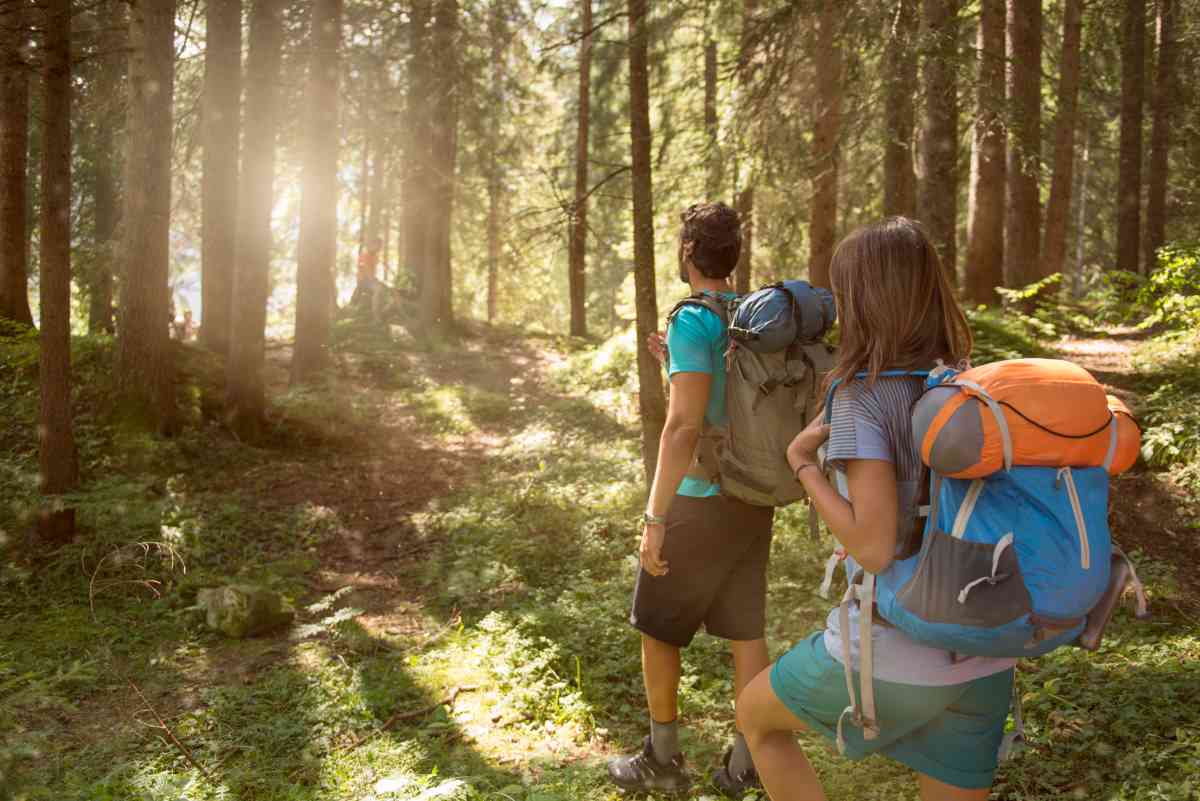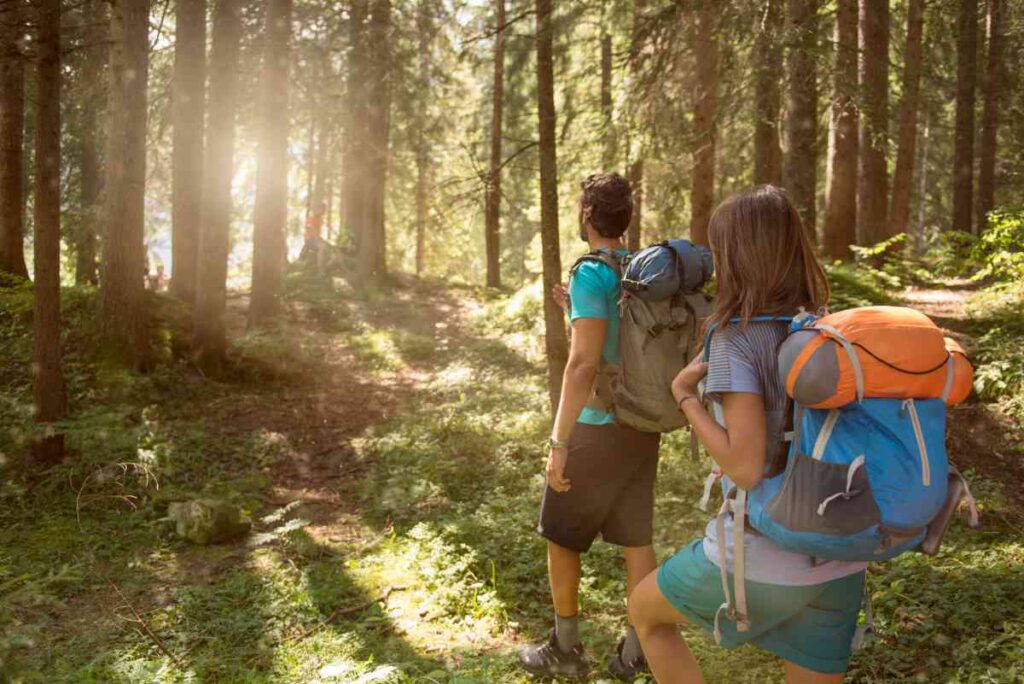 What's more, you can bring your furry friends (as long as they remain on the leash) and it's also a great hike for the whole family. Enjoy it all year long, including with snow shoes in the winter! If you don't like crowded areas, I advise you to visit them during the spring or fall as opposed to the summer.
Fishing
In the mood for some bluegill or crappie? The good news is that you don't need a fishing license to fish from the shores or fishing pier at McCarthy Beach State Park (if you're a Minnesota resident).
Even if you're not into fishing, the fishing pier is a must-visit spot at McCarthy Beach State Park because you can watch beautiful sunrises over the water.
Boating
The shallow water that makes the swimming beach at McCarthy Beach State Park kid-friendly is a bit of a deterrent to boat owners, but they still arrive from all over the Sturgeon chain of lakes to hang out in the deeper waters and even have fun with water sports like water skiing.
On the park's south side you will also find boat access.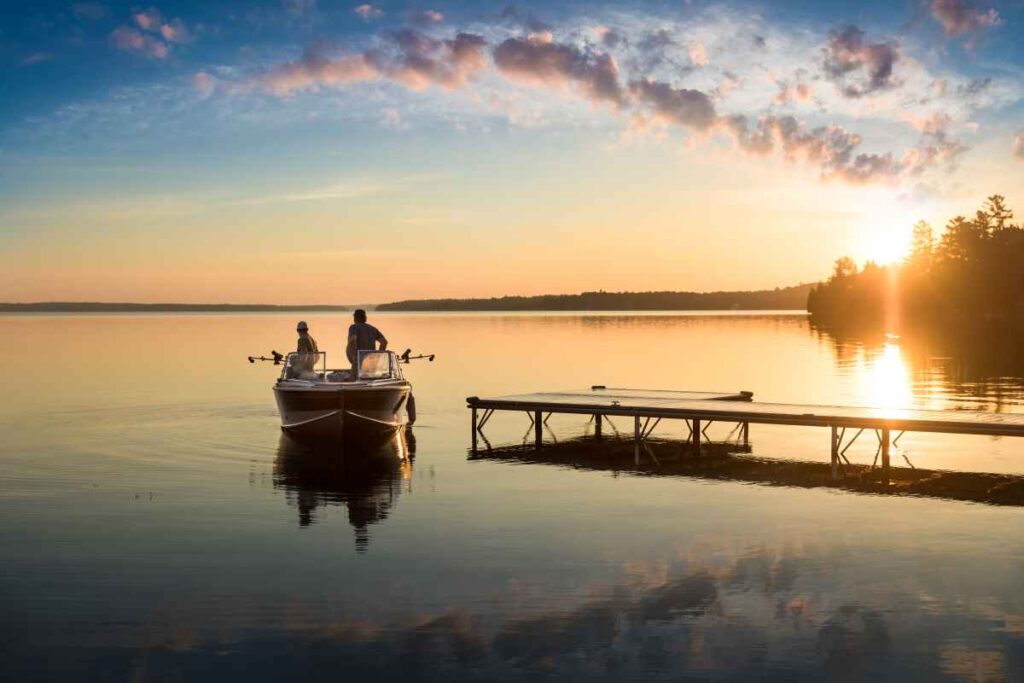 Fire Tower View
For the best view in the entire state park, head to the fire tower, which is normally used as a wildfire lookout. From its top, you'll be able to see the entire state park, including multiple lakes and the beautiful forest.
---
Enjoy Your Visit to McCarthy Beach State Park!
I hope this post has inspired you to make McCarthy Beach State Park your newest lake destination for the whole family. With tons of outdoor activities to enjoy in nature, every member of the family is sure to have a blast. Remember to snap a picture from the top of the fire tower.
Excited for more Minnesota State Park information? Then check out these posts on the best state parks in Minnesota!
Love spending time outside? Then discover the Minnesota Outdoors to continue learning new ways to reconnect with nature!