Want to visit one of Minnesota's largest inland lakes? Check out this list of the best Mille Lacs Lake cabin rentals.
Mille Lacs is an angler's paradise, with many species of fish populated in the shallow waters. Whether you're hoping to catch largemouth bass, walleye, or jumbo perch, you'll find ample supply in this inland lake.
The name Mille Lacs translates to "thousand lakes" in French, which makes sense because this area is brimming with small bodies of water. Below, you'll also find cabins perched on Ann Lake and Cove Bay but still have close proximity to Mille Lacs Lake.
The right vacation requires the finest lodging, so we compiled this list of the best Mille Lacs Lake cabin rentals. Whether you're looking for a cabin with a hot tub for your next couple's getaway or a large mansion to house the whole extended family, you'll find the right option.
So, without further ado, check out our guide on the best Mille Lacs Lake cabin rentals to start planning your next trip.
---
Best Log Cabin Rentals
Who wouldn't love cozying up in a log cabin after a day on the lake? Here are a few log-cabin-inspired lodging options to make your next trip memorable.
1. Lake Mille Lacs Lodge
You can't beat this Mille Lacs Lake cabin rental. I mean, look at that view from the main bedroom! If you dream about waking up to an uninterrupted panorama of Mille Lacs Lake, you'll love Lake Mille Lacs Lodge.
This house (or rather mansion) includes 10 bedrooms, six bathrooms, and is decked out with log-cabin-inspired touches. It feels like a northern cabin, but with all the luxuries you would expect from a five-star hotel.
The sprawling 8,800 layout includes a fully equipped commercial kitchen, snack bar, multiple living rooms with fireplaces, and a guest suite. Outside, you'll find a large waterfront deck with a fire pit and ample seating.
A pontoon boat is also available to rent to take advantage of the serene waters or indulge your inner angler.
This option is perfect for celebrating a family reunion since it houses up to 34 guests. If you hope to experience Mille Lacs Lake at its finest, you can't beat this rental.
---
2. Log Home Luxury
Here's another Mille Lacs Lake cabin rental that's sure to please.
Log Home Luxury makes you feel like you're renting a private ski chalet with floor-to-ceiling wooden walls and knotty pine touches. Despite the cabin feel, this home is fully equipped with modern luxuries like granite countertops, a slate shower, and even a whirlpool tub in the main bedroom.
This three-bedroom, three-bathroom log home is an excellent retreat for the whole family and will comfortably lodge nine guests. Can you imagine a more cozy setting than lounging with loved ones in the rustic living room, gazing at the glistening lake from the floor-to-ceiling windows? After a long day on the lake, this accommodating oasis will provide you with ample R&R.
---
3. Cozy Retreat with Firepit
This log cabin rental is perfect for wilderness lovers at heart. It's nestled right in the middle of the woods, allowing you to really get in touch with nature.
When you're not outside, you can enjoy the 2000 square feet modern interior, which contains three bedrooms, and two bathrooms and houses 11 guests. You'll find all the contemporary conveniences inside, including WiFi, two TVs, and a fully equipped kitchen. There's even a dedicated workspace for working remotely.
This rental is conveniently located near Mille Lacs Lake, Father Hennepin State Park, and numerous golf courses, making it an ideal option for those who want to pack their itinerary full of outdoor activities.
---
Best Cabins with Hot Tubs/Saunas
Do you want to soak in a steaming bath after spending the day waterskiing? If this sounds like heaven to you, check out these cabins with hot tubs.
4. Izatys Resort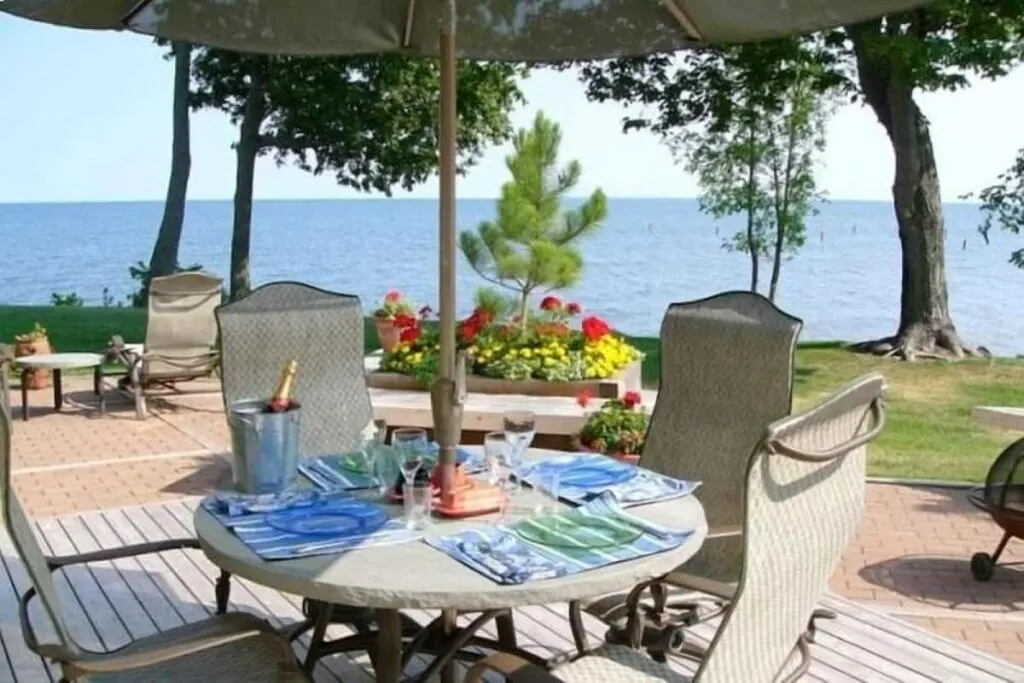 Izatys Resort offers individualized townhomes with great views of Mille Lacs Lake. This option supplies all the resort amenities like golf, tennis, and a hot tub, with the privacy and feeling of a cabin rental.
This option is decked out with large floor-to-ceiling windows that offer beautiful views of the pristine lake, which sits only 30 feet away. You'll also appreciate the private deck and wood-burning fireplace and will have a hard time deciding where to lounge with your glass of vino.
This rental includes two bedrooms and three baths, making it perfect for smaller families or a couple's retreat.
---
5. Marina on Mille Lacs
Marina on Mille Lacs offers you the chance to enjoy shoreline living at its best. With access to a 44-foot deck, this option makes it easy to BYOB (bring your own boat).
When you're not enjoying Mille Lacs Lake, you can soak in the inviting hot tub, sit by the bonfire pit, or play some lakeside ping pong.
The one-level interior is open-concept and lodges eight guests. There are three bedrooms and two baths, including an office, if you want to plan a "workcation."
---
Best Fishing Cabins
The Mille Lacs Lake region is a premier fishing destination home to many different bodies of water. If you want to take advantage of this angler's paradise, check out these best Mille Lacs Lake cabin rentals for fishing.
6. Lakefront Vacation Rental
This lakeside vacation rental is located on a small inlet called Ann Lake where you'll find 650 acres of open waters ready to be explored. It sits less than 20 feet from the lake, with an elevated walk-out deck so you can sip your morning brew while watching the sunrise.
This rental is designed with rustic touches, like wooden furniture and leather couches, but you'll also find all the modern conveniences like air conditioning, WiFi, and a TV.
You'll find seven bedrooms in this lakeside cabin, making it perfect for family gatherings of up to 14 guests. If the weather is taking a turn for the worst, cozy up in the living room with gorgeous views of the water or play a round of pool in the well-stocked rec room.
---
7. Private Year Round Cabin on Lake Mille
This private year-round cabin makes it easy to take advantage of Minnesota's premiere lake country.
Located on a peaceful harbor off St. Albans Bay, this comfortable cabin is an angler's dream. You'll find a sprawling dock with a 16-foot boat lift and a fish-cleaning house for easy gutting. The large driveway is smartly designed to easily accommodate boats and trailers.
If the weather isn't friendly to outdoor activities, you can still enjoy the view from the enclosed lakeside gazebo. Inside, the open-concept layout includes modern appliances, rustic furniture, and a wood-burning fireplace to amp up the coziness.
This option fits 10 guests and includes four bedrooms and three bathrooms. If you're trying to plan a weekend trip with your in-laws, this option will suit you well.
---
Best Cabin Rentals for Family Vacations
We wanted to include the best Mille Lacs Lake cabin rentals for families, so if you plan on bringing the young ones on your next trip, consider one of these options.
8. The Mille Lacs Shack
The Mille Lacs Shack is a cozy, affordable rental for family fun. Outside, you can enjoy lakeside views while nestling beside the backyard firepit. Or enjoy a barbeque on the deck next to the sprawling horizon. No matter where you chill out, you'll be treated to pristine views of the lake.
The quant interior contains two bedrooms and one bath, and the convenient location offers close proximity to fishing, boating, golfing, hiking, and dining.
There's a separate game room with a foosball table, bar, and TV. This kid-friendly accommodation is great for making fun-filled memories with the whole family.
---
9. Lakeside Retreat on Cove Bay
If you have a large family to house, the Lakeside Retreat on Cove Bay is ideal. The five bedrooms and five bathrooms comfortably lodge 16 guests with room to spare.
Lakeside Retreat sits on two private acres with a sprawling shoreline only 100 feet from the house. This beach is shallow, with a mix of sand and gravel, making it great for wading in the waters. Since the shoreline isn't too deep, it's ideal for young children or pets.
You'll find a long deck that stretches out into the lake, with six kayaks attached for easy access. If you're water-adverse, there's also a well-equipped playground overlooking the pristine view.
This is one of the best family-friendly Mille Lacs Lake cabin rentals, with something for everyone to enjoy.
---
Best Mille Lacs Lake Cabin Rentals: Summed Up
We hope our guide helped you find the best Mille Lacs Lake cabin rental for your next vacation.
Whether you're hoping to lounge the night away in a hot tub, take advantage of the well-stocked lake, or simply relax by the water with a glass of wine, one of these rentals will make your lakeside dreams come true.
Do you want to explore the rest of this northern state? Check out more places to stay throughout Minnesota.