In the great state of Minnesota, fishing is more than just a three-season sport. Sure, it's warmer when you fish from spring to fall, but there's something special about doing some Mille Lacs Lake ice fishing.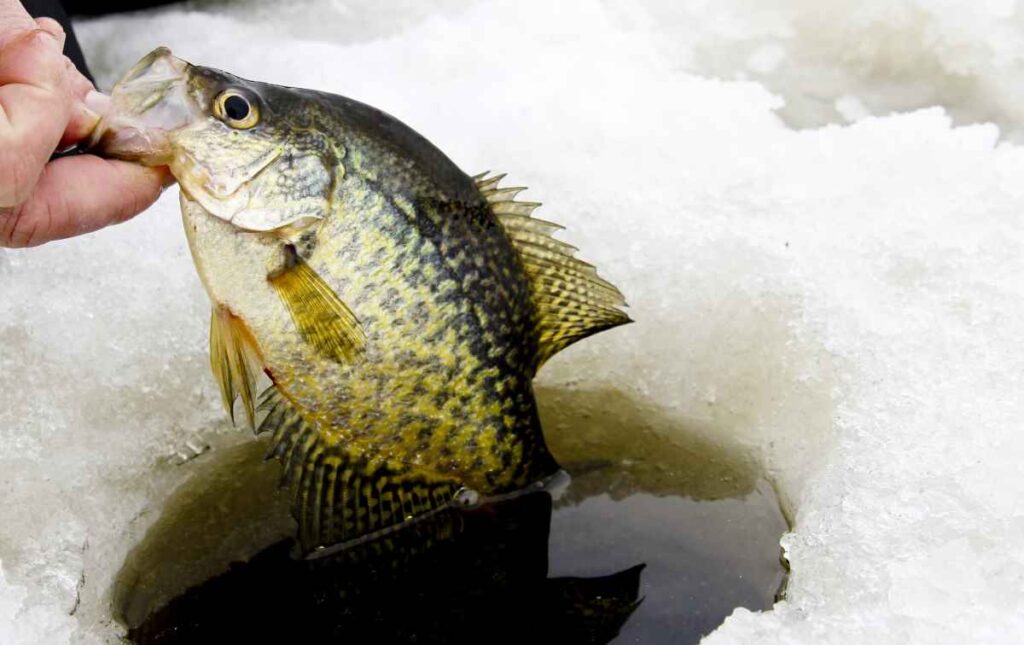 Mille Lacs Lake is one of the biggest lakes in all of Minnesota and home to some of its best ice fishing. So, whether you're new to the sport or are a seasoned angler, this Mille Lacs Lake ice fishing guide is for you.
Fish Species to Target
Mille Lacs Lake is known for its incredible bass, walleye, and musky fishing from spring to fall. However, not all of these fish are as apt to make appearances when the water's surface has frozen.
Walleye
As it is throughout the year, walleye is the premier fish to target when you go Mille Lacs Lake ice fishing. Walleye are abundant throughout the lake thanks to the large walleye fishery within the lake's waters.
The nice thing about going after walleye is that they're literally everywhere throughout the lake. No matter where you cut your fishing hole and drop a line, you will run into more than a few walleye.
Walleye ice fishing season runs from December 1 until the end of February.
Northern Pike
As their name indicates, northern pike is accustomed to the chilly waters of the north. As such, they're still active during the winter months and are actively hunting.
The lake is full of monster pike, and some have been caught that measure more than forty inches long. However, if you're going after the northern pike on your Mille Lacs Lake ice fishing trip, you should target the southern bays or the northwest shoreline in the Gunnison area.
The northern pike season runs from November to March, but the spearing season is from November 15 to February 27.
Panfish
Walleye and northern pike are the premier Mille Lacs Lake ice fishing targets, but they're far from the only ones. Certain panfish such as bluegill, crappie, and perch aren't quite as abundant as walleye and northern pike, but they're unusually large for their species.
Perch and other panfish generally don't have a season and can be caught year-round.
Best Time to Ice Fish on Mille Lacs Lake
As soon as the ice is frozen and you can haul your ice house onto the lake, there's no bad time to do some Mille Lacs Lake ice fishing. Remember that the Mille Lacs Lake ice fishing season usually runs from December to April, so plan your time accordingly.
While the entire season tends to be fruitful at Mille Lacs, it's the best from December to January.
In terms of the best time of day to go ice fishing, there's no such thing as a bad time. If you're targeting walleye, however, they prefer to be active when it's dark outside, which means the early morning or late evening hours are best.
Best Ice Fishing Spots on Mille Lacs Lake
As we said before, there isn't a bad place or time to go ice fishing on Mille Lacs Lake. However, like all major fishing lakes, certain areas on Mille Lacs are known hotspots.
Early in the Season
Early in the Mille Lacs Lake ice fishing season, the ice isn't quite as thick as it gets later in the year. During this time, from the first freeze until late December or January, many of the larger bays on Mille Lacs offer the best ice fishing.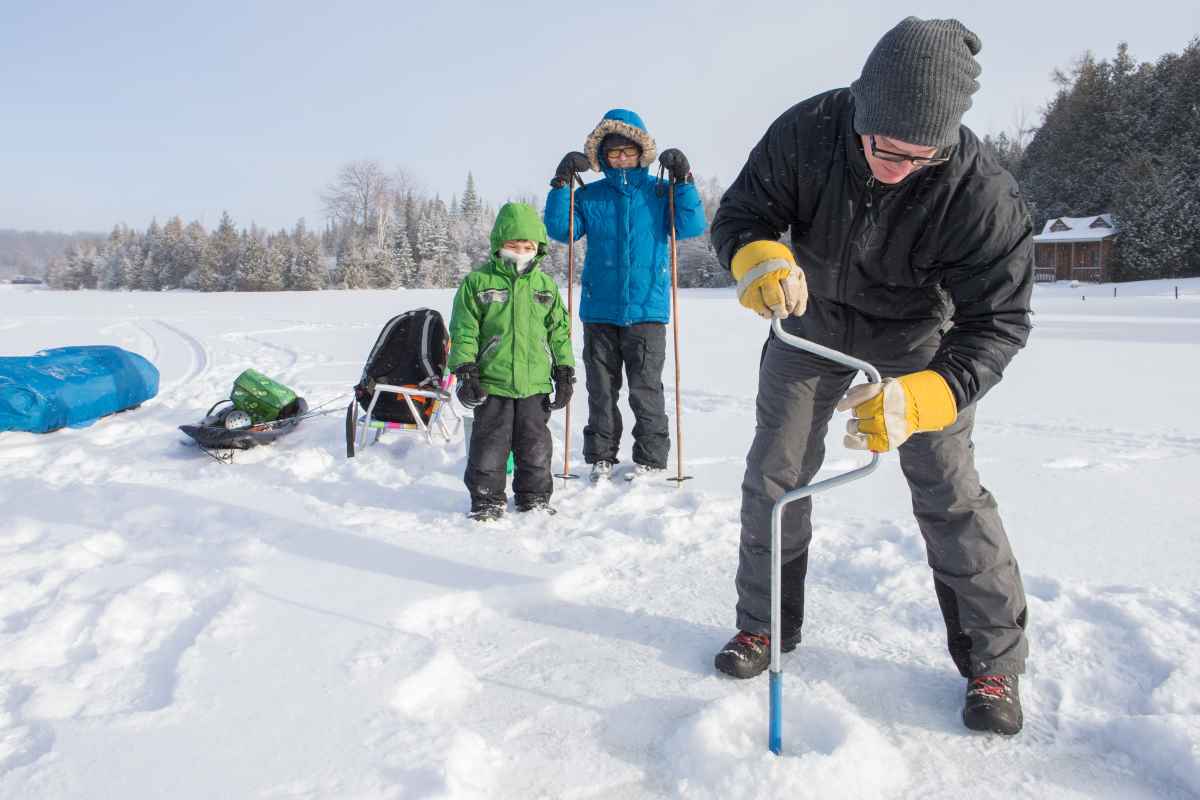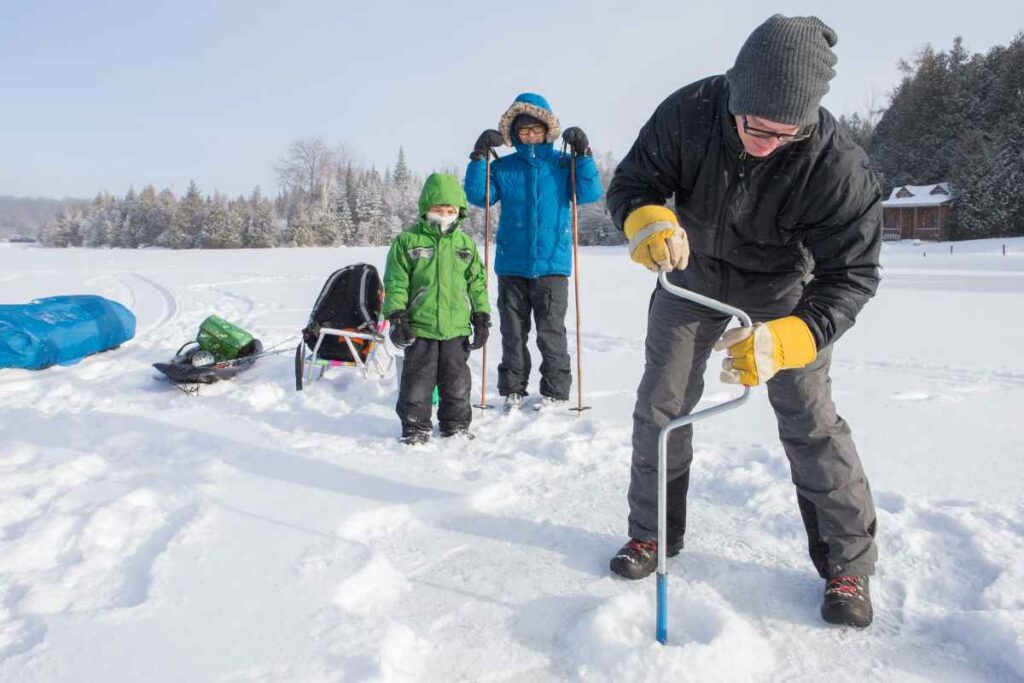 These bays include but aren't limited to:
Vineland
Isle
Cove
Wahkon
Sunset
Wigwam
Garrison
If you go too early in the season, when the ice has just frozen over, the bigger bays may not be solid enough for ice fishing. If that's the case, your best bet is to target smaller, sheltered bays or areas near the shore because they freeze over faster.
Later in the Season
If you head out onto the lake later in the year after the ice is thicker, some of those same areas will still have fish. However, to maximize your chances, you should instead target areas around the islands on Mille Lacs or areas around the lake points.
These areas include but aren't limited to:
Indian Point
Hennepin Island
Big Point
Doe Island
Shah-Bash-Kung Point
Remember, these points and islands are known hotspots, so you may want to set up earlier in the year, so you don't miss a spot.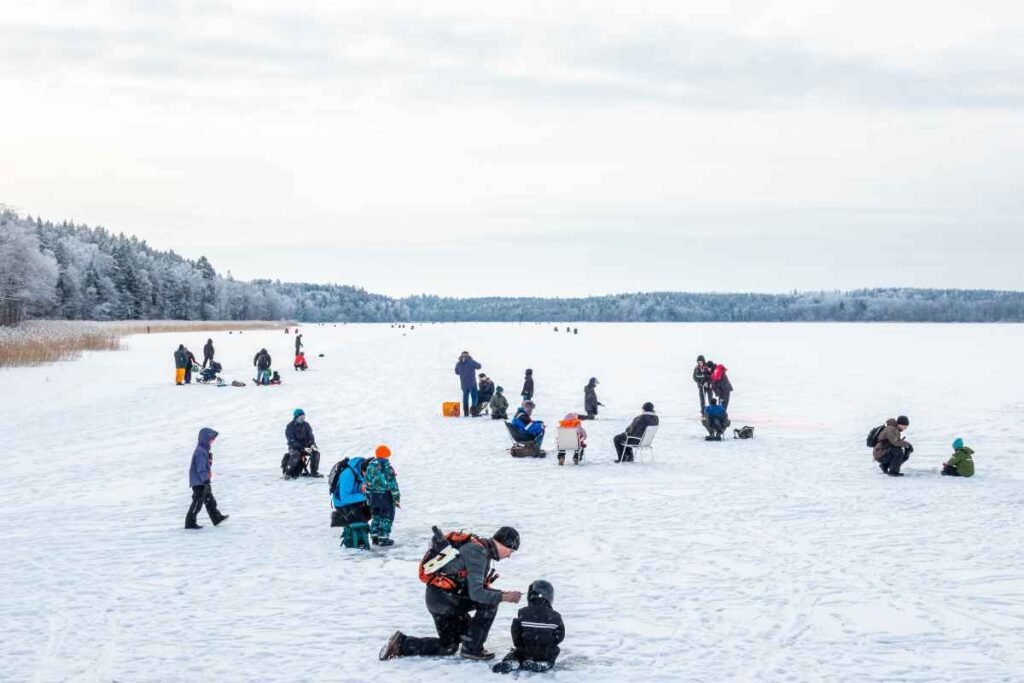 Mille Lacs Lake Ice Fishing Methods to Try
There are two Mille Lacs Lake ice fishing methods to try. You can either focus on perfecting a single method or dabble in both to maximize your chances of success.
Spearing
Contrary to what you may think, spearfishing is quite common on Mille Lacs Lake. In fact, there's an entire season dedicated to it.
During spearfishing season, you can spear northern pike, rough fish, and tullibee. There are even fishing guides and fish house companies who are solely dedicated to guaranteeing success in this avenue.
If you decide to go spearfishing on Mille Lacs Lake, make sure to rent or purchase a dark house. Dark houses are special ice fishing houses that are blacked out and allow for more visibility.
With a dark house, you can potentially see all the way to the bottom of the lake, which is a huge advantage when you're Mille Lacs Lake ice fishing.
Fishing Line
If you want to go the traditional route, however, using a standard fishing line and fishing hole is the way to go. No matter which ice fishing method you use with a line, the key is to be patient and pick a good spot.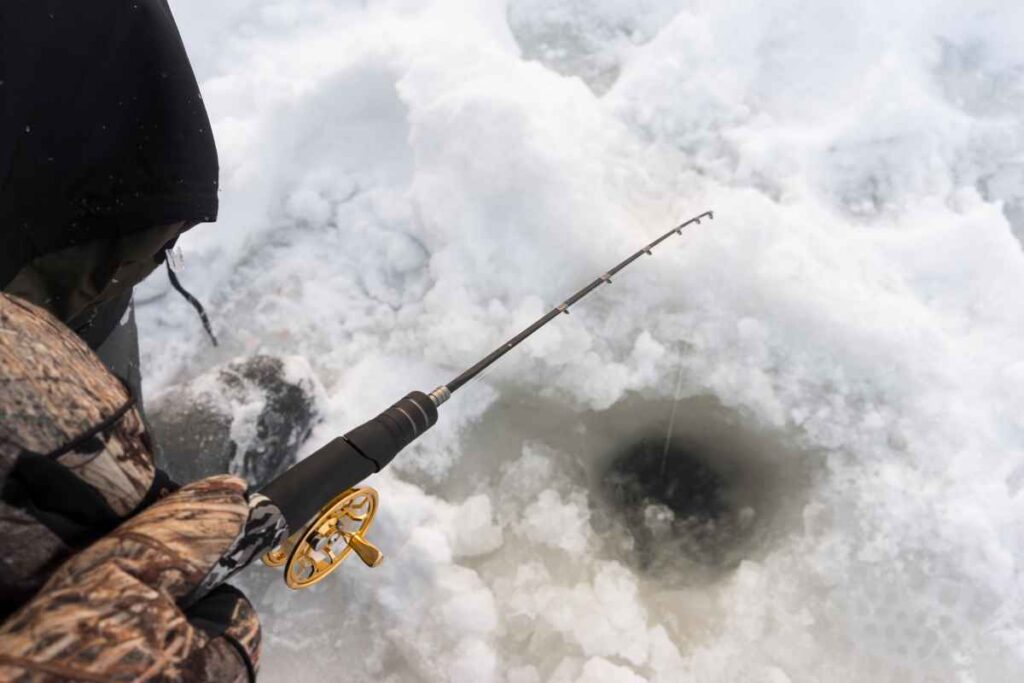 Best Mille Lacs Lake Ice Fishing Guides
If you're new to the area and don't trust your gut when it comes to ice fishing, you may want to consider a professional as your ice fishing guide. When you hire a Mille Lacs Lake ice fishing guide, they'll take you to pre-drilled ice holes with ice houses in place.
It's the easiest and most definitive way to ensure ice fishing success, and it's also great if you're just visiting the area. Here are some of the top Mille Lacs Lake ice fishing guides.
Things to Know for Your Mille Lacs Lake Ice Fishing Trip
The key to success when it comes to ice fishing on Mille Lacs Lake is to have a comfortable ice house. Temperatures drop into the negatives, conditions get windy, and the weather gets downright brutal.
If you have a comfortable ice house in which to do your ice fishing, however, you can negate these nasty elements. You should also make sure to bring everything with you that you'll need for a prolonged ice fishing experience.
You should also check the current fishing rules and season lengths. Certain fish on Mille Lacs Lake have size restrictions and are only catchable at certain times of the year.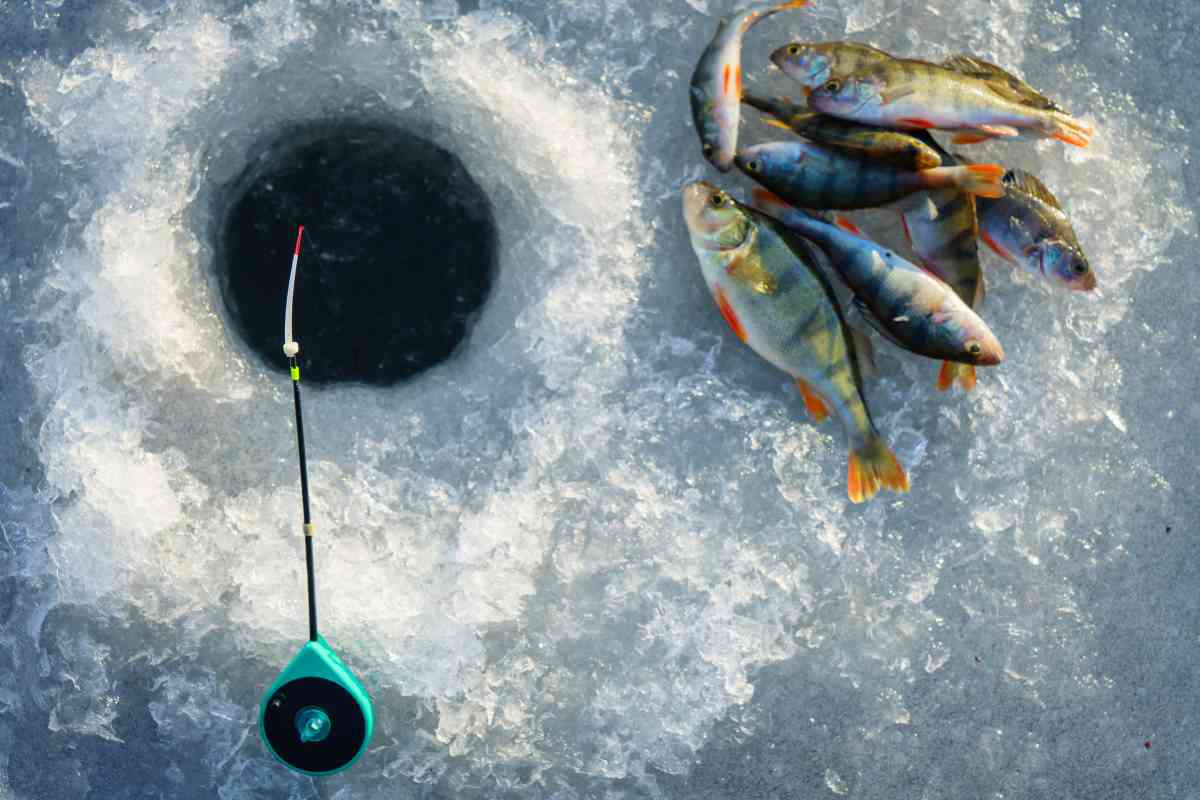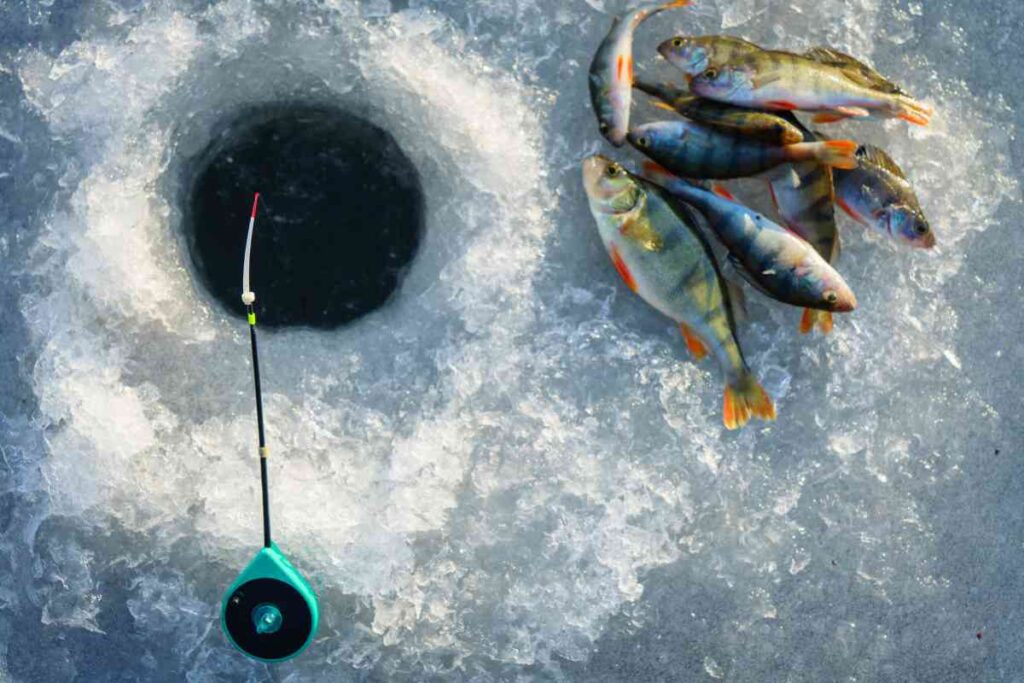 What to Bring
Speaking of things to bring on your Mille Lacs Lake ice fishing extravaganza, here's the complete list.
Your fishing license
Fishing equipment
Food and water
Gas or solar generator
Appropriate clothing
Anything you'll need to be comfortable in your ice house
Wrapping Up the Complete Mille Lacs Lake Ice Fishing Guide
While Mille Lacs Lake ice fishing isn't an exact science, people have been doing it for years and have all but perfected the methods. Whether you choose spearing or traditional ice fishing, you should adhere to the tips and tricks in this article if you hope to enjoy ice fishing success on Mille Lacs Lake.
Want to learn more about fishing, discover more fishing spots, and or read up on the best fishing gear? Then continue your fishing adventure with our comprehensive guides, info posts, and more!
Love spending time outside? Then discover the Minnesota Outdoors to continue learning new ways to reconnect with nature!