Music has the power to bring people together. With good tunes floating through the air, even strangers can feel like family–and that amazing energy is amplified at music festivals!
Whether you're a local looking to explore what your state has to offer or a visitor wanting to make the most of your vacation, this lineup of all the unforgettable Minnesota music festivals is for you!
So read on for descriptions of all the different genres and vibes each Minnesota music festival has to offer.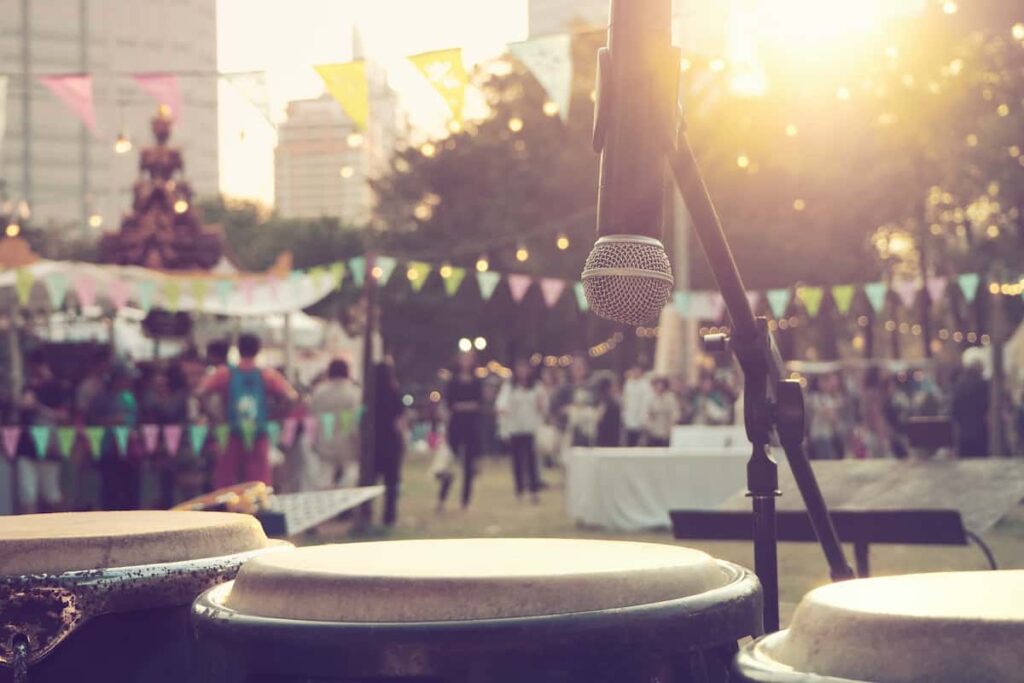 ---
Best Multi-Genre Festivals
To start you off, here are the festivals best known for bringing all genres of music together!
1. Twin Cities Summer Fest
Twin Cities Summer Fest is an all-ages, concert-style festival held in Minneapolis' Target Field stadium. For two days, every year in July, this baseball stadium brings the festival atmosphere with multiple artists, giveaways, VIP experiences, sponsor activities, and more!
Tickets can be bought for individual seats or an entire suite for larger groups. And there's no re-entry once you leave so be sure to pack enough water and money for food.
2. Boats and Bluegrass
This Minnesota music festival is for everyone looking to sink into nature with good tunes and chill vibes. Situated in the beautiful bluffs on the shores of the Mississippi River, there's no better setting to enjoy a healthy mix of indie, folk, blues, rock, and country music.
Throughout the four days in September, there are also canoeing and kayaking trips organized for all festival goers. And each adult ticket comes with free campground access for tent campers and free access for kids 16 and under.
With a zero drug policy, zero tolerance for out-of-control intoxication, and a no-smoking policy, Boats and Bluegrass is the perfect event for families and nature lovers looking to get out of the city!
---
Best Country Music Festivals
When it comes to Minnesota music festivals, there's nothing quite like the country music experience.
3. WE Fest
Since 1983, WE Fest has been one of the biggest country music festivals in all of the U.S.
Set on the shores of Lake Sallie, this three-day festival in August offers a wide variety of tickets for all types of festival-goers. Whether you're looking for simple lawn chair seating, the full glamping experience, or even a country club pass, this Minnesota music festival has it all.
There are no age restrictions on the grounds, but kids under 18 must be accompanied by an adult. Children 5 and under can get in without a ticket or camping pass!
Once in, the long list of activities happening daily will ensure you'll never be bored. You can participate in Corn Hole tournaments, scavenger hunts, a campsite decoration contest, and much more!
4. Kick'n Up Kountry Music Festival
Kick'N Up Kountry is not only one of the top Minnesota music festivals for country music, but it's also the music festival with the most unique events.
For four days in Karlstad, MN, choose between Baja racing, celebrity look-alike contests, Mattracks Adventure World tour of the world's creepiest and scariest animals, and more! Not to mention a massive lineup of country music stars that gets bigger and bigger with every passing year.
Even the most rambunctious children will find endless fun at this Minnesota music festival.
5. Winstock Country Music Festival
Run entirely by volunteers, the Winstock Country Music Festival is one of the most popular country festivals in the Midwest.
With camping available within walking distance of the stage for everyone above the age of 18 and a massive Corn Hole tournament on one of the two days, this event has a laidback summer atmosphere. And all the proceeds go towards private education in the surrounding area!
6. Vicki's Camp and Country Festival
The rowdy festival experience isn't for everyone. If you want a more intimate, VIP experience, Vicki's Camp and Country Festival is the perfect Minnesota music festival for you!
For three days in Redwood Falls, enjoy national and regional country music artists all within a 5-minute walk radius. To ensure a comfortable experience, this event sells only 5,000 tickets per day and limits the festival to those 18 and older.
7. MoonDance Jamming Country Fest
There's nothing like camping and listening to some country tunes. The MoonDance Jamming Country Fest is one of the few to offer on-site camping with well-kept showers, rentable port-a-potties, and ice.
Located in Walker, MN, this festival is essentially one big campground party. Enjoy listening to some amazing country artists and perks like a breakfast buffet and margarita bar on Saturday!
And if country music isn't your thing, you can also check out the MoonDance website for information on their Dueling Pianos Festival, Rock Festival, and Harvest Moon craft beer event with live music.
8. Grand Country Nights
Out of all the Minnesota music festivals mentioned above, there's no denying Grand Country Nights has the most exciting venue. Held for two days on Grand Casino grounds in Hinckley, MN, this event is offered for all ages. But minors must be accompanied by an adult.
With the purchase of a single or a two-day ticket, you also get a free camping pass! But you will have to pay $5 to use the showers.
---
Best Mixed Rock Festivals
If you like your rock with a little bit of country or soul, these festivals are for you!
9. Lakes Jam Festival
This Minnesota music festival brings country and rock music fans of all ages together for four days in Brainard. The massive grounds include five stages, over 4,000 full-service campsites, carnival games, and even a poker tournament!
But don't worry about the distance, the Lakes Jam Festival also allows golf carts, ATVs, UTVs, and bikes for easy travelling!
10. Lakefront Music Festival
For two days in Prior Lake, you can enjoy a night dedicated to either rock or country music at the Lakefront Music Fest! Starting at 5 pm each night, guests of all ages will get completely different music and experiences depending on the day they choose.
The several parking lots surrounding the park and camping within 10 minutes, makes this Minnesota music festival great for locals and visitors!
11. Bayfront Blues Festival
All the blues-y rock lovers will feel right at home at the Bayfront Blues Festival. As one of the most significant blues events in the Midwest, this Minnesota music festival is known for showcasing the top artists in the blues and blues/rock genres.
Enjoy over 30 acts for three days in a beautiful pavilion overlooking the water in Duluth. And kids under 10 get in for free!
---
Best Free Music Festivals
The only thing that could make live music better, is enjoying it for free!
12. Twin Cities Jazz Fest
Throughout multiple venues in the surrounding Mears Park area of downtown St. Paul, you'll find over 100 musicians performing beautiful jazzy notes for two days each June!
Twin Cities Jazz Fest offers an amazing mix of music for all ages. Making it an unforgettable Minnesota music festival experience.
13. Duluth Homegrown Music Festival
When it comes to celebrating local artists of any and all genres, there's no better event to visit than the Duluth Homegrown Music Festival. You can enjoy the lovely music and community atmosphere for free or make a donation to support the local artists.
From 10 acts in its first year to nearly 200 in recent ones, this week-long Minnesota music festival has an impressive history and amazing support from the city. The mayor even kickstarts the event each year at the local brewery!
---
Best Techno Music Festival
These outdoor techno experiences are Minnesota music festivals you don't want to miss!
14. The Great Beyond
For three days, The Great Beyond will fill the Minnesota River Valley Festival Grounds with some of the most amazing local and international artists!
With each ticket, you get free camping or a free shuttle to and from the nearest hotels. A BYOB policy, strict security, EMS personnel, and an age restriction of 21 and older ensure a friendly and music-oriented atmosphere for all festival goers.
The camping is primitive, so no showers, but the port-a-potties are kept as clean as possible. Hotels are definitely the best option for those looking for a more modern experience.
15. Shangri-La Festival
Dive into unforgettable displays of glow-in-the-dark costumes and stages surrounded by beautiful trees in Harmony Park at the Shangri-La Festival.
Each ticket for this four-day festival near Geneva, MN secures you a spot in the tents-only campground. But the spots are undefined, so first come first serve determines your space. And you'll have to carry everything in so pack light.
With professionally trained fire performers, this Minnesota music festival is generally restricted to ages 18 and over. But that can change depending on the year. So be sure to check out their websites for more details.
---
Wrapping Up The 15 Unforgettable Minnesota Music Festivals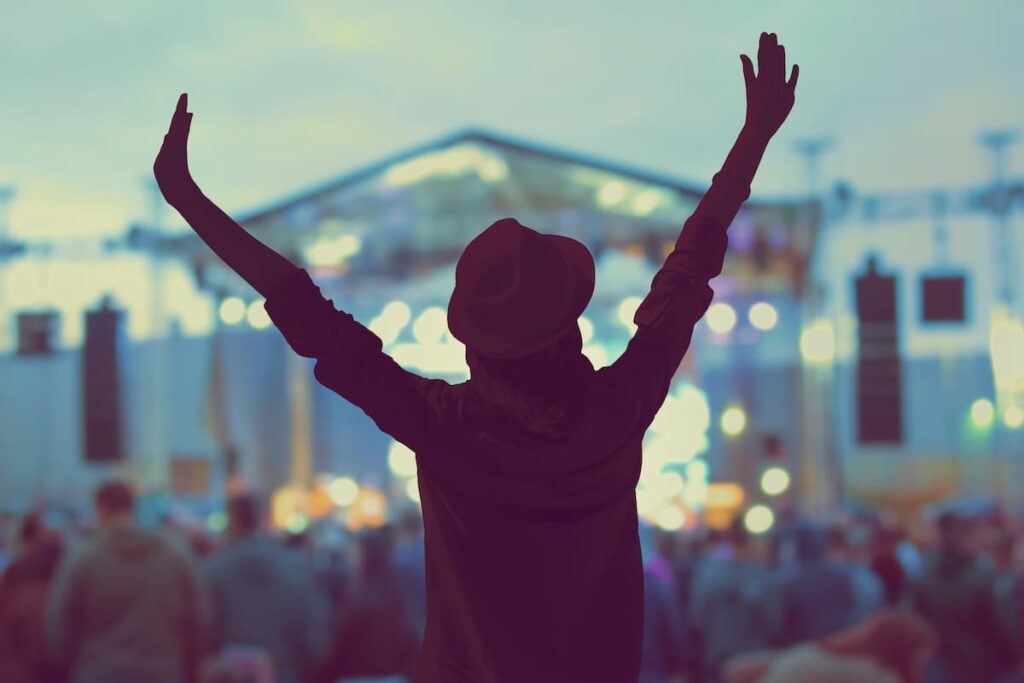 If you're looking for an experience that can bring all different types of people together, don't forget to check out these unforgettable Minnesota music festivals. No matter what music you're into and what vibe you're going for, Minnesota has the perfect event for you!
And for more information on what the state has to offer, check our article on The Best of Minnesota!