If you've ever been to Minnesota or know someone from there, odds are that you've heard about Minnesota Wild Rice. But what exactly is it? Is it truly rice, as its name suggests? Does it cook the same as standard white or brown rice?
The answers to these questions might surprise you! Keep reading to learn all about Minnesota Wild Rice, what it is, and how to use it!
---
What is Minnesota Wild Rice?
The name itself is slightly misleading. As Minnesota wild rice isn't actually rice in comparison to the white or brown rice we usually eat. It is, however, packed with lots of nutrients, making this a healthy alternative to regular rice!
Wild rice is called manoomin. What makes it different is that it's technically the seed of aquatic grass. This means it's related to traditional rice but not the same.
Manoomin grows wild in the shallow lakes of the upper midwest of the United States. The stalks bury their roots deep into the mud of the water, growing as tall as 12 feet. Minnesota wild rice needs to be hand harvested, which takes the work of two people, with the use of a canoe.
This makes it more expensive to purchase and harder to find. But if you're able to purchase some, it's worth the time to make a meal of it and try it out for yourself!
If you plan to cook with authentic wild rice, look for "naturally grown" or "lake or stream-grown" wild rice. Avoid "cultivated wild rice," as this type is grown in a rice paddy and tastes bland. Most grocery stores carry cultivated wild rice, so you might need to search to find the real thing!
---
The History Behind Minnesota Wild Rice
Manoomin, meaning "good berry," was first discovered by the Ojibwe Nation. The wild rice would go on to sustain the Ojibwe Nation through harsh winters and during lean growing seasons.
It quickly became a staple in the Ojibwe's diet, spreading to other Nations like the Dakota and Menominee. Indigenous people found it a valuable commodity to trade with French and British merchants.
It was officially adopted as Minnesota's State Grain in 1977.
The wild rice plant blooms in early summer with small maroon and golden flowers. In the late summer season, the seeds turn to a deep brown color that is about an inch long.
The traditional method of cooking Minnesota wild rice of the indigenous Nations was to scarify the seeds first. This is a process that scrubs the outer layer of the seed off, allowing the seed to absorb water faster. This would reduce the cooking time considerably.
---
What's the Difference Between Naturally Grown and Cultivated Wild Rice?
One of the most notable differences between naturally grown and cultivated wild rice is the length and color of the rice. Naturally grown wild rice is dark brown or black in color and is longer than cultivated rice. Cultivated rice is usually much more uniform in color, as well.
Naturally grown wild rice has a nutty or earthy flavor with a chewy texture. Wild rice that is cultivated usually tastes much like standard white or brown rice.
Wild rice that's grown naturally also has a much longer growing season, which gives it the benefit of having considerably more nutrients than cultivated rice.
The growing environment between the two is also vastly different. Naturally grown wild rice grows naturally in lakes without the interference of pesticides or fertilization. Cultivated wild rice is often grown in urban areas and requires both fertilization and pesticides to thrive.
The final difference between the two rices is the way in which the rice is harvested. Naturally grown wild rice is always harvested by hand. This is the only way the integrity of the rice can remain. Cultivated wild rice is harvested by machine and then goes on for further processing.
---
Harvesting Minnesota Wild Rice Myself
You can harvest Minnesota Wild Rice yourself! To harvest Minnesota wild rice, one must purchase a "ricing license," which is similar to a fishing license. To do so, visit the Minnesota Department of Natural Resources. Here you'll find one-day licenses for non-Minnesota residents and one-day or seasonal licenses for Minnesota residents.
The wild rice harvesting season runs from mid-August through the end of September. Harvesting non-ripe wild rice is considered unlawful.
For more information on the regulations of harvesting wild rice and other wild rice management material, visit the Minnesota Department of Resources.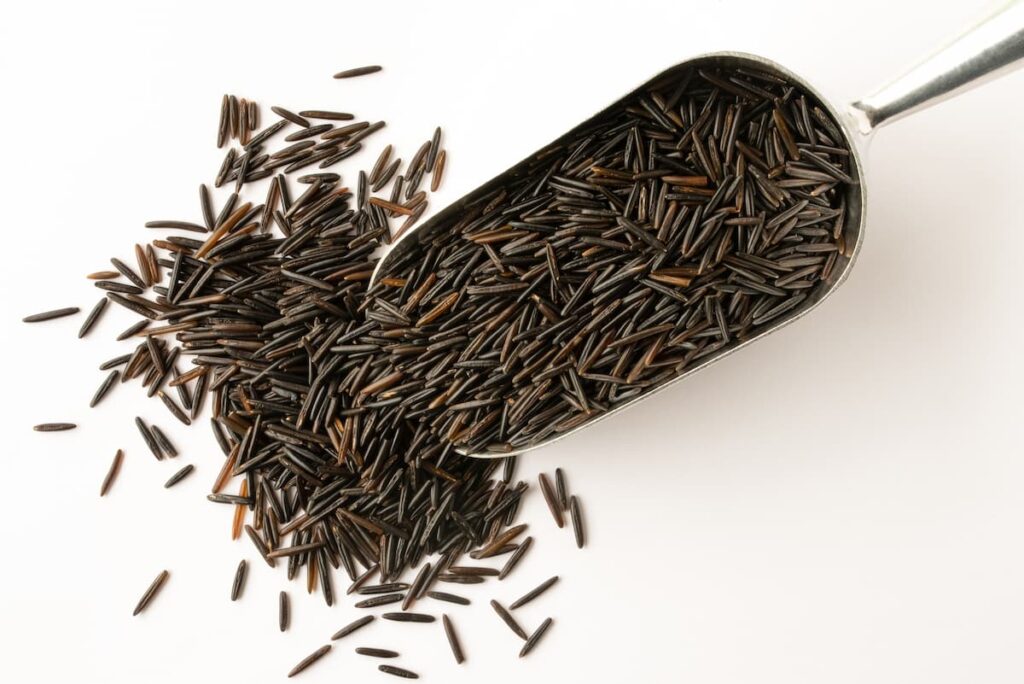 ---
Where To Purchase Minnesota Wild Rice
When shopping for wild rice, it's essential to be sure you're getting naturally grown wild rice. This rice is the tastiest; however, it will cost a little more than standard white or brown rice. Packed with nutrients, this rice is worth the extra cost!
For this reason, it might not be available at your local grocery stores. Remember to read the label of your wild rice carefully to be sure it is authentic.
Here are a few links to naturally grown wild rice so you can be sure you're getting the real thing.
Moose Lake Wild Rice is a trusted brand that promises hand-harvested rice.
Thousand Lakes Minnesota Grown Wild Rice is another trusted brand of wild rice. This brand offers bulk packaging from 1-5 pounds bags.
Another brand to consider is Spicy World Minnesota Grown Black Wild Rice. This wild rice is grown and hand harvested in Minnesota.
---
How to Cook Minnesota Wild Rice
When cooked, Minnesota wild rice has a unique earthy, nutty flavor. As it boils, the seeds burst open, displaying a much lighter-brown color on the inside.
Also, keep in mind that if you plan to cook with authentic wild rice, look for "naturally grown" or "lake or stream-grown" wild rice. Avoid "cultivated wild rice," as this type is grown in a rice paddy and tastes bland. Most grocery stores carry cultivated wild rice, so you might need to search to find the real thing!
Once you've got the right rice, follow these steps to cook it correctly:
1. Place 1 cup of wild rice in a small strain colander and run it under cold water, rinsing it thoroughly.
2. Add 3 cups of your desired broth to a saucepan, stirring in the rinsed wild rice. Salt and pepper to taste.
3. Set heat on medium, bringing to a rolling boil. Reduce heat and cover the saucepan, continuing to simmer.
4. Simmer for 15-20 minutes or until rice is cooked through. The seeds should "pop" open, with a chewy texture but not to the point that it's mushy.
5. Remove the saucepan from the burner and allow the wild rice to sit for an additional 5 minutes.
6. Drain and rinse the rice.
This rice tastes great with a variety of add-ins like nuts, sauteed vegetables, or melted butter!
---
Popular Recipes That Use Minnesota Wild Rice
The most popular recipe using Minnesota wild rice is Chicken Wild Rice Soup. This soup explodes with spices and vegetables, which makes this chicken and rice soup satisfying for even the pickiest eater!
Another great way to enjoy wild rice is Wild Rice Pilaf. This yummy side dish bursts with flavor and reheats well, making it a great holiday dish! This pilaf recipe is perfect for any occasion with just a few ingredients.
This Wild Rice Salad recipe features arugula, pomegranate seeds, dried cranberries, and feta cheese! With the added crunch of nuts, this recipe meets all the requirements for the perfect salad. The recipe includes a homemade dressing that is flavorful and easy!
Make it a Meatless Monday with these vegetarian Ultimate Wild Rice Burgers! They feature just a handful of ingredients and yummy spices to make your mouth water. The best part about this recipe? These meatless burgers can be ready in under 30 minutes!
If you're looking to get fancy, try these Wild Rice Stuffed Acorn Squash! Perfect for a fall supper at home, or a holiday meal for extended family and friends. These individual squashes are filled with veggies and spices.
Another holiday favorite is this Wild Rice Stuffing recipe. This buttery recipe bakes in just 30 minutes and will make a great side dish for any holiday! It's easy to make and can be made gluten-free or dairy-free. This dish will keep your family and friends returning for more!
Casseroles are the perfect option for a filling meal that doesn't take much time to prep. This Butternut Squash, Chicken, and Wild Rice Casserole is no exception! It's got cheese, nuts, and lots of veggies. And this recipe can be altered to be vegetarian or vegan!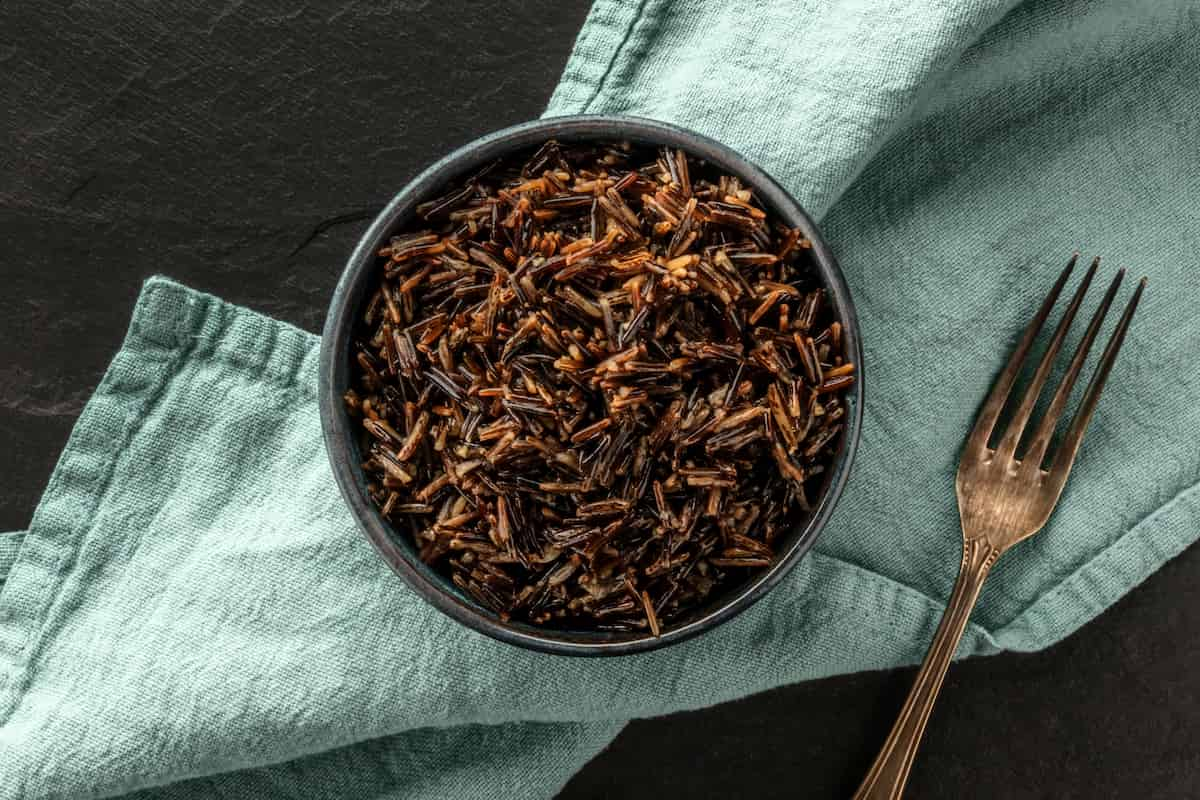 ---
It's Your Turn to Cook With Minnesota Wild Rice!
Now that you know all about Minnesota Wild Rice, how will you cook it? Try out one of the recommended recipes in this post. Or take it a step further and create your own wild rice recipes to impress your family and friends!
Looking for another authentic Minnesota Wild Rice recipe? Try our Crock-Pot Porketta Sandwich Recipe!