A small, hidden gem of a state park situated within just under 400 acres of breathtaking hardwood forests and scenic wetland scapes, Monson Lake State Park offers an ideal retreat for folks looking to enjoy nature's bounty without an overwhelming amount of people around.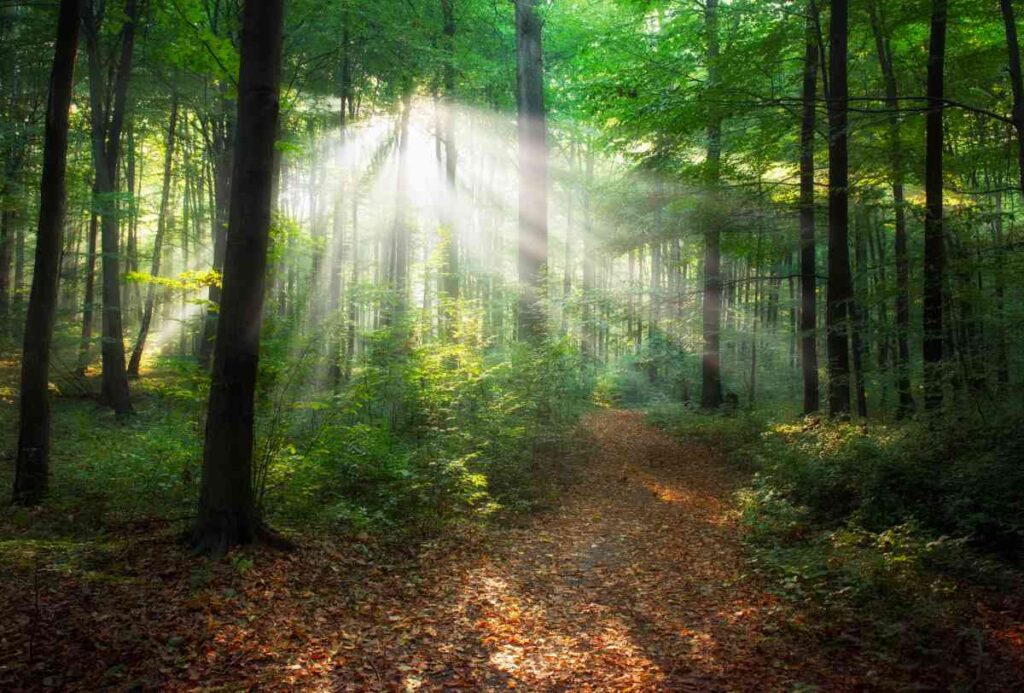 Read on to learn all there is to know about visiting and camping at Monson Lake State Park, including how to reach it, when to visit and much more!
---
How to Get to Monson Lake State Park
Located an easy day trip's drive from the Twin Cities, Monson Lake State Park is a fantastic pick for a state park to enjoy both for a camping trip or for just a day of fun!
To reach Monson Lake State Park from the direction of the Minneapolis/St Paul area, your best bet is to take I-94 to MN-23, then follow County Road 40 the rest of the way in. Those traveling in from the south will find a series of country roads that will lead them to this remote state park, while visitors from the north will also find I-94 will bring them in the closest to Monson Lake State Park.
It's always recommended for park visitors to use an up-to-date map or GPS when navigating to Monson Lake State Park. This will help make you aware of any current road closures, traffic issues, and the absolute speediest and the best route to reach the park at the time of your visit.
---
When Is the Best Time to Visit Monson Lake State Park?
Monson Lake State Park is predominantly a warm-weather park. Camping is available only during the summer season between Memorial Day and Labor day, and in the off-season, all potable and drinking water is shut off throughout the park.
The park roads are also closed during the winter, and there are no skiing, snowshoeing, sledding, or snowmobiling opportunities in the cold months.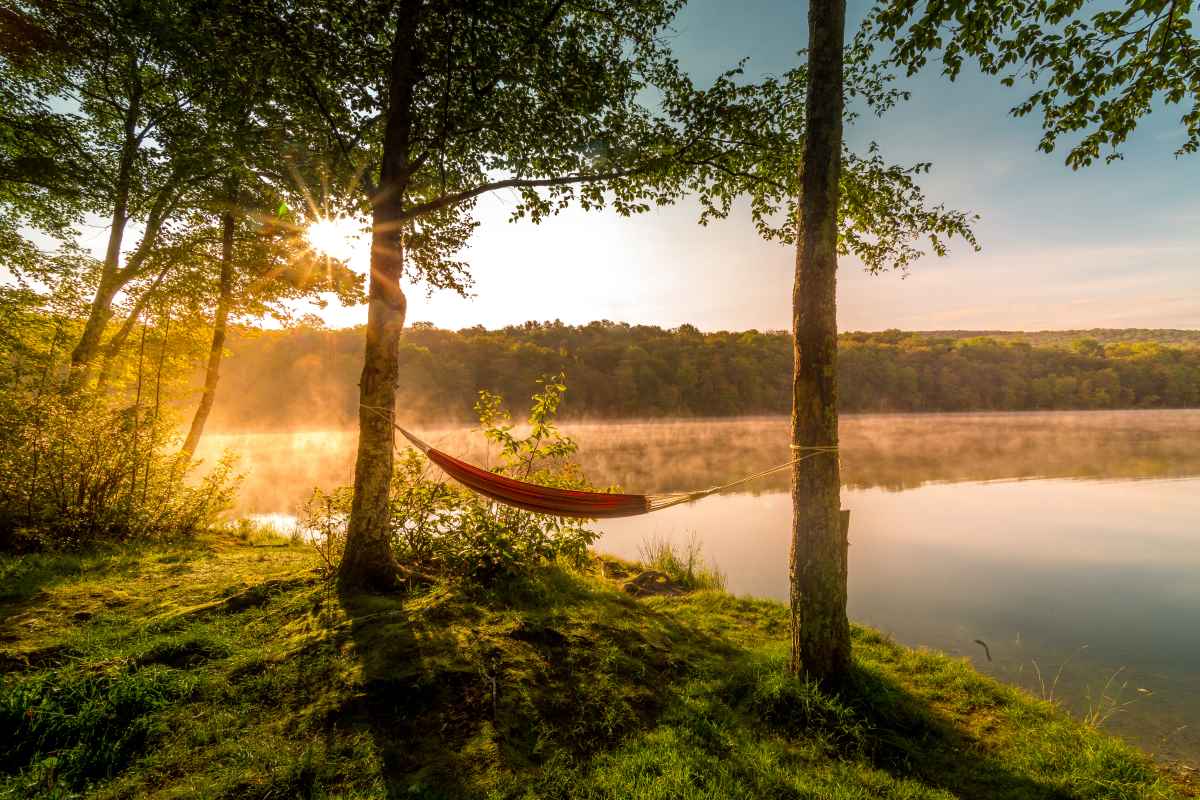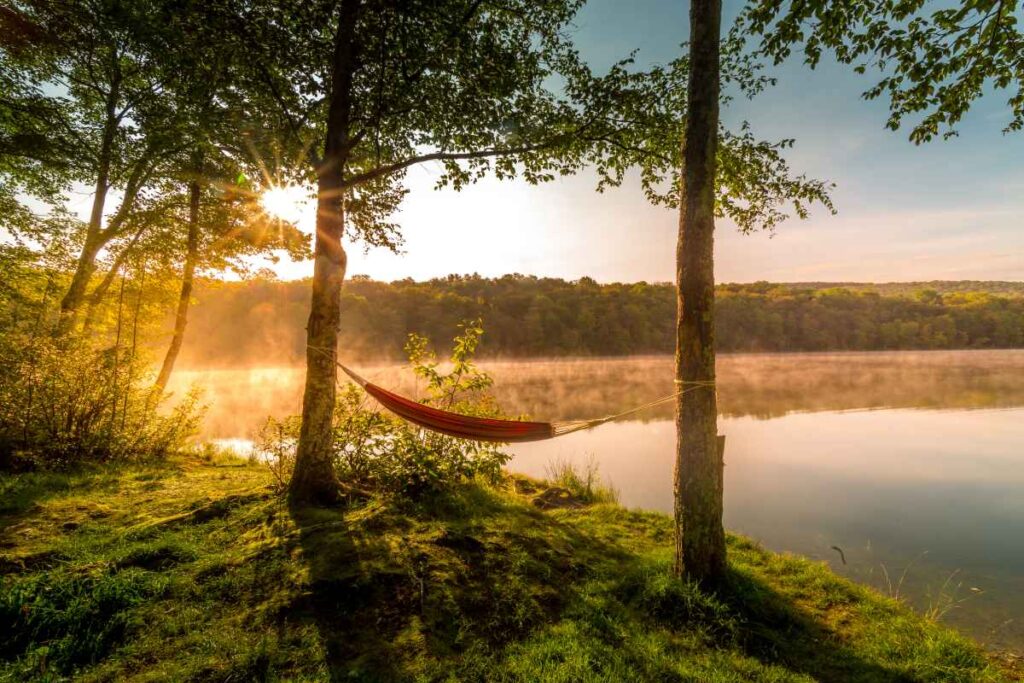 Due to these factors, you will find Monson Lake State Park is best visited in the summertime. This is the ideal timeframe to enjoy not just all the amenities of the park—including camping and fishing the highly stocked lake, for which it is best known—but also the natural beauty of it.
Early fall foliage around Lake Monson is absolutely striking. During the summertime, the shimmering beauty of the water beckons, while springtime affords the best opportunity to see wildlife becoming more active as the cold slakes.
---
Where to Stay at Monson Lake State Park
Best Camping Spots
Campers visiting Monson Lake State Park have some slightly limited but absolutely wonderful camping options in the park's quiet, single campground. The campground boasts a total of just 20 campsites, with 6 of them electric and the other 14 being non-electric; each of the electric sites offers 20, 30, and 50-amp service.
There is an RV length limit of 70 feet, which is measured from the front of the towing vehicle to the rear of the vehicle being towed.
Amenities at the Monson Lake State Park campground include seasonal showers and flush toilets, which are available from Memorial Day weekend through Labor Day weekend. There are also vault toilets available all year round, which can be found throughout the park.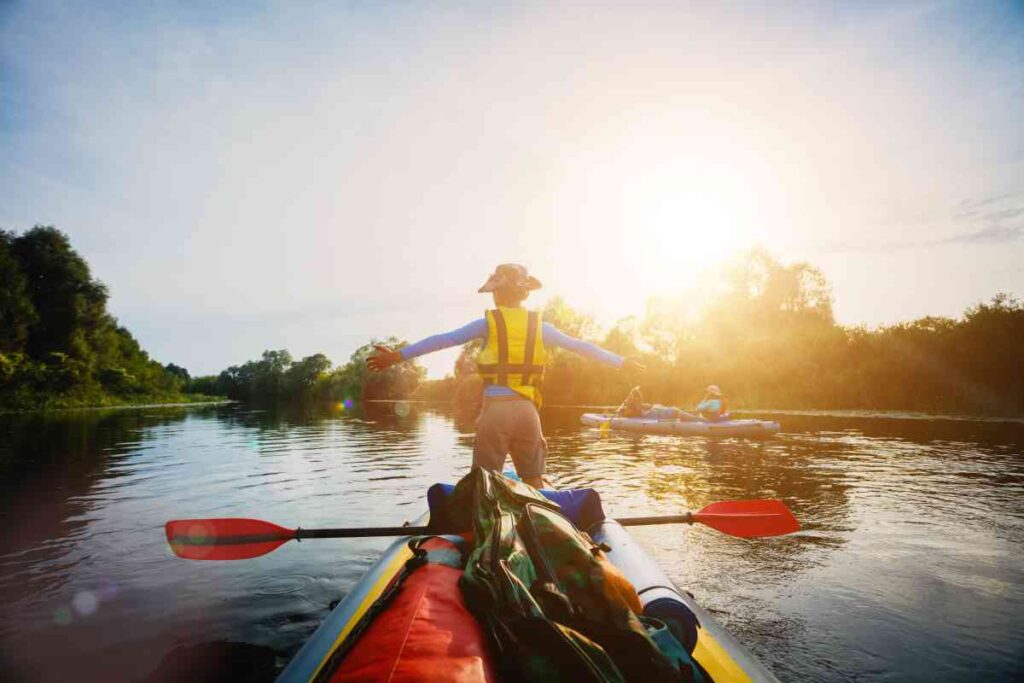 Because of its small size, Monson Lake State Park makes for an ideal camping experience for those looking for an especially reserved, quiet, and unbothered adventure where they can make the most of the beauty of nature undisturbed.
Site #2 at the campground also offers breathtaking views of Monson Lake itself and has steps directly down to the boat launch area.
Booking, Fees, and What to Bring
All campsites at Monson Lake State Park's campground are reservable and can be booked up to 120 days in advance of the first day of your visit. You can reserve your spot by visiting the Minnesota State Parks and Trails website or by calling 1-866-857-2757. Camping fees do apply and will be charged at the current rate at the time you make your reservation.
Campers staying at Monson Lake State Park should ensure ahead of time their camping gear is in proper repair. This means no tears or compromises in tents or bug netting, no mold or mildew in sleeping bags, etc.
It's also encouraged for campers and day visitors alike to bring along adequate food and drink for the duration of their stay. A well-stocked first aid kit is also a must in the event of any scrapes or other injuries while hiking, fishing, or boating.
Folks planning to be out on the water or hiking the trails should ensure they bring adequate sun protection and dress appropriately to avoid overheating.
Due to Monson Lake State Park's location between Monson Lake and West Sunburg Lake, it's no surprise that there can be a real proliferation of mosquitos and other insects, particularly during the heat of the summer. For this reason, special care should be taken to ensure you have adequate insect repellant, especially if you plan to camp alongside the lake.
For those planning to enjoy the wildlife in the park, there are a few things to consider packing along. Those going fishing should ensure their tackle is in good repair and that they have the proper bait for the specific varieties of fish in the lake. Birdwatchers and wildlife enthusiasts are encouraged to bring a pair of binoculars so they can get the most out of their encounters with the animals who call this park home.
---
Things to Do at Monson Lake State Park
Hiking
Though the hiking options are limited at Monson Lake State Park, this is nevertheless the ideal way to experience the park and to see as many birds and as much wildlife as possible!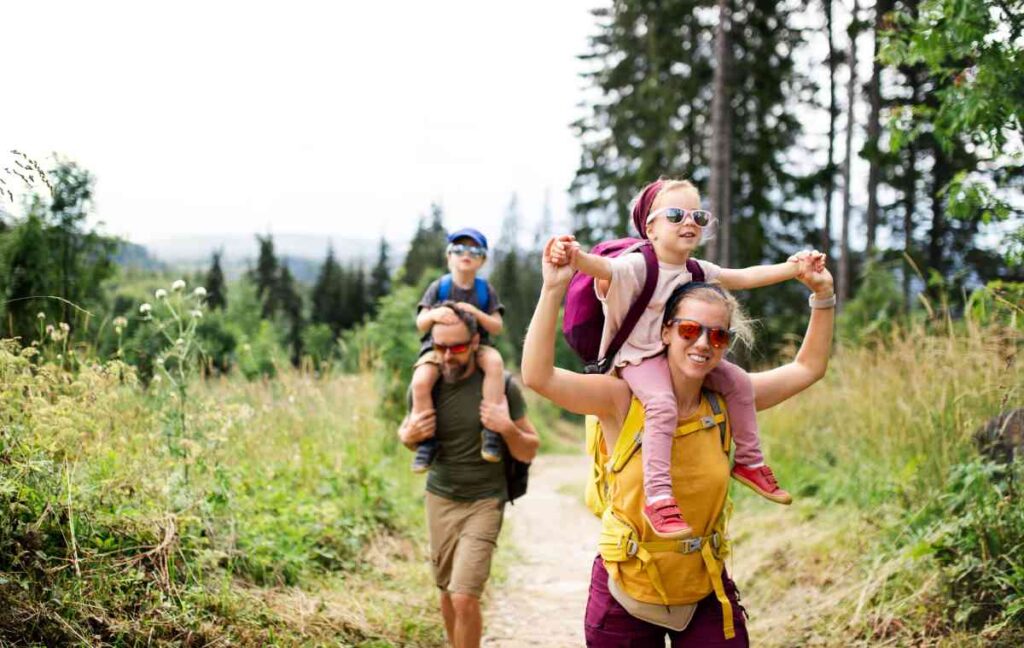 The park boasts a total of 1.2 miles of hiking trails, which thread between Monson Lake and West Sunburg Lake, providing beautiful views of each as well as of the woodland that encompasses the majority of the park. These are easy trails requiring no exceptional skill or rugged gear to traverse and enjoy, and they are ideal for hikers of all ages.
Water Recreation
Due to its location on the shores of scenic Monson Lake and stunning West Sunburg Lake, the water recreation opportunities at Monson Lake State Park are among its biggest draws!
Anglers and fishermen in particular, will enjoy the chance to fish the lake, which is stocked with sunfish, northern pike, panfish, bass, and walleye. There is a great option for shore fishing as well as for casting off from the fishing pier into Monson Lake.
Birdwatchers and lovers of wildlife will enjoy spotting the birds who call this lake home, including shorebirds and waterfowl alike—such as herons, western grebes, songbirds, and even white pelicans! There are also various small mammals who call Monson Lake State Park their home, and they can often be spotted in and around the various water sources at different times of the day.
There is also a boat launch onto Monson Lake, where folks can cast off and enjoy the water up close in paddleboats and other watercraft. The lake is not especially conducive to swimming, but hikers and campers may enjoy soaking their feet in the water and simply pausing to breathe in the majestic views this state park has to offer.
Other Recreation
Animal observation within the woodlands of Monson Lake State Park is a favorite recreation enjoyed by many! This is also a wonderful park for taking stunning pictures of natural beauty, from the remnant prairie to the forests and down the shoreline of Monson Lake.
Those interested in the rich history of Monson Lake and the surrounding area will also likely enjoy the historic features of the park. This includes markers near the 1862 cabin site belonging to the Broberg family and an interpretive kiosk that details the tragedy that befell the family in this area during that year.
The park also features a shaded picnic area stocked with fire rings, picnic tables, and plenty of open space to play. An open picnic shelter, which is wheelchair accessible and complete with electricity and a large fireplace, is available on a first-come, first-served basis for use by small groups visiting the park.
There is also a horseshoe court for campers and day visitors alike to enjoy some recreational fun.
---
Wrapping Up Our Monson Lake State Park Visitor's Guide
Before you take off for your warm-weather adventure at Monson Lake State Park, be sure to check out our "Best Products" page! This is a great resource for finding some of the best gear—including life vests for on the water, and much more—to make the most of your trip to this hidden gem of a state park.
Love spending time outside? Then discover the Minnesota Outdoors to continue learning new ways to reconnect with nature!