Planning a wedding can be stressful and overwhelming. Let us take part of the load off and help you find the most unforgettable outdoor Minnesota wedding venues for celebrating in nature.
From gardens and orchards to wineries and vineyards, finding your dream wedding venue in Minnesota doesn't have to be a hassle!
Keep reading for a comprehensive list that includes five of the most spectacular outdoor wedding venues in Minnesota.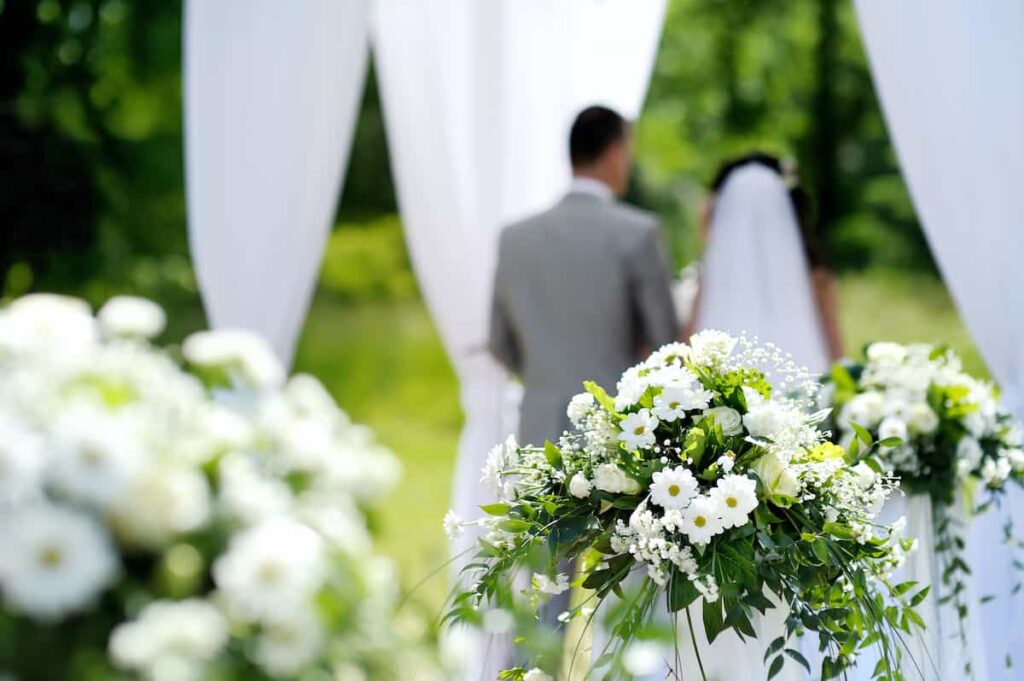 ---
Spectacular Outdoor Wedding Venues in Minnesota
1. Gunflint Lodge
If your idea of the best celebration in nature is tying the knot on the banks of the picturesque Gunflint Lake, then look no further than Gunflint Lodge! Located in Grand Marais, this spectacular Minnesota outdoor wedding venue is the perfect place to hold a small, intimate ceremony.
You can find lodging for you and your guests in the intimate cabins available for rent within the grounds of Gunflint Lodge. This venue offers multiple ceremony packages, including proposal, elopement, wedding, honeymoon, or mini-moon packages.
With five beautiful areas available for ceremonies, your dream wedding is at your fingertips.
Beach and Dock
Do you dream of saying your vows while standing out over the water? The Beach and Dock area at Gunflint Lodge is the place you're looking for!
With beautiful views of Gunflint Lake and even more stunning views of Canada across the lake, say your vows on the spacious beach or after a short walk down the wooden dock 'aisle.'
The main dock landing has room for chairs to be set up, but the end of the dock only allows for a few people, so it's the ideal place to say, 'I do.' To make the space your own, add a birch arch decorated with fairy lights or flowers with vines of greenery twisted elegantly along the wooden arch.
Lakeview Patio
The Lakeview Patio area is breathtaking during sunset, creating the most beautiful backdrop for a romantic wedding ceremony.
Guests will enjoy a snowy backdrop and a winter wonderland vibe for a winter wedding. With an available ice rink and fire pit area that is lit with warm fairy lights, the patio area is perfect for a fairytale wedding!
The stone patio overlooking the lake makes for an unforgettable celebration in nature for both your wedding and reception. It can seat up to 40 guests, and its nearby guest cabins for convenient spots to get ready for the wedding or to rent overnight for guests who traveled to the location.
Lonely Lake
The Lonely Lake area is for very small weddings only because it is a short Ranger ride and a small hike away from the main lodging area. It's also very small, with standing room only for up to 20 guests.
Surrounded by the Boreal Forest, there isn't a structure in sight. You can look forward to a breathtaking view of the lake, and you and your guests are guaranteed to have the entire wilderness area to yourselves.
Lookout Point
Gunflint Lodge offers bookings for weddings at Lookout Point, which overlooks the lake. This area is surrounded by the Superior National Forest, so it has the perfect shady area for an unforgettable celebration in nature.
This location is private, best for a small, intimate wedding with close friends and family present. You'll have adequate space for standing room only for up to 30 guests, including the wedding party.
Inquiry about your ceremony or book events for Gunflint Lodge by visiting their website.
---
2. Camrose Hill Flower Farm
If your dream wedding is one among a variety of flowers and other greenery, Camrose Hill Flower Farm is the perfect venue for you and your beau!
Camrose Hill Flower Farm is a spectacular outdoor wedding venue in Minnesota, promising an unforgettable celebration in nature with your closest friends and family.
Outdoor Ceremony Areas
Chapel
If you're looking for elegance and rustic charm, the Chapel is the outdoor wedding venue in Minnesota for you and your love to exchange vows.
The rustic beams covered in natural vines and twinkling lights perfectly frame the Chapel for a magical feel. Formal gardens surround the area with a beautiful backdrop for wedding ceremonies.
You can also bring in your own greenery and flowers to add to the bright and sunny area to match your wedding color theme.
This area is lit by four stunning crystal chandeliers for the best lighting, so you don't miss a single minute of your special day as it winds down to the end of the night.
Fairy Glen
Camrose Hill's second outdoor venue is even more magical than the first! An enchanting fairy statue greets guests as you enter the Fairy Glen. From there, a gently winding path leads you to the enchanting rustic arbor at the end of the 'aisle.'
The Fairy Glen positively twinkles from fairy lights and two beautiful chandeliers for an unforgettable sunset wedding and nighttime reception.
The landscape inside this area is haphazardly designed with ferns and other woodland plants surrounding a gorgeous arbor filled with colorful flowers and natural vines. You can also add your own flowers and greenery to match your wedding colors.
With up to 150 white folding chairs for guests (for an additional fee) and two ceremony areas, Camrose Hill promises the most magical wedding of your dreams!
Inquire about dates and bookings at Camrose Hill Flower Farm.
---
3. Winehaven Winery
If you dream of a picturesque outdoor wedding venue surrounded by hillside vineyards, two lakes, and rows upon rows of oak wine barrels, then Winehaven Winery is the perfect outdoor wedding venue for you!
This winery, set on 50 acres of vineyard and forest, has two of Minnesota's most spectacular outdoor wedding venues. These areas include the 130-foot outdoor terrace and are large enough to accommodate up to 250 guests, with security provided for your reception.
Outdoor Ceremony Areas
Deer Garden Hilltop
Deer Garden Hilltop is located between a beautiful 40-foot-tall lighthouse and the Vineyard, with a picturesque hilltop and cobblestone aisle for a hint of Tuscan elegance.
This ceremony area provides a spectacular outdoor wedding venue in Minnesota, perfect for couples who want to get married, surrounded by panoramic views of Green Lake and Lake Ellen.
Grapewinds Vineyard
Grapewinds Vineyard is a more secluded outdoor area on the property of Winehaven Winery. This intimate outdoor venue is perfect for an unforgettable celebration in nature with a small guest list of close family and friends.
Exchange your vows in the memorable setting of the Vineyard's rolling hills covered in grapevines. Other unique views in the Vineyard include a natural pond with a beautiful fountain and a historic railroad bed built in the 1800s!
Visit the Winehaven website for more information on availability and booking weddings and events at Winehaven Winery.
---
4. Minnetonka Orchard
If you dream of an enchanted outdoor wedding venue in nature surrounded by rolling hills and apple orchards, then Minnetonka Orchard is perfect for you!
With a flourishing landscape of over 45 acres and enchanting wooden paths lined with twinkling fairy lights, Minnetonka Orchard incorporates the perfect blend of rustic charm and country chic.
This venue makes for an unforgettable outdoor celebration with your new spouse and all of your family and friends, up to 300 guests.
Minnetonka Orchard is a unique outdoor wedding venue in Minnesota, offering a tended bonfire (weather permitting) and a hayride through the orchards on a trailer pulled by a tractor.
Walk down an aisle framed by nature to an ornate archway or to a sheltered gazebo with a stunning backdrop of greenery. The archway can be decorated with flowers and colors that match your wedding theme.
This one-of-a-kind venue offers a 5,000-square-foot reception tent that you can decorate to your liking. This well-lit tent has attachable sidewalls to eliminate any weather concerns for your ceremony and reception.
The beautiful arch, with a view of rolling hills and apple orchards, is perfect for creating and capturing unforgettable memories.
Check the Minnetonka Orchard website for more information on availability and to book your dream wedding.
---
5. Creekside Farm
If you dream of a spectacular outdoor wedding venue in Minnesota, look no further than Creekside Farm! This venue is secluded in nature, surrounded by 50 acres of rolling hills and open fields and the trickling sound of Rush Creek, which cuts through the landscape.
As you drive down the scenic driveway lined with maple trees to enter Creekside Farm and approach the bridge, you'll be met with the calming trickle of Rush Creek.
Once you cross the bridge, the landscape opens up to a park-type setting with a beautiful backdrop of flower gardens, maple trees, and the creek.
This wedding venue offers multiple small outdoor areas to hold an intimate wedding ceremony, each one as unforgettable as the last. Invite your closest friends and family with a capacity of up to 75 guests.
Outdoor Ceremony Areas
Open Yard Ceremony
This beautiful ceremony location is set along the banks of Rush Creek, looking out over the water, making for an unforgettable celebration in nature.
This is the sunniest of the wedding ceremony locations in Creekside Farm. The creek sets a relaxing scene for a memorable exchanging of vows in this beautiful area
Between The Willows
Guests at this location will face the scenic backdrop of Rush Creek while the happy couple exchange vows between the beautiful Willow trees lining the area. These trees provide shade for the bride and groom, as well as the wedding party and guests.
Woodland Ceremony
The bride and groom will exchange vows in an opening in the woods that is lined with maple, basswood, and birch trees for a magical feel. Guests at this scenic venue will be seated under large trees that provide shade, surrounded by the gentle sounds of nature.
Upper Yard Ceremony
A ceremony in the upper yard area will be shady and cool, perfect for a summer wedding! A beautiful arbor stands at the end of the grass aisle, where you can add flowers and greenery or fairy lights.
Barn Backdrop
Exchange your vows standing in front of the rustic Barn for one of the most beautiful and elegant backdrops on Creekside Farm. This location makes for fantastic wedding photos standing in front of the huge, rustic wooden barn.
Check Creekside Farm's website for more information about available dates, prices, and other booking information.
---
Book Spectacular Outdoor Wedding Venues in Minnesota!
Whether you dream of a magical outdoor wedding surrounded by whimsical decorations and fairy lights or an intimate ceremony surrounded by the sounds of nature, we've got you covered.
For more wedding inspiration, check out our blog post on other Minnesota wedding venues.