Did you know Minnesota is home to some of the most outstanding pumpkin patches in the United States? With this year's Fall season quickly approaching, it's time to start thinking about exciting Fall activities! Come experience an all-time favorite: picking your own pumpkins straight out of the patch.
Keep reading to discover the 13 best pumpkin patches in Minnesota from top to bottom.
1. Pinehaven Farms
Wyoming, Minnesota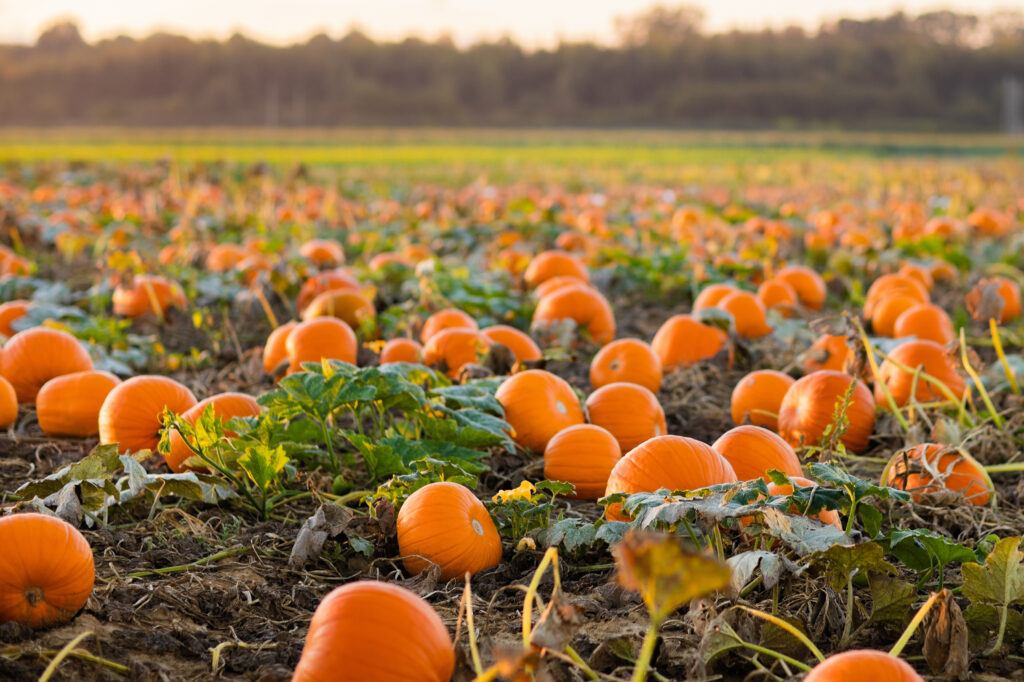 What better way to start this list of the best pumpkin patches in Minnesota than with Pinehaven Farms! What makes this patch so unique? Well, not only will Pinehaven offer exciting activities and the most perfect pumpkins, but they were also voted first place winners of Minnesota's Best Pumpkin Patches last year!
Get ready; this patch does it big! They have more than thirty fun-filled attractions on site. Come and experience a five-acre corn maze, sky-high slides, a mighty pumpkin cannon, and even child-sized zip lines.
2. Barten Pumpkins
Minneapolis/St. Paul, Minnesota
This Fall, come and visit Barten Pumpkins, one of the best pumpkin patches in Minnesota! Barten's has been in business for over thirty years, and it's easy to see why. You'll "fall in love" with their decor and find it perfect for photo opportunities.
Barten Pumpkins additionally offers free admission, which is always a plus. Saving money on entry means you'll have extra money to come and pick your own pumpkins, gourds, broom corn, and other handmade fall decorations!
Read more about Barten Pumpkins.
3. Buffalo River Pumpkin Patch
Glyndon, Minnesota
Buffalo River Pumpkin Patch is another great choice for pumpkin patches in Minnesota that feature Fall-themed attractions and events. You can even plan to pick your own pumpkins. Make sure to also shop at their general store on location.
Don't forget to enjoy the outdoor attractions such as a petting zoo, game area, horse and carriage, and even adorable duck races! You'll leave with so many amazing photos and memories!
Learn more about Buffalo River Pumpkin Patch.
4. Emma Krumbee's Orchard
Belle Plaine, Minnesota
Emma Krumbee's Orchard is one of the top pumpkin patches in Minnesota, nestled in the town of Belle Plaine. Come hungry as Emma Krumbee's Orchard has five different restaurants to enjoy, complete with a beautiful array of homemade dishes and plates.
Plan for a day of family fun and use time out in the orchard to connect with family, friends, and loved ones. They offer pre-picked pumpkins, you-pick pumpkins, apple varieties, raspberries, mums, and a handful of other fruit and veggies.
Discover Emma Krumbee's Orchard.
5. Lendt's Pumpkin Patch
Wyoming, Minnesota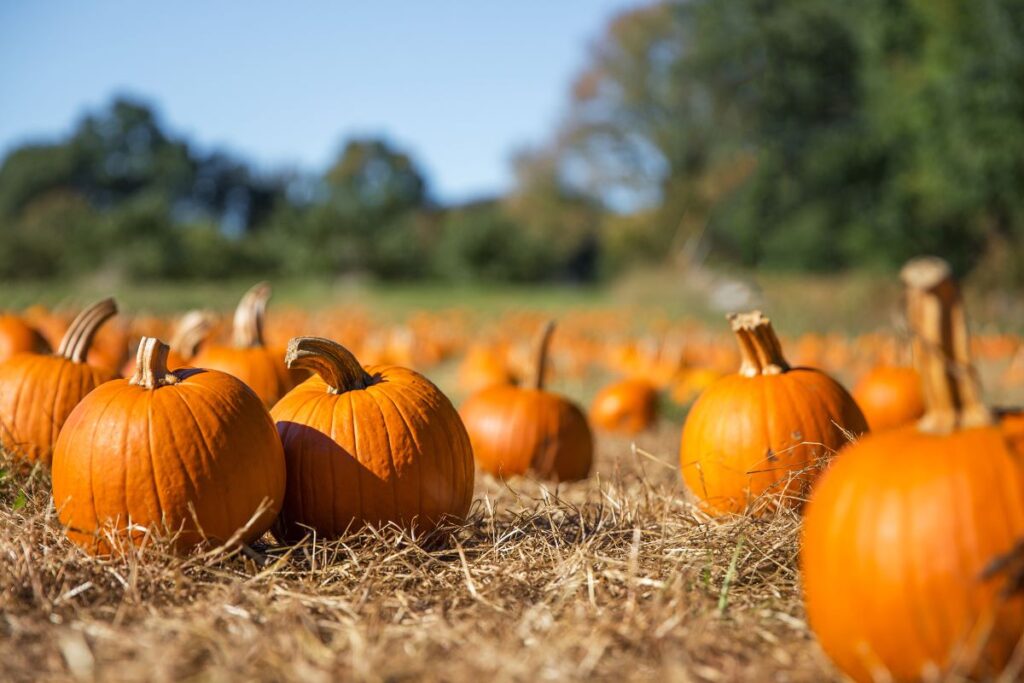 Another excellent choice of pumpkin patches in Minnesota is Lendt's. Lendt's Pumpkin Patch offers free admission at the door! To make it even better, they allow you to choose any pumpkins you'd like for five dollars a piece. Lendt's Pumpkin Patch was also the bronze winner of Minnesota's Best Pumpkin Patches in 2021!
While you're here, experience Fall treats, such as popcorn on the cob. Come play in the giant corn pit and enjoy plenty of photo opportunities. Lendt's also offers mums and pumpkins of different shades and colors and art-themed pumpkins for purchase.
Check out Lendt's Pumpkin Patch.
6. Tom's Pumpkin Farm
Lindstrom, Minnesota
Tom's Pumpkin Farm is open seven days a week and available until Halloween! Customers rave about their pumpkin prices. You can hand-select any sized pumpkin for under four dollars apiece; such a great deal!
A few exciting attractions for the whole family include giant corn mazes, straw mazes for the little ones, and even a "family fun farm" full of animals to view and pet. If you enjoy bringing your dog along with you, Tom's Pumpkin Farm is one of the few dog-friendly pumpkin patches in the state.
Read more about Tom's Pumpkin Farm.
7. Autumn Acres Farms and Pumpkin Patch
Mankato, Minnesota
Suppose you enjoy pumpkin patches in Minnesota with a great selection, varieties of pumpkins, and affordable prices? In that case, you'll love visiting Autumn Acres Farms and Pumpkin Patch. This family farm's sweet story stems from purchasing a piece of family land that their ancestors carefully transformed into what it's become today.
Come take a scenic hayride, pick from a great selection of pumpkins and fall produce to take home, and enjoy exciting fall activities. Autumn Acres Farms goes over and beyond to give you customizable pumpkins, large orders for events, gourd ghosts, and perfect Fall photography backdrops.
Learn more about Autumn Acres Farms and Pumpkin Patch.
8. Afton Apple Orchard
Hastings, Minnesota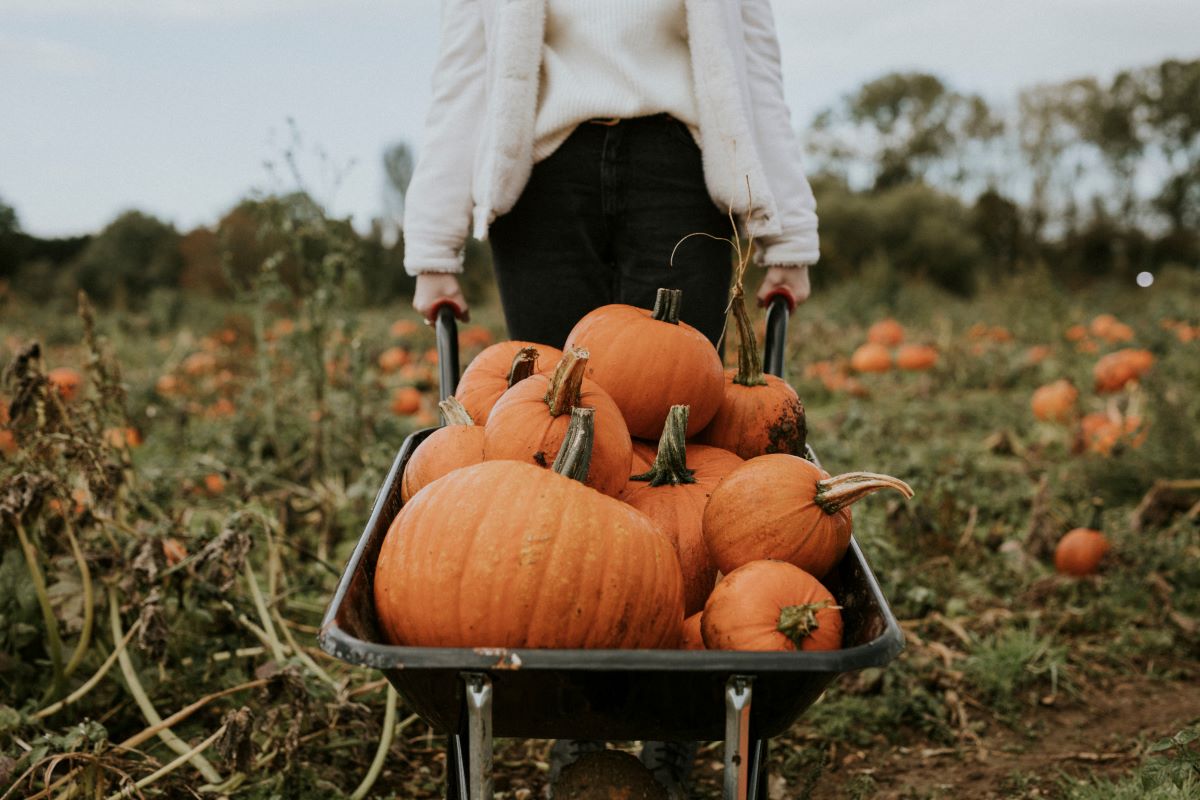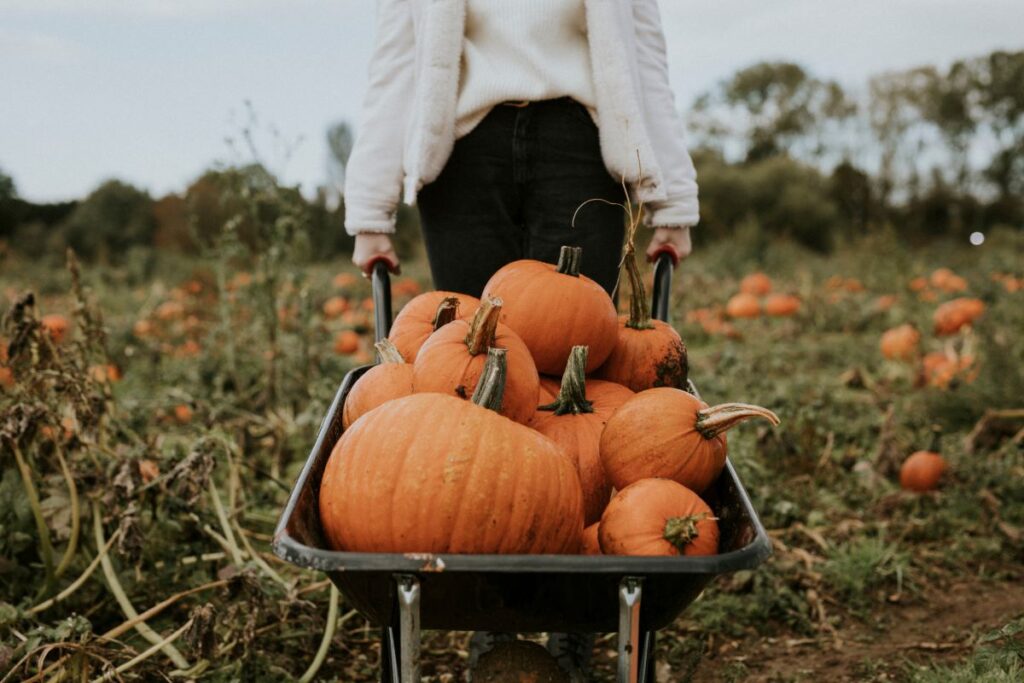 Don't let the name Afton Apple Orchard fool you! They offer free-ranged apple trees to come and do some Fall apple picking. Still, you can also experience tremendous fall fun at this orchard! Afton is a great place to enjoy a fun-filled day with your family and explore the property. Finally, make sure you leave time to go on their available wagon rides.
However, keep in mind there is a small price of admission to visit this orchard, but it's worth the cost. Admission fees include a large playground, petting farm, Straw Mountain, Retread Hill, Johnny Combine, and Grammamals Barnyard. Remember to leave time to take photos in their giant rocking chairs and swing on their oversized swings.
9. Country Sun Farm and Greenhouses
Lake Elmo, Minnesota
Look no further than Country Sun Farm and Greenhouses for pumpkin patches in Minnesota with a long list of seasonal attractions. This privately owned farm offers plenty of activities and produce for every season! When you visit, you will see that Fall is an extra special time here.
Take part in hay rides, a fabulous corn maze, and play in a giant corn pit. In addition, your kids will have a large variety of activities, such as a family-friendly petting zoo, several bounce houses, silly string gun wars, and even gem mining! At the end of your visit, make sure you remember to pick out your own pumpkins and visit the Country Farm store!
Check out Country Sun Farm and Greenhouses.
10. Dehns Pumpkins
Dayton Minnesota
Next on our list of the best pumpkin patches in Minnesota, Dehns Pumpkins is the perfect place to visit. Just last year, Dens Pumpkins won the silver award for Minnesota's Best Pumpkin Patch!
Dehns Pumpkins has acres of pick-your-own and pre-picked pumpkins ready to go. You can enjoy fun activities such as a corn maze, scenic hayrides, and even climb up "bale mountain." Your kids will love the bounce houses, giant inflatable slides, and a massive corn pit.
11. Gilby's Nursery and Orchard
Aitkin, Minnesota
Let's talk about all the exciting and fun fall activities you'll find while visiting Gilby's Nursery and Orchard! Gilby's pumpkin patch features more than two miles of pumpkins. That's a lot of pumpkins! Plan to spend the day here and enjoy hayrides, the haunted corn maze, and finally, their famous walking trails.
Gilby's Nursery and Orchard is unique. It invites its customers to claim pumpkins directly on the vine. Then, visitors can come to visit throughout their growing season, add art, their names, and whatever else they would like to their pumpkins until they are ripe and ready to take home.
Learn more about Gilby's Nursery and Orchard.
12. Eveland Family Farm
Anoka, Minnesota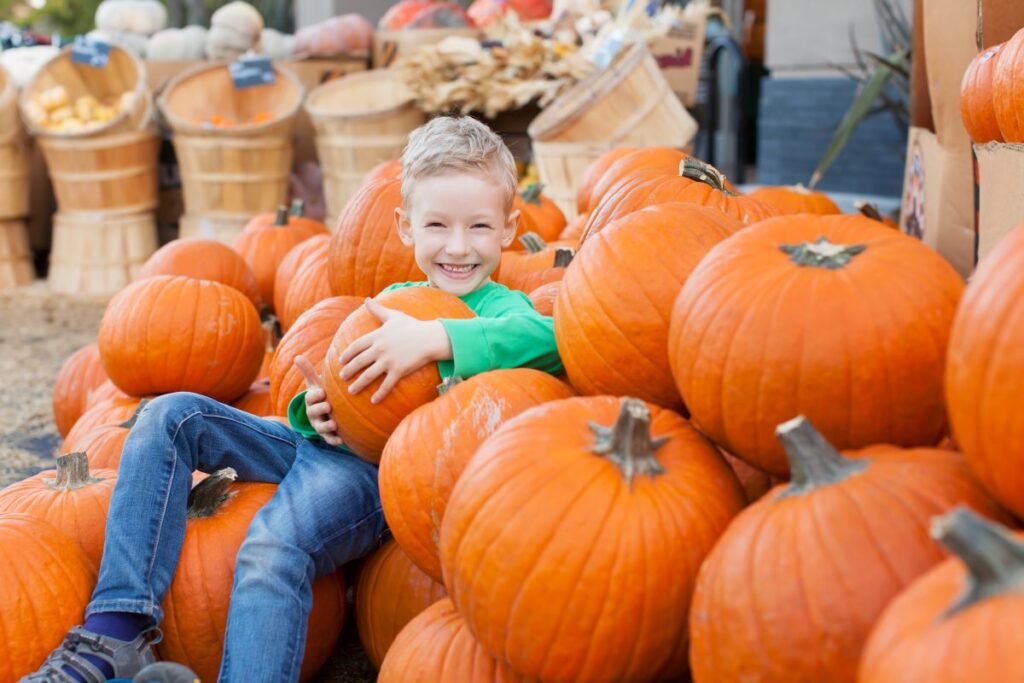 Other great pumpkin patches in Minnesota include this one sure to put you in the holiday spirit! Eveland Family Farm resides in Anoka, the Halloween Capital of the World!
Eveland Family Farm is located in the city's heart and is full of fun for the whole family. Many come solely for their excellent pumpkin patch. This family-owned patch is available to the public from late September until Halloween. Enjoy a hayride and let your little ones find their way through their mini corn mazes.
Check out Eveland Family Farm.
13. Peter's Pumpkins and Carmen's Corn
Shakopee, Minnesota
Finally, If you like to experience an active family farm firsthand, make your way to Peter's Pumpkins! You'll love the produce and handmade foods available for purchase. You can also spot Peter's at a few local farmers' markets and roadside.
Collect as many apples and pumpkins as you please with their "U-Pick" selections. During your visit, enjoy a free hayride and find your way around their corn mazes.
Learn about Peter's Pumpkins and Carmen's Corn.
Discover The Best Pumpkin Patches In Minnesota!
Minnesota is highly famous for its friendly faces, affordable attractions, and exciting festivals. That's why I know you'll fall in love with any or all of these amazing pumpkin patches in Minnesota. If you enjoyed these, make sure to also check out all the exceptional Minnesota apple orchards to come to visit this Fall! Next, keep reading about other great things to do in Minnesota.
Ready for more Minnesota advice, info, and guides? Whether you're a local or a passerby, discover the best of Minnesota that our great state has to offer!