Rainy Lake is full of potential for memorable experiences in the outdoors. From hiking Voyageurs National Park to ice fishing on a frozen lake, there are so many unique, fun things to do. No matter what time of year you visit, you'll find yourself amazed by the beautiful area.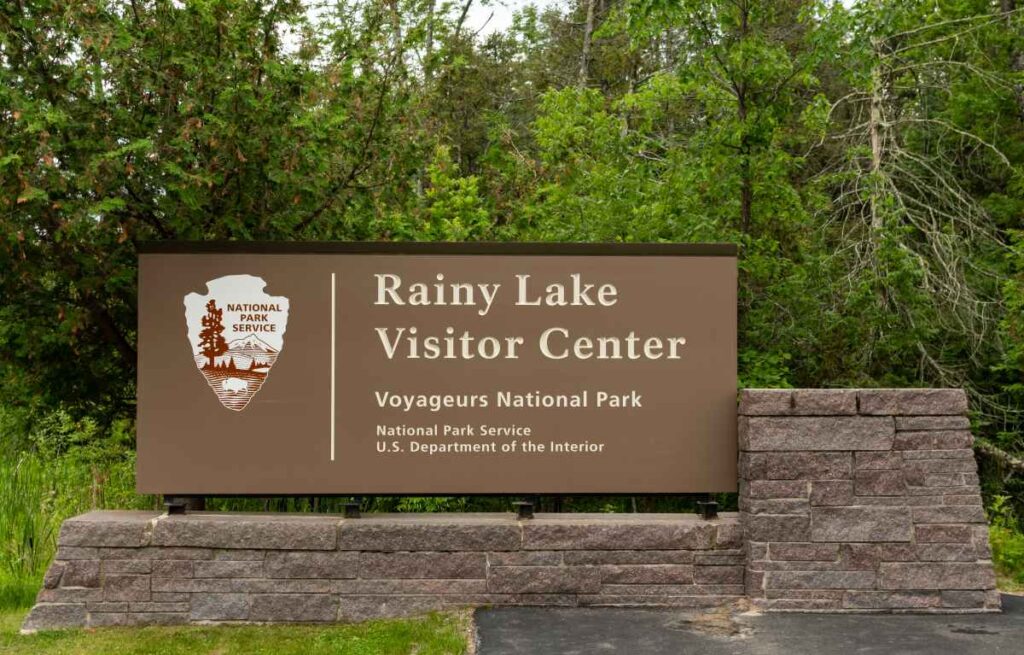 If you're planning a trip and looking for the best things to do in Rainy Lake, look no further. I've listed the top 10! Keep reading for more.
---
Best Outdoor Recreation Areas at Rainy Lake
1. Voyageurs National Park
Voyageurs National Park is one of the top places to visit in Rainy Lake for tourists. With a combination of lakes, forests, and cliffs, Voyageurs is a wonderful place to discover.
This national park has a diverse habitat of plants, fish, and animals. Some popular wildlife that frequent the park include moose, gray wolves, otters, and beavers.
While you're in Voyageurs National Park, there's plenty to do beyond hiking. Fish for trout in one of the many lakes and streams, or take a boat tour of park landmarks.
2. Smoky Bear State Forest
Smoky Bear State Forest is another great park to visit in the Rainy Lake area. It was previously inhabited by different Indian tribes for thousands of years. The forest is central to the location of Grand Mound – one of the largest burial hills in the country.
Smoky Bear State Forest is a diverse mix of tree varieties and wild berries. While you're there, there are plenty of opportunities for spotting wildlife. Keep an eye out for timber wolves, bald eagles, otters, moose, and bears.
This flat forest provides a variety of campground areas to set up camp. To protect the forest, remember to follow park rules for building fires and storing camp materials.
3. Rainy Lake Bike Trail
If you love biking, Rainy Lake Bike Trail is the go-to activity. This paved trail runs 12 miles from International Falls all the way to Voyageurs National Park.
It's no boring journey, either. On your ride, you'll see river views, quaint ice cream shops, and the chance to take a break at a beautiful wetland dock.
Because the trail is flat and paved, it's suitable for all ages. Bring the whole family, and make a day out of your cycling journey!
---
Best Unique Things to Do Around Rainy Lake
4. Minnesota Houseboat Vacation
Are you looking for something memorable to do on your vacation? Try out Rainy Lake Houseboats, and spend your vacation exploring the area by boat.
You'll have everything you need in this hotel on water: kitchen, beds, and electricity. All you'll have to worry about is having fun on the waterslide or getting some sun on the platform.
While you're on your houseboat vacation, take advantage of the great fishing that Rainy Lake has to offer. Or, dock your boat to shore, and enjoy a campfire on a cool night. The options are endless!
5. Spot the Northern Lights
Spotting the northern lights is a common bucket list item. You can accomplish it in Voyageurs National Park if the conditions are right.
The Aurora Borealis, also known as the northern lights, is a unique experience in the northern hemisphere. It's caused by solar wind coming in contact with the earth's magnetic field.
Pull an all-nighter with some friends, and enjoy streaks of red and green across a clear sky. You'll never forget it!
---
Best Museums Near Rainy Lake
6. Koochiching Historical and Bronko Nagurski Museum
Visit Koochiching Historical and Bronko Nagurski Museum, and learn all about the history of the Rainy Lake area.
The museum highlights the most important moments in this region's history. Beginning over 10,000 years ago, natives settled the area. Moving on to the 1600-1800s, the famous fur trade took place.
All these events are important and make Rainy Lake what it is today. This is an especially fun destination if you live near the Rainy Lake area.
---
Best Winter Activities at Rainy Lake
7. Snowmobiling
You may think of Rainy Lake as just a summer destination. Think again. The area has so many fun activities during the winter.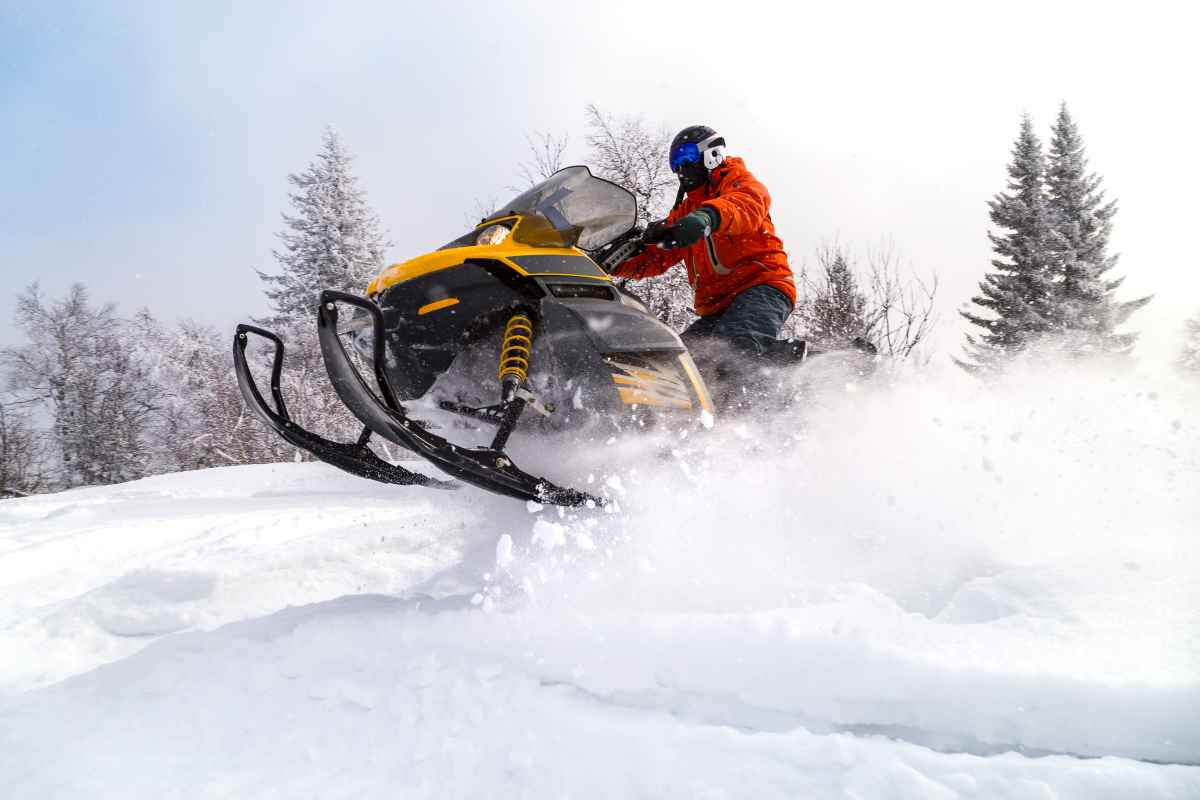 For example, you can go snowmobiling over frozen lakes and hundreds of miles of scenic trails. This action-packed ATV trip will give you many glimpses of the beautiful winterscape that Minnesota has to offer.
Make sure you read over the speed limits and rules for snowmobiling to have the best, safest trip!
8. Ice Fishing
As I've previously mentioned, Rainy Lake is known for its great fishing scene. That doesn't slow down in winter. Ice fishing just adds a whole other fun dynamic to this sport.
Dress your warmest, and get ready to make some wonderful memories!
Make base at one of the area's many ice shelters. Then, try your hand at catching local walleye, northern pike, or smallmouth bass.
---
Best Places to Eat Around Rainy Lake
9. Chocolate Moose Restaurant
Good eats make the best vacations even better. Visit the Chocolate Moose Restaurant in International Falls near the border.
This Rainy Lake area restaurant is known for its tasty breakfast and brunch menu. From delicious burgers and sandwiches to a wide variety of omelets, the Chocolate Moose is ready to fill you up.
They're also open for dinner, so go and try out one of their beers on tap. Or, enjoy a hot chai tea latte on a cold winter night.
10. Border Bar Pizza Parlor
Swing by Border Bar Pizza Parlor if you're in the mood for a specialty pizza. Their large, thin-crust pizzas are more than enough to send around the table.
Try one of their unique pizzas such as the bacon cheeseburger pizza or Rosta (pulled pork and coleslaw). They also have a selection of tasty burgers that are made to order.
Pair your dinner with a pitcher of their beer on tap, and enjoy the local atmosphere of Border Bar.
---
Wrapping Up the Best Things to Do in Rainy Lake
Plan your trip to Rainy Lake, and have a blast outdoors with your family. Whether you board a houseboat, go snowmobiling, or hike through the national park, you're sure to enjoy yourself!
Are you looking for more exciting activities in Minnesota? Visit our post on the best trout fishing lakes in the state.
Can't get enough of Minnesota lakes? Then keep living the Minnesota lake life with the help of my info posts and guides!