Red Lake ice fishing could be one of the most memorable expeditions of your life. This lake is one of the premiere ice fishing locations in the United States.
If you want to take your ice fishing talents to Red Lake this ice fishing season, you need to know everything about the area and the lake in order to make the most out of your ice fishing expedition.
Don't fret, though, we're here to guide you so you can plan an incredible experience. let's get into it!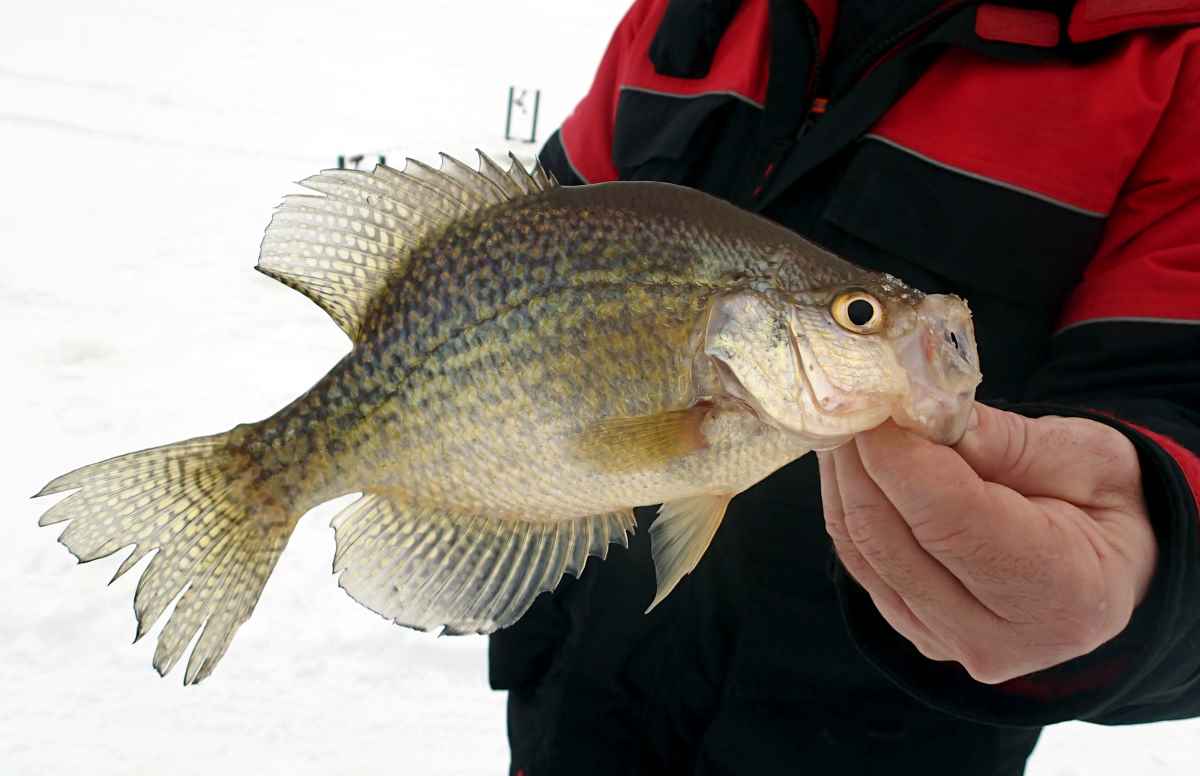 ---
All About Red Lake
Red Lake is the largest inland lake in Minnesota. At an enormous size of 444 square miles, this freshwater lake is truly a wonder.
Red Lake is located in Beltrami County, about an hour north of Bemidji.
Perhaps its most distinguishing feature is the fact that the lake looks like two lakes even though it's technically one. This is due to the middle of the lake being really thin, looking almost like a channel.
The lower part of Red Lake is not open to the public since this part of the lake belongs to the Chippewa Indian Reservation. The only way this part of the lake can be accessed is with a tribal guide.
The Upper part of Red Lake is open to the public since it's part of the state.
The maximum depth of Upper Red Lake is about 15 feet. The lake also freezes over quite quickly, which is a big reason why Red Lake ice fishing is so ideal for ice fishermen.
---
Red Lake Ice Fishing Rentals and Resorts
Perhaps the best way to go Red Lake ice fishing is through the resorts in the area. This is especially true if you are new to the sport, as they have people who can help and guide you throughout your expedition.
They give you guides that can help you on your fishing journey and other things like rental cars, transport, and housing.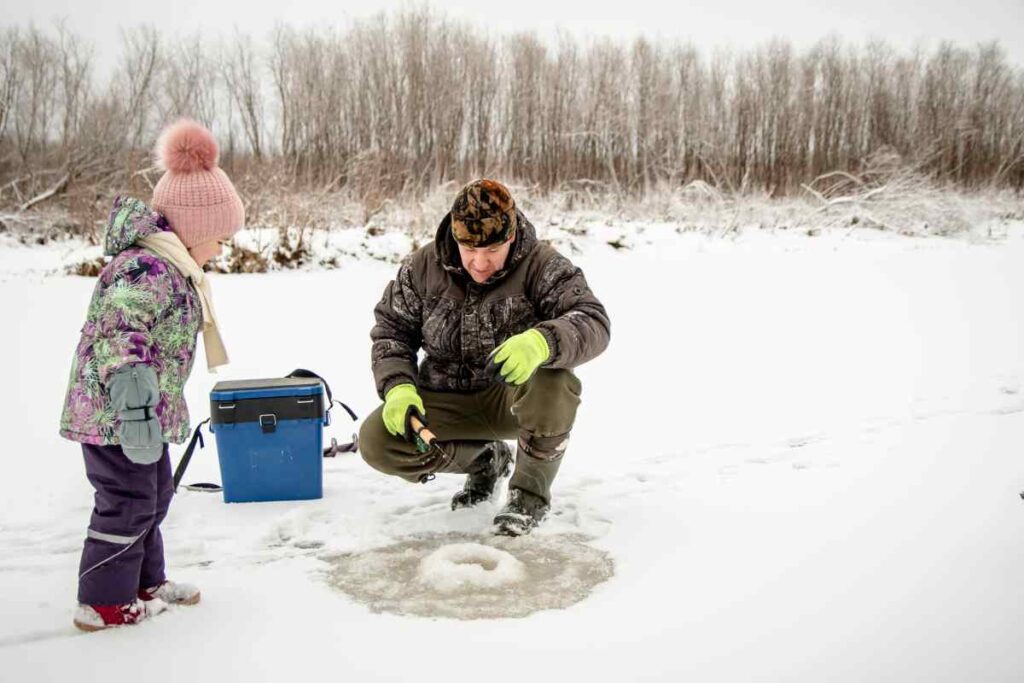 JR's Corner Fishing Access
JR's Corner Fishing Access is a great spot for you to go to on your Red Lake ice fishing Trip. Located on the Southern Part of Upper Red Lake, this resort has a bit of everything to make your ice fishing experience a good one.
Featuring aluminum ice fishing houses, hot showers, heated fish cleaning, and a bar area, there's no shortage of comforts.
Its location is also convenient if you want to go down to Lower Red Lake and have a tribal guide show you around.
JR's is an option that will give you the flexibility to do anything you like on your ice fishing trip.
Red Lake Remote
Red Lake Remote is a company with a different angle on the ice fishing experience. They used tracking machines to take you to your ice fishing location and have self-check-in.
As you check in and settle into your sleeper, they load up a truck with all your gear and pick you up, everything ready to go.
An innovative experience, this is also one of the best ways to access the north shore of Upper Red Lake. If you want an ice fishing trip, this is for you.
Red Lake Adventures
If you want a truly remote and immersive Red Lake ice fishing experience, Red Lake Adventures is a good choice.
Located in Upper Lake, they have created a reef-like complex for their customers to fish in. They feature similar ice fishing houses to the others, with the exception that you have to bring your own generator.
They do, however, provide a nice sleeper with tables, chairs, and two fishing poles.
---
How to Make the Most of Ice Fishing at Red Lake
We're going to cover the basics of what you need to know to find fish and have a great time on your Red Lake ice fishing trip.
Without further ado, let's get into it.
Best Time to Ice Fish
The best time to go ice fishing is obviously the winter, but more specifically, the best month to ice fish here is December, when the season starts.
This is especially true if you're fishing for Walleye. Red Lake is known for having a great early bite rate for Walleye. They are even known for being active at all times throughout this period despite their nocturnal ways.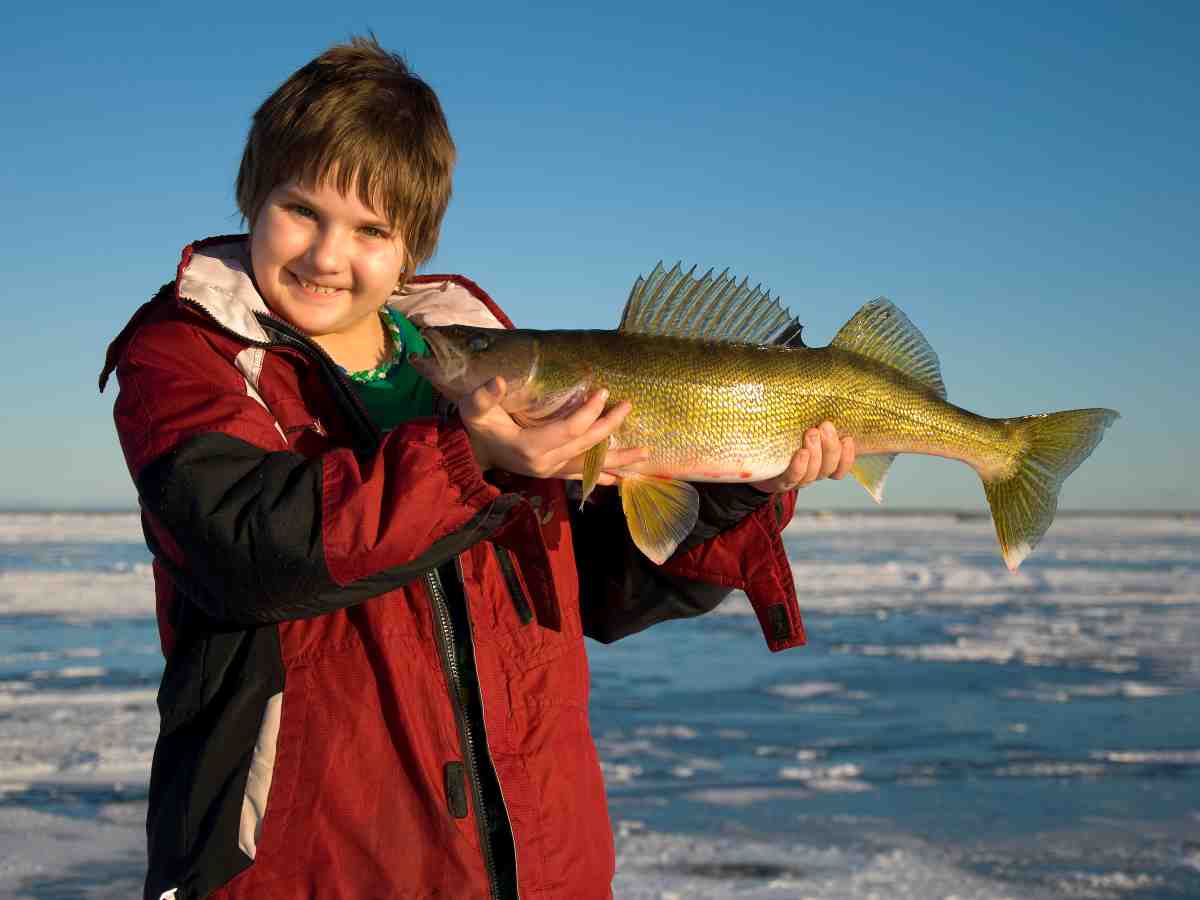 This is due to Upper Red Lake's relatively shallow depth of 15 feet. The lake tends to freeze over quite quickly and makes the spot amazing in the early season.
How to Find the Fish
The best way to find fish at Red Lake is to either have someone show you the spots (like a resort) or to have an ice fishing Finder.
As mentioned earlier in the article, there are plenty of fantastic resorts you can go to that'll make your Red Lake ice fishing experience great and will take some of the burdens off your shoulders.
If you want to do it without any help, or perhaps you're already very experienced, then an ice fishing finder is the tool you need. This nifty device will detect fish under the ice and will save you time on your expedition.
---
The Fish You May Catch in Red Lake
Walleye
The most common kind of fish you can expect to find on your Red Lake ice fishing expedition are Walleyes. Anyone familiar with ice fishing or just freshwater lake fishing, in general, knows these fish.
A very common game fish, they earn their name from the fact they have cloudy eyes. This makes it appear like they have a "wall" preventing you from seeing their eye.
They are gold and olive in color and are nocturnal creatures. This means that you are most likely to catch these guys if you go out at night to fish.
Walleyes are also known for their delicious flavor. They taste sweet and don't have a strong fish flavor, making them a treat!
Northern Pike
Another common fish that you'll find while Red Lake ice fishing is the Northern Pike. Known for their missile-looking bodies, this carnivorous fish can be quite the catch as they tend to grow very large at Red Lake.
They also have an olive color similar to that of the Walleye, but they are only this green color and have no trace of gold on them.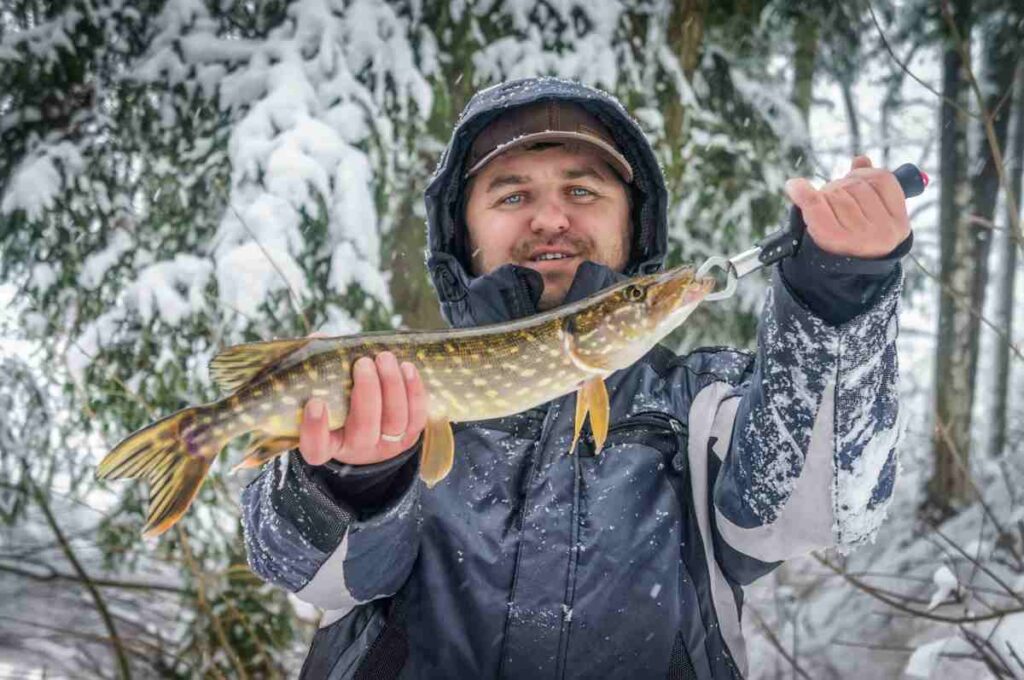 Please note that you should be careful handling this fish when you catch it. They have very sharp teeth due to their carnivore diet and can slash or bite you if you're not careful.
Like salmon, the Northern Pike doesn't have a particularly strong flavor and takes seasonings very well.
Crappie
Known for its incredible flavor that is similar to Bass or Walleye, this fish is a delicacy and a very prized catch should you come across one.
They come in both a black and white variety, but you never really know what you're going to get while Red Lake ice fishing. Either way, both are relatively similar, and it makes no difference whether you catch one or the other.
While Red Lake is a great spot to catch Crappies, the fishing can be inconsistent for them. They don't pop up as often as Walleyes and have been known to have some good years and bad ones.
Perch
Perch is also quite a common find while Red Lake ice fishing and really in any freshwater lake. There are many different varieties of Perch, and most can be found at Red Lake.
They have the same kind of inconsistency problem as the Crappie, unfortunately, but it's not as bad, thankfully.
The best part about catching a Perch is the eating that comes after. Their meat is highly valued and is known for its deliciously sweet and well-rounded flavor.
If you catch this fish while Red Lake ice fishing, you can consider yourself very lucky as it's a great part of a lot of recipes that you can find easily on the internet.
---
What to Do at Red Lake (Besides Ice Fishing)
There are plenty of things to do at and around Red Lake besides ice fishing in case you want to take a break or want something to do before and after your expedition.
There are a few restaurants south of the lower lake, you can visit the reservation and get a tribal guide to explore Lower Red Lake and much more.
There's also Red Lake State Forest nearby if you want a different flavor of being in nature than ice fishing.
Overall, your ice fishing expedition can be filled with incredible experiences that'll make the whole trip unforgettable!
---
Have the Best Time Fishing at Minnesota's Largest Inland Lake!
Red Lake ice fishing is an incredible experience you just have to have! Whether you want to catch Walleye, Northern Pike, Crappie, or Perch, Red Lake is the ideal ice-fishing location in Minnesota.
This is especially true of the early season when the Walleye at Red Lake are more active than usual.
Want to learn more about fishing, discover more fishing spots, and or read up on the best fishing gear? Then continue your fishing adventure with our comprehensive guides, info posts, and more!
Love spending time outside? Then discover the Minnesota Outdoors to continue learning new ways to reconnect with nature!
About the Author
Latest Posts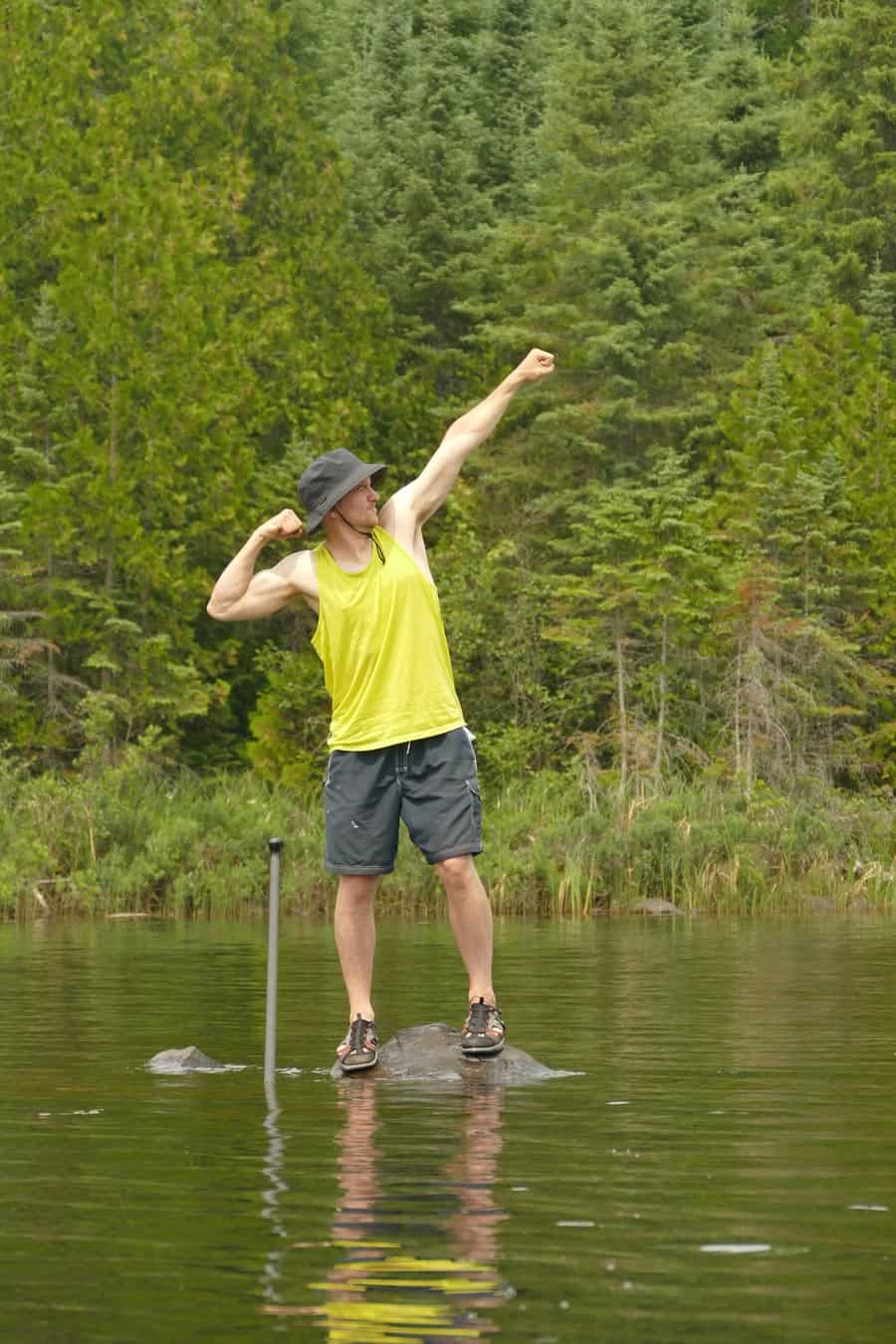 Born in Madelia, MN, to a now 5-generation Minnesota family, Ryan's MN roots go deep.
A painter by day, Ryan founded Life in Minnesota in 2013 with his wife Kelly to chronicle their musings on everything Minnesota. Ryan and Kelly are raising their 7 kiddos in Maple Grove, MN.
When he's not shuttling his kids around to hockey practice, you might find him in the shop working on his leatherwork. Undoubtedly, there will be a family trip to the Boundary Waters Canoe Area every summer, and of course weekends at Grandpa's cabin up north in the summer.