Couples seeking a romantic winter getaway in Minnesota will have many excellent choices, which may make it challenging to choose where your next adventure should take you!
From Lake Superior's icy shores to a warm cabin and indoor adventures, Minnesota is the perfect destination for your romantic winter getaway away from all the hustle and bustle of your busy days.
Keep reading for a guide to making the most of your romantic winter vacation in Minnesota with your love.
---
Romantic Winter Getaways in Central Minnesota
Good Ol' Days Resort
If you're looking for a unique, fun, and stress-free visit for your romantic winter getaway, the Good Ol' Days Resort is perfect for you! It's inspired by the surrounding landscape, with spacious rooms, affordable rates, and excellent customer service.
There are plenty of amenities to take advantage of, including complimentary WiFi access, a laundry room, and a game room inside. Outdoor activities on the grounds include a volleyball court and a private beach, in addition to canoes, kayaks, paddleboards, and boats for guests to rent. This romantic winter getaway in Minnesota features 14 cottage rooms and 8 lodge rooms along a lakefront property.
Timber Trails Resort
Timber Trails Resort is an excellent location for a romantic winter getaway in Minnesota.
Located on Big Boy Lake, this resort resides on 18 acres of Chippewa National Forest land and offers 10 cabins for rent under special winter rates. There is also a protected harbor and a swimming beach to enjoy.
Big Boy Lake is a huge, 3,452-acre lake with 26 miles of shoreline and a maximum depth of 45 feet. Enjoy water activities like boating and fishing at this romantic winter getaway, with an abundance of different fish species, ranging from walleye, bass, Northern Pike, crappie, and Bluegill. You can even try your hand at ice fishing!
You and your love can enjoy some quality time together playing volleyball, ladder golf, board games, and the pool table. You can also spend some quiet time together exploring the forest. This resort features complimentary WiFi, television services, and a guest laundry room.
---
Romantic Winter Getaways in Southern Minnesota
Gunflint Trail
Gunflint Trail is the perfect romantic getaway in Minnesota, with its rich diversity of scenery, terrain, and native wildlife. This resort is managed by the Gunflint Trail Association, which is a group of the original owners of the property. Talk about a rich history!
You'll find that the population of moose, warblers, goshawks, and boreal owls outnumbers the population of humans at this location, making for a secluded romantic vacation. This resort is home to Saganaga Lake, where you'll find the Chik-Wauk Museum and Nature Center awaiting your arrival.
The museum is chock full of the cultural history of Gunflint Trail, with various interactive displays presenting the area's history. They even have evidence of the Sudbury meteorite, which crashed to Earth 1.6 billion years ago!
When you're not exploring the museum, enjoy the million-acre paddling paradise offering you the opportunity to experience the raw wilderness, with beautiful scenery and wildlife in their natural habitats, at the Boundary Waters.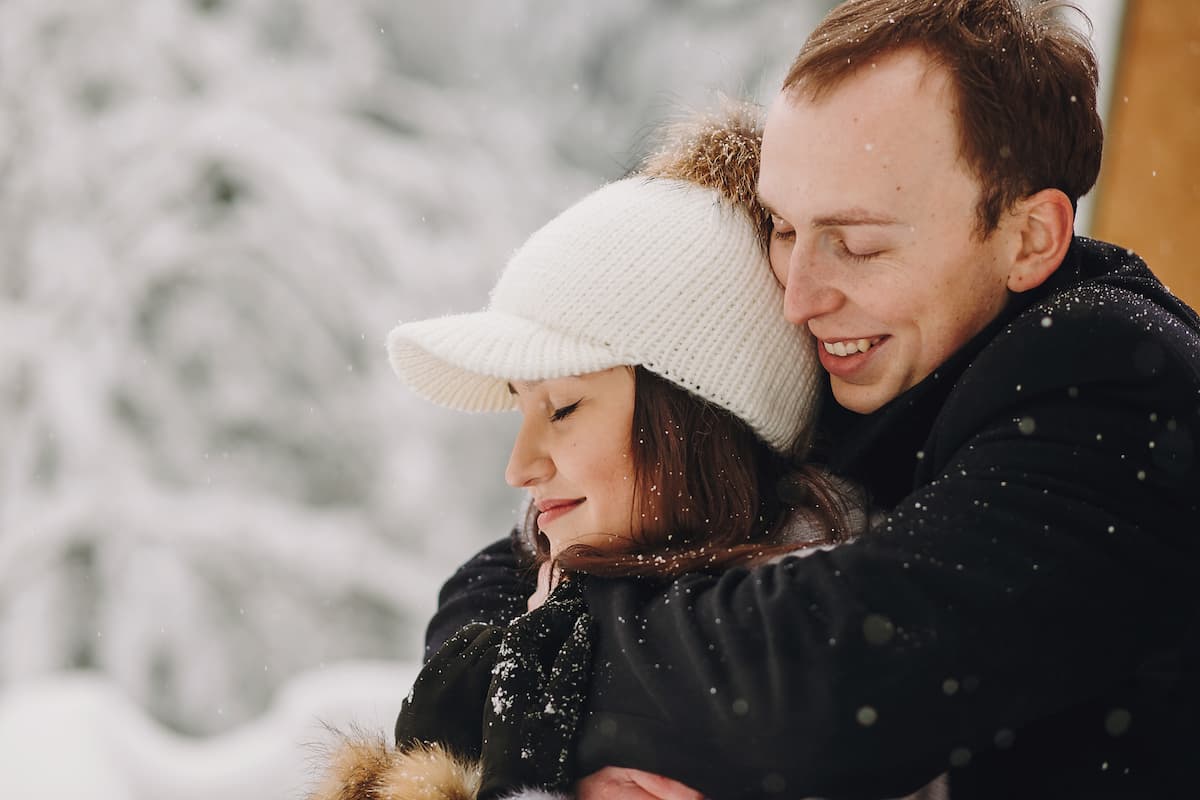 ---
Romantic Winter Getaways in Northern Minnesota
Lutsen Mountain Resort
If you're looking for a unique romantic winter getaway in Minnesota, the Lutsen Mountain Resort is waiting for you! You'll find that this resort is home to some of the best skiing in the Midwest, perfect for a romantic weekend getaway with your significant other.
The Lutsen Mountains feature four interconnected peaks that overlook Lake Superior, including Eagle Mountain and Moose Mountain. Other winter activities you can enjoy as a couple at this resort include snowboarding, snowshoeing, and snowmobiling.
Featuring 1,000 acres of downhill skiing, nearly 300 miles of cross-country trails, and 450 miles of snowmobile trails, you and your partner will have plenty of room to roam together during your romantic winter getaway.
Arrowwood Resort
Arrowwood Resort is an excellent destination for a romantic winter getaway in Minnesota, featuring popular winter activities like ice skating, cross-country skiing, and sledding. Couples can connect over the nightly bonfires at the resort or experience the magical romance of riding in a horse-drawn sleigh.
This resort is unique, thanks in part to the expansive 38,000-square-foot indoor water park that features a swimming pool, whirlpool, and spa.
You'll also find an indoor tennis court and basketball court on the grounds. Located only 17 miles from the resort is Andes Tower Hills, which offers tubing, snowboarding, and downhill skiing for couples to enjoy.
You and your partner can also explore various historical sites, like the Runestone Museum, the Legacy of the Lakes Museum, and the Douglas County Historical Society, for a truly adventurous, romantic winter getaway.
Bayfield & Apostle Islands
Are you looking for a magical, romantic winter getaway in Minnesota? Look no further than the Bayfield and Apostle Islands, which is known as the "Gateway to the Apostle Islands."
This location is the perfect place for you and your significant other to relax, unwind, and rejuvenate your mind and body. Take your pick of many fun winter activities to enjoy, including skiing, snowshoeing, and hiking.
Try out cross-country skiing at Mount Valhalla, downhill skiing and snowboarding at Mount Ashwabay, or back-country snowshoeing or skiing on public forest lands.
You can also hike or kayak to the Apostle Islands, exploring the 'Fruit Loop' that's nestled in the bluffs of Bayfield, where you'll find apple orchards and berry farms.
Visit the Lake Superior "ice road" to Madeline Island together, or stroll the miles and miles of sprawling beaches like Little Sand Bay, Meyer's Beach, and Friendly Valley Beach. The possibilities are endless when you visit the Bay and Apostle Islands for your romantic winter getaway.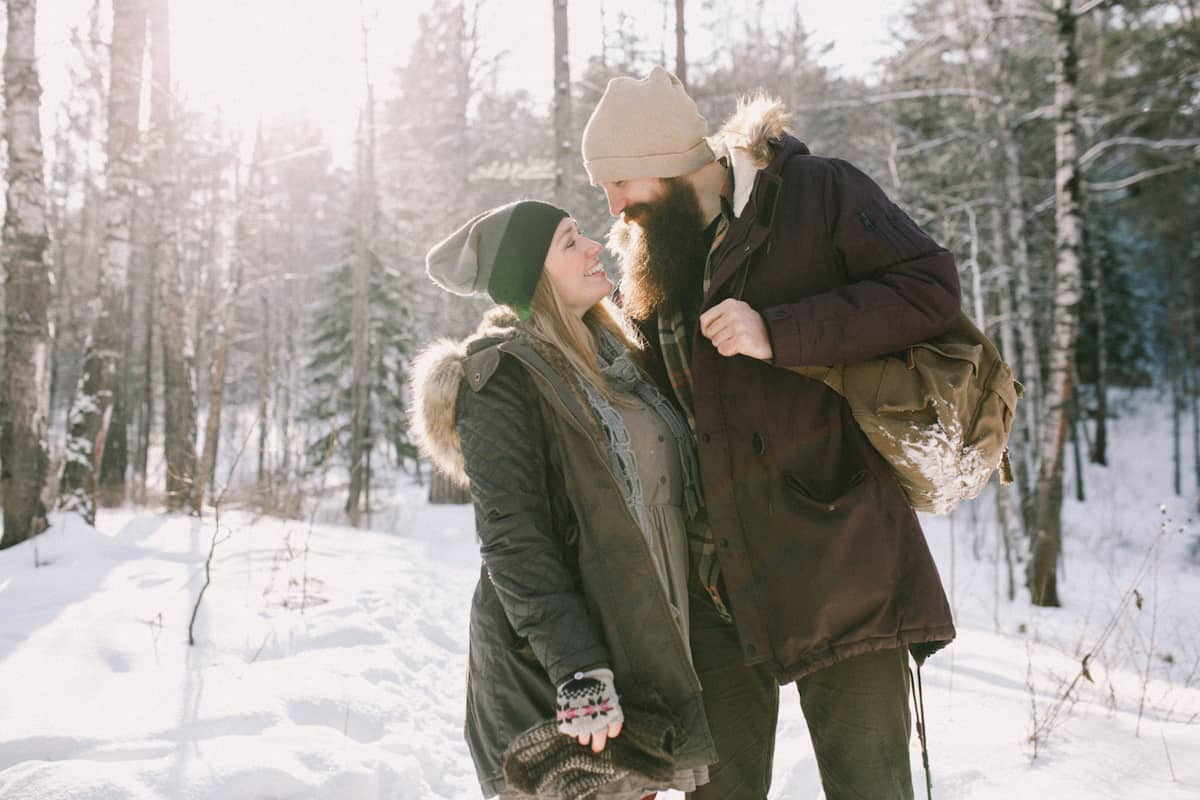 ---
Romantic Winter Getaways in Western Minnesota
Maple Hill Resort
Nestled between the 3,200-acre Clearwater Lake and 150-acre Grass Lake in western Minnesota, you'll find Maple Hill Resort. This property features multiple lake-front cottages available for couples looking to rent the perfect romantic winter getaway.
This resort features a private boat ramp, and you can dock your personal boats for free as well. The resort offers boat rentals for guests who want to take advantage of them during their stay. Row boats, paddle boats, and a canoe are available for rent to guests.
Clearwater Lake and Grass Lake are well known for some of the best bass fishing in Minnesota, so if you and your spouse enjoy fishing, this is an excellent reason to visit Maple Hill Resort during your romantic winter getaway.
After a long day of enjoying the Lakes, relax and unwind around the fire pit, roasting marshmallows, making s'mores, cooking up your catch of the day, or telling stories around the campfire with your love.
Detroit Lakes
Detroit Lakes is a fantastic destination for couples looking for a romantic winter getaway in Minnesota. This is mainly because of the Detroit Mountain Recreation Area which offers skiing, tubing, cross-country skiing, snowshoeing, and snowboarding.
This area offers 250 miles of groomed snowmobile trails and 40 miles of public cross-country skiing for you and your beau to enjoy. Other fun activities to enjoy with the love of your life at Detroit Lakes include ice skating, live theatre performances, sleigh rides, and hockey.
The Lodge on Lake Detroit is a luxurious lakefront hotel that's excellent for your romantic winter getaway at this destination. This hotel features a larger lobby with a wine bar and occasional live music performances, as well as an in-house spa, a small pool, and pristine rooms.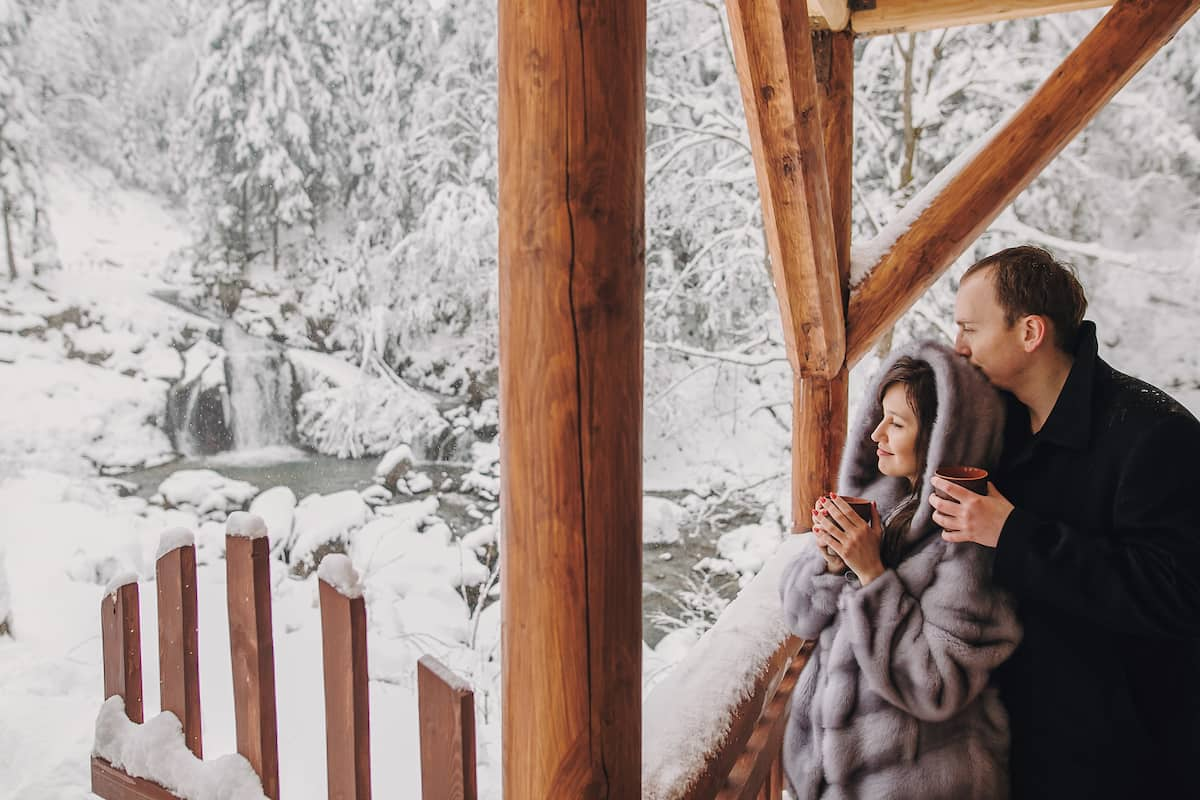 ---
Wrapping Up
Whether you're looking for a remote cabin to curl up and keep warm in with your significant other or looking to enjoy winter sports together, we've got you covered with these romantic winter getaways in Minnesota.
Check out the Winter in Minnesota section of our page for more information on enjoying the winter weather.
About the Author
Latest Posts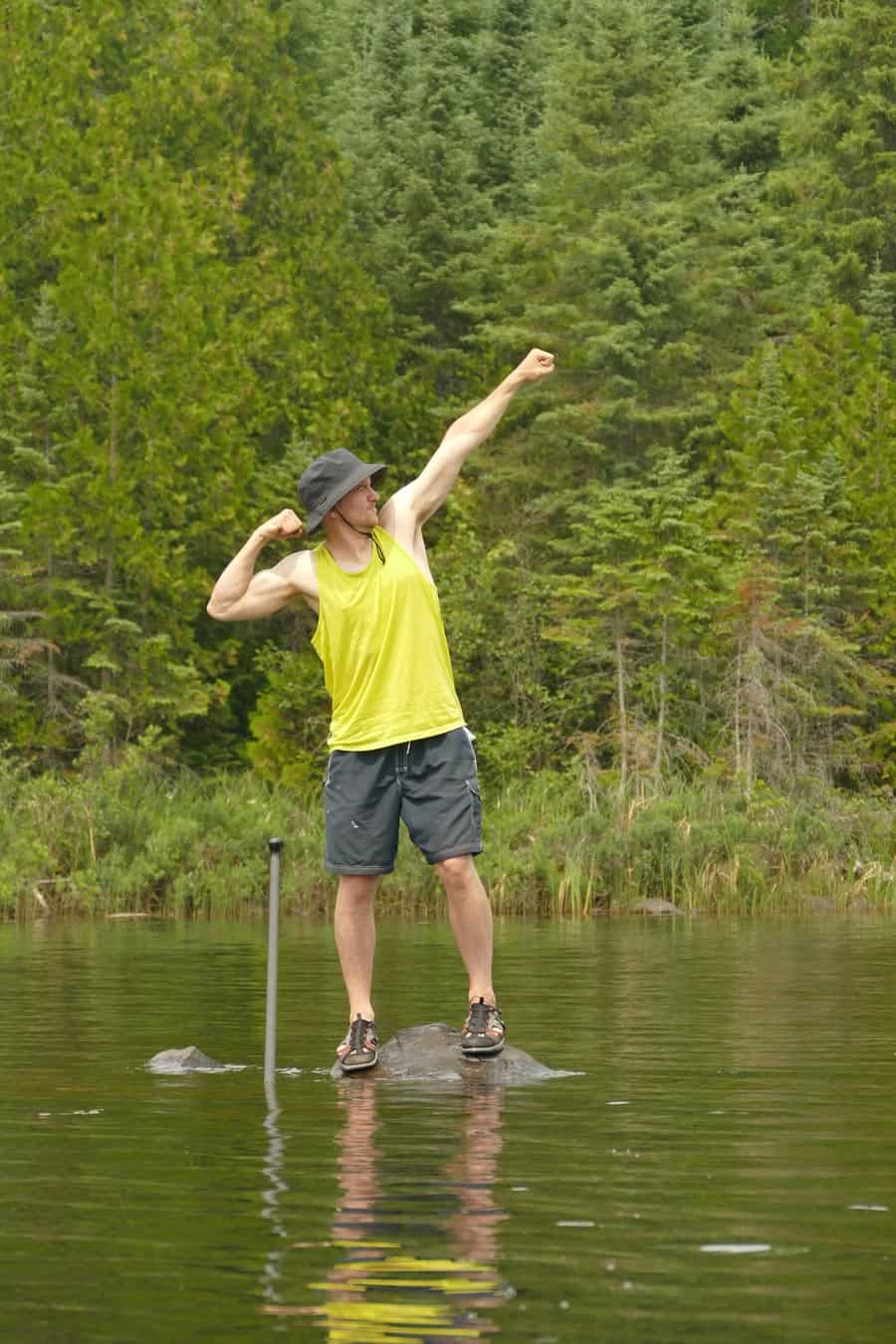 Born in Madelia, MN, to a now 5-generation Minnesota family, Ryan's MN roots go deep.
A painter by day, Ryan founded Life in Minnesota in 2013 with his wife Kelly to chronicle their musings on everything Minnesota. Ryan and Kelly are raising their 7 kiddos in Maple Grove, MN.
When he's not shuttling his kids around to hockey practice, you might find him in the shop working on his leatherwork. Undoubtedly, there will be a family trip to the Boundary Waters Canoe Area every summer, and of course weekends at Grandpa's cabin up north in the summer.