---
Roof Rake For Snow Buyer's Guide: Things to Consider
Not all roof rakes are the same. Keep the following information in mind before making your purchase to ensure you pick the best option for you.
Blade Width
Most roof rake blades are around 1.5-2 feet wide. But some are larger than this. With this in mind, you should have a general understanding of the size of your roof. If you have a large home, you probably also have a large roof. So, it's more efficient for you to get a larger blade, as this will keep your snow removal time manageable.
Small homes, like Capes or tiny homes, don't have a lot of roof surface area. So, a typical 1.5-foot blade will do just fine. Pick the blade width based on the size of your roof.
Slide or No Slide
Some roof rakes for snow have slides. This means they have some kind of sheeted material, like plastic, attached to the frame. These can help the snow fall down your roof due to their slippery surface. Roof rakes with slides require pushing motions to allow the snow to fall through the frame and onto the slide. And roof rakes without slides require pulling motions, as you'll be dragging the snow off the roof.
Make your roof rake decision based on which motion is more comfortable for your arms and back.
Length
The length of your roof rake is vital. You can find roof rakes for snow with all kinds of lengths. Some are just a few feet long, while others are 30 or more feet long. There are also telescopic options, which allow you to adjust and extend your rake.
When choosing your roof rake, it's best to try to find one you can use from ground level. Keeping yourself on the ground during snow removal is typically safer. So, oftentimes, a longer or extendable roof rake is better, especially for multi-story houses. It'll help you get as close to the peak of your roof as possible.
If you have a one-story home, you can most likely use a fixed length or a short telescopic option. You won't need to reach tall heights like multi-story homes.
Storability
Do you have somewhere to store your roof rake for snow? You'll typically want to keep it in a garage or shed. Telescopic options are excellent when it comes to storability, as they slide down to a small and manageable size. Those are the easiest to store.
But, if you choose a fixed-length rake, you'll need to ensure you have enough space. You may need to store the rake horizontally, as it may be taller than the ceiling. Some rakes also allow you to take them apart for easy storage.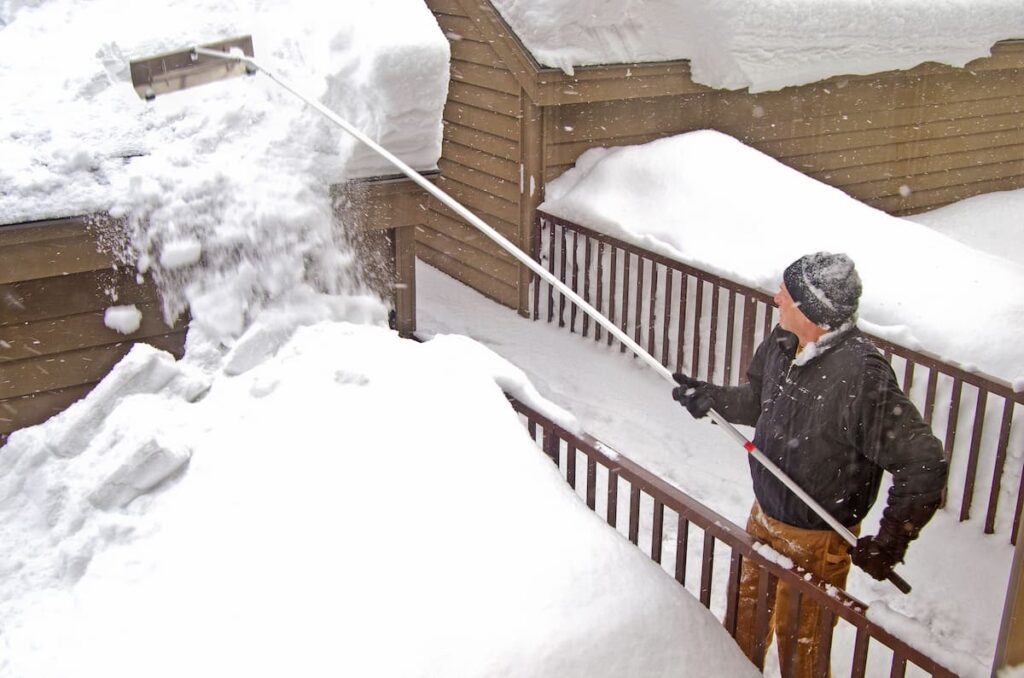 ---
How to Use A Roof Rake For Snow Removal
The United States Department of Agriculture estimates that snow can weigh just over 62 pounds per cubic foot. That can add up to a lot of weight on your roof! This is why snow removal is important, and learning how to use a roof rake is just as crucial.
There are two types of roof rakes, with each having different ways of usage. Your options are a roof rake with or without a slide.
Roof Rake With Slide
To use a roof rake for snow with a slide, you'll be using pushing motions. Once you have the rake together, you'll place the slide side on top of the roof. The open frame should be on top. Starting at the bottom edge of your roof, you'll push the rake upwards. The snow should come through the frame and fall down the slide towards you. You may need to do a few layers before reaching the shingles.
Continue doing these pushing motions until you get as much snow off your roof as possible.
Roof Rake Without Slide
A roof rake for snow that lacks a slide works to scrape the snow off the roof. After your rake is together, you'll place the blade on your roof. You'll want to start a few feet behind the edge of your roof. Then you'll pull the rake with the snow until it slides off the roof. Continue doing this until you clear all or most of the snow.
---
Roof Rake Frequently Asked Questions
Do roof rakes for snow damage shingles?
Roof raking can damage your roof if you aren't careful. Most options use hard materials like plastic or metal. And if you use too much force, you may damage your shingles. Try to keep the blade from scraping against them too much, and don't push down too hard.
Do roof rakes cause ice dams?
Roof rakes usually help prevent ice dams rather than causing them. Ice dams form when the built-up snow on your roof melts and refreezes. They create giant ice pieces on the edges of your roof. Removing the snow completely with a roof rake will prevent ice dams, as there is no snow left to melt.
How often should you rake the snow off your roof?
Your roof will typically need raking after six inches of snow accumulates. Anything over this amount can cause damage and lead to huge ice dams. Keep in mind that storms can drop multiple feet of snow. If you get a large snowstorm, you may need to remove snow multiple times.
---
Grab a Roof Rake For Snow Before Winter Hits!
Most roofs can handle an inch or two of snow. But anything more than that can damage your shingles and gutters and may even cause your roof to collapse. A roof rake for snow can come in handy exactly for this reason. Hopefully, these options gave you some ideas and helped you pick the perfect roof rake for your needs!
Are you looking for more information on the winter season in Minnesota? Check out our Winter in Minnesota section for more snowy, cold-related help and fun!