Perched not far from the border of Minnesota and South Dakota and centered around Split Rock Lake, the most prominent body of water in the whole county, Split Rock Creek State Park beckons visitors in from near and far with promises of beauty and fun—on which it absolutely delivers!
Read on to learn all there is for visitors to know about Split Rock Creek State Park, and why a visit here is something you will want to work into your life during any season of the year.
How to Get to Split Rock Creek State Park
Split Rock Creek State Park lies between the towns of Ihlen and Jasper, MN, and is accessible fairly easily off of I-90, which runs across the lower portion of the state. From I-90, you can take the exit for Minnesota State Highway 23, which will have you approach Split Rock Creek State Park from the south; then, on the outskirts of Ihlen, take Judd Street to State Highway 54 and circle back around to reach the park.
If you are approaching from the Minneapolis/St. Paul area, you will have a less direct route with the use of several different backroads and highways, which may change from time to time with construction on local bridges occasionally altering the best route to reach Split Rock Creek State Park. It's always advised to use an up-to-date map or GPS to ensure your route is clear of closures before planning your trip out to Split Rock Creek State Park from any direction!
When Is the Best Time to Visit Split Rock Creek State Park?
One of the many wonderful things about Split Rock Creek State Park is that this park is open all year round! And there is always something fun to do here at the park, no matter the season.
For summertime visitors, the abundance of outdoor recreations is an enormous draw—particularly that of the lake activities for which the park is best praised. There are lots of opportunities for hiking, fishing, swimming, boating, camping, exploring, and other fun in the sun and warmth, so you can really make the most of those long summer days and balmy nights.
For wintertime visitors, Split Rock Creek State Park offers just as much fun! Sports and outdoors enthusiasts will find skiing, snowshoeing, and sledding opportunities all unbeatable at Split Rock Creek State Park, and because of its location up north and near the South Dakota border, a good snowpack is almost guaranteed for much of the winter season. In addition, intrepid hikers and explorers can still brave the park trails even in the winter, though extra caution is advised during this far more inclement season.
Spring and fall also offer a host of reasons to visit Split Rock Creek State Park, with springtime blooms of wildflowers boasting a tremendous amount of new growth as a huge attraction to visitors from all across the state, and the autumn colors being an absolutely breathtaking sight that you simply have to see to believe!
All in all, the best time to visit Split Rock Creek State Park will largely depend on what you want most out of your visit; but one thing is for sure, regardless of when you make it to the park, you will not be disappointed by all there is to see and do!
Where to Stay At Split Rock Creek State Park
Best Camping Spots
Split Rock Creek State Park has a midsized campground that is open on a seasonal basis and offers the amenities of vault toilets, flush toilets, showers, and a dump station.
The park boasts 33 shaded drive-in campsites that are adjacent to Split Rock Lake, and all of which are accessible from the hard-top campground road. In addition, RV campers will find 21 RV sites available with electric hookups and a maximum allowed RV length (from the tip of the pulling vehicle to the rear of the vehicle being pulled) of 52 feet. There is also 1 wheelchair-accessible electric site, located near the campground showers and bathrooms.
Last but not least, for larger parties looking to enjoy a camping experience at Split Rock Creek State Park, there is a group campsite capable of accommodating up to 50 individuals in a setting meant for tents only. The group campsite also has picnic tables, running water, fire rings, and rustic toilets.
Booking, Fees, and What to Bring
Campsites at Split Rock Creek State Park can be booked in advance up to 120 days before the first day of your intended stay. Reservations can be made through the Minnesota State Parks and Trails website.
There are camping fees at Split Rock Creek State Park which will be displayed when making your reservation. All visitors, whether camping or visiting Split Rock Creek just for the day, will be required to pay the park entrance fee; this fee is $7 for a daily pass or $35 for an annual pass, with a second vehicle being $26 and handicapped annual pass cost of $12.
Campers should be sure to bring camping equipment that is in good repair, including tents, sleeping gear, clothing, food storage containers, etc. that have all been checked for any rips, tears, breakage, or other compromise. Firewood and ice can be purchased at the park office during the camping season.
Things to Do at the Park
Hiking
There are several different kinds of hiking trails to enjoy at Split Rock Creek State Park! The footpath trails in the park total roughly 7.5 miles total; of those miles, a half-mile span of the trail has been made wheelchair accessible. This trail runs along the Split Rock Lake beach and through the picnic area, then across the dam.
In addition, There is a 2.5-mile-long self-guided hiking trail that begins at the campgrounds, as well as a 4.5-mile-long regular hiking trail, also beginning at the campground.
In the winter, these trails and the park as a whole are accessible via snowshoeing.
Fishing
There is lots of fishing fun to be had at Split Rock Creek State Park! The lake is teeming with such fish species as walleye, perch, northern, bass, and sunfish, making this area a true angler's dream. Fishing kits can be found at the park office for those in need of them.
Swimming and Boating
During the summertime, Split Rock Lake is a veritable haven of water recreation and fun! Campers and day visitors alike can enjoy sunning themselves on the beach or swimming in this beautiful lake. Boat rentals are also available on a seasonal basis, where adventurous folks can rent canoes, kayaks, or stand-up paddleboards at the park office.
Other Recreation
One of the favorite recreations at Split Rock Creek State Park is horseback riding! At the south end of the park, you will find the trailhead, picnic benches, parking area, and hitching post all associated with the 4.5 miles of horseback riding trails; for riders 16 years old and up, a horse pass is required to be purchased from the park.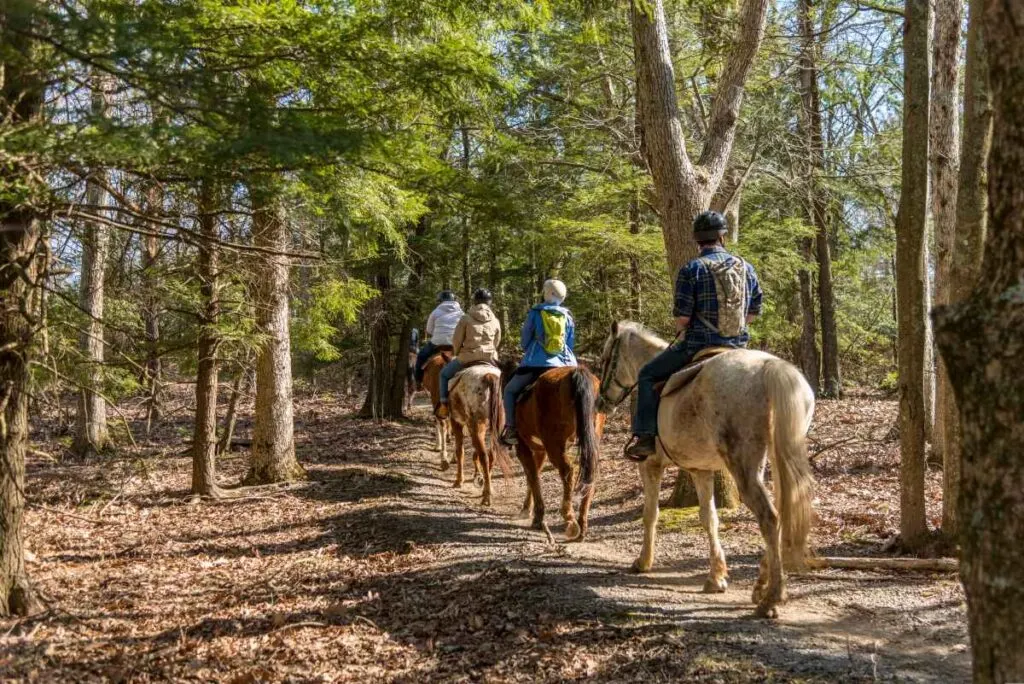 There are also lots of great wildlife and bird-watching opportunities at Split Rock Creek State Park! Plenty of lake, prairie, and woodland animals call this park home, including foxes, squirrels, beavers, meadowlark, and more. Birding kits can be borrowed from the park office for nature enthusiasts to enjoy and help make the most of their time at the park.
Wrapping Up Split Rock Creek State Park Visitor's Guide
We hope our Split Rock Creek State Park Visitor's Guide has you feeling excited to explore this lovely park and see for yourself why it is a favorite among many Minnesota natives and visitors alike!
Love spending time outside? Then discover the Minnesota Outdoors to continue learning new ways to reconnect with nature!