With a population of just a little over 1,000 according to the 2020 census, you may think there aren't many things to do in Grand Marais, Minnesota, but that couldn't be further from the truth! What it lacks in population, it more than makes up for in what it offers in creativity and beauty. There is an old-soul charm that radiates from the town and everyone who lives there. Life feels simpler and the invitation to slow down and rest is extended to everyone who visits.
Read on to find out 10 of the best things to do in Grand Marais, Minnesota!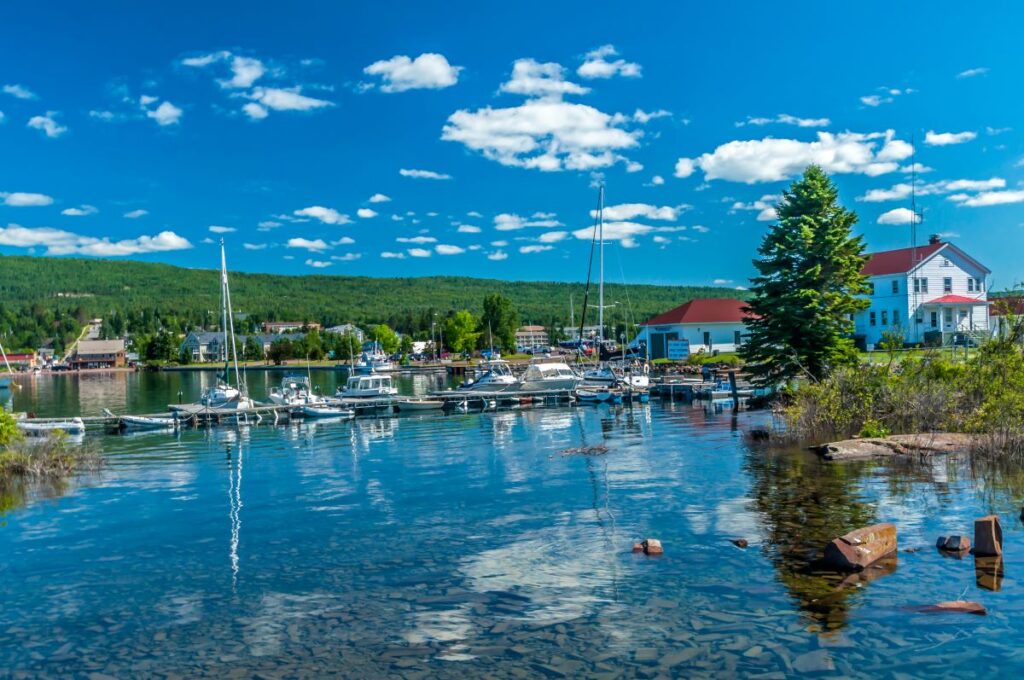 Things to Do for Creative Souls
Many artistic people have landed here, meaning there are loads of things to do in Grand Marais that will spark your inner creativity!
1. North House Folk School
Since 1997, people looking for fun and educational things to do in Grand Marais have found what they're searching for at North House Folk School.
A place that's been created for "learning for the sake of learning," North House Folk School strives to teach crafts that are native to the area. They started with classes such as Inuit kayak building and Scandinavian bowl making, but now they've got over 350 classes they teach.
If you're looking to expand your culinary expertise, you can learn how to make your own sausage, learn more about herbal food and drinks, or even how to grow and process your own grains and legumes.
Those looking to get in touch with the local history can learn how to tan hide, make a handmade whisk broom, or how to things found in local nature as medicine.
There are also children's classes to learn about woodworking, felting, and even blacksmithing!
If you're not sure when you're going to be able to actually get to Grand Marais, but this all sounds interesting to you, you should check out the online courses they've got available!
2. Grand Marais Playhouse
The Grand Marais Playhouse has been enriching the lives of the residents of the area, as well as giving people things to do in Grand Marais for the last 50 years!
Past productions have included iconic musicals such as Lion King Jr, The Addams Family, We Will Rock You, and Little Shop of Horrors. They've also put on plays such as Half-Life of Marie Curie and The Tempest.
In addition to entertaining the community and visitors, Grand Marais Playhouse strives to be a safe place for the young people of the community to have a place they can be themselves and learn all about theater. They offer summer camps throughout summer, even allowing students to be the ones to research, create, implement, and run creative elements for shows!
3. Sivertson Gallery
What started as a causal grouping of paintings in a basement 40 years ago has grown to be a booming gallery and one of the things to do in Grand Marais that art lovers won't want to skip!
Sivertson Gallery is committed to showcasing the work of the people who live in the far North, who capture the essence of the region. Many of the artists who started in this gallery are now famous world-wide!
The art in Sivertson Gallery highlights the animals, history, culture, and landscape of the area in ways that are as unique as each individual artist. There are paintings, sculptures, and carvings that are each handmade and unique.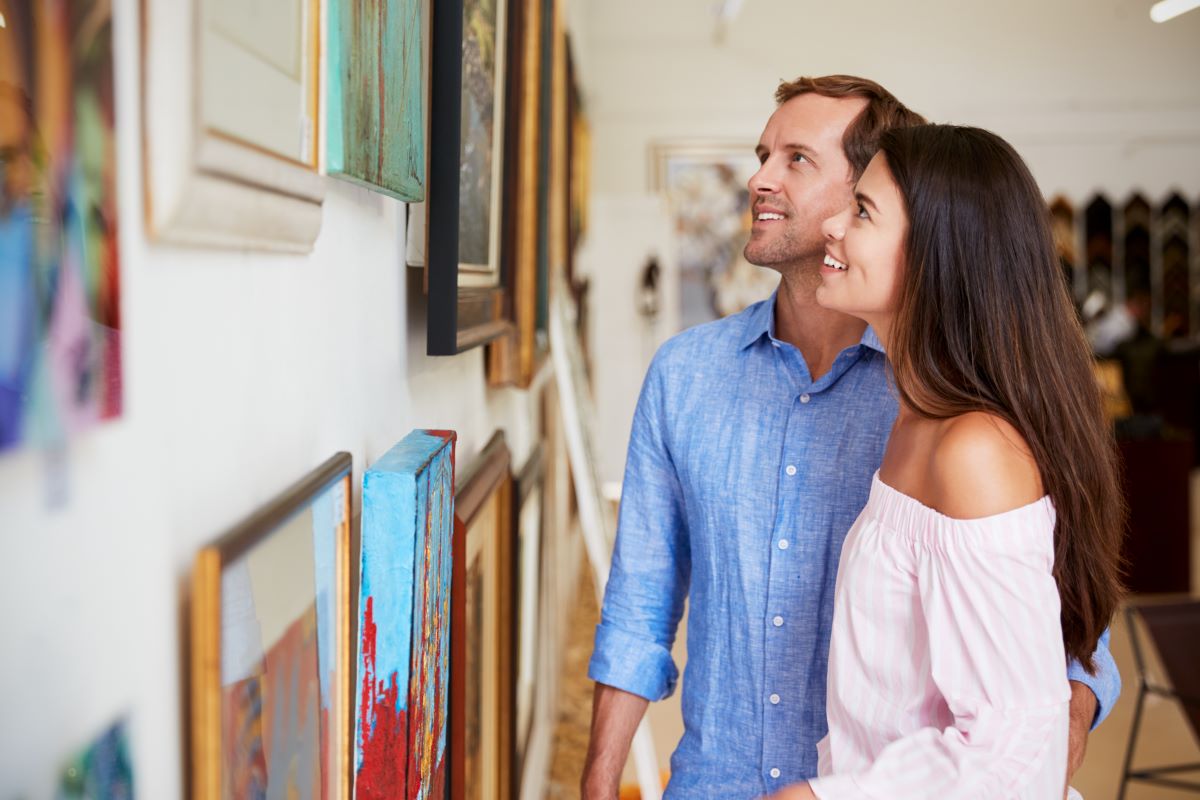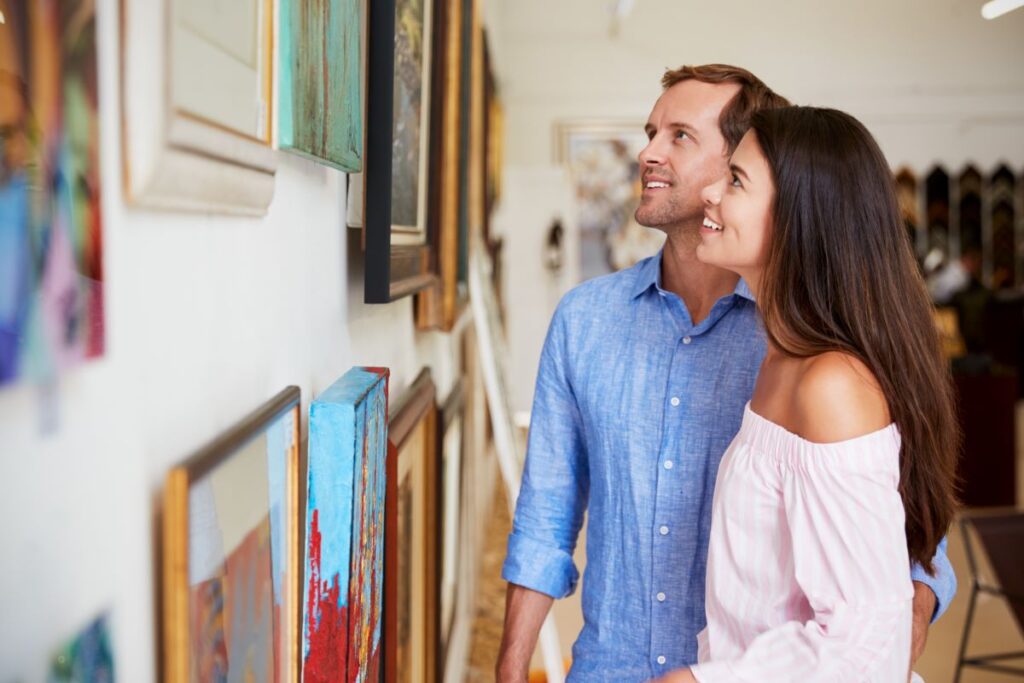 4. Betsy Bowen Gallery
Betsy Bowen, who got her local start at Sivertson Gallery, has given everyone things to do in Grand Marais by opening up her own gallery and workshop to the public!
At Betsy Bowen Gallery, you can go see the artist in action, actually stamping the woodcuts onto prints. There's also a shop where you can buy original artwork.
If you don't know what a woodcut is, it's actually a type of art that's actually the oldest form of printmaking the world. Betsy Bowen, and other woodcutters, cut chunks out of blocks of wood. The pieces that are left raised up are then covered with paint or ink and pressed against some sort of paper or fabric. The areas that were cut away will remain blank on the print.
Things to do for Nature Lovers
Since this little harbor village is nestled on the shore of Lake Superior, there are plenty of things to do in Grand Marais that nature lovers will not want to miss!
5. Border Lakes Tour Company
If you want things to do in Grand Marais that take you deep into nature but you're not quite confident enough to adventure on your own, you've got to give Border Lakes Tour Company a visit!
Whether you're just dipping your toes into adventuring or you're basically an expert, Border Lakes Tour Company wants you to enjoy all of what this incredible region has to offer. They'll customize a tour unique to your group's experience level.
They offer private day trips that take you canoeing through the boundary waters or hiking through the forests of northern Minnesota. If you're looking for a little more, they also offer overnight trips where they will plan you route, set up camp, and even cook your meals over the campfire. All you have to do is take in the sights.
6. Artist's Point
Artist's Point is one of the things to do in Grand Marais that nature lovers are sure to enjoy.
Artsit's Point is what the locals have named a large outcropping of rocks that jut out into Lake Superior's waters. It got its name because of the many artists who take their easel, canvases, and paints to set up on one of the rock's surfaces so that they can capture the beauty and majesty of their surroundings.
Artist's Point is a short, 15 minute walk from downtown Grand Marais. The accessible path makes it great for visitors of all ages who are looking for things to do in Gran Marais to take advantage of the splendor the region has to offer.
7. Chik-Wauk Museum & Nature Center
What was once a hunting trail for Native Americans and a trading route for fur trappers, the path out to Chik'Wauk Museum & Nature Center is full of beauty and history.
This museum and nature center is a must-do for nature lovers searching for things to do in Grand Marais. Even if you can't tell the difference between a fir tree and a palm tree, there are resources at the Nature Center that can help you fully enjoy the forest.
Not only are there guidebooks available, there are also binoculars and even tadpole nets available for use so that you can fully embrace and immerse yourself in nature on the trails covering 50 acres of wilderness.
The Chik-Wauk Museum hopes to show you a glimpse of what life was like during pioneer time. It's full of interactive displays, including a scavenger hunter for young explorers.
8. Gunflint Trail National Scenic Byway
The Gunflint Trail National Scenic Byway is perfect for someone looking for nature things to do in Grand Marais that doesn't require any time actually outside. Because, let's face it, sometimes you just want to stay in air conditioning or heat!
This scenic byway starts in Grand Marais and follows the historic Gunflint Trail over 50 miles north, ending near the Canadian border.
This trail is famous for moose sightings!
The Gunflint Trail was originally used as a trade route for fur trappers and is full of history. In fact, you'll be passing some of the oldest known rocks in the world according to researchers!
Things to do for History Buffs
It may be tiny, but there are still things to do in Grand Marais for history lovers!
9. Beaver House
Beaver House is a local landmark, known as the "home of the famous beaverflick," which is a fishing lure originating from this very shop.
This charming store is worth a visit if you're looking for things to do in Grand Marais, even if you wouldn't consider yourself a fisherman or fisherwoman. The owner, Ty, has been a part of the store since his family opened it when he was only 5 years old.
It's become something of a mix between a fishing store and a museum of what fishing has been in the area over the years.
And good news—if you've been on the hunt for live leeches, they've got you covered!
10. Grand Marais Lighthouse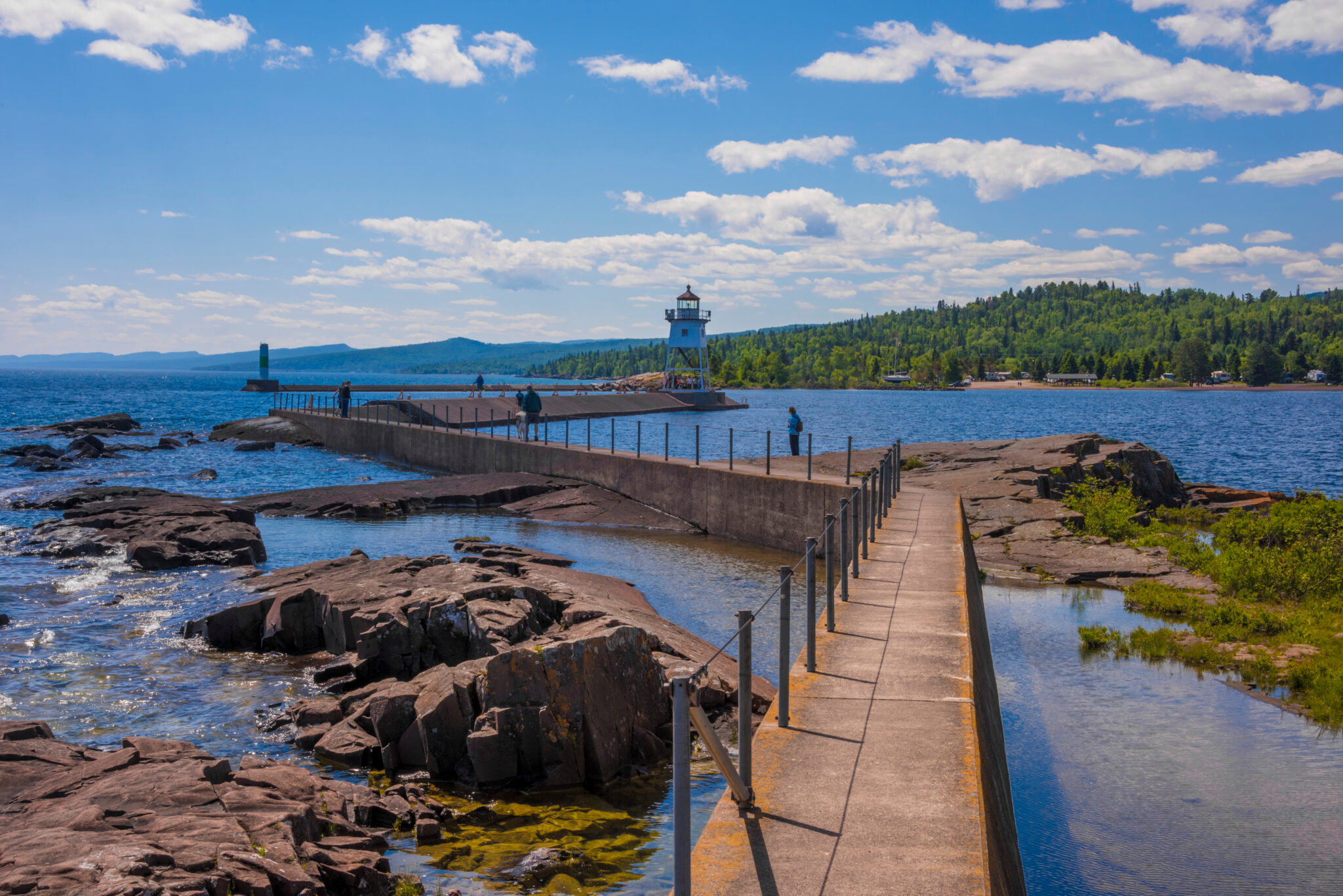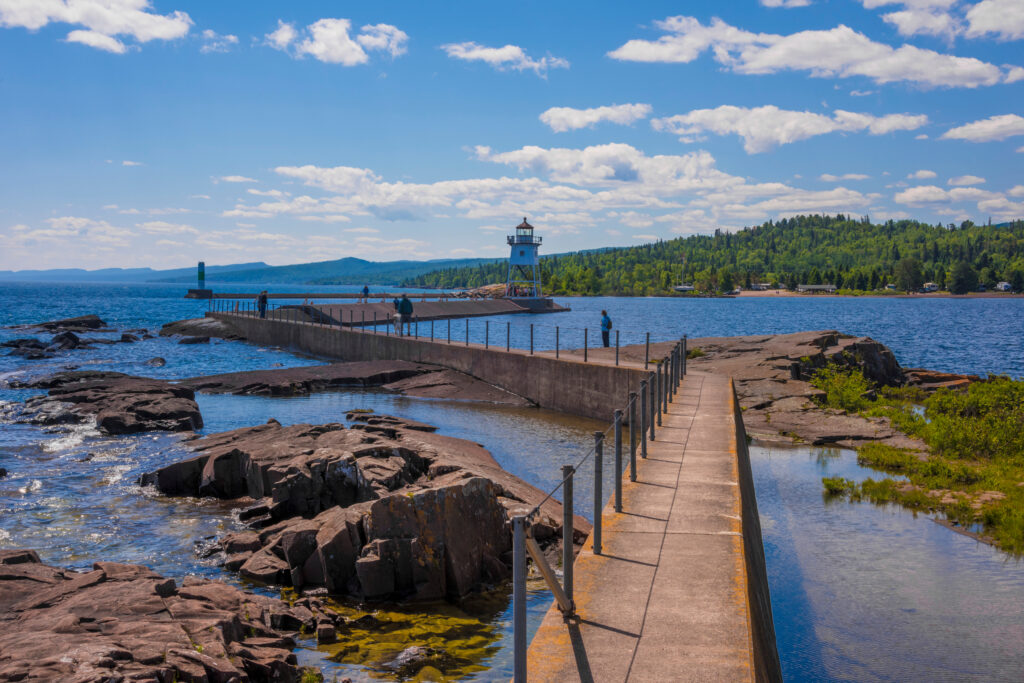 The idea of the Grand Marais Lighthouse is older than Minnesota's statehood, making it the perfect spot to visit for someone wanting things to do in Grand Marais that will teach them something about the history or the area.
After initially being rejected and deemed not necessary by Congress, the Grand Marais Lighthouse was completed just 27 years after Minnesota officially became a state.
The breakwater, which you walk on to get to the lighthouse itself, has created a safe harbor for ships for almost 200 years.
Nowadays, a visit to the Grand Marais Lighthouse, which is now owned by the Coast Guard, is great for birdwatching and getting a different viewpoint of your surroundings.
Be aware— the path out over the breakwaters is narrow with just a wire "rail," so wear sturdy shoes and be ready to help those who may not be completely steady on their feet.
Wrapping up Things to do in Grand Marais
Those looking for unique things to do in Grand Marais are sure to find what they're looking for! This small town is full of charm and history and a place you don't want to miss. Looking for your next Minnesota city to host your travel adventures? After visiting Grand Marais, check out my other featured Minnesota towns to inspire your next trip!