Ice skating can be a fun family activity or something you do for exercise. It can be competitive or completely recreational. No matter how much you enjoy ice skating, one thing is certain… you've got to wear clothes!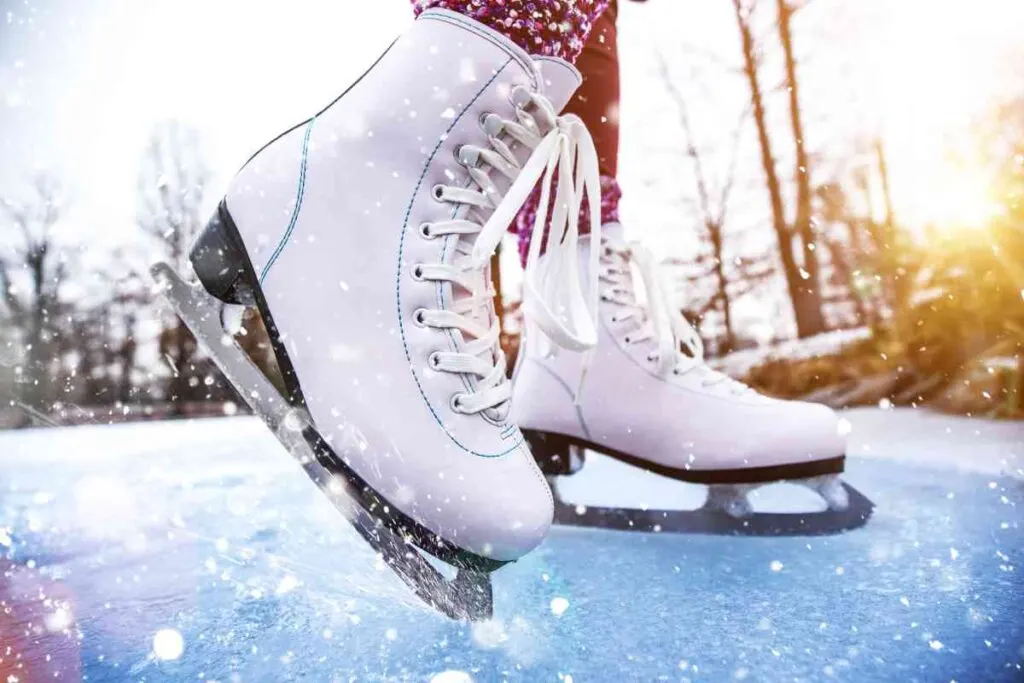 If you're a novice, you may not know what to wear ice skating, but we're here to help!
Whether you'll be inside or outside, read on for everything you need to know about what to wear ice skating.
---
What to Wear Ice Skating
You can make the recommendations fit any personal style, but there are some basic items you need to have when planning what to wear ice skating.
1. Layers
Layers, layers, and more layers are key to mastering the knowledge of what to wear ice skating.
You can't go wrong with wearing layers. You're guaranteed to be warm enough to be comfortable but can take off layers if you warm up while skating.
Ice skating burns an average of 700 calories in a single hour, so it's not uncommon for your body to heat up due to physical exertion.
A good example of what to wear ice skating when it comes to layers is a t-shirt, then a sweater or sweatshirt, and a fleece or puffy vest on top. There are two "extra" layers to remove if you need to keep comfortable.
2. Long Pants
Knowing what to wear ice skating isn't difficult when it comes to the bottom half of your body.
Long pants are the only way to go! They'll keep you warm and protect your knees from any tumbles you may take.
When choosing pants to wear, remember not all pants are created equally.
While jeans do a good job at keeping you warm, they take a very long time to dry. If you're new to ice skating and may be spending some time on the ice after falls, they're probably not a good decision for you.
Most leggings dry rather quickly, but are thinner and aren't going to keep your legs warm.
A good choice of long pants is something cotton with a fleece lining. You'll have the benefit of warmth and they'll dry quicker than denim.
3. Socks
Socks are going to help keep your toes and feet warm as well as make the ice skate more comfortable… as long as they're the right ones.
Make sure the socks you choose don't have a thick seam around the toes or ankles. A seam that is too thick will lead to a lot of unnecessary discomfort.
You may want to consider some polyester or bamboo socks. Either kind will be thin and wick away moisture from your foot.
If you want to make figuring out what to wear ice skating a little easier by working with what you've got, a nice, thin pair of cotton socks will work well.
It's a good idea to wear skip an ankle sock and wear something that will go higher on your leg like a crew sock. The sock will keep your ankles from getting irritated by the skate
4. Hair Pulled Back
If you've got long hair, you should pull it back before getting out on the ice.
While you may not be planning to do any double axles or camel spins, loose hair can cause issues while ice skating.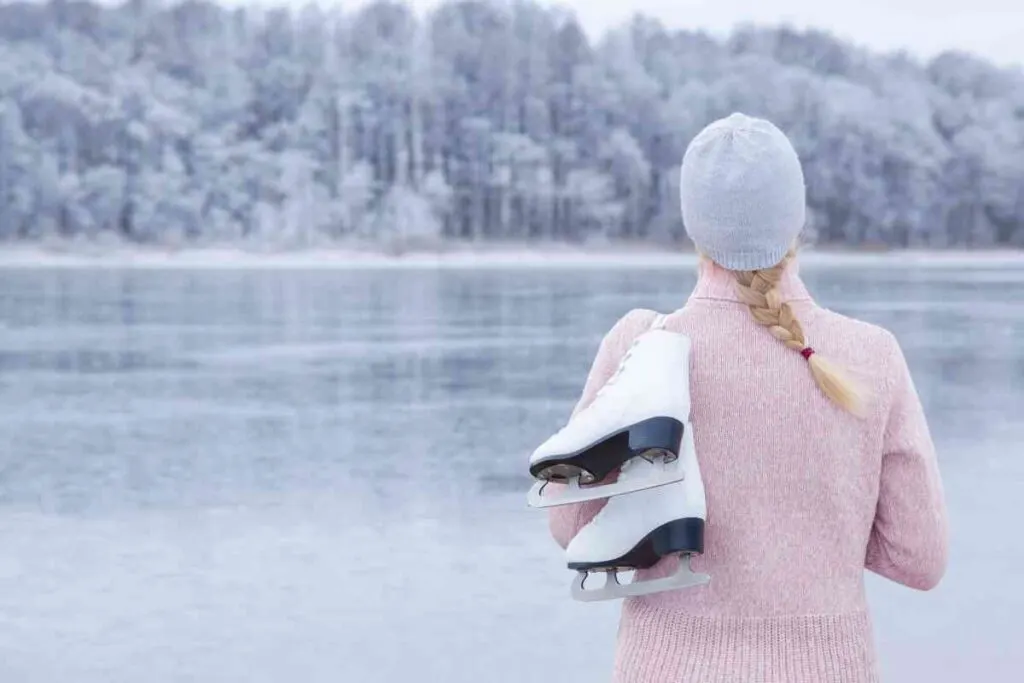 Not only would it be frustrating to have hair in your face, but it could also be dangerous. It could impair your vision and make you fall or run into the wall. It could also put other people at risk.
Simply use a clip or an elastic to keep your hair out of your face.
---
What to Add if Ice Skating Outside
If you're ice skating outside, there are a few more items you'll need to know about as you plan what to wear ice skating.
5. Hat
Did you know that 10% of your body heat is lost through your head? If you want to stay comfy and cozy ice skating outside, a comfortable hat is a must-have.
There are many stylish, functional hats out there that are sure to keep your noggin' warm.
Beanies come in all shapes, sizes, and colors. You could choose one with a pompom— either yarn or fur. If you'd like something simpler, a nice ribbed option would work well.
If you're really cold-natured, you can even get a hat with a built-in face covering that will protect you from all the elements!
6. Parka
A parka is a unique coat that's a little longer than a traditional winter coat. It typically goes down past the wearer's hips, keeping more of their core warm and toasty.
Parkas typically come with big hoods, leaving plenty of space for your hat to fit under. The hoods are also usually lined with faux or real fur.
7. Gloves or Mittens
Since you'll need your hands free for balance, you can't rely on your parka's pockets to keep your hands warm. Wearing gloves or mittens while ice skating outside will keep you so much more comfortable.
For mittens, you can go a faux suede route, or maybe just a classic knit.
If you want more dexterity, wear gloves. You can even get some that allow you to still use your phone while wearing them.
---
What NOT to Wear Ice Skating
When learning what to wear ice skating, it's equally as important to know what not to wear!
Tight Pants
Tight pants are going to restrict your movement, making ice skating more difficult.
Not only would they make the actual skating difficult, but they'd also make it harder to get up after falling.
Skirts/Shorts
Wearing skirts or shorts isn't a good idea for ice skating. You'll be cold and your knees and legs will be coming in direct contact with the ice every time you fall.
You'll be cold, wet, and probably more bruised than you would be in pants.
Thick Socks
Contrary to what common sense may tell you, thick socks are actually not a good idea to wear while ice skating!
The thickness of the socks will make the skates more uncomfortable and could even cut off some circulation to your feet if things are tight enough.
It's also important to be able to feel the ice under your foot, and the thick cushion of plush socks makes that difficult.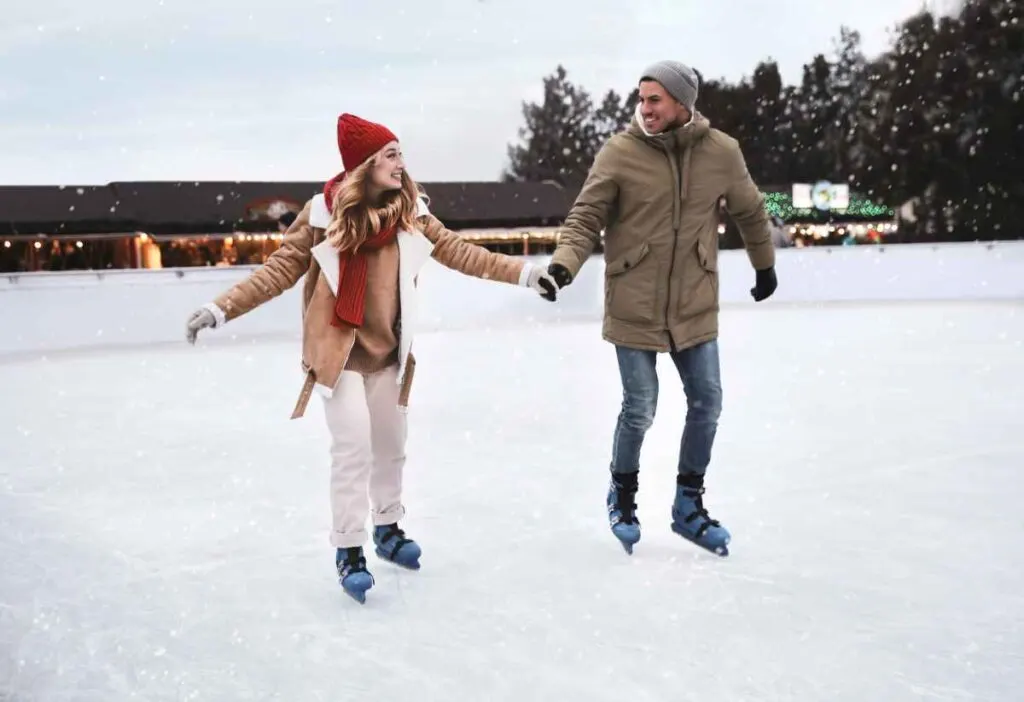 ---
Wrapping Up What to Wear Ice Skating
Knowing what to wear ice skating is half the battle. Now it's time for you to gather your clothes and get out on the ice to skate!
To find some great places to practice and play, check out our Minnesota Featured Places!
Looking for Minnesota winter inspiration? Check out our Minnesota winter guide for activity ideas, winter apparel suggestion, and endless ways to enjoy the snow!