While winter camping in Minnesota appeals to many people, you may have your heart set on a more cozy, warm, and comfortable retreat to the North Star state. This is where winter cabins in Minnesota have gained popularity…and continue to do so every season.
Check out our roundup of the absolute coziest winter cabins in Minnesota–from the frigid north to the more forgiving south and everywhere in between.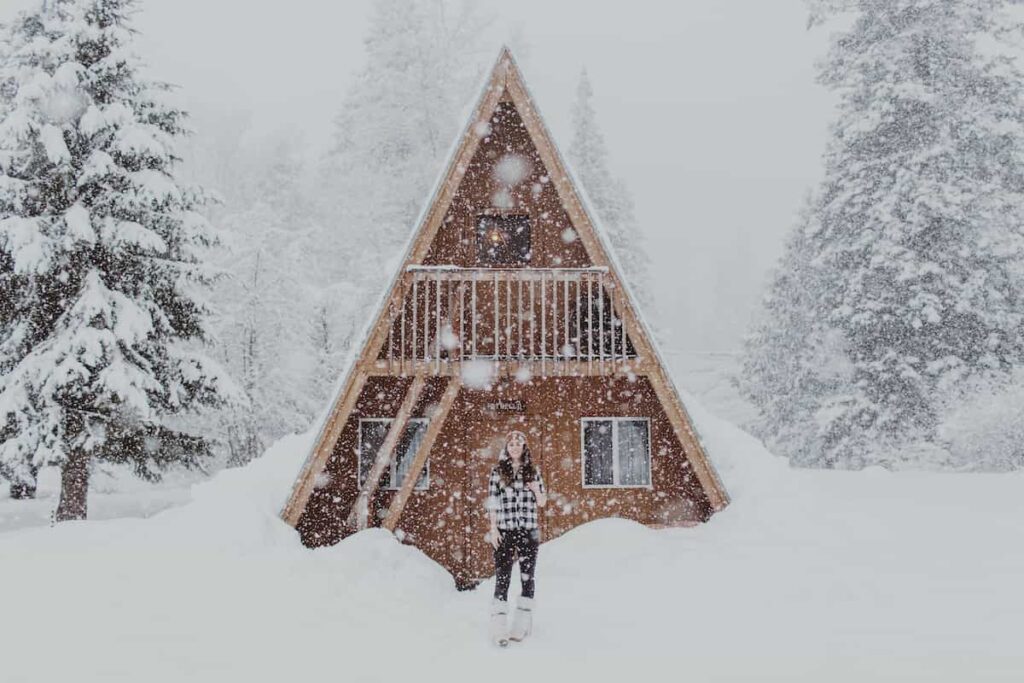 ---
Coziest Winter Cabins in Minnesota's Northern Region
1. The White Iron Heritage Haus – Ely
When it comes to planning a getaway to a winter cabin in Minnesota, you will quickly find you have a lot of options to choose from. There's a sliding scale of glamor with all types of winter cabins in Minnesota, with all sorts of amenities.
If your heart leans more toward the rustic, old-school version of a winter cabin in Minnesota's northern regions, then you will definitely want to check out the White Iron Heritage Haus! This vintage cabin boasts just a single bedroom but has plenty of other amenities, such as nearby islands, riverbed trails, and a private dock with access to White Iron Lake.
At the White Iron Heritage Haus–which houses up to four people between the queen bed and two twin beds–you can enjoy the perfect balance of rustic cabin life without sacrificing on the necessary amenities. This cabin is coziness incarnate with its full kitchen, dining area, and fireplace. Its rich wooden walls add to the rustic charm.
Located close enough to the town of Ely for some wonderful urban escapism as well, you're sure to find all your needs met for cabin camping in Minnesota at this beautiful vintage cabin.
2. The Palisade Log Cabin – Silver Bay
Lake Superior's North Shore is one of the most popular locations in the state. Even in the wintertime, the rugged cliffs and breathtaking views in this region hold a great appeal for visitors from all over. And there are few places better to stay in this area than the Palisade Log Cabin.
This is arguably one of the best winter cabins in Minnesota based on its location alone. Perched on 5 private acres along the North Shore, the Palisade Log Cabin is near enough to Lake Superior that you can hear the waves crashing on the Palisade Head Cliffs less than 100 feet from the cabin!
A geothermal heating system helps keep this cabin warm even in the frigid depths of a northern Minnesota winter–another reason this spot is one of the best winter cabins in Minnesota. Nearby access to cross-country skiing and a ski resort also add to the Palisade Log Cabin's attraction.
This is a great winter cabin for both outdoor and indoor enjoyment, as you will find the cabin stocked with games and in close proximity to lots of wonderful recreation.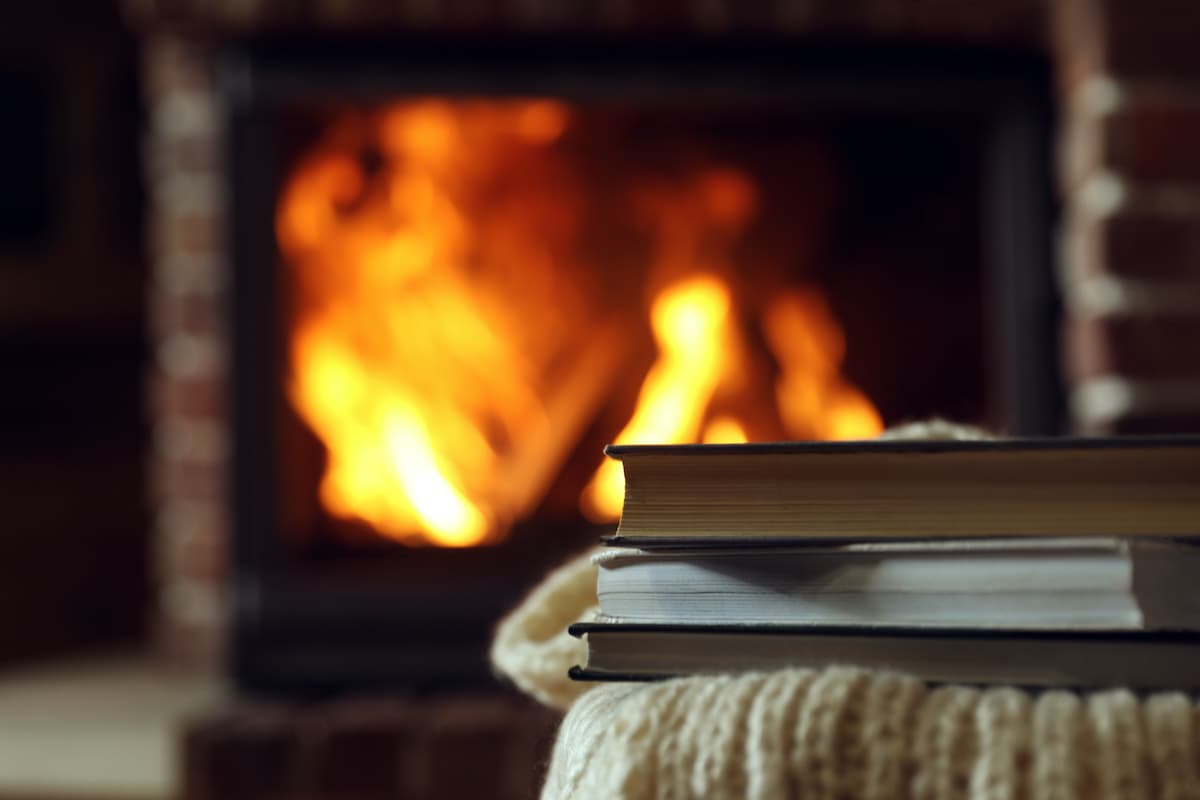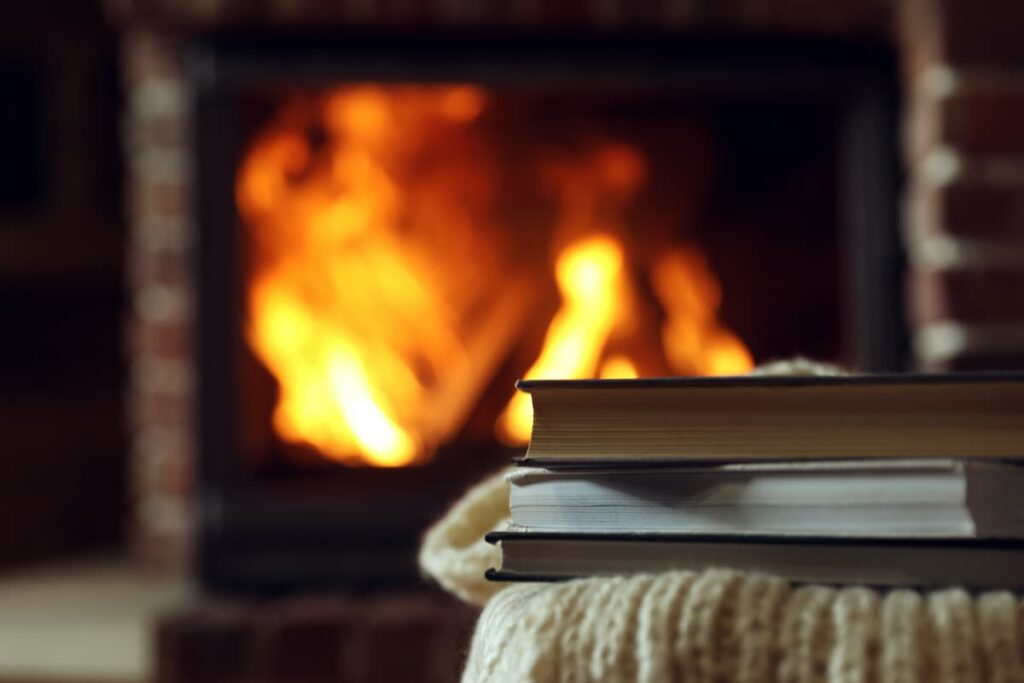 3. White Pine Retreat – Isabella
There is no feeling quite like a majestic retreat to a winter cabin in Minnesota. The views and aesthetic of this season in this state are just unbeatable. If you are looking for the ultimate cozy, pampered atmosphere for your retreat to a winter cabin in Minnesota, you will want to check out the White Pine Retreat.
This gorgeous cabin definitely leans on the glamorous side, with its panoramic window views, vaulted ceilings, and rich wooden walls. You will feel like you stepped into a Hallmark movie when you wrap up in a blanket and enjoy a steaming cup of your favorite hot beverage here while observing the snowy outdoors.
Best of all, if you like a bit of outdoor winter fun and games, White Pine Retreat offers that right on the property as well! You will find skiing and snowshoeing opportunities, as well as snow play and more, quite literally from the moment you step foot out the front door.
4. Cozy Writer's Cabin – Grand Marais
Writers and creatives, this one's for you! Whether you need to get away from the bustle of life for a writing retreat, or if you're looking for a winter cabin in Minnesota to serve as the inspiration for your next holiday romcom or harrowing fantasy adventure, the Cozy Writer's Cabin is where you want to be.
This cabin is a modernized historic cabin in the oldest district of Grand Marais. It balances its modern angles with its rich history, boasting many artifacts of both local and world-famous writers to help jog your inspiration and imagination. There's a vintage secretary desk where you can do your writing, and you can get a peek at the model of typewriter Ernest Hemmingway was most fond of.
In addition, you'll find aspects of this cabin that appeal to those without a creative penchant as well! It's located steps away from the local harbor, in easy reach of many urban commodities, and offers an iron gas fireplace, an air tub, a modern kitchen, a queen bed, a skylight and numerous windows, and so much more.
The property is a great bonus for this winter retreat as well. Numerous plants swarm the grounds, some even producing fruit, and all of these help add a more secluded, natural feel to the cabin overall.
---
Coziest Winter Cabins in Minnesota's Central Region
5. Lazy Pines Cabin – Crosslake
If you are itching for a true cabin experience in Minnesota's beating heart, you will be challenged to find a more appealing location than Lazy Pines Cabin. This cabin boasts a classic log structure appeal, with a mid-2010 renovation that has made it into a premier destination for winter cabins in Minnesota.
This cabin beckons to visitors with an open floor plan, vaulted ceilings, a screened porch, plenty of rustic wooden charm, a fieldstone fireplace for burning wood (which is provided), and much, much more. This is a great spot to enjoy panoramic lake views, along with plenty of places to read a book or enjoy a movie, a game and puzzle table, and spots for both indoor and outdoor relaxation.
With its several bedrooms and spacious areas, the Lazy Pines Cabin is a fantastic option for a family or friend group getaway. There is so much to enjoy about this cabin and so many options for rest and recreation, you will find yourself refreshed and ready to tackle life again after a retreat to Lazy Pines.
6. Classic Cabin on Lake O'Brien – Crosslake
Does your heart yearn for the classic experience of a winter cabin in Minnesota, but without a tremendous amount of overwhelming space or too many bells and whistles? Then, this classic cabin on Lake O'Brien is just waiting for you to visit and unwind!
This cabin may be small, but that only adds to the cozy charm. Its limited space is outfitted with a single bedroom with a king-sized bed and a loft with two queen-sized ones. You can also enjoy an indoor three-quarter bathroom or use the outdoor shower if you feel like braving the cold!
There are fantastic panoramic views of Lake O'Brien from this classic cabin, as well as a lakeside patio with dining and coffee sitting areas where you can see the water unobstructed. If you find the weather too cold, you can also tuck into the plush seating within this cabin and enjoy the view while bundled in a blanket.
7. The Three-Level Cabin – Wright
If you find yourself craving a balance between indoor and outdoor recreation while staying at a winter cabin in Minnesota, then the Three-Level Cabin is calling your name!
This large cabin in north-central Minnesota is situated on a private, six-acre lot near the shores of Woodbury Lake. It boasts three levels, with three bedrooms and three bathrooms…a perfect balance of space and size, and capable of hosting up to a dozen guests at once.
If you enjoy outdoor recreation, you will find a ton of snowmobile and ATV riding opportunities not far from the cabin. You can also enjoy long walks and snowplay on the sprawling property before retreating inside for a warm cup of hot cocoa or coffee.
However, if you prefer to enjoy the scenery of the infamous Minnesota winters through the windows, the Three-Level Cabin still has you covered! In addition to its numerous seating areas and recreation room–perfect for reading a book, watching movies, or playing games–this cabin is also near to some one-of-a-kind attractions.
The Black Bear Casino, for example, is just 20 minutes away from the Three-Level Cabin. And you can enjoy various other recreations in the nearby town of Wright. So whether you prefer indoor or outdoor fun while staying in a winter cabin in Minnesota, the Three-Level Cabin is a great spot to check out.
8. The Nostalgic Log Cabin – Pierz
Want to whisk the whole family away to a winter cabin in Minnesota where you can all make memories in a unique, rustic, yet cozy location? Then be sure to check out the Nostalgic Log Cabin located in Pierz!
Even at first glance, this destination absolutely screams vintage log cabin. Its large, exposed wooden beams and high ceilings, dark wood walls, and broad windows with an east-facing build all give off that air of classic charm.
But you will also find plenty of creature comforts here, with a formal dining room, a great room with a floor-to-ceiling stone fireplace, indoor and outdoor games, and access to one 1,200-acre lake and an adjacent 1,800-acre lake.
The sleeping arrangements in the Nostalgic Log Cabin are also one of a kind. In addition to the two bedrooms–one with a full bed and the other with a queen–there are also sleeping spots in the porch area and a pair of window beds in the great room.
---
Coziest Winter Cabins in Minnesota's Southern Region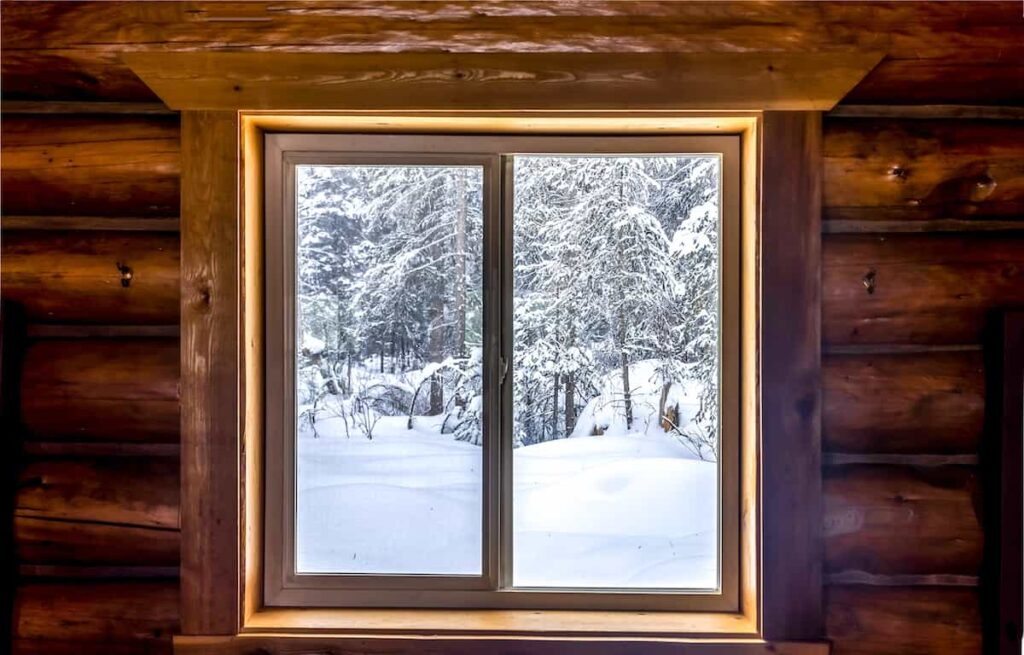 9. Scenic Cabin Overlooking Trout Run – Chatfield
Whether you have your heart set on an active retreat to a winter cabin in Minnesota or a slow-paced escape from the daily grind, you should be sure to check out this scenic cabin overlooking Trout Run. This beautiful cabin is made with both active getaways and relaxing retreats in mind.
This spot is perfect for things like a scrapbooking event, playing games, fishing, hiking, biking, and more. And while you may find these amenities to be less enjoyable in the cold winter months, there is still plenty to enjoy in this scenic cabin!
In this spot, you can also relax, enjoy the gorgeous views of Trout Run fishery, read a book, or sip a hot drink in front of the large windows while you bask in the gorgeous views and the quiet life. Whether you are looking to speed up your life or slow it down on your visit to this scenic cabin, you will find all the comforts you need and then some.
10. Root River Valley Cabin – Lanesboro
At times, you may find it a bit difficult to find a good winter cabin in Minnesota's southern region. Luckily, the Root River Valley Cabin makes up for any lack by checking all the boxes for what makes for a great winter cabin in Minnesota–and then some!
This cabin boasts more than just modern amenities and a sleek interior design. It also maintains that rustic log cabin charm, full of exposed wood and stone. Then it takes things up a notch with a ton of relaxing amenities and breathtaking views!
Perched on the incredibly comfy porch furniture, you can take in the unbeatable views of the Root River Valley in wintertime. Outdoors, you can go hiking, cross-country skiing, snowmobiling, explore the nearby Amish country, and more. Meanwhile, indoors, you can play games, cook, read, and relax at the cabin or venture out to museums, restaurants, shopping, and more.
A fantastic blend of urban and rustic, the cabin will truly feel like your home away from home. This is a great place to enjoy a getaway during the seemingly endless winter months and slow down life for some great relaxation and fun.
---
Wrapping up the Coziest Winter Cabins in Minnesota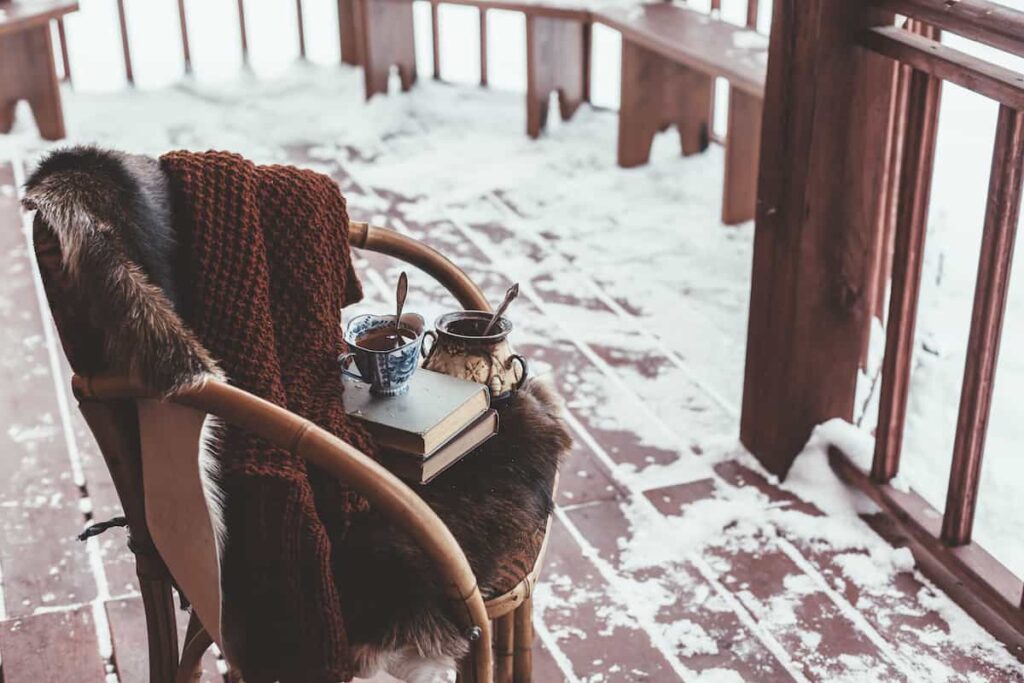 Excited to visit one–or even many–of the coziest winter cabins in Minnesota? There's lots more that Minnesota has to offer during the cold months.
Visit our Winter in Minnesota page for ideas about other seasonal activities you'll want to experience. Maybe you'll even decide to give winter camping a try!