---
Youth Hockey Skates Buyer's Guide
What to Look for in the Best Youth Hockey Skates
Fit
When it comes to finding the best pair of skates, the most important thing to look for is fit. A poorly fitting hockey skate can result in discomfort, cause a skater to develop poor habits, and reduce performance.
On the other hand, a skate with the right fit increases performance, reduces the risk of injury, and feels a whole lot better.
Stiffness
For beginners, a flexible boot is more comfortable and easier to learn.
For experienced players, a stiffer boot gives more control and power.
Quality
For committed players who skate several times a week, a high-quality pair of skates is a must. Durable materials will keep your kid's hockey skates going strong for all of those practices and games.
For beginners just getting started or more casual players that only skate a few times a month, you can get by with a lower-quality skate.
How to Get the Right Fit
Hockey skates fit differently from other forms of footwear. This can be a bit uncomfortable for beginners, but with practice, it's not hard to get used to.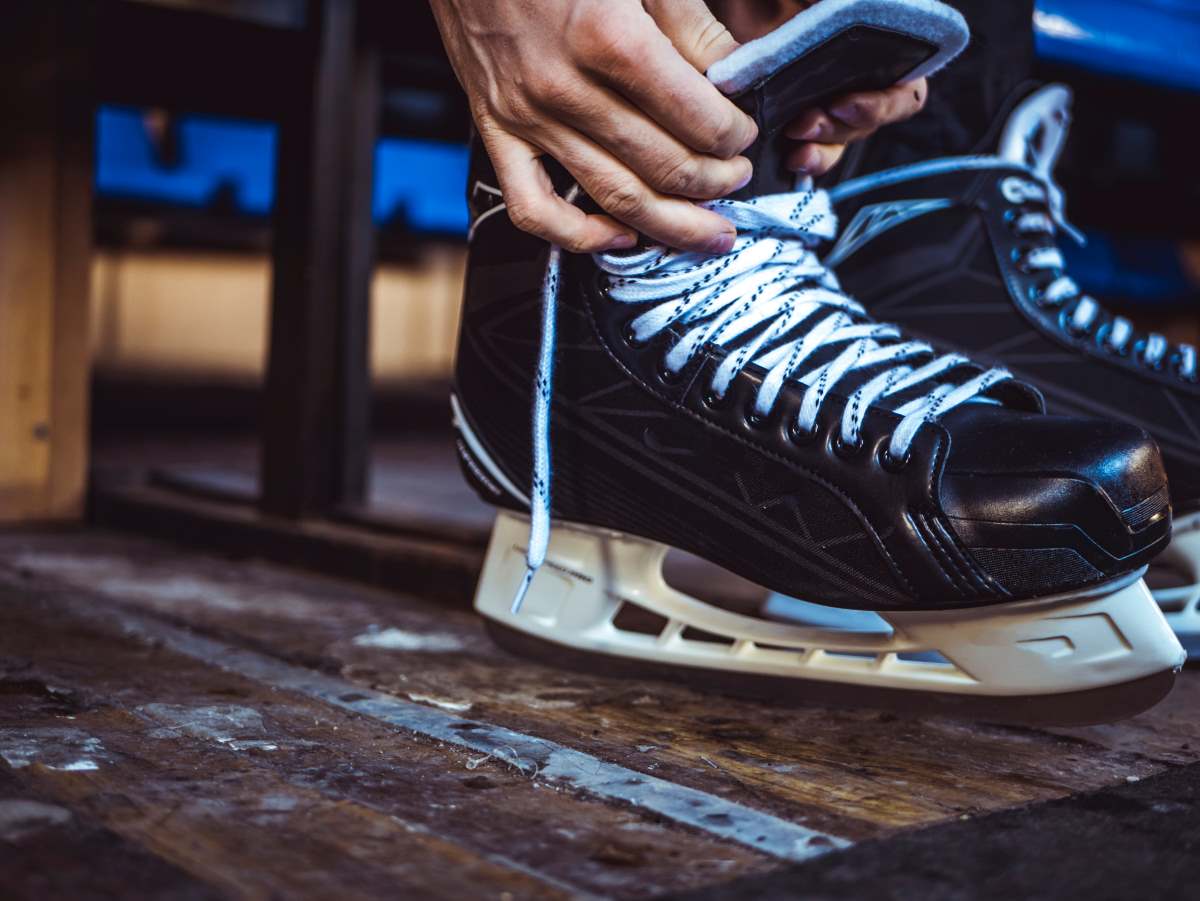 The proper fit for youth hockey skates is snug but not uncomfortably tight. The heel should fit firmly in the boot without wiggling around when the skates are laced up. The toes should come up to the edge of the boot but not be squished at any point.
Player Skates Vs. Goalie Skates
When it comes to youth hockey skates, there are two main types. Player skates and goalie skates. It's important to choose the right type for your skater.
Player skates are designed for forwards and defensemen who will be starting and stopping, taking long strides, and looking for speed. Goalie skates, on the other hand, are designed for better protection, improved balance, and the ability to get up and down quickly.
If your child plays goalie, look for dedicated goalie skates. Goalie skates tend to be more expensive than player models, but it's worth it to have the right skate for the position.
How to Break in a New Pair of Skates
Get out There and Skate
Putting them to use is one of the best ways to break in a new pair of youth hockey skates. Whether it's hitting the ice or using synthetic ice, spending time skating allows the skates to mold to the shape of a skater's foot, making them more comfortable over time.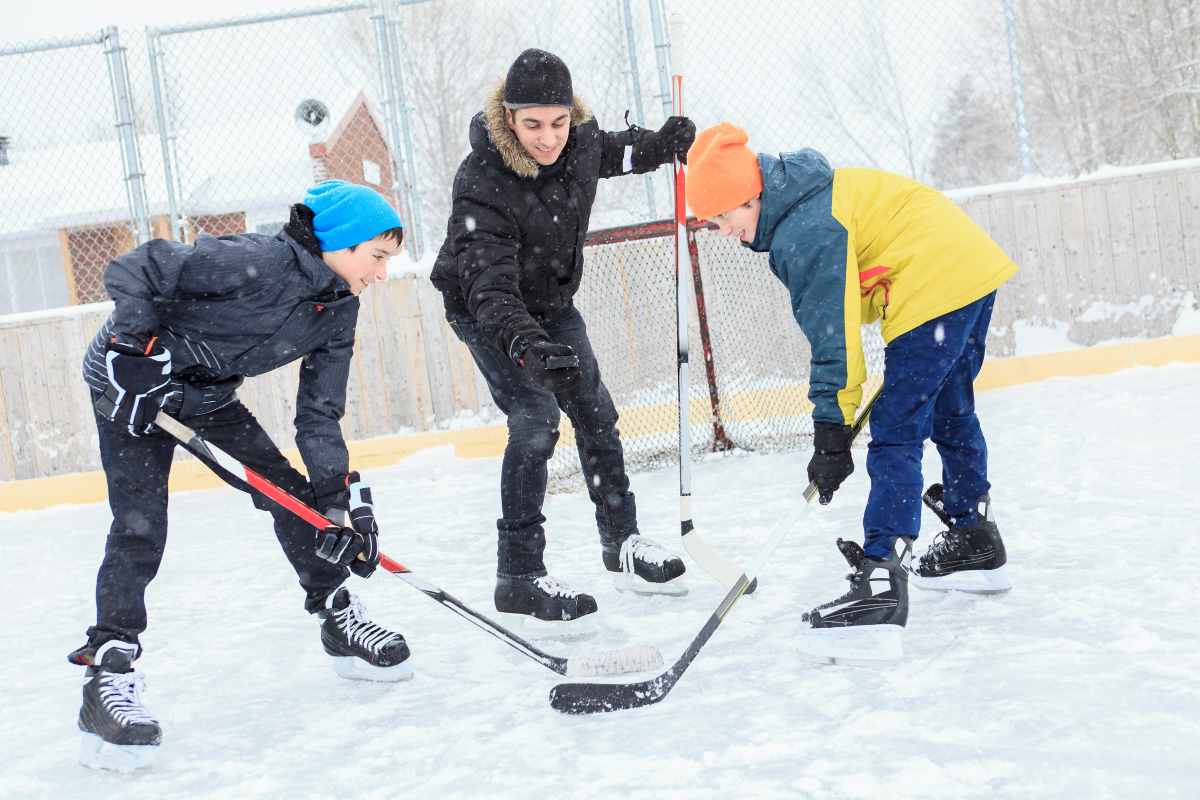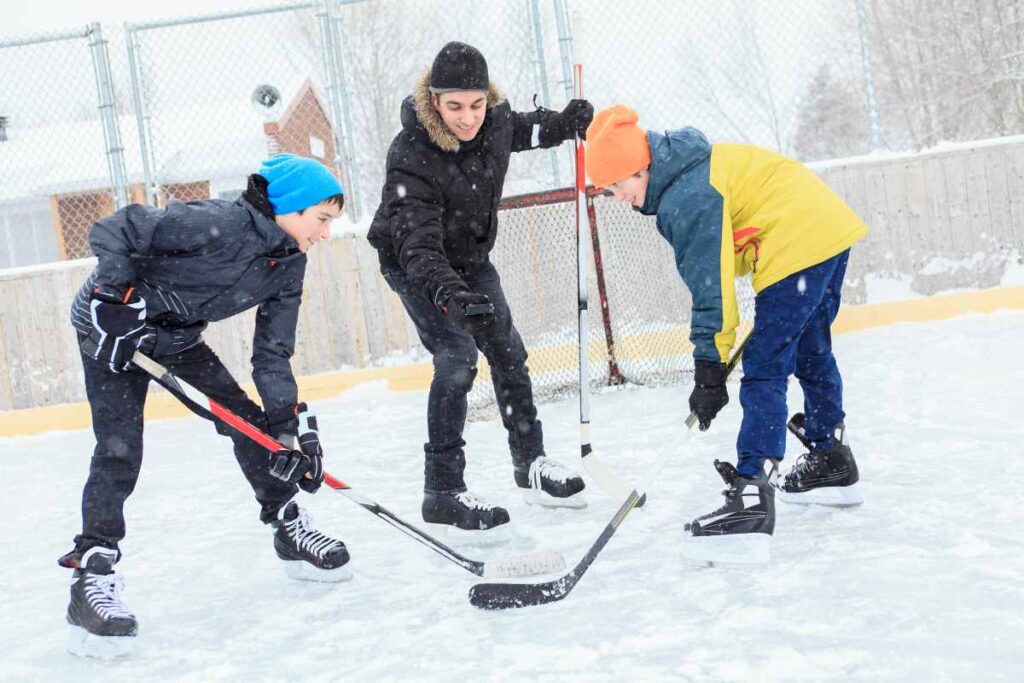 If you're interested in trying synthetic ice, definitely check out Polyglide. Polyglide makes it easy to get out and practice any time of the year, even in summer. Use our code lifeinminnesota to save 15% on your order!
Baking
Baking, or heat molding, is another way to break in hockey skates. It's not usually necessary for beginner-level skates, but it can be useful in stiff skates. Hockey pro shops can bake skates for you, or you can do it yourself at home. Whatever you do, don't try baking your skates in an oven.
To heat mold at home, use a hair dryer to heat the skates inside and out, then have your player put on the skates and lace them up. The skates will mold to the player's foot as they cool.
---
Youth Hockey Skates Frequently Asked Questions
How do I choose the best youth hockey skates?
The most important feature of a hockey skate is the fit. If the skate doesn't fit correctly, the player is more likely to have pain in their feet and ankles, and they won't be able to perform as well. Make sure the skate fits properly.
Price is also a deciding factor for many people. If you can afford a top-of-the-line model, that's great. But if you can't, don't feel pressured to spend outside of your budget. Kids don't need the latest and greatest model to have fun and gain skills during play. There are plenty of high-quality skates at affordable price points that will work just fine for the majority of players.
How much do hockey skates cost?
Speaking of price points, hockey skates come in a wide range of prices, so there's something for every budget. Most youth hockey skates are between $50-$300 per pair.
An entry-level set of youth hockey skates usually costs around $50-$100. This is a great place for a beginner to start before committing to a more expensive pair.
An experienced player looking for premium skates can expect to pay around $200-$300.
Many high-quality mid-range skates are available in the $100-$150 range. These models offer a great balance between performance and price and work well for players of all different skill levels.
What makes hockey skates different from other ice skates?
Different ice skates have different features designed specifically for the type of sport they're used in.
For example, figure skates have a front toe pick that's used to help the skater execute jumps.
Hockey skates are made with a tougher outer material than other types of ice skates. This is important for protecting a player's feet from pucks and sticks.
Hockey skates also have shorter blades than other skates. These are ideal for quick starting and stopping and easily turning and changing direction.
What's the difference between youth and junior hockey skates?
The main difference is the size. Youth hockey skates are generally designed for kids nine and under with a shoe size of 1.5 or smaller.
Junior hockey skates are best for kids ages eight to ten, with a shoe size between 2-4.5.
---
Time to Get Some Youth Hockey Skates!
With one of these pairs of youth hockey skates, your player will soon be ready to get out there and have some fun. For a quality skate that doesn't break the bank, the CCM Tacks AS-580 Ice Hockey Skates are a perfect choice.
To get more equipment advice, don't miss the hockey page on the blog. And if you're looking to learn from an NHL pro, check out this online hockey training.