Though most actresses are closely tied with their native Hollywood infamy these days, not all of the starlets you know and love from your favorite films and television shows had their start in the glitz and glamor of the California scene; some grew up walking the familiar streets of lovely Minnesota that you know best. Check out this round-up of some of the biggest actresses from Minnesota who can trace their roots back to the beautiful state we all love!
1. Judy Garland
The biggest household name for many among these actresses from Minnesota, Judy Garland entered stardom at a young age after being born to vaudevillians Ethel Marion (Milne) and Francis Avent Gumm. Beginning at just 2 years old, Garland entered the spotlight thanks to her mother's ambitions with her natural starlet presence, and in short order, the pair traveled the United States with Judy performing in nightclubs, cabarets, hotels, and even in theaters as a solo act. Much of her young life was tumultuous, including homosexual affairs on her father's part that placed a strain on their family and even time spent living with her mother and sisters out of their automobile.
After The Wizard of Oz skyrocketed Garland to fame, she spent many years as a beloved Hollywood icon, winning nominations and awards for hit role after hit role; but she continued to experience many difficulties along the way, including an abortion, several failed marriages, postpartum health struggles, and addiction—the latter of which she attempted to overcome many times before finally succumbing to an overdose while touring and performing music with her daughter, Liza, passing away at just 47 years old.
Place of Birth:
Grand Rapids, Minnesota
Date of Birth:
June 10th, 1922
Passed Away:
June 22nd, 1969
What She's Known For:
Dorothy in The Wizard of Oz
Vicki Lester in A Star is Born
Irene Hoffman in Judgement at Nuremburg
2. Rachel Leigh Cook
A particularly popular voice actress, Rachel Leigh Cook began her turn in the spotlight with modeling jobs for Milk-Bone and Target ads at just 10 years old. Her face became more widely recognized for an anti-drug campaign in which she portrayed the devastating effects of heroin addiction, and then at 14 when her modeling agency had her read for a short film titled 26 Summer Street; this short film altered the course of her future, setting her on the road to acting full time.
Since then, Cook has appeared in a variety of teen movies, independent films, made for TV flicks, and box office hits. Her repertoire includes a wide array of genres, and she has been widely praised for her talented voice work in a number of video games and TV shows as well.
Place of Birth:
Minneapolis, Minnesota
Date of Birth:
October 4th, 1979
What She's Known For:
Kate Moretti in Perception
Tifa Lockheart in the Final Fantasy VII video game franchise
Various roles in Robot Chicken

3. Lea Thompson
One of the most widely known actresses from Minnesota, and a highly regarded name, especially in the 1980s and 1990s, with a prolific variety of roles under her belt throughout the decades since, Lea Thompson came from humble origins. She was born the youngest—by quite a margin—of five children, living with their parents Barbara Anne and Clifford Elwin "Cliff" Thompson, in the Starlight Motel, with all the siblings sharing a single room.
The family moved to Minneapolis in time, and there Thompson endured her parents' divorce and the gradual realization of her own dreams to become a professional dancer. She won several scholarships for ballet and dancing but was ultimately deemed not the right build for her dream career; after some time working as a waitress and appearing in a few small commercials, she then landed her first screen role in "Jaws 3-D" and launched into her acting career.
Thompson has since starred in more than 30 films, 25 television movies, and 4 television series; she has performed in more than 20 ballets and has also starred on Broadway in Cabaret. She has lately turned her focus more toward homesteading and raising awareness regarding cancer and Alzheimer's disease, as well as toward writing and publishing.
Place of Birth:
Rochester, Minnesota
Date of Birth:
May 31st, 1961
What She's Known For:
Lorraine Baines in Back to the Future
Erica in Red Dawn
Caroline Duffy in the Caroline in the City television show
4. Yara Shahidi
Next on our list of famous actresses from Minnesota is Yara Shahidi. A rising star of the 2000s, little is known about Yara Shahidi's life growing up. The daughter of Afshin Shahidi, a photographer, and Keri Shahidi, also an actress, Yara Shahidi had her first introductory role on the hit show Entourage in 2007 at the young age of 7 and gained roles steadily in the years that followed, with perhaps her most well known and popular roles being as a voice actress for character Darci in Trollhunters: Tales of Arcadia and 3Below: Tales of Arcadia, and later as Zoey/Zora in hit shows Black-ish and Grown-ish.
In addition to her prolific acting career, Shahidi is a student of the martial art form Tang Soo Do, holding a black belt in the practice, and she has plans to become a historian with an emphasis on world history.
Place of Birth:
Minneapolis, Minnesota
Date of Birth:
February 10th, 2000
What She's Known For:
Zoey Johnson/Zora in the Black-ish and Grown-ish television series
Darci in the Trollhunters: Tales of Arcadia and 3Below: Tales of Arcadia television series
Chloe Johnson in The First Family television series
5. Jessica Biel
A well-known and beloved Hollywood icon—and one of the best-known actresses from Minnesota overall—Jessica Biel was born to Kimberly and Jonathan Edward Biel, the latter of whom was a business consultant and GM worker. Biel began her rise to stardom with singing and stage performances in musicals such as Annie, Beauty and the Beast, and The Sound of Music, as well as in small roles in films such as Ulee's Gold at the age of 14, where she starred alongside famous actor Peter Fonda.
Later, she made the jump to modeling and commercial work thanks to her good looks and finally transitioned to a breakout Hollywood star following her role in the hit television series 7th Heaven. She swiftly rocketed to fame and became much sought after for her acting skills and physical beauty. Between roles, Biel is an activist for charities such as Best Friends Animal Sanctuary and PETA and is raising her son with her husband Justin Timberlake.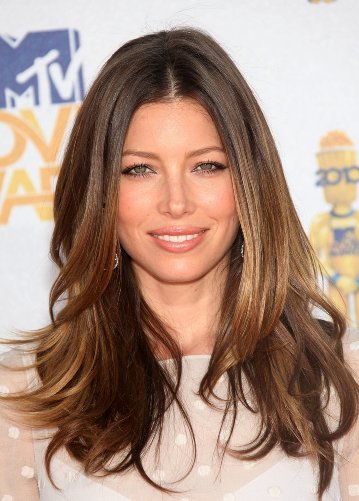 Place of Birth:
Ely, Minnesota
Date of Birth:
March 13th, 1982
What She's Known For:
Erin in The Texas Chainsaw Massacre
Mary Camden in the 7th Heaven television series
Sophie in The Illusionist
Burrow in the Pete the Cat television series
6. Jessica Lange
Recognized as one of the most famous actresses from Minnesota is Jessica Lange. A Hollywood star of many years, Lange was born in Minnesota to a modest family life, with her father being a traveling salesman. Though she was granted a scholarship to study art at the University of Minnesota, Lange opted instead to study drama in Paris.
Afterward, she became a model in New York until she was cast as the female lead in the 1976 version of King Kong. Though the film was panned by critics, Lange bounced back in several popular roles in the 70s and 80s, including in movies such as All that Jazz, Frances, and finally Tootsie, which won her a Best Supporting Actress Academy Award. Popular on Broadway as well since her debut in 1992 as Blanche in Tennessee Williams' A Streetcar Named Desire, Lange can mostly be found on the small screen these days, enjoying popular recurring roles in numerous hit television series.
Place of Birth:
Cloquet, Minnesota
Date of Birth:
April 20th, 1949
What She's Known For:
Julie in Tootsie
Dwan in King Kong
Carly Marshall in Blue Sky
Constance Langdon and various other roles in the American Horror Story television series
7. Winona Ryder
Last but not least on our list of famous actresses from Minnesota is Winona Ryder. Revered far and wide for her diverse talents in various roles, Winona Ryder was born to Cynthia and Michael Horowitz – one a professional writer and video producer, the other involved in the publishing world. The pair named their daughter after the nearby town of Winona, Minnesota—making her arguably the most quintessential actress from Minnesota!
At 10 years old, Ryder and her parents moved to Petaluma, California, where she began taking acting classes at the American Conservatory Theater. At age 13, she was cast in her first film, Lucas, and has since enjoyed a variety of roles and great popularity on both the large and small screens thanks to her fantastic performances and dedication to every role she stars in.
Place of Birth:
Olmsted County, Minnesota
Date of Birth:
October 29th, 1971
What She's Known For:
Jo March in Little Women
Joyce Byers in the Stranger Things television series
Veronica in Heathers
Wrapping Up Famous Actresses From Minnesota
If you're curious to know more about important names from Minnesota, from influential locals to international celebrities, learn about Minnesota people!
Then, be sure to check out our Things To Do page to discover everything you need to know about fun things to do in Minnesota's great towns and cities!