---
Hockey Skates for Beginners Buyer's Guide
What to Look for in the Best Hockey Skates for Beginners
Comfort
For a beginner, comfort is one of the top priorities. If your skates aren't comfortable, you won't want to get out there. Choose a skate that feels good and you'll be that much more excited to hit the ice and play.
Performance
Even as a beginner, you want your skates to perform well. Skates that slow you down or aren't easy to move in are no good for anybody.
That doesn't mean you need elite-level skates. There are plenty of beginner friendly hockey skates that perform well, including any of those on this list of the best hockey skates for beginners.
Durability
Some beginner hockey skates are designed for daily play while others just aren't. Choose a pair of skates that's suitable for how often you plan to use them.
For most beginners, you probably aren't playing every day so a pair of skates designed for occasional use should be fine. If you plan to play more than a couple of times each week, make sure you look for a durable pair that can handle the extra wear.
After a couple of seasons, you may want to upgrade your beginner hockey skates to a more elite model, but you don't want to have to make that change because your skates are falling apart. A good pair of skates should last for several years, even with regular use.
How to Find the Right Fit
Getting the right fit is one of the most important steps when it comes to picking out the best pair of hockey skates for a beginner.
Poorly fitting skates aren't just uncomfortable, resulting in blisters and sore feet. They can also reduce your performance on the ice and increase the risk of injury.
Shoe Size Doesn't Necessarily Equal Skate Size
Ordering your regular shoe size may seem like the natural choice when it comes to ordering your first pair of hockey skates, but it's actually not the best course of action for most skate brands. Hockey skates are designed to be much more fitted than regular shoes so you may need a smaller size than you think.
Check the sizing chart for your preferred skate and measure your foot to get a good idea of what size will fit best.
Wear the Right Socks
When trying on hockey skates, wear the socks you plan to wear in the game. Whether it's a pair of hockey socks or other athletic socks, the thickness of the socks can impact the fit of the skates. Your everyday socks may be thicker or thinner than you realize, resulting in an improper fit if you use them to try on your skates.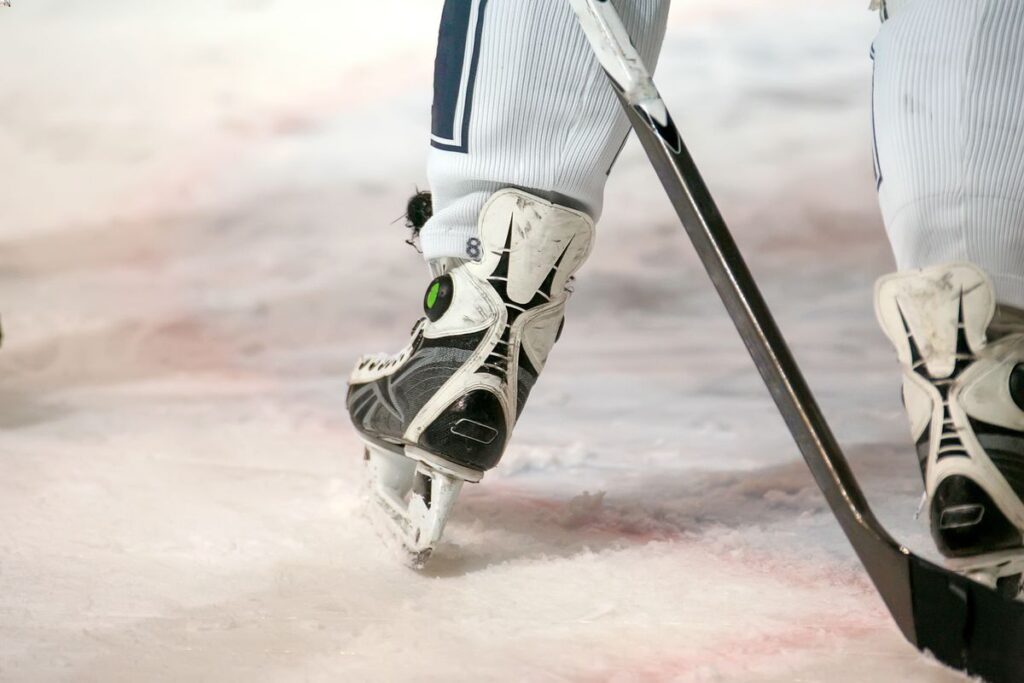 How Hockey Skates Should Fit
The proper fit in the best hockey skates for beginners should be snug, but not uncomfortably tight. This isn't like trying to squeeze into last year's skinny jeans!
Your foot should feel fitted in the boot without excess room to move around. Your toes don't need to be smashed into the front and your foot shouldn't feel like it's being tightly squeezed. If the fit is uncomfortably tight, go up a size. If your foot can move around inside the boot, it's too big and you need to go down a size.
Get Your Skates Sharpened
Most hockey skates need to be sharpened before you hit the ice. That's because they usually don't come pre-sharpened, even the best ones on the market. If your skate blades feel dull that doesn't mean you got a bad skate! It's totally normal.
Your new skates may be good for one test run on the ice, but after that make sure to have them sharpened for optimal performance.
---
Practicing With Your New Hockey Skates
The best way to get comfortable with your new beginner hockey skates is to practice. After you've found the right fit and had your skates sharpened it's time to hit the ice!
Whether you go alone or with your hockey team, don't be afraid to get out there and get comfortable with your new skates.
Try Synthetic Ice
Unfortunately, it's not always practical to find ice to practice on, especially during the off-season.
The great thing about synthetic ice is that you can use it anywhere, anytime. You don't have to have access to the ice rink or a frozen pond. You can practice on synthetic ice at home, any time of the year!
PolyGlide synthetic ice is a great way to get some practice with your new hockey skates. Keep up the practice during the off-season to keep your new skills sharp.
---
Best Hockey Skates for Beginners Frequently Asked Questions
How are hockey skates different from other types of ice skates?
Each type of ice skate is specially designed for the sport it's used in.
Hockey skate blades are designed for speed and quick strides. The blades are shorter and more curved than other types of ice skates and they don't have a toe pick at the front.
Which skates are best to learn on?
Entry-level hockey skates are designed to help beginners learn the sport. They're usually softer and more flexible than intermediate or elite-level skates which makes them easier to move in while learning the game.
For a complete beginner, an ice skating trainer is a good way to practice as you improve balance and gain speed.
I play goalie, do I need special skates?
Yes, goalie skates are different from standard beginner's hockey skates. They have several features that make them better suited to meet the unique needs of that position.
The blades on goalie skates are longer, thicker, and flatter. These features allow goalies to move easily from side to side as they're protecting the net. The blades are also built tougher to be able to withstand pucks hitting them over and over again.
---
Time to Get Skating With a Pair of the Best Hockey Skates for Beginners
When you're ready to start playing ice hockey, one of the first things you'll need is a good pair of skates. The Bauer X-LP ice hockey skate is truly one of the best hockey skates for beginners that you can get. It's comfortable, affordable, and provides great performance.
If you want to get started right away, check out The Best Synthetic Ice so you can start practicing at home. For tips on what to wear while you're learning to skate, check out What to Wear Ice Skating.
Still want more hockey content? Then check out our hockey page for training guides, equipment rankings, and fun facts about our favorite sport!