---
Hockey Sticks Buyer's Guide
There are so many hockey sticks out there and choosing one can be hard!
The great thing is, you can try out all different kinds of hockey sticks over your years on the ice. So don't feel bad if you cycle through a few—or many—before settling on your preferred stick of choice.
That being said, hockey sticks cost money, so you can't really go out and buy every single top-of-the-line stick on the market at once.
So, you'll have to choose one or two to start! And, to be honest, you really can't go wrong with any of the hockey sticks on this list. But some may fit your unique needs better than others.
To help you on your quest to find the best stick for your particular hockey-related needs, we've put together a handy buyer's guide just for you!
How Often Will You Be Using Your Hockey Sticks?
Occasional players, regular players, and competitive players all have different sticks that would be best suited for them.
The occasional player may want to explore the option of purchasing a wooden or low-budget composite stick. These sticks will give you what you need to play the game, without breaking the bank! The STX Ice Hockey Surgeon and the wooden CCM Ultimate ABS Stick would be perfect for the infrequent players out there just looking to have a stick in their back pocket in case a game of shinny comes up unexpectedly.
If you hit the ice regularly you should be looking into mid- to high-performance sticks that you can use in your organized games. Great performance doesn't need to come with a high price tag though. The CCM Tacks AS-V, and the CCM JetSpeed FT475 are all high-performing affordable options!
If you're a competitive player, you'll probably be wanting to get an elite-level stick. These elite hockey sticks will give you that fraction-of-a-hair advantage that you're looking for! Sticks like the Bauer Vapor Hyperlite, the Bauer Nexus Geo, the Bauer Supreme Ultrasonic, and the TRUE HZRDUS PX are what you might want to consider trying out!
Where Will You Be Using Your Hockey Sticks?
The location where you're using your hockey stick will make a huge difference in which stick is best for you.
If you're pounding the pavement playing street hockey, the best hockey stick for you is probably an inexpensive wooden stick! Rough surfaces like the street or a poorly maintained outdoor rink will wear down the blade of your stick fairly quickly, and you definitely don't want that to be happening to an expensive piece of equipment!
If you're playing on well-groomed rinks though, you'll have no problem maintaining higher-end gear! You'll also be good to use your high-performance sticks on synthetic ice! And yes, synthetic ice really is a thing—check out PolyGlide Ice if you're interested in practicing your slapshot year-round (use our discount code "lifeinminnesota" for a 15% discount)!
So, before you pick the best hockey stick for you, consider where you'll be using that stick!
The Difference Between Composite and Wooden Hockey Sticks
When you're out choosing the best hockey stick for your needs, consider the material your potential stick is made of! Hockey sticks are either composite—carbon fiber sheets typically layered with resin—or wooden builds, so picking the best build for you is key!
In general, composite sticks weigh less than their wooden stick counterparts. They are built with new technologies to optimize stickhandling and shooting, and have custom kick points. New composite hockey sticks are constantly advancing the sport's technology and are considered to be the higher-performing gear.
Wood sticks, on the other hand, are generally heavier and stiffer. Because wood is a natural product, inconsistencies in the build quality may occur. Wood sticks, therefore, are generally less uniform and consistent than their composite counterparts. However, they are way more affordable and are great for those playing less frequently or those just starting out!
For Composite Sticks, What Kick Point Are You Looking For?
On a composite hockey stick, the kick point is where the stick has been designed to flex the most. When you're looking for a hockey stick, one of the best things to know beforehand is which kick point you're looking for.
If this is your first time learning about kick points, don't you worry! We've broken down the advantages of each kick point for you:
A low kick point is when the stick is most flexible at the lower end of the shaft. Low kick points help you get your shots off fast and will improve your ability to quickly release the puck from your stick.
A mid kick point occurs when the stick is engineered to be more flexible near its middle. Mid kick point sticks are designed to maximize velocity and power with each shot.
A hybrid kick point is typically when the stick is designed to be the most flexible wherever the bottom hand gripping the stick is during loading and shooting. A hybrid kick point offers power and speed, depending on how it is used. The CCM Jetspeed is a great example of a hybrid kick point hockey stick.
Ultimately, the kick point you choose will be based on your preferences and what you're hoping to get out of your new hockey stick!
---
Take The Shot With These Best Hockey Sticks for 2023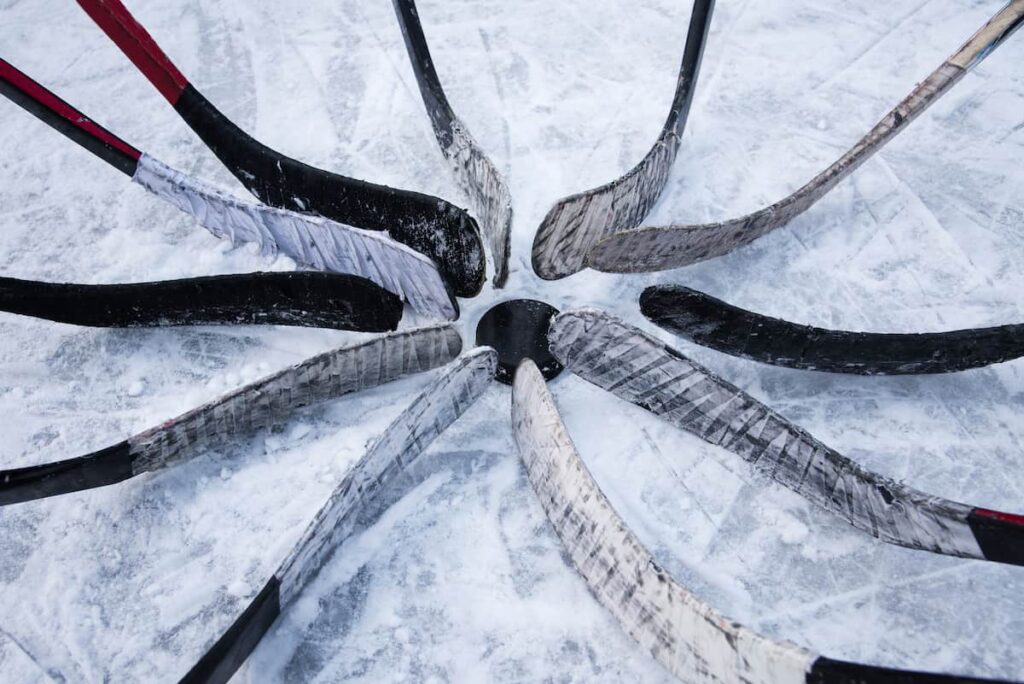 The best hockey sticks for 2023 provide you with everything you need to excel on the ice. Power, rapid release, and stickhandling are all major considerations for equipment manufacturers when they are engineering the latest and greatest in hockey stick technology.
Rest assured, no matter the hockey stick you choose from this list, it'll be a great one!
Time to wind up that slap shot and watch that puck fly!
Are you gearing up for your first time on the ice? Or maybe you're in the market for new equipment? If you enjoyed this article on the best hockey sticks for 2023, definitely go check out our recommendations for 2023's best hockey skates!
Still want more hockey content? Then check out our hockey page for training guides, equipment rankings, and fun facts about our favorite sport!