---
Buyer's Guide
Jump starters for car batteries have been around for many years, and they are a reliable source of secondary power when your battery dies for whatever reason. Let's talk about what you should look for in a jump starter, including safety measures and additional features.
Types of Jump Starter
Typically, these devices come in two types, which include lead-acid and lithium-ion batteries, but you can also find super-capacitor jump starters on the market.
Lead-Acid
Devices with lead-acid batteries are the original jump starters and have been around for many years. They are more powerful than lithium-ion batteries, providing a higher voltage jump for larger vehicles. These devices are durable, but they can be a bit bulky, making them less portable than other options.
Lithium-ion
Jump starters with lithium-ion batteries are typically more compact. They only weigh a few pounds and can fit in your car easily, making them incredibly portable and versatile.
These types of starters can usually charge your other devices, like your phone, laptop, tablet, etc., as well., although this does make them a more expensive choice.
Super-Capacitor
Super-capacitor jump starters don't use a separate battery to charge your car battery as other devices do. Instead, these devices use the weak charge from your car battery to recharge the capacitor.
These options are generally more sturdy and can charge your battery quickly. The only downside is that your battery won't hold a charge as long as it would with a lithium-ion or lead-acid device.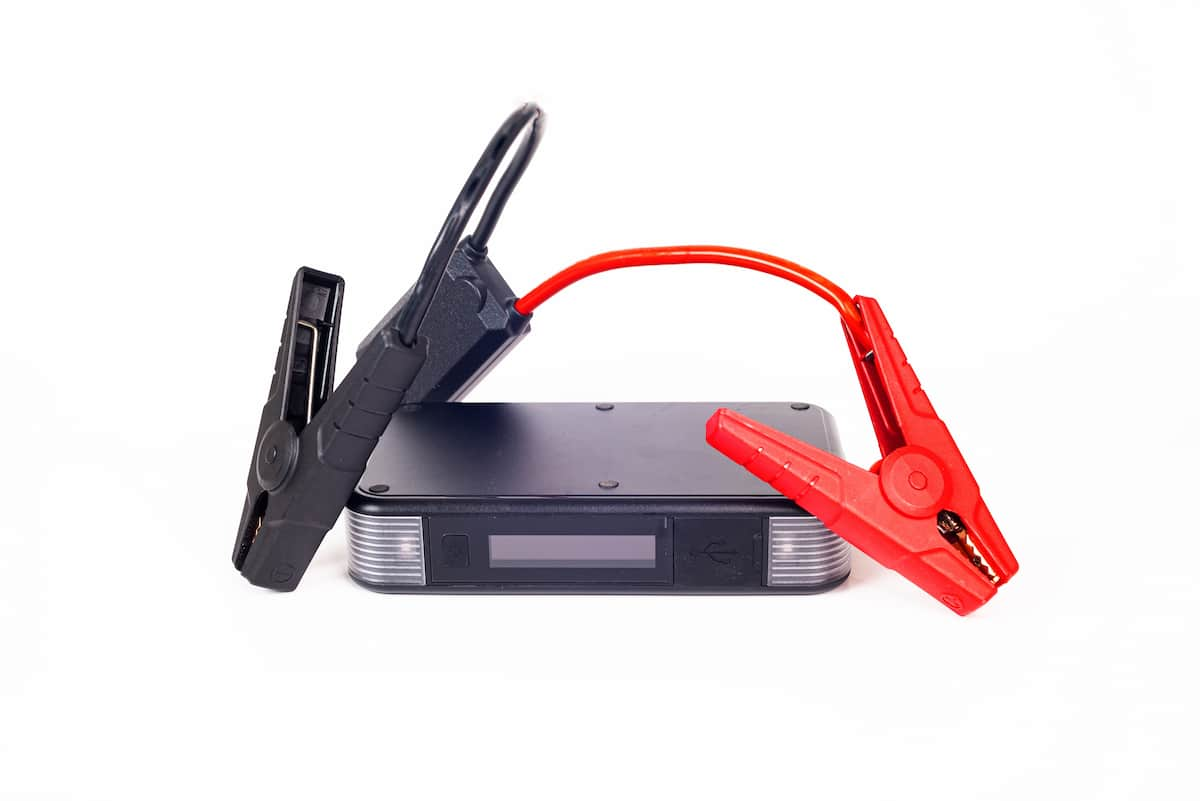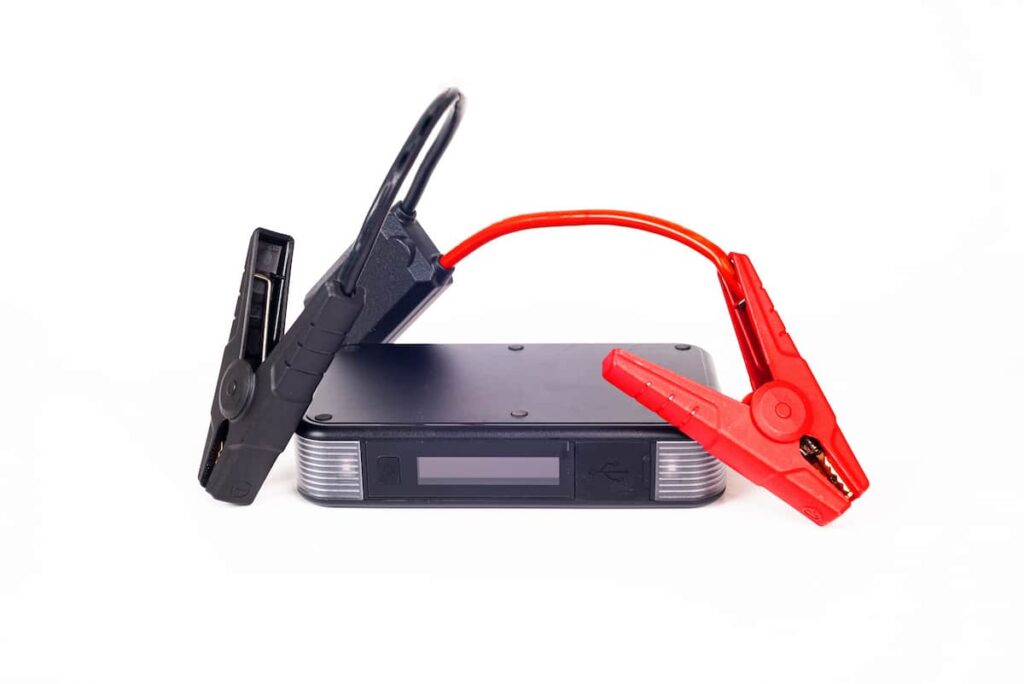 Size
The size of the jump starter comes into play in a few different ways. The size of the device you will need depends mainly on the engine size of your vehicle. Size plays a role in how portable a device is as well, so you'll need to consider how much space you have before you select a product.
Power Output
The power output is how much power the device supplies to your battery. You'll need a jump starter that has enough power to restart your car battery to get your engine to take over the recharging process.
The amount of cranking and peak power the starter produces is one of the most important factors to consider. The cranking power refers to the amps that can be delivered to the battery if more cranking is necessary, while the peak power refers to the overall maximum power the unit can deliver.
Voltage/Battery Size
Different vehicles will have different battery sizes and voltages, so it's essential that you find the proper jump starter for the vehicle you intend to use it for.
A normal unit works on batteries anywhere from six to twelve volts, while an industrial-grade device is engineered for vehicles with batteries up to twenty-four volts. Make sure you choose a device with enough voltage to match your vehicle's battery so that you will have a reliable source to jump off your car.
Unit Size/Portability
The size of the device directly impacts its portability, and for a jump starter, portability plays a large role. Small units can be stored in your glove compartment or console, while a larger unit may need to be stored in the trunk, taking up valuable space for those who enjoy traveling.
Typically, these devices can range from super lightweight at one to two pounds, to hefty to lug around at twenty to thirty pounds. The larger-sized units are generally geared toward heavy-duty vehicles that will need a battery charger with a little extra power.
If you drive a small vehicle, you'll probably be looking for a jump starter that doesn't take up a lot of space, so it's crucial to find the right balance between the many features and the functionality and portability of the product.
Cable Quality/Length
Every jump starter will come with cables that you attach to the battery terminals, which send electricity from the starter to the car battery to jump-start it. Quality jumper cables can be determined by their length, the material of the clamps, and any safety features.
You should look for a starter with jumper cables that feature anti-spark, reverse polarity, as well as over-current and back-feed protection. The cables should be at least twelve feet long, but the longer the cables, the more reach you will have.
Quality jumper cables come with a smart module, which incorporates many safety features into the device. This module will notify you when you have the cables correctly connected to your battery and when it's okay for you to start your vehicle.
Safety Features
A decent jump starter will come with reverse polarity, overcharge, and short-circuit protection, as well as anti-spark technology and back-feed protection.
Reverse polarity protection prevents sparks or fires by ensuring the connection between the cables and the battery terminals is secure. Surge protection protects your vehicle's battery from power spikes by regulating the amount of current that is sent from the unit to the battery.
You can also find units with LED lights built-in, which is great for use in low-light conditions.
---
Wrapping Up The Five Best Jump Starters for Your Car
Keeping a portable device to jump-start your car in the event of a dead battery is crucial, especially if you travel a lot. These devices make recharging your battery a convenient experience, getting you back on the road quickly!
And another thing you need for your vehicle and the cold Minnesota winters is an ice scraper! So be sure to check out this post on How to Choose the Best Ice Scraper for Your Car!