Winter in Minnesota is no joke.
Marked by ridiculously cold temperatures, chilling blizzards, and cascades of sleet and freezing rain, a Minnesota winter is not one you can easily ignore or be unprepared for.
It can be daunting as an adult to deal with freezing temperatures, but it is a whole other story when you are trying to prepare your children for the winter cold. In Minnesota especially, protecting your kids from the brisk winter weather is extremely important
One of the most important things to do when facing below freezing temperatures is maintaining adequate warmth in your extremities, mainly your hands and feet. This is important because you actually lose the most heat in your body through these areas!
When your feet are exposed to the cold, blood vessels within them constrict, reducing blood flow (and therefore warmth) in these areas. When your feet get cold, this makes your entire body vulnerable to the brisk cold. Poor circulation or anemia added on top of cold temperatures can also cause your feet to get chilly.
Low temperatures (coupled with the dampness that often comes with winter) make your feet particularly vulnerable to the cold. That is why maintaining warmth and dryness is your feet is essential to staying warm all over.
As your little ones enter into this winter season, it is vital that they have the proper footwear to ensure their little tootsies stay nice and cozy. This will not only keep them from getting common winter colds, but it will also help them have the most fun as possible when playing in the Minnesota winter wonderland.
There are several important features to consider when picking out the perfect snow boots for your girls, boys, and toddlers.
Girls Snow Boots
| | | | | | | |
| --- | --- | --- | --- | --- | --- | --- |
| Product | Image | Insulation | Waterproofing | Traction | Height | Purchase |
| Dream Pairs KSNOW | | 200g Thermolite -24F | Waterproof | Rubber Sole | Mid-Calf | Buy Now |
| Columbia Ice Maiden Lace II | | 200g -25F | Waterproof | Rubber Sole | Mid-Calf | Buy Now |
| WateLves Kids Boots | | Light Insulation | Water-Resistant | Rubber Sole | Mid-Calf | Buy Now |
| Dream Pairs Knee High | | 200g -25F | Waterproof | Rubber Sole | Mid-Calf | Buy Now |
| Cat & Jack Roma Snow Boots | | -10F | Waterproof | Rubber Sole | High Ankle | Buy Now |
Dream Pairs KSNOW Insulated Waterproof Girls Snow Boots
This girls boot is an Amazon's Choice item on their website and is the perfect girls snow boot for your girly girl who doesn't want to sacrifice fashion for fun in the snow.
This girls snow boot has great options of styles ranging from hot pink to fun patterns. Even more than the style of boot is the quality and helpful features of the boot.
Fitted with a rubber sole, this boot has excellent traction and girth for the tough winter snow. It has a waterproof shell bottom and Thermolite insulation rated to withstand down to -25F. Along with great insulation, the boot is a higher rise and will keep your little girl's feet and legs nice and toasty. This boot is an excellent choice for all of its great snow-proof features and adorable style!
Columbia Ice Maiden Lace II Girls Snow Boots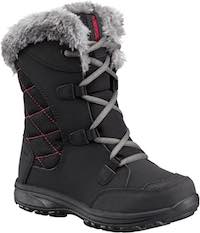 A classic snow gear brand, Columbia delivers a boot specifically designed for harsh, tough winters. Fitted with Omni-Grip non-marking traction rubber, these girls snow boots are another great contender for partaking in fun outdoor activities. They have a polyurethane waterproof coating, 200g insulation, and soft fleece collars and tongue lining.
These black boots feature a dainty pink stitching on the side and are perfect to match any outfit your girl wears. Although these boots are lace up, tying them shouldn't be a huge issue and the boots are well worth it for the fantastic features.
WateLves Kids Winter Snow Boots
These girls snow boots are ideal for facing slushy winter play days. Equipped with a very thick rubber sole, these boots will prevent slips and falls and do well treading through the snow.
These boots have very cozy, quilted insulation and are extremely comfortable to wear and come in a range of cute styles. They also have a built-in protective structure in the toe to help protect little toes from getting injured when playing. These snow boots are easy to move in and extremely easy to take on and off in a hurry!
Dream Pairs Knee High Winter Snow Boots $27.99 – Amazon
Dream Pairs does it again with this incredible girls snow boot. These extra high boots that come in dozens of color options and are another great choice for your little girl this winter. This is an all-encompassing cold weather boot that features a waterproof shell bottom and rubber sole.
This lightweight boot still packs a punch with Thermolite insulation and a faux fur lining. The bungee pull system makes this otherwise difficult to put on, tall boot a breeze to remove when the fun in the snow is done for the day.
Girls' Roma Snow Boots – Cat & Jack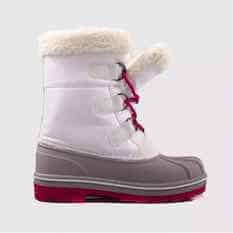 Known for excellent quality, Cat & Jack brand from Target delivers a stylish and extremely functional girls snow boot.
The Roma Winter Boot has a 100% thermoplastic rubber sole with an excellent treaded outsole so your little princess can enjoy outdoor adventures. These boots have excellent insulation with a tough water-resistant construction. These boots are very easy to pull on and off and feature attached loop pulls instead of laces.
One of the most beautiful features of this boot is the cozy, faux-fur lining on the top of the boot. This added insulation will keep your little one very warm.
Boys Snow Boots
Sorel Yoot Pac Nylon Boys Snow Boots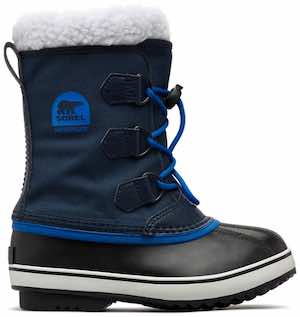 These boys snow boots are among the warmest you can get as they withstand temperatures down to -40 degrees! These mid-calf boots have an excellent waterproofing design with a polyurethane-backed textile/coated leather overlays.
These boots actually have removable insulation so you can use them on the most frigid Minnesota winter morning or the days when spring is just on the horizon but snow is still on the ground. These boots are super easy to get on and off and have a bungee cord closure system.
Kamik Snowcoast 3 Boys Snow Boots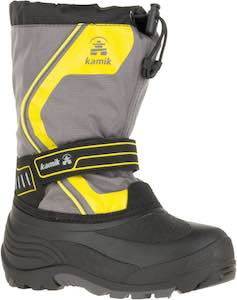 This boys winter boot has a 3-layer system that keeps your little man's feet cozy and dry. Zylex® liners within the snow boot help achieve great temperature control. These boots are simple to adjust and easy to remove even with little gloves on.
Even through well insulated, these boots are light and sleek for wearing. One of the best options for your son who loves to slosh through the wet snow.
The North Face Alpenglow IV Insulated Kids Snow Boots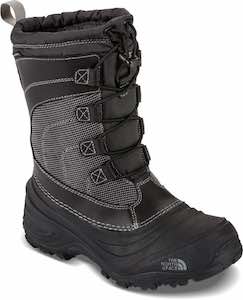 This boot has lightweight thermoplastic rubber shell bottoms that help to protect against the most harsh winter elements. These are actually optimized for winter as they have excellent traction treat.
The Alpenglow Boots features high quality insulation that is removable. Their single pull laces also make for ease of use!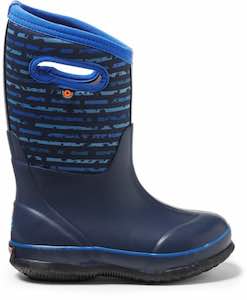 Although one may think this rubber boot is only suited for rainy weather, this boys winter boot is the perfect combination of cold and water resistance.
These boots, fashioned with handles to ease the removal process, have an EVA footbed for ultimate comfort. The boot actually evaporates sweat to really keep little feet dry. Although a bit pricey, this 100% waterproof boot is a great choice for those slushy winter days.
Ozark Trail Boys Temp Rated Camo Snow Boot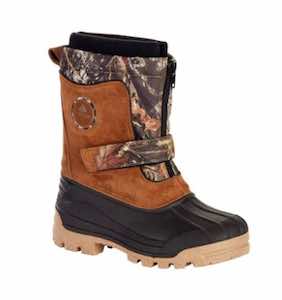 For your outdoorsy boy are the Ozark Trail Winter Snow. Featuring a sleek camo design, these winter snow boots keep out the cold and are easy to wear.
They are actually fitted with cow suede for extra warmth on top of the already superb insulated, removable lining. These boots are still stylist without losing their functionality.
Toddlers Snow Boots
Merrell Snow Bank 2.0 Waterproof Toddler Snow Boot
With your toddlers, functionality and warmth is absolutely key. This lightweight boot is the best choice for your tiny little toddler to still enjoy their time in the winter wonderland!
Made of 100% leather, this boot is perfectly waterproof all over. It has a very secure fit, rubber soles, and great insulation for your little one. This is one of the best pairs of quality toddler snow boots you can get!
Stonz Cold Weather Toddler Snow Boots
The lightest toddler snow boots on the market don't compromise quality for comfort. They have ridiculously good resistance for cold (up to -58F) and warm insulation.
These boots have incredible good traction which is perfect for little ones who like to speed off without warning! They are very anti-skid and have a great grip. These boots also come in plenty of great colors.
Kamik Rocket Cold Weather Boot
A much cheaper option, these USA made boots is the perfect basic weather-proof boot. These are super simple to remove and strap and feature a bungee cord fastening system.
The real perk of these is that they go high on the leg and will keep your toddler's legs cozy, dry, and comfortable.
Nova Mountain Waterproof Winter Snow Boots
An Amazon Choice item, these boots are pretty heavy duty for a decent price. These toddler snow boots are lightweight and very easy for your child to walk (or run!) in with ease. These boots are waterproof and very easy to throw on or off.
Kamik Snowbug 3 Snow Boots
These little boots are great for the beginning of a Minnesota winter when your little one wants to enjoy the chilly outdoors. They have a simple strap that closes them up and foam insulation for warmth. These boots have excellent grip too that will enable your toddler to really enjoy the snow with.
Bonus Boot
Any of your kids can rock this Amazon bestseller boot for a fraction of the price of some of the other options listed above. The Northside winter snow boot comes in all kids sizes ranging from 1-12 years old! This snow boot is insulated with thermolite, has a waterproof upper featuring hook-and-loop strap and bungee-cord closure at topline.
What To Look For In Kids Snow Boots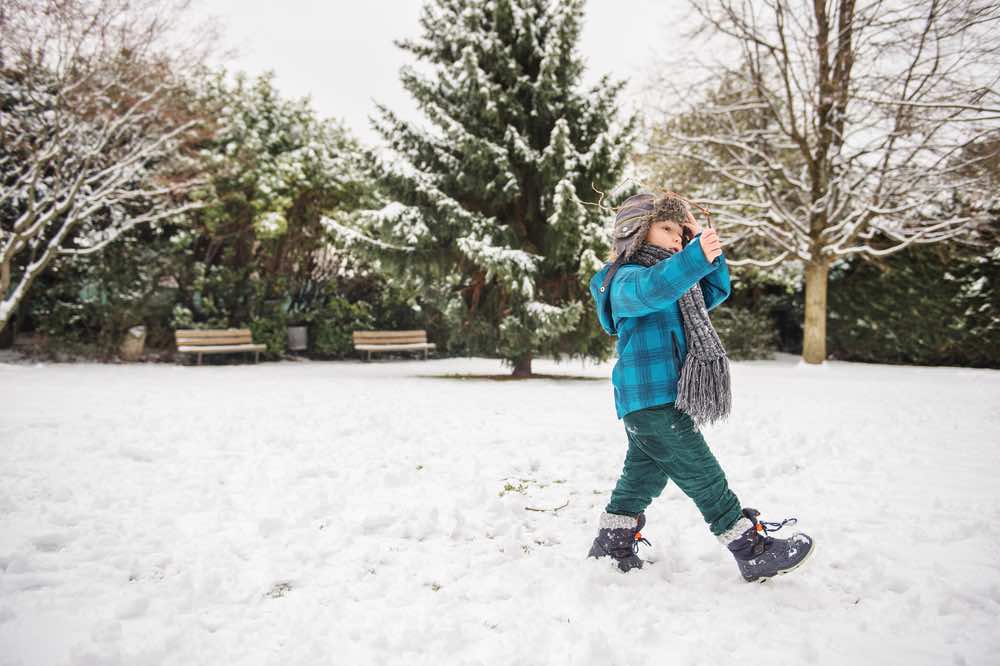 Kids Snow Boot Insulation
Think of your boots as your home. Now imagine that the walls of your home were paper-thin with nothing between you and the cold. Would you expect to stay warm? Just like the walls of our homes, good kids snow boots need proper insulation in order to keep whatever is inside of them warm.
Insulated footwear works by trapping your own body heat within the shoe and redistributing that warm back to your feet. This process simultaneously allows moisture to escape which in turn keeps your feet nice and dry.
When on the lookout for a pair of boots for your kids, you want to choose a boot that has plentiful insulation. You should opt for boots that have insulation like Thermolie or Zylex amongst other types of brand insulation. Regardless, having this nice padding and girth in your kids' boots will help to protect their feet from the cold elements and also adds to comfort.
Waterproofing
Along with good insulation, having waterproof kids winter boots is extremely important. We all know how it feels to have wet soggy socks after playing for way too long in the snow – it makes you very cold! Those wet socks draw even more cold to your feet and can lead to a huge drop in body temperature. Ensuring your boot is waterproof will help to prevent moisture from entering your boot and soaking your socks.
Even though the frigid cold in Minnesota may prevent too many slushy, icy days, your children are bound to have to trudge through the mucky snow or face the chilly rainfall at some point. You want to make sure that their boots can keep out excess moisture in these scenarios.
You also want to make sure you aren't buying merely water resistant boots. These, like a water resistant phone, can keep out surface moisture. But when you evidently drop your phone in the toilet (or equivalently, your feet in a puddle) that waterproofing doesn't account for much. You want true blue waterproof shoes to keep out moisture and protect your feet.
Boot Comfort & Fit
Kids Snow boots can be a bit more expensive than other types of footwear, so you want to ensure when you buy a quality pair that they are comfortable enough for a brisk Minnesota winter.
Comfort is definitely a key factor when it comes to snow boots for your little ones. Check to see if the boot has a little room at the toe and if they are easy to put on.
To really make sure the boot is a good fit, bring your child's winter socks along when trying on boots. Truth be told, kids and toddlers go through clothes and shoes like no one's business! Although they may only fit in their snow boots for a season, it is all the more reason to make sure the boots fit well and your child is happy in them.
Boot Traction
Walking on snow is definitely a challenge and icy sidewalks can mean bad news if your kids snow boots have little to no traction on them. Unfortunately, a lot of kids boots you find in the store focus a lot more on style than function and can have your toddler slipping and sliding.
When shopping for the perfect winter boot, look for boots that have a nice rubber tread on the bottom of them. This will prevent slips and falls and make it much easier to enjoy fun winter activities such as sledding and tubing!
Also, look for a lot of grooves and grip on any snow boots you purchase. The more traction the better! It will make your life a whole lot easier when venturing in the winter wonderland with your babies.
Boot Height
Nothing is worse than to be outside, having the time of your life in the snow, and getting a bunch of that cold snow inside your boots! This will leave your kids upset and very chilly. While fashionable booties may look nice and are suitable for less-snowy days, what you really want in a functional kids snow boot is height.
Look for snow boots that rise up at least about the hemline of your child's pants. Make sure again that the fit is superb and that they will fit over thick winter pants or snowsuits. The height of the boot coupled with a good waterproofing material will help to keep little toes warm and dry.
Boot Closure
One of the more time consuming things about wearing kids snow boots is lacing them up and making sure you knot them tight enough. If you have kids, you know their patience can wear thin when waiting to go have fun outside. Think little Randy from A Christmas Story getting dressed for the cold by his mother, yelling out in frustration, "I can't put my arms down!"
A way to avoid tiny temper tantrums is choosing snow boots that are easy to get on and remove. Your kids will constantly be taking off their boots and putting them on again, so make sure they are easy to do so. Adjustable velcro straps are a must-have for toddlers! Even slip-on boots with a simple bungee drawstring on top is a great option.
Pairing The Right Socks With Kids Snow Boots
Even when you find boots with excellent insulation and waterproofing, it is still very important to wear the right socks. If you aren't wearing the right socks, it won't really matter how good quality your boots are – your feet will inevitably get cold.
Year-round, most children usually wear cotton, athletic-wear socks. However, wearing cotton socks in the chilling winter weather can be a nightmare for your feet.
Feet perspire (pretty gross, right?) and when you wear cotton socks, they will get wet and make your feet extremely cold. So you can have the best insulation ever in your boots, but your feet can still be compromised before even stepping foot in the snow.
Wool socks are definitely the best option for socks, especially for your children. Why? First of all, wool is extremely soft and cozy, sometimes even more so than cotton socks. You don't want to skimp on good, merino wool socks though as lesser quality wool is very scratchy and generally uncomfortable to wear for long periods of time. True wool is soft and durable as ever.
Wool materials also stay impressively dry even if perspiration occurs. The fabric actually absorbs moisture, but because the interior of the wool absorbs moisture, the fabric still feels dry on the outside.
Another perk of wool? It's odor and bacteria resistant. That means fewer washes and less gross foot-smells. Definitely a bonus for those who have children who like to play outside for hours! Wool is also a great insulator and also helps to cushion for your feet which can help to prevent blisters often caused by brand new shoes and boots.
Wool socks are a vital accessory to purchase when purchasing the perfect child or toddler snow boots.
When you are out shopping in preparation for a Minnesota winter, make sure to consider all of the above parameters for the perfect winter boot! You want thick insulation, excellent waterproofing, a comfortable fit, rugged traction, and adequate height and socks.
Check Out The Best Snowblowers For A Minnesota Winter
As you enter into this harsh Minnesota winter, you want your kiddos to enjoy the snow without worrying about them freezing. Get them a pair of boots that will keep their feet dry, comfortable, and protected. You can then rest assured that your little ones will fully enjoy all that winter has to offer!