Gardening in Minnesota can have its challenges, but fortunately, there are several different perennial plants you can grow in northern gardens. What are the best perennials for Minnesota perennial garden growers? Like most gardening projects, deciding which perennials to grow is a matter of personal preference. The good news is that with this extensive list of the best perennials for Minnesota, you can find something that gives you the vibrant color you want for your yard or garden.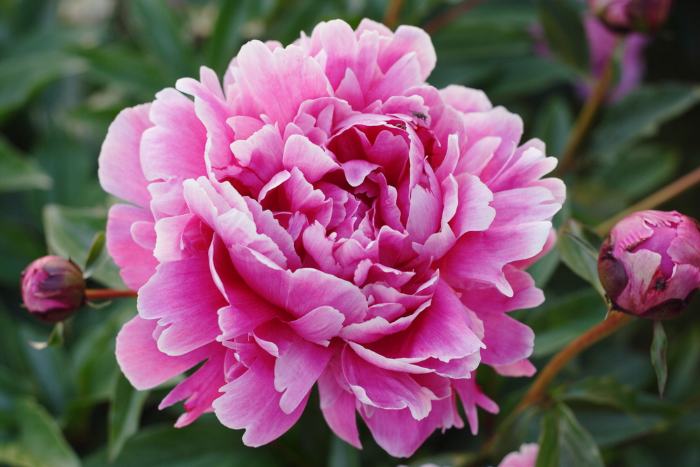 Growing Perennials in Minnesota Gardens
Northern gardeners are cold-climate gardeners who garden in severe winters, and a few degrees in northern climates can make a huge difference when it comes to whether or not a perennial will survive in northern gardens.
In 2012, an update to the USDA Hardiness Zone Map shows that most of the state of Minnesota is in zone 4, while the northern part of the state is in zone 3. The lower the number in your hardiness zone, the colder the climate. In zone 3, temperatures get as low as -30 to -40 degrees Fahrenheit, while in zone 4, the lowest temperatures are just slightly less cold at between -20 and -30 degrees Fahrenheit. One tiny part of Minnesota in Martin and Jackson counties is rated by the USDA as being in zone 5a.
To ensure you're only buying seeds or plants that will grow in a perennial garden in your zone, be sure to check the tag or seed packet. Also, keep microclimates in mind. A microclimate consists of atmospheric conditions that can cause your property to differ from surrounding properties. For example, microclimates often exist near bodies of water or in heavily urban areas where the sun's energy is absorbed by concrete, asphalt, or brick. In individual yards, things that can affect your growth capabilities are sun, shade, and windbreaks.
The 16 Best Perennials for Minnesota
1. Peony
Paeonia Officinalis
Zones 3-8
First on our list of best perennials for Minnesota is the beautiful Peony. When you want a delicate-looking flower that is super tough, you can't go wrong with peonies. Peonies will grow to be up to four feet tall. These hardy perennials do best when planted in well-drained soil in a sunny spot where they will receive full sun.
There are several different types of peonies, including Julia Rose Itoh, Karl Rosenfield, Bartzella Itoh, and many more.
Note that not all peonies will thrive in zone 3. A few peonies that will grow well in zone 3 include the following:
2. Day Lily
Hemerocallis
Zones 3-10
One of the most ubiquitous and beloved perennials, daylilies form in clumps and slowly spread to serve as a ground cover that is semi-evergreen. Daylilies will bloom the first year you plant them, so these gorgeous flowers are a winner for gardeners. However, they won't grow to their full height until the second or third year after planting. Once they reach their full height, daylilies can grow to be up to 18 inches tall.
You can find daylilies in a wide range of colors. Most daylilies will work in zone 3, but be sure to check carefully before ordering.
3. Coneflower
Echinacea purpurea
Zones 3-8
The cheerful coneflower bloom season lasts throughout the entire summer, showering your yard and garden with every color imaginable of wonderful flowers, including yellow, orange flowers, lavender, pink, white, and green. New cultivars have come out in recent years featuring brighter colors in a wide range, including the bright red "Tomato Soup" variety (zones 4-9). If you live in zone 4, you can also grow the award-winning Sombrero Baja Burgundy coneflower.
Coneflowers are the perfect perennials for Minnesota because they're extremely cold-hardy perennials and offer a broad range of colors, especially the Magnus Purple flowers, PowWow Wild Berry, or PowWow White. The coneflower plants are tall, growing as much as four feet in height. These perennials work beautifully for flower beds, garden borders, and serve as an excellent background for other flowers. The Kim's Knee-High coneflower will grow between 18-20 inches (or 16-20 inches) and it doesn't flop over in rain and wind.
4. Chrysanthemum
Chrysanthemum morifolium
Zones 3-9
Mum varieties such as Mammoth Lavender Daisy Garden Mum and Mammoth Red Daisy Garden Mum grow beautifully in zones 3-8. Mums require full sun in a sunny spot, but they are widely adaptable to various types of soil. At maturity, these popular flowers will be between 20 and 36 inches tall.
5. Virginia Bluebell
Mertensia virginica
Zones 3-8
Another shade-loving perennial for your shade garden, the Virginia Bluebell is a woodland perennial that's native to the northeastern part of North America and will grow well in shady spots. The gorgeous blue flowers of the Virginia Bluebell may remind you of forget-me-nots. However, like other members of the Borage plant family, the flowers of the Virginia bluebell start out as pink flowers and gradually progress to blue.
Long-blooming Virginia Bluebells are much loved by pollinators such as butterflies and bumblebees, and you will see these valuable pollinators begin to arrive in the early part of spring when the flowers bloom.
6. Hollyhock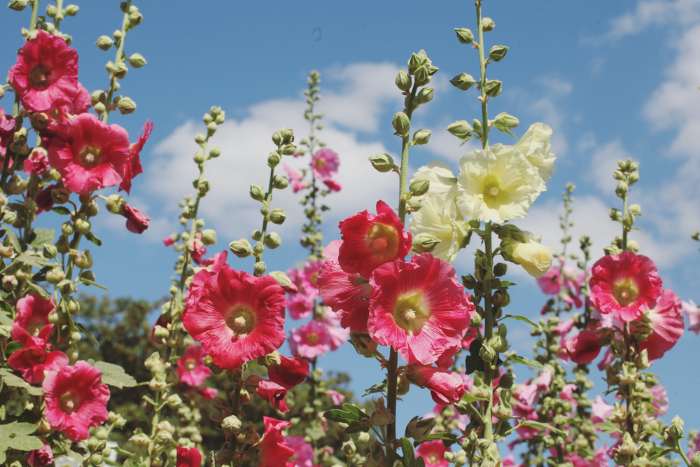 Alcea rosea
Zones 2-9
Although hollyhocks are short-lived (or biennial) perennials, they reseed themselves, so you can count on plenty of colorful blooms. These tall plants will grow to be up to six feet tall and as much as two feet wide.
Hollyhocks do best in full sun, but they will tolerate partial shade. Plant your hollyhocks in well-drained moist soil.
7. Hosta
Hosta
Zones 3-9
If you need an excellent shade-loving plant with a variety of foliage colors and attractive foliage, go for hostas. You can find hostas in a huge array of sizes and colors, so there's a hosta for every garden. Whether you need small or tall plants for the shady areas of your yard, there is a hosta that will meet your need. Many hosta varieties will grow to be up to six feet tall.
Most hostas will grow in zone 3, but there are some beautiful plants that will only grow in zones 4 and higher.
8. Yarrow
Achillea millefolium
Zones 3-8
Next on our list of the best perennials for Minnesota is yarrow. In addition to being cold-hardy perennials, yarrow is drought and heat tolerant. Equally important in areas that have wildlife, yarrow is typically ignored by rabbits and deer. Yarrow plants will grow to be up to three feet tall and two feet wide.
You can find yarrow in a rainbow of colors, including white blooms, yellow, pink, and terra-cotta. To grow yarrow in zone 2, choose one of these varieties: Woolly Yarrow, Summer Pastel Yarrow, Paprika Yarrow, or Moonshine Yarrow.
9. Goldenrod
Solidago speciosa
Zones 3-8
Brilliant yellow goldenrod offers a dramatic golden fountain that blooms in September and continues into October. The popular Fireworks Goldenrod will grow in zone 4 only, but there are a couple of varieties that do well in zone 3, including Showy Goldenrod and Stiff Goldenrod.
10. Hardy Geranium
Geranium x cantabrigiense
Zones 4-8
The Biokova Geranium grows beautifully in zone 4 and the blooms on this geranium are larger than those on other varieties of geranium. Some popular zone 3 geraniums include popular flowers such as Wild Geranium, Espresso Geranium, and Elke Geranium,
An apple-scented perfume and dense foliage make these hardy geraniums the perfect border plants. The flowers are pale pink in late summer, but in the autumn, the blossoms turn to a dramatic burgundy color.
11. Black Eyed Susan
Rudbeckia fulgida
Zones 3-8
When you're going for a bright burst of traditional color, Black-eyed Susans are a classic and timeless perennial. These tall perennials bloom from early summer through fall and will be up to three feet tall.
While a Black Eyed Susan will grow in partial shade, these tall perennials thrive in full sun. One benefit of the Black Eyed Susan is that they're drought-tolerant. For zone 3, go with Goldsturm or Showy Black-eyed Susans.
12. Panicle Hydrangea
H. paniculata
Zones 3-8
Panicle hydrangeas are wonderful perennials for Minnesota because many varieties have excellent tolerance for colder climates. Hydrangeas are great for borders, hedges, or as a focal point in your garden because they are huge, with many varieties growing between six and eight feet wide and tall.
Some varieties of Panicle hydrangea will grow in zone 4 but not zone 3. Zone 3 Panicle hydrangeas include these cultivars:
13. Aster
Aster oblongifolius
Zones 3-8
If you have rocky soil or the dreaded clay soil, don't despair. If you want a fragrant flower variety, the aromatic plant October Skies aster will prosper and thrive in heavy clay soil. Other aster varieties that grow in both zone 3 and zone 4 include Sky Blue Aster (for blue flowers) and New England Aster.
To keep your asters from flopping, pinch the dead flower heads off in early summer.
14. Lenten Rose
Helleboros orientalis
Zones 3-9
The Lenten rose is a tough evergreen that thrives in the shade. Some varieties will even bloom when there's still snow on the ground, so it really extends your perennial gardening season. You can find these perennials in flower colors of red, shades of purple, white flowers, near-black, pink, and green. Lenten roses grow to about 12 inches in height and 18 inches across.
Zone 4 Lenten rose varieties include FrostKiss Anna's Red Lenten Rose, Royal Heritage Strain Lenten Rose, and the FrostKiss Moondance Lenten Rose. One variety that will grow in zone 3 is the Ivory Prince Lenten Rose.
15. Butterfly Weed
Asclepias tuberosa
Zones 3-9
The gorgeous butterfly weed does exactly what you might imagine: It attracts monarch butterflies to your yard, along with hummingbirds. A long-blooming perennial flower, butterfly weed is huge and commonly grows to be between six and eight feet tall.
Be sure to choose your butterfly weed carefully and don't confuse it with the popular butterfly bush. Many butterfly bush cultivars won't grow in zones 3 and 4. Some butterfly bush cultivars will grow in zone 4.
16. Red Cardinal Flower
Lobelia cardinalis
Zones 3-9
The majestic Red Cardinal Flower is native to the U.S. This perennial produces gorgeous red blooms that are trumpet-shaped. The flowers grow in bright red clusters on spikes that become as high as 48 inches tall.
In cooler climates, Red Cardinal Flowers need full sun. Blooms will show up in mid-summer and last through late summer. These flowers attract pollinators such as butterflies, hummingbirds, and bees in spring.
Wrapping Up the Best Perennials for Minnesota
Now that you have a definitive list of the best perennials for Minnesota that will provide you with an array of colors in your perennial garden, which ones will you grow during the gardening season? Let us know in the comments which perennials will be gracing your Minnesota garden, as well as the variety of colors you'll be growing. Also, if we've missed anything that you think should be on this list of popular Minnesota perennials, let us know.
Looking to upgrade your outdoor spaces at home? Then find inspiration for your Minnesota backyard with our landscaping ideas, outdoor furniture suggestions, gardening recommendations, and more!
About the Author
Latest Posts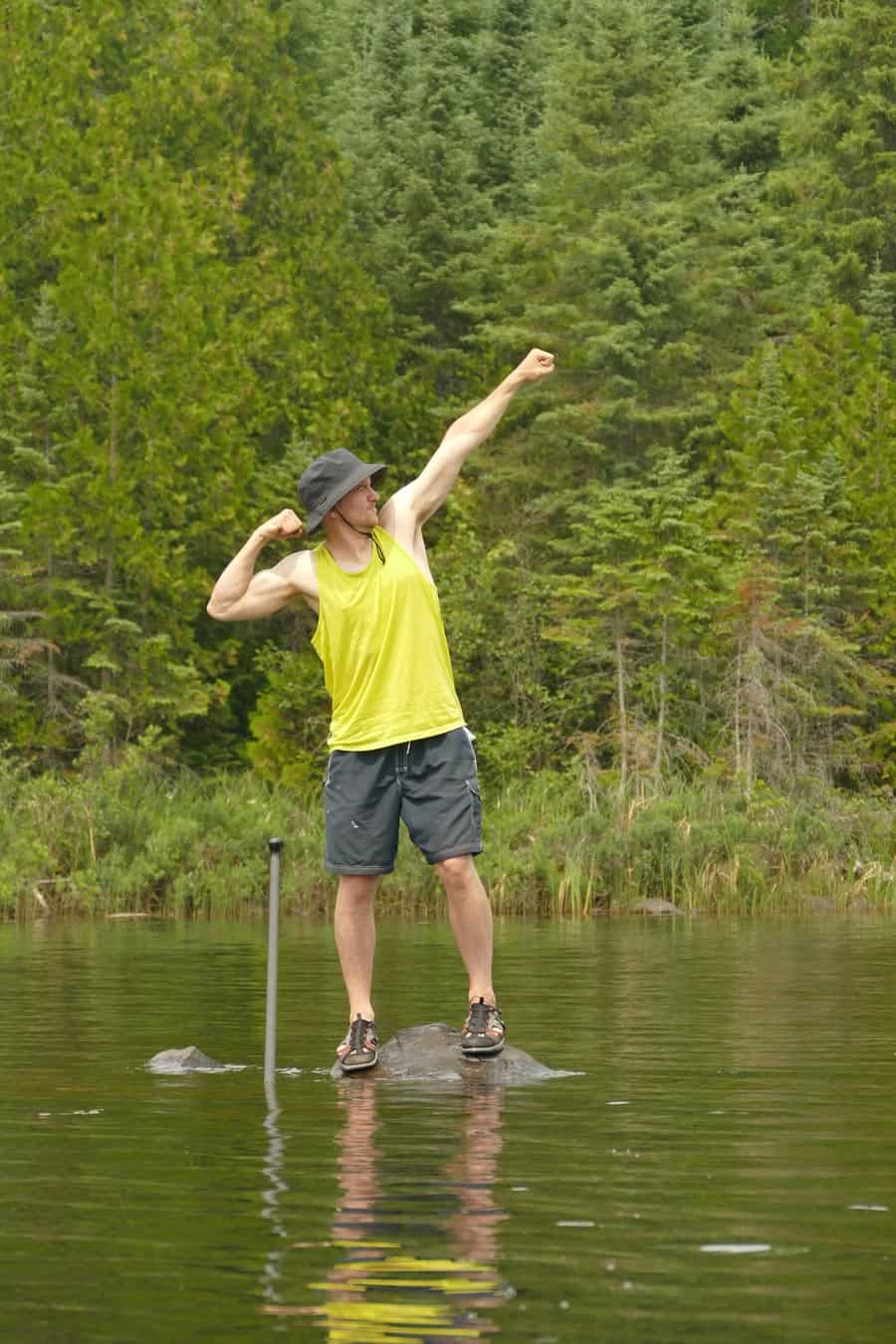 Born in Madelia, MN, to a now 5-generation Minnesota family, Ryan's MN roots go deep.
A painter by day, Ryan founded Life in Minnesota in 2013 with his wife Kelly to chronicle their musings on everything Minnesota. Ryan and Kelly are raising their 7 kiddos in Maple Grove, MN.
When he's not shuttling his kids around to hockey practice, you might find him in the shop working on his leatherwork. Undoubtedly, there will be a family trip to the Boundary Waters Canoe Area every summer, and of course weekends at Grandpa's cabin up north in the summer.