Wakeboarding is one of the most fun and difficult water sports to learn and do. As hard as it is to learn how to wakeboard, the process is much simpler if you have a good board. If you're unfamiliar with the sport, you likely don't realize that there are different types of boards for people of different skill levels.
If you're new to wakeboarding, you've come to the right place. In this article, we'll look through an extensive list until we find the best wakeboard for beginners, regardless of your physique and preferences.
---
Overall Best Wakeboard for Beginners
The Ronix Vault Wakeboard
If you're looking for the best wakeboard for beginners, you'll struggle to find one better than the Ronix Vault. It has the perfect shape and balance for beginners, but it's also loved by those who are experienced wakeboarders. The design is what sets this board apart from the competition.
The center fins are large and stable, plus the addition of slightly rounded rails can lock you in on the side of your toe but gives you freedom and movement on your heel side. Best of all, the Ronix Vault is available in various sizes ranging from junior to women's large.
Although the Ronix Vault is considered the best wakeboard for beginners, it's surprisingly maneuverable and allows for lots of trick practice. The board is very lightweight, which adds to maneuverability, but doesn't compromise on stability. Make sure to watch out for Ronix clearance sales and get this board for even less.
Pros
Very lightweight and maneuverable.
Considered by many to be the best wakeboard for beginners.
Unique design and shape that's ergonomic and stable.
Ideal for beginners who are learning tricks and balance.
Cons
Slightly expensive if you can't find it on clearance.
Wakeboard boots don't come with the board.
---
Runner Up Best Wakeboard for Beginners
Liquid Force Trip
Another excellent board that's just as good as the Ronix in many ways is the Liquid Force Trip/Angel. The Liquid Force Trip is a board that's been a beginner favorite for over two decades and has been steadily gaining in popularity. Like the Ronix, it has a shape, style, and feel that's perfect for beginners and novices alike.
While the shape is similar to the Ronix Vault, it varies slightly because it's not in the shape of a typical continuous rocker. Where continuous rocker boards have a gentle curve along the entire length of the board, the Liquid Force Trip has a curve or angle that's slightly steeper, which allows for softer landings and more thrust.
Essentially, the shape of the Liquid Force means that you can go a little faster, land a little softer, and move a little better than with most other boards. This board is also extremely lightweight, despite being made of durable, long-lasting PU foam core. The material and design allow for a unique speed, movement, and stability combo.
It also includes two center fins for added stability when you're first starting, which you can remove when you're more comfortable. They're similar to training wheels on a bike. Once you gain experience and balance in the water, you can remove them for a more advanced wakeboarding experience.
Pros
The removable fins are excellent for multiple stages of learning.
Made from durable, lightweight material.
The unique shape and design allow for stability and balance.
Fashioned in the Aggressive Continuous Rocker shape, which means more speed and softer landings.
Cons
Not quite as techy and lacks certain features of other boards.
---
Best Budget-Friendly Wakeboard for Beginners
O'Brien System Wakeboard
If you're looking for a budget wakeboard that checks an enormous amount of boxes at an affordable price, look no further than the O'Brien System Wakeboard. Where it lacks in fancy features and techy carbon fiber designs, it makes up for with practicality. Despite being less than $200, it has everything you need in a board to learn how to wakeboard.
It features the classic continuous rocker style that's typical of beginner wakeboards. The smooth, consistent curve of the board makes for a smooth ride and easy maneuverability. O'Brien uses their signature Feather Core and polyurethane foam as the main material of this board, making it lightweight and agile. It's especially good for spinning and jumping tricks.
Along the board's base, you'll find a small grab rail that's ok for beginner tricks but inadequate for more advanced ones. The board also features dual removable fins, similar to those on Liquid Force Trip. All in all, the O'Brian system is a smooth, lightweight ride with limited friction and is easily the best wakeboard for beginners on a budget.
Pros
The most affordable wakeboard on this list at under $200.
The two removable fins are excellent for gradual learning.
Very smooth and maneuverable in the water with little friction.
Lightweight material that's also durable.
Cons
Lacks some of the techy features of other beginner boards.
---
Runner Up for Best Wakeboard on a Budget
Hyperlite Wakeboard Machete
Check out the Hyperlite Wakeboard Machete if you have a little more room in your budget but don't want to go all-in on an expensive board. Hyperlite is one of the top names in wakeboarding, producing some of the best boards in the business. They specialize in creating products for both beginners and advanced users.
The Machete features a 3-stage rocker, which is great for high-flying tricks and jumps. It has more maneuverability than almost any other wakeboard in its price range. It also includes not two but four removable fins that you can add or subtract according to your comfort level and how mobile you want to be.
This board is unique because it's fashioned after pro models and has a sleek, curved edge that's perfect for sharp turns and elevating. This product comes with a one-year warranty and features an Enduro base and a lightweight construction thanks to the use of softcore foam in its design.
Pros
At just over $200, it's very affordable and one of the best wakeboards for beginners.
Excellent board for jumping and aerial maneuvers.
Very lightweight construction and design.
Fashioned after wakeboards used by the pros.
Includes four removable fins.
Cons
Not as durable or maneuverable as higher-end models.
---
Best Wakeboard for Beginners Over 150 Pounds
Hyperlite State 2
If you haven't picked up on the trend yet, it's that Hyperlite makes some excellent wakeboards. If you're an adult who wants to get into wakeboarding, they also make the best wakeboard for you. The Hyperlite State 2 has one of the smoothest rides of any board on this list and is capable of supporting adults of most weight classes.
The design of the State 2 is that of a continuous rocker plus an extra smooth edge for even less friction in the water. It's also extremely affordable despite the special material used to make it. Layered glass laminate makes this board more durable than most others but slightly heavier than foam boards.
The asymmetrical and even design of the board makes it great for all users, regardless of height or size. It also includes fiberglass fins that are molded into the board and aren't removable, which could be seen as either a pro or a con.
Because this board is heavy enough to support adults but light and maneuverable in the water, it's easily one of the best wakeboards for beginners who are adults.
Pros
Strong, durable design made of fiberglass.
Capable of supporting heavyweights.
Maintains maneuverability and stability despite its heavier weight.
Very smooth ride with little to no friction.
Cons
Slightly on the heavy side, as most adult wakeboards are.
---
Another Option for the Best Wakeboard for Beginners
RAVE Sports Impact Board
The last best wakeboard for beginners we'll look at is specially made for kids and short adults. The RAVE Sports Impact Board is designed exclusively for children and adults under 125 pounds. The board is slightly shorter and thinner than most, which makes it extremely lightweight and not suitable for more than 125 lbs.
Despite its lightweight design and material, this board is incredibly stable, making it ideal for beginners who are finding their balance. It's made of strong and flexible material for added durability and maneuverability. Its strength and lightness come from a combination of polyurethane and fiberglass used on various parts of the board.
You have two options for the Sports Impact Board – the Junior and the Junior 2. The boards are very similar to each other, but the Junior 2 is slightly more stable than the Junior. Both are meant for beginners, easy to use, and easy to maneuver. Either way, you're getting one of the best wakeboards for beginners.
Pros
Perfect for children and individuals under 125 pounds.
The combination of PU and fiberglass makes the board strong in certain areas and agile in others.
Continuous rocker design for a smooth and frictionless ride.
Cons
The weight limit makes it less than ideal for even small adults.
---
Choosing the Best Beginners Wakeboard
Here are some of the things we looked at when selecting the best wakeboard for beginners. It's also the things you should consider if you go off-script and purchase a wakeboard not included in this article.
Price Point
The key thing to remember is that these are wakeboards for BEGINNERS. This means that as you progress in the sport and get more comfortable on the water, you'll want to upgrade to a better, more advanced board. Therefore, you don't want to blow your budget on a wakeboard that you're going to replace in a year or two.
At the same time, however, you want a durable and quality board that will get you through your training period. Cheaping out too much could result in a board that's flimsy and fragile or difficult to learn on.
Rocker/Design
Ideally, you should look for a beginner board that has a continuous, three-stage rocker design or something very similar. A continuous rocker design means that the board is equally smooth and curved along the edges. This type of design makes for less friction in the wake and enough mobility to practice turns and tricks.
Material Used
The material of your wakeboard will determine its durability, quality, weight, and maneuverability. Most quality wakeboards are made of either tempered fiberglass or polyurethane foam. Each of these materials is strong and durable while also being agile and lightweight.
Fins and Edges
The main thing to look for with edges on beginner wakeboards is something that allows for a more stable hold on the toe side. This is the side that most beginners will struggle with the most balance-wise, which means that any help you can get from the edge is a plus.
With fins, many beginner wakeboards have removable fins, but not all of them. Rather than focusing on removability, look for fins that are stable, and that go deep into the water. This will make for more speed and stability while giving you a smoother ride.
Durability
Even if you don't plan on using your beginner wakeboard very long, you should still buy a durable one. The chances are that someone in your family or a friend will want to take up the sport, and your wakeboard can become the hand-me-down for beginners.
Size and Weight
Finding a happy medium in size and weight can be tricky. The best wakeboard for beginners should be fairly lightweight but heavy enough to support you. It's important to look at weight limitations when purchasing your board to ensure you buy one that will support you.
For beginners, it's a good idea to start with bigger boards. Bigger boards offer more surface area and stability than smaller ones. If they're made of quality material, they also won't be too heavy.
Try Wakeboarding with the Best Wakeboard for Beginners
Wakeboarding is one of the most freeing and fun-loving things you can do on a river, lake, or ocean. Don't get frustrated if you're just starting out and struggling to stay on your feet. By investing in the best wakeboard for beginners or one that's at the top of the list, you give yourself the best chance of success and falling in love with wakeboarding.
Looking for a great Minnesota lake to practice and enjoy your wakeboard? Here's a list of 20 of the Largest Lakes in Minnesota You Must Visit along with the 12 Best Lakes in Minnesota to enjoy on a summer's day.
Need some more Minnesota gear? Trust our recommendations to guide your next shopping trip!
About the Author
Latest Posts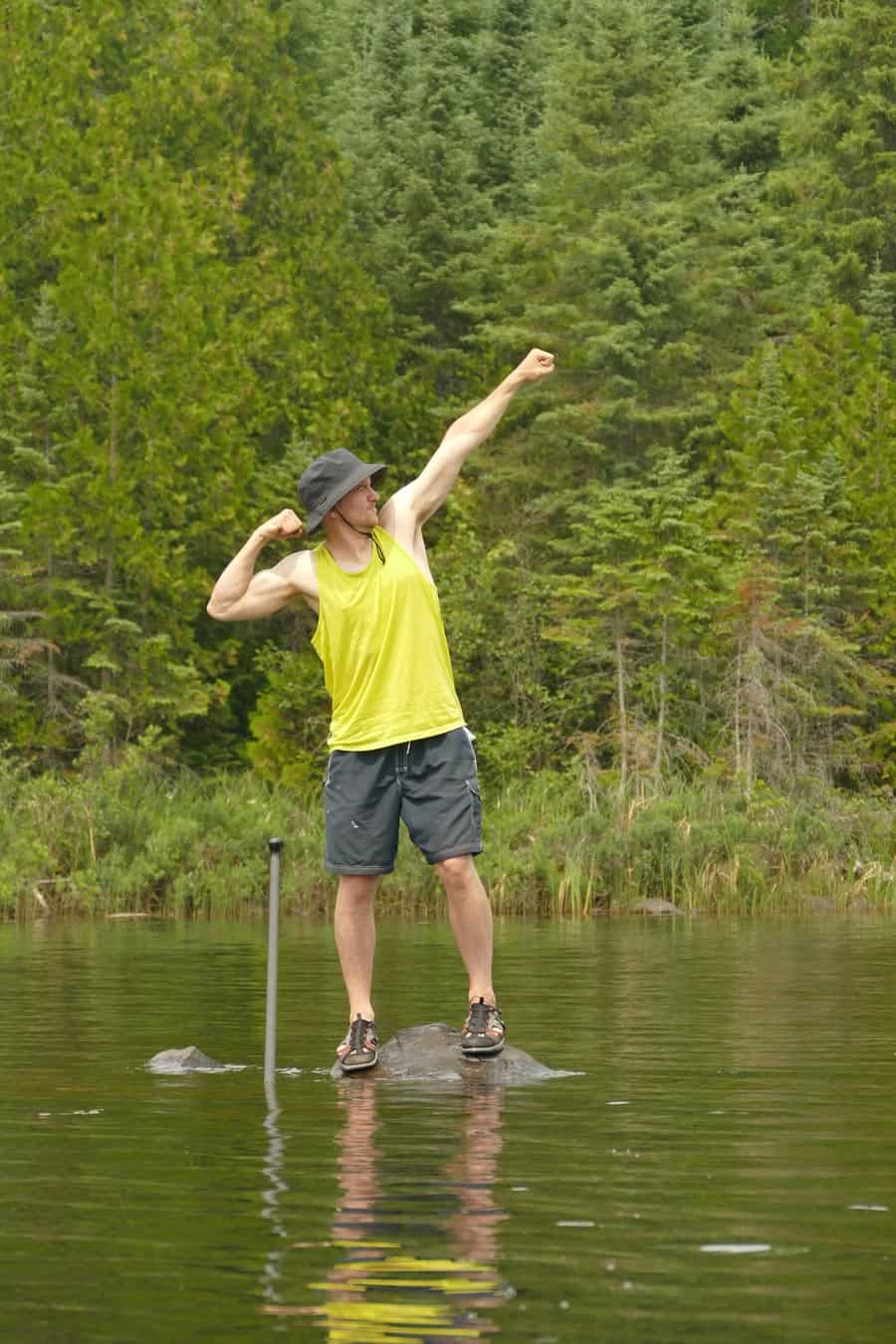 Born in Madelia, MN, to a now 5-generation Minnesota family, Ryan's MN roots go deep.
A painter by day, Ryan founded Life in Minnesota in 2013 with his wife Kelly to chronicle their musings on everything Minnesota. Ryan and Kelly are raising their 7 kiddos in Maple Grove, MN.
When he's not shuttling his kids around to hockey practice, you might find him in the shop working on his leatherwork. Undoubtedly, there will be a family trip to the Boundary Waters Canoe Area every summer, and of course weekends at Grandpa's cabin up north in the summer.