Are you eager to explore some of the largest lakes in Minnesota? One of Minnesota's nicknames, the "land of 10,000 lakes", is no exaggeration. Nearly 12,000 beautiful lakes are scattered throughout the state.
Of course, these bodies of water vary in shape and size. If you're looking for only the biggest and best that the state has to offer, here are the 20 largest lakes in Minnesota!
Northwest Region
1. Lake of the Woods
While Lake of the Woods straddles Canada and the United States, a large section of the body of water lies in northwest Minnesota. As for its standing among the largest freshwater lakes in the United States, Lake of the Woods trails only the five Great Lakes in terms of size.
Within the lake's perimeter, there are more than 14,000 small islands and many different fish species — including bass, perch, pike, trout, walleye, whitefish, and more.
2. Red Lake
While Lake Superior and Lake of the Woods are both significantly larger than Red Lake, Red Lake is the largest freshwater lake to be located entirely within Minnesota's borders.
Red Lake consists of an upper section and a lower section. Both Lower Red Lake and the peninsula that nearly divides the two sections are census-designated living areas for the Ponemah people and other Native American communities.
3. Lake Bemidji
At over 6,000 acres and with 15 miles of beautiful shoreline, Lake Bemidji is a medium-large body of water located in northwest Minnesota. Lake Bemidji is unique in that the Mississippi River serves as both its inflow and its outflow.
The lake's north shore borders Lake Bemidji State Park, while its north and south shores offer six public boat landings that anglers use to hunt for more than a few dozen species of fish.
Northeast Region
4. Lake Superior
Lake Superior not only tops the list of largest lakes in Minnesota but it's also the world's largest freshwater lake by surface area. Aptly named, Lake Superior spans more than 32,000 square miles and holds a whopping 10% of the earth's freshwater.
More than 200 rivers feed into Lake Superior, the largest being the Nipigon River. St. Mary's River, on the other hand, is the largest outflow of water from Lake Superior and feeds into another one of the five Great Lakes — Lake Huron.
5. Rainy Lake
With over 360 square miles of water and more than 1,800 miles of shoreline, Rainy Lake is one of Voyageurs National Park's central attractions. The lake's convenient location means that visitors have access to dozens of boat-in campsites, picnic areas, and camping amenities during their trips to Rainy Lake.
While the majority of Rainy Lake lies within Canadian borders, approximately 30% of the lake lies in northeast Minnesota.
The oddly shaped Leech Lake is home to 160 square miles of freshwater, multiple small and large bays, and more than a half-dozen top-notch recreational fishing points.
While Walker Bay boasts depths of up to 200 feet, most of the lake's waters are fairly shallow. As is the case with Mille Lacs Lake, Leech Lake's shallow waters spawn an abundance of fish.
7. Lake Winnibigoshish
Lake Winnibigoshish, which native Minnesotans affectionately refer to as Big Winnie, is a 67,000-acre body of water that borders the Chippewa National Forest.
In 1884, the government built a dam on the Mississippi River — creating Lake Winnibigoshish in the process. Today, the Mississippi River continues to flow in and out of Lake Winnie. Experience its 140 miles of natural shoreline and beautiful pine trees in person.
8. Lake Vermilion
Next, on our list of largest lakes in Minnesota is Lake Vermilion. When it comes to beautiful scenery, few lakes compare to the 40,000-acre Lake Vermilion. The lake's 290-mile stretch of sandy shoreline is the longest in all of Minnesota.
What's more, Superior National Forest surrounds Lake Vermilion — framing the large body of water with plenty of beautiful forestries, lodge resorts, and well-maintained campsites.
9. Kabetogama Lake
Kabetogama Lake is one of four lakes — including the aforementioned Rainy Lake — to border Voyageurs National Park. In fact, Kabetogama connects to Rainy Lake via the half-mile Gold Portage trail, and Kabetogama's Ojibwe Indian name quite literally means "the lake that lies parallels with another lake."
Experience the beauty of Kabetogama Lake firsthand with a Voyageurs National Park boat tour, daily canoe rental, or a weekend at one of the lake's 28 campsites.
10. Namakan Lake
Namakan Lake is yet another body of water that shares territory with Voyageurs National Park. Approximately 12,000 of its 25,000 total acres lie within the park's perimeter, while the remaining acreage crosses over into Ontario, Canada.
To spend the weekend on the Minnesota side of Namakan Lake, reserve a spot at one of 42 available campsites.
11. Cass Lake
Cass Lake is the name of both a city and a lake in northern Minnesota. The lake is also the largest of eight bodies of water — commonly referred to as the Cass chain of lakes.
Boasting a total surface area of 15,000 acres and shoreline galore, this Cass County lake offers plenty of fun-filled water-related activities for the entire family — from boating to canoeing to ice fishing and more.
12. Saganaga Lake
Located in the Boundary Waters Canoe Area Wilderness, Saganaga Lake is a large body of water that straddles the Minnesota-Ontario border.
With a surface area of roughly 21 miles, Saganaga is not only one of the largest lakes in Minnesota but also the deepest natural lake in the state — boasting a maximum depth of 280 feet. Home to over 60 campsites, Saganaga is a popular spot for a wilderness getaway or canoeing adventure.
13. Gull Lake
With its 9,418-acre surface and 38-mile shoreline, Gull Lake is the largest lake in the Gull chain of lakes.
Known for its many lakeside resorts, luxury homes, and villas, Gull Lake is also one of Minnesota's most popular family vacation spots. Despite its highly developed shoreline and lack of primitive camping opportunities, Gull Lake offers a bevy of water-related recreational activities.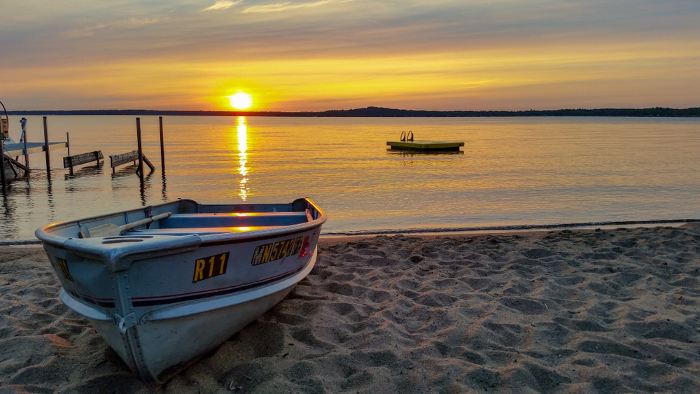 14. Burntside Lake
The 7,314-acre Burntside Lake lies on the edge of the Boundary Waters Canoe Area Wilderness in northeast Minnesota. Even at its deepest point of 126 feet, Burntside's crystal clear water is visible for up to 20 feet.
With more than a half-dozen inflows, 100 miles of shoreline, and 100 islands, Burntside Lake provides water, sand, and forestry in spades.
Central Region
15. Mille Lacs Lake
Spanning over 200 square miles, Mille Lacs Lake is Minnesota's second-largest inland lake. Despite its size, however, this shallow lake has a maximum depth of just 42 feet.
Central Minnesota's Mille Lacs Lake is one of the more popular fishing spots in the state, thanks to its large surface area and many trophy fish — particularly walleye and smallmouth bass. Be sure to visit Mille Lacs Lake during spring, summer, or fall, as its shallow waters fully freeze over at winter.
16. Otter Tail Lake
With 1,048 lakes — more than any other county in Minnesota — Otter Tail County is just about synonymous with water. Otter Take Lake, specifically, is the largest of the bunch with a surface area of roughly 14,000 acres.
More than half of Otter Tail Lake is 15 feet deep or less, making it a very popular pike and walleye fishing spot.
17. Big Stone Lake
Big Stone Lake lies on the Minnesota-South Dakota border and is the source of water for the Minnesota River. Approximately 10 miles of rocky shores and fishing docks surround the 26-square-mile lake.
Big Stone Lake's maximum depth is just 16 feet, allowing anglers to fish for walleye and perch from just about any point on the lake.
18. Pelican Lake
Pelican Lake is an 11,000-acre fishing paradise where anglers often hunt for bluegills, bass, pike, perch, and walleye. This Otter Tail County lake possesses 54 miles of peripheral shoreline and more than 50 islands within its border.
As its name suggests, Pelican Lake is home to not only pelicans but also a variety of wildlife — including bears, beavers, hawks, wolves, and more.
Metro Region
19. Lake Minnetonka
Lake Minnetonka — a Dakota name that translates to "big lake" — offers 22 square miles of freshwater that spans 31 channels and 30 bays. The lake's deepest point, found in Crystal Bay, boasts a maximum depth of 113 feet.
As Lake Minnetonka is located within 15 miles of the Twin Cities metro area, it is not only one of the largest lakes in Minnesota but also one of the most popular lakes in the state.
Southeast Region
20. Lake Pepin
Not to be confused with Wisconsin's Lake Pepin, Minnesota's 22-mile Lake Pepin is the largest lake on the Mississippi River.
Dubbed the "birthplace of water skiing" in 1966, Lake Pepin is home to not only an array of thrilling water sports and activities but also dozens of beautiful vistas. Trek across Pepin's shores to explore Lake City and its many shops, restaurants, and attractions.
Wrapping Up the Largest Lakes in Minnesota
If you enjoy swimming, fishing, boating, and other water-related activities consider exploring one of these largest lakes in Minnesota during your next outdoor adventure.
Can't get enough of Minnesota lakes? Then keep living the Minnesota lake life with the help of my info posts and guides!
Ready for more Minnesota advice, info, and guides? Whether you're a local or a passerby, discover the best of Minnesota that our great state has to offer!