One question we hear frequently is this: In the "Land of 10,000 Lakes," why go to a water park? The answer to that question is simple. Every single one of the best water parks in Minnesota features unique slides and amazing rides that will delight visitors of all ages. Another benefit of water parks is that, in addition to the many great outdoor parks, there are parks located indoors, which means that you can visit them even on cold Minnesota days.
So if your family wants to get wet, Minnesota has no shortage of opportunities. Let's dive in and explore the 15 best water parks in Minnesota.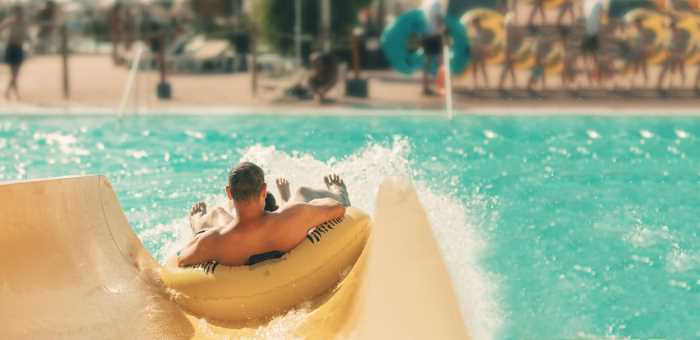 ---
Best Water Parks in Minnesota: Indoor
Even if the sun isn't out and snow is blanketing the ground, your family can still enjoy all of the fun that a water park has to offer when you opt for some of the best indoor water parks in Minnesota.
The great news is that there are all types of indoor water parks in Minnesota. Whether you're looking for special pools, slides, and fountains for little kids, or adult-sized pools with super slides and inner tube rides, you will find something for every member of the family.
---
7. Great River Water Park
St. Paul, MN
The Great River Water Park is an indoor water park in St. Paul and has a 25-meter pool with a diving board, twisty water slides, huge floats, an activity pool for the kiddos, and a sauna.
This is a great water park to visit if you're interested in water fitness classes. While there, you can even sign the non-swimmers up for swimming lessons. You'll quickly see why Great River made our list of the best water parks in Minnesota.
---
Best Water Parks in Minnesota: Outdoor
When it gets warm, you and the family are probably itching to go outside. Check out these popular outdoor Minnesota water parks.
---
8. Bunker Beach Water Park
Coon Rapids, MN
Since it is an outdoor park, Bunker Beach Water Park in Coon Rapids is open seasonally. However, you will want to make the most of those warm summer months and pay this exceptional park a visit.
Besides enjoying the giant wave pool, you can also slide down all of the six twisting and challenging slides and splash into the cool water below. For the kids, there is a kiddie area that is wet and wild, as well as a fun sandbox play area.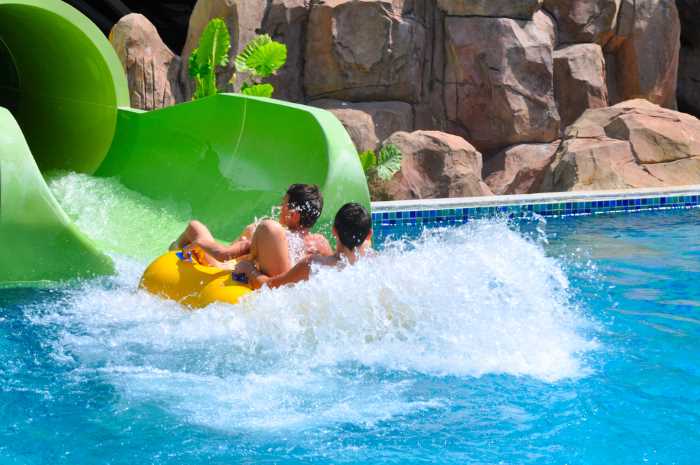 To wind around the park, grab a tube and float along the 900-foot lazy river. For a lily pad crossing activity, the kids will love the Wiggly Water Walk at the Plunge Pond.
Want to try out some challenging water climbing walls or play water basketball? Then just head over to Rocky Bay. The park also has an excellent sand volleyball court. You'll quickly agree Bunker Beach is one of the best water parks in Minnesota.
---
9. Hastings Family Aquatic Center
Hastings, MN
Located in Hastings and open from June through August, the Hastings Family Aquatic Center may have just what you're looking for in a fun family adventure in the warm summer months.
The park features a 200-foot water slide that will have everyone's hearts racing, and the drop slide is guaranteed to thrill.
The pool has zero-depth entry, so even young children and non-swimmers can feel safe playing in the water. There is also a kiddie play structure on-site.
---
10. Soak City
Shakopee, MN
There is so much to do at Shakopee's Soak City that you will feel the need to revisit as soon as you leave so that you can make sure you didn't miss a great attraction. For one thing, there is a 350-gallon wave pool. However, equally popular is Barefoot Beach, which has a splash pad that is nearly an acre in size.
For younger children, you will want to check out Splash Station, but if you're an adrenaline-junkie or thrill-seeker, you will love the amazing rides offered at Soak City. For example, Breakers Pipelines has a trap door that opens, plummeting visitors down a 65-foot ride.
For speed, the attraction to visit is Breakers Plunge, which has two speed slides that seem to drop nearly straight down. After you've satisfied your addiction to danger, you can relax on the tranquil waters of Ripple Rapids, the lazy river. Soak City is easily one of the best water parks in Minnesota.
---
11. Kamp Dels
Waterville, MN
This delightful 38,000 square foot water park has the distinction of being located in Waterville (you know Waterville had to have a water park). At Kamp Dels, your family can enjoy the wonderful play area for the little ones, as well as the two swimming pools on-site. However, there is plenty of fun for adults and big kids because Camp Dels has pool volleyball and a climbing wall, along with waterslides.
One benefit of Kamp Dels, which is located on Lake Sakatah, is that you can camp at the park, whether in your own tent or in one of the park's lakeside cabins.
When you're not enjoying the fun water park, you can go fishing or play mini-golf. There is also a petting zoo at the park and a playground, making this an all-around enjoyable family fun center and one of the best water parks in Minnesota.
---
12. SandVenture Aquatic Park
Shakopee, MN
Located in the scenic area around Shakopee, SandVenture Aquatic Park isn't as huge as some of the larger parks on our list. However, what it lacks in size, it more than makes up for in features.
You can build sandcastles on the beach or enjoy sunbathing. When you're in the water, you'll be delighted that the crystal-clear water has a sandy bottom.
For excitement, you can enjoy the two drop slides or the 300-foot waterslide.
---
13. North Commons Water Park
If you're looking for fun in Minneapolis, check out the North Commons Water Park in the summertime. There are some great speed and loop slides that will have you laughing and screaming all at the same time.
For the children, there is a water playground that has lots of fun and interactive features, including water umbrellas and geysers. They will also enjoy the shallow pool. While you're there, be sure to sign them up for swimming lessons.
---
14. Cascade Bay Water Park
For fun on the water and dry land, a visit to Cascade Bay Water Park in Eagan is a must. One of the most popular attractions is the giant sand play area. However, this park has one of the best kiddie areas, with fountains, bubblers, slides, splashing buckets, and more.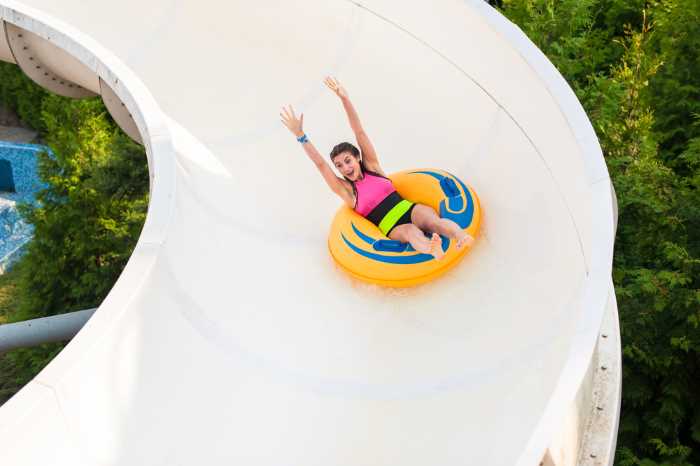 If you want a thrilling ride, don't worry. You will find plenty of those at Cascade Bay, too. However, the kids don't miss out on fun slides because the park has the Captain's Ship Slides.
There is also a huge lap pool and a lazy river that will give you the relaxation you crave. This park also has something that makes it unique: a mini-golf course.
---
Conclusion: The Best Water Parks in Minnesota
Whether you're craving a fun day at a water park in the heat of the summer or hoping to forget about winter for a few hours in the colder months, there is a Minnesota water park waiting for you. Hopefully, you found the perfect destination on this list of the best water parks in Minnesota. Did you see your favorite water park on the list? If you do, tell us what you love most about it in the comments.
Ready for more Minnesota advice, info, and guides? Whether you're a local or a passerby, discover the best of Minnesota that our great state has to offer!
Looking for some warm weather recommendations? Discover spring and summer in Minnesota for best destinations, travel recommendations, small (and big!) town events, and more!
Looking for more autumnal activities? Then visit our Minnesota Fall page to find inspiration for sweater weather fun!