A question we sometimes hear is this: In the "Land of 10,000 Lakes," why would families seek out the best indoor water parks in Minnesota? There are two easy answers to that question. First, water parks have amazing rides and twisty slides that delight water-seeking travelers of all ages.
The second answer is that if you go to an indoor water park, you can enjoy all of the fun of summer even in the coldest Minnesota winters. Even when snow is blanketing the ground, your family can still enjoy the thrills that indoor water parks have to offer.
Let's dive in and do an in-depth exploration of all of the best indoor waterparks in Minnesota.
---
Great Wolf Lodge
Bloomington, MN
First on our list of the best indoor water parks in Minnesota is the Great Wolf Lodge. Great Wolf Lodge is open all year long and is one of the most popular indoor water parks in the world. Another benefit of this indoor water park is that Great Wolf Lodge offers on-site lodging. Therefore, there's no need to head home after an exhausting day of fun.
The temperature inside the water park is maintained at a comfortable 84 degrees at all times. With more than 75,000 square feet of action, there are a dizzying array of fun activities to enjoy at Great Wolf Lodge.
Check out the Wolf Rider Wipeout surfing simulator, for example. Or take in a family raft ride on the River Canyon Run. Another fun option is playing on a massive treehouse that serves double duty as a water fort. Don't forget to go body surfing in Slap Tail Pond, the park's gigantic wave pool.
In addition to the water park activities, Great Wolf Lodge also has lots of other fun family activities. Participate in a MagiQuest adventure with the whole family. In the evening, you can enjoy old-school video gaming at Northern Lights Arcade. When you're tired of getting wet, climb the Rustic Ridge Climbing Wall or the challenging Howler's Peak Ropers.
This excellent indoor water park isn't just for kids. For adults, there is a lounge and an exercise room. If you're combining your family vacation with work time, you can book a meeting room. The Lodge even offers on-site catering and can accommodate groups of 40 or more people. Not to mention it's less than a mile from the Mall of America.
---
The Lagoon
Welch, MN
Located in Welch, the Lagoon water park is located at the Treasure Island Resort and Casino. This park features two water slides, a zero-depth entry pool, and a winding lazy river you can float down in a tube.
For little visitors, there is a toucan slide that they can slide down for loads of fun. The little ones also enjoy the zero-depth spray-and-play toddler pool with a dumb bucket and geysers.
Adults can enjoy hot tubs and a refreshing swim-up bar. If you're not staying at the resort, you can pay for a day pass to visit the water park.
---
Venetian Waterpark
Maple Grove, MN
When you book your room or suite at the Holiday Inn & Suites Maple Grove/Arbor Lakes, you might be pleasantly surprised that this gorgeous hotel has its own indoor water park. The Venetian Indoor Water Park is beautifully styled to look like Venice, Italy.
The water park covers about 25,000 square feet and has statuesque buildings framed by beautiful crystal-clear pools. The activity pool offers water basketball. On the other side, two massive slides wind around and give their own kind of excitement. When you're ready to chill, you can relax in the giant hot tub.
Young children can splash around in a zero-depth entry wading pool, slide happily down the ship slide, and participate in other interactive activities. As at many of the other best indoor water parks in Minnesota, you can have some non-water fun in the arcade playing video games.
---
Big Splash Minnesota Indoor Waterpark
Alexandria, MN
Open year-round, Big Splash is located inside the Arrowwood Resort and Conference Center in Alexandria, Minnesota. With more than 38,000 square feet of water fun, this is one of the largest indoor water parks in Minnesota.
Big Splash boasts three waterslides that are four stories tall. However, it's not all about the adrenaline rush. Families can also enjoy a relaxing tube float down the Lazy River. When you're exhausted from your day of fun, you can chill out in the tropical whirlpool spa.
If you have some energy to burn, you might enjoy the basketball shootout activity. For little kids, the children's play fort offers the chance to blast water and stroll the lily pad water walk.
One of the most popular activities at Big Splash is the 500-gallon splash bucket called Calypso Cabana. On nice days, you can go outside and rent a boat at the marina. You can even enjoy a 45-minute trail ride on horseback.
---
Rapid River Lodge Water Park
Brainerd, MN
In Brainerd, Minnesota, you can brave your way down the river rapids in a tube at Rapid River Lodge Water Park. For a thrilling adventure, be sure to get your courage up and go down their unique 250-foot tube slide.
For the smallest little ones, Rapid River Lodge has a separate kiddie pool, and adults enjoy the large indoor hot tub.
For visitors who want to crawl straight into bed after an exhausting day at the park, you're all set because Rapid River Lodge Water Park is part of a resort and offers accommodations on-site.
---
Paul Bunyan Water Park
Baxter, MN
Baxter, Minnesota's Paul Bunyan Water Park has more than 30,000 square feet of fun family activities and there is something for visitors of all ages. You can find this waterpark at Arrowwood Lodge at Brainerd lakes.
For adrenaline junkies, the high-body slide is a thrilling adventure. At a whopping four stories high, this slide will thrill even the most daring among you. The tube slide is another visitor favorite at Paul Bunyan Water Park.
For the little kiddos, the zero-depth kiddie pool and giant playhouse structure with water cannons are absolute delights. For adults, there is an excellent huge indoor/outdoor hot tub. And when it's time to chill, you can relax as you float down the lazy river.
For more energetic visitors, the park offers water basketball. When you're ready to dry off, head over to the popular Gold Mine Arcade for some old-school video gaming.
---
Three Bear Waterpark
Baxter, MN
Three Bear Waterpark is located in Baxter, Minnesota, and is part of the Holiday Inn Express & Suites Brainerd-Baxter. This park is excellent for both thrill-seekers and small children. Visitors line up for the huge slides, and the popular Polar Express offers 300 thrilling feet of twists and turns.
Three Bear also has a lazy river that you can float down, but that's not all. You can also grab a tube and go blasting down the 300-feet Grizzly Express slide.
Younger park visitors can enjoy the plunge slide, and there is even a small slide for little children. When the smallest visitors are finished with their big adventures, they can enjoy time in their own activity pool. The children's area also has a 1,000-gallon dumping bucket that kids love.
At the park, you can take part in a vigorous game of water basketball, and when you're finished getting wet, you can compete in laser tag.
---
Eden Prairie Aquatics Center
Eden Prairie, MN
Next on our list of the best indoor water parks in Minnesota is Eden Prairie Aquatics Center. Located in the Twin Cities, the Eden Prairie Aquatics Center has two eight-lane pools and two diving boards. They also feature a climbing wall, hot tub, and water slide. Visitors enjoy the recreational pool as well.
Kids love the bubbles and buckets in the splash pool, and when it's time to get dry, they can play in the Prairie Play Zone indoor playground. This park is located inside the Eden Prairie Community Center.
---
Great River Water Park
St. Paul, MN
Great River Water Park is located in St. Paul, Minnesota, and features a 25-meter pool with twisty water slides, diving boards, gigantic floats, and an activity pool for the little ones. Adults visiting the park enjoy the sauna and hot tub.
Great River Water Park is the go-to place for St. Paul residents who are looking for water fitness classes and swimming lessons.
---
Grove Cove Aquatic Center
Maple Grove, MN
The Maple Grove Community Center in the Twin Cities offers lots of fun for the entire family. The pool complex includes a zero-depth entry pool that has a junior slide and fun fountains.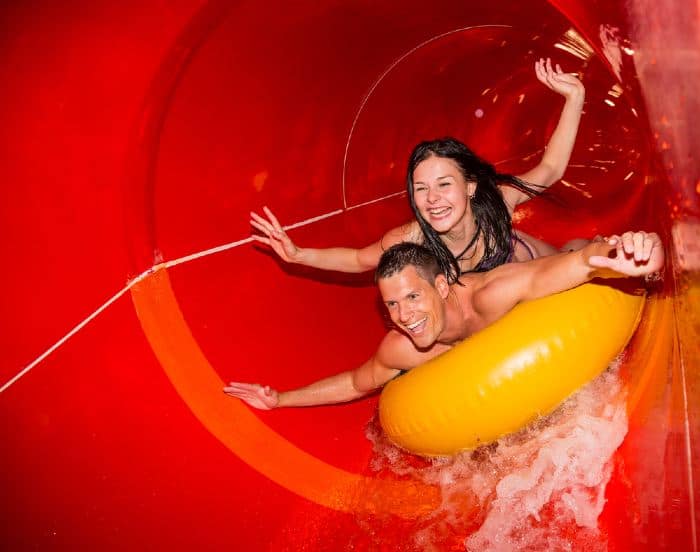 For the bigger kids, the 130-foot-long slide is tons of fun. Also fun is the climbing wall and an exciting rope swing.
When the kids are ready to dry off, they can head over to the Maple Maze Indoor Playground.
---
Williston Fitness Center Pool and Splash Pad
Minnetonka, MN
A smaller indoor water park located in the Twin Cities, Williston Fitness Center has not just water activities, but also an indoor playground that has slides, rope swings, and a climbing structure.
If you're on a budget, this park is a great option because adults and infants under the age of one year get in for free to the popular Tree House. The park is open seven days a week.
---
Dive into The Best Indoor Water Parks in Minnesota
When it comes to wet and wild fun, you don't have to wait for a beautiful Minnesota summer. By visiting one of the amazing indoor water parks in Minnesota, you and your entire family can have the vacation or day trip of a lifetime.
Make sure to check out our picks for The Best Waterparks in Minnesota.
Ready for more Minnesota advice, info, and guides? Whether you're a local or a passerby, discover the best of Minnesota that our great state has to offer!
Looking for Minnesota winter inspiration? Check out our Minnesota winter guide for activity ideas, winter apparel suggestion, and endless ways to enjoy the snow!
Looking for more autumnal activities? Then visit our Minnesota Fall page to find inspiration for sweater weather fun!