Whether it's a towering drop of surging water or a drawn-out tumbling of cascading rapids, waterfalls rank among the most arresting—even genuinely sublime—natural phenomena. The magical, soothing scenery combined with the forceful, yet peaceful, sounds of rushing water leaves nature lovers rejuvenated upon visiting.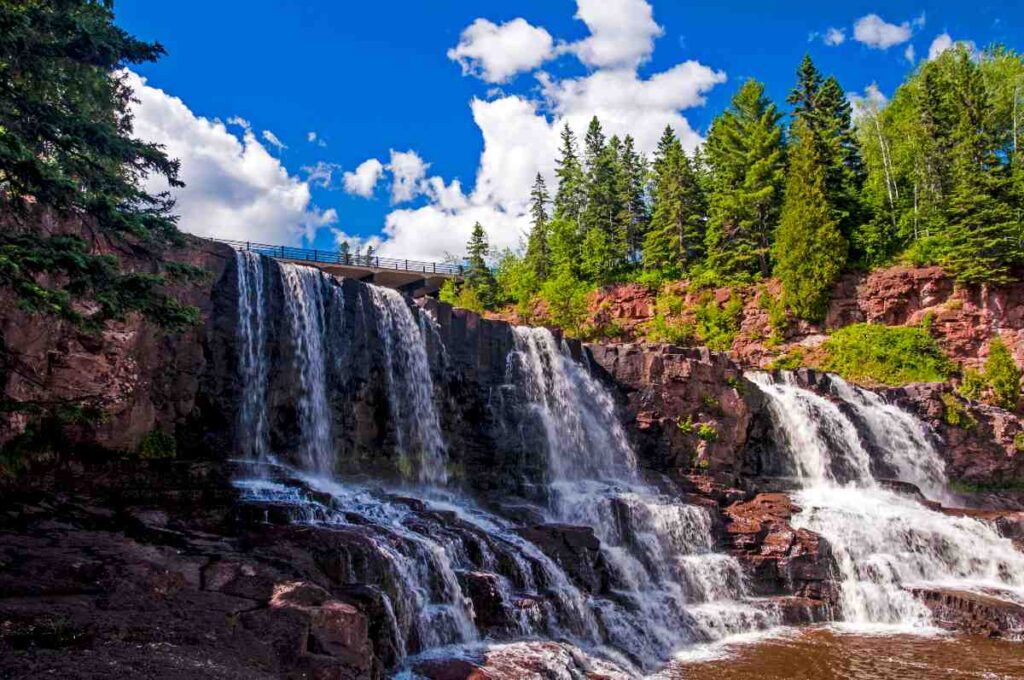 And the state of Minnesota just happens to be loaded in the waterfall department—a product of a very well-watered landscape and no shortage of surprisingly rugged Midwestern terrain. The following waterfalls are definitely among the best waterfalls in Minnesota. Although there is a slew we've had to leave off, read on to discover some of the most breathtaking, magnificent waterfalls in Minnesota.
These waterfalls cover a lot of the state: from the boreal fringe of the North Shore to the prairie expanses of southwestern Minnesota, from deep wilderness to the hustle and bustle of big cities. All of them are worth seeking out to get an intimate sense of just how ravishing the natural face of Minnesota, whether remote or easily accessible, can be.
1. High Falls — Pigeon River
First on the list of best waterfalls in Minnesota is High Falls. The loftiest waterfall in Minnesota, High Falls is a 120-foot drop of the Pigeon River in the rugged country of Grand Portage State Park directly on the Canadian border.
This epic waterfall and its associated gorge proved an obstruction to travel, necessitating a long-used portage pioneered by American Indians—the Ojibwe called it Git-che-O-ni-ga-ming, "a Great Carrying Place"—and adopted by the French as the Grand Portage.
The milelong, round-trip trail to High Falls is easy, and there are no fewer than three viewing platforms delivering unforgettable views of the thunderous whitewater.
2. Gooseberry Falls — Gooseberry Rive
One of the most popular destinations along the knockout North Shore of Minnesota, Gooseberry Falls State Park northeast of Two Harbors includes not only a lovely swath of Lake Superior shoreline but also the multiple plunges forming the legendary waterfall complex.
Take the Falls Loop to enjoy up-close looks at the Gooseberry River's Upper, Middle, and Lower Falls. The drops, horsetail fans, and segmented flumes of Gooseberry Falls are the inarguable centerpiece, but you can also hike a section of the Gitchi-Gami State Trail and seek out signs of such North Woods wildlife as timberwolves and black bears.
3. Devil's Kettle — Brule River
Certainly one of the best waterfalls in Minnesota—and, truthfully, one of the most enigmatic of America's waterfalls—the Devil's Kettle on the North Shore is a double pour-off along the Brule River about a mile and a half above its mouth in Lake Superior.
The most famous feature of Judge C.R. Magney State Park, the twinned waterfall results from the Brule surging around a resistant body of volcanic rock, rhyolite, to be exact. The eastern arm of the river forms a 50-foot typical waterfall, while the western arm plummets into a pothole—the Devil's Kettle itself—seemingly vanishing into the bowels of the Earth.
Where that water goes has been a source of speculation for many years, but a 2016 study proved the subterranean channel simply rejoins the river. That not-so-dramatic revelation doesn't at all detract from the beauty and strangeness of the Devil's Kettle; not by a long shot.
4. Minnehaha Falls — Minnehaha Creek
Minnesota's best-known waterfall is an urban one: a must-see natural landmark in the Twin Cities. Postcard-perfect Minnehaha Falls is a symbol of Minneapolis, famously immortalized in Henry Wadsworth Longfellow's The Song of Hiawatha poem.
Minnehaha Falls—named after the Dakota word for "curling water"—is the most-photographed spot in the state, and only the centerpiece of the popular greenspace of Minnehaha Regional Park, also notable for its array of historical structures and public artwork. You haven't fully paid your respects to Minnesota until you've marveled at that timeless slide of Minnehaha!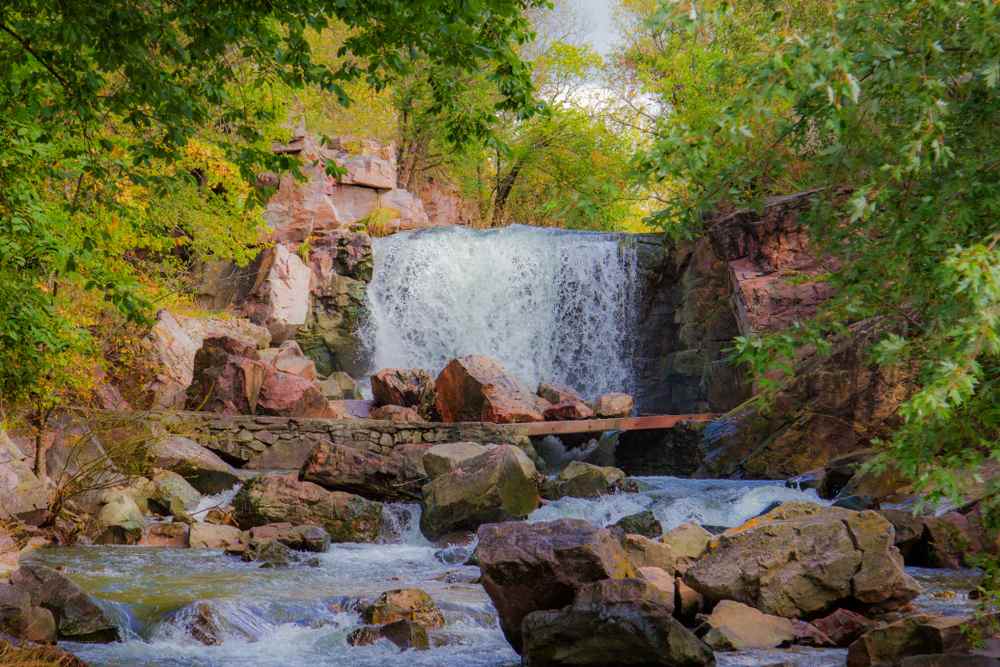 5. Winnewissa Falls — Pipestone Creek
Among the most fascinating and profound landscapes in Minnesota, the Pipestone National Monument in the southwestern corner of the state protects the ancient quarries of pipestone, a kind of argillite favored by the Dakota and numerous other Plains tribes in pipe making for its malleability and durability.
American Indian peoples have obtained pipestone from this prairie site for thousands of years. A rewarding place to learn about and reflect on Minnesota's indigenous heritage, Pipestone National Monument also offers the lesser-known attraction of a very handsome waterfall on Pipestone Creek. The ¾-mile hiking trail in the monument doesn't only give you a look at the still-used indigenous quarries, but also the shimmery sheet of one of the best waterfalls in Minnesota, Winnewissa Falls.
6. Hidden Falls — Prairie Creek
Next on the list of best waterfalls in Minnesota is Hidden Falls. A gorgeous remnant of the mighty Big Woods, an important block of hardwood forest in southeastern Minnesota's prairie-forest mosaic, awaits the visitor to Nerstrand Big Woods State Park. Within the park, it's not only the shady splendor of the forest itself, Prairie Creek negotiates an exposure of Platteville Limestone via the 20-foot pour-off of Hidden Falls, as exquisite a little waterfall as you could ask for.
As with a lot of these spotlighted falls, it's most muscular during spring snowmelt or on the heels of heavy rain. Discover its beauty and charms on a one-mile trail that also illuminates Big Woods ecology and history via interpretive signage.
7. Wolf Creek Falls — Kettle River
Wolf Creek makes a pretty plunge coming into the Kettle River in Banning State Park. Part of the appeal of Wolf Creek Falls is its under-the-radar feel: It's only reachable by trail, or by paddling upstream along the Kettle River.
This waterfall is only one of the fine wild water features in the Mille Lacs Upland state park, where the sandstone-carved riverway features such coveted rapids as Dragon's Tooth, Blueberry Slide, and Hell's Gate.
8. Minnemishinona Falls — Near Minnesota River
A stone's throw from Mankato—and from the better-known Minneopa Falls, which is a hair shorter, by the way—Minnemishinona Falls long flowed on private property but now comes protected by an acquisition by the Trust for Public Land.
This 42-foot plunge is definitely best appreciated in spring or during rainy stretches, as it can dwindle to a mere string of water in dry periods. A pedestrian bridge off Judson Bottom Road offers a memorable look at one of Southern Minnesota's tallest waterfalls, a mere stone's throw from the Minnesota River.
9. High Falls — Baptism River
This grand waterfall shares its name for the first one on our list, and even though the Pigeon River drop's higher, the Baptism River's High Falls lays claim to being the tallest waterfall entirely within the borders of Minnesota.
The 63-foot careen of High Falls is only the most epic of a number of beautiful waterfalls and rapids on the Baptism showcased within Tettebouche State Park, a bucket-list destination for any Gopher State waterfall-hunter; others include Two Step Falls and the Cascades.
10. Ramsey Falls — Ramsey Creek
Alexander Ramsey Park in Redwood Falls is known as the Little Yellowstone of Minnesota. The similarities include scenic attractions and amenities, as well as a stunning waterfall.
The horsetail descent of Ramsey Falls on Ramsey Creek, a tributary of the Redwood River that enters a bit above Lake Redwood, is a major draw of this biggest of Minnesota's municipal parks.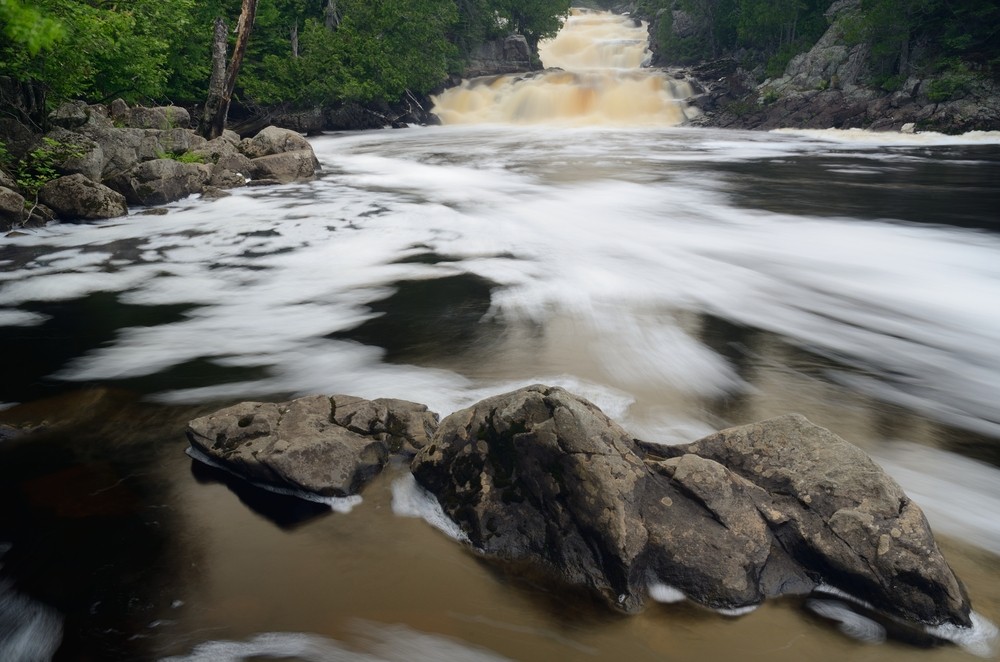 11. Cascades of the Manitou River — Manitou River
Multiple drops and whitewater chutes define the course of the Manitou River through George Crosby Manitou State Park on Minnesota's North Shore.
This is a wilderness park, managed mainly as glorious backcountry, which ups the appeal of hiking to see the Upper, Middle, and Lower falls of this Lake Superior-draining stream along Middle Trail. Other attractions include Benson Lake and the stirring Manitou Overlook.
12. Minneopa Falls — Minneopa Creek
A pair of waterfalls provides photo-op loveliness in the charming Minneopa State Park that rests in the Minnesota River Valley near Mankato. Here, prairie and forest vistas conjure some of the prettiest countryside in south-central Minnesota.
The 10-foot Upper and 39-foot Lower Falls of Minneopa Creek deliver beautiful scenery, nicely combined with eyeballing the state park's resident herd of American bison, the heftiest mammal native to the state, and indeed all of North America.
Combine a pilgrimage to Minneopa State Park with one to Minnemishinona, and go home aglow from the sheen of two of Minnesota's finest waterfalls.
13. Rose Lake Falls — Near Rose Lake
Last, but not least on the list of best waterfalls in Minnesota is Roase Lake Falls. The vast Boundary Waters Canoe Area Wilderness is, without question, one of the natural treasures not only of Minnesota but of the U.S. in general. Combined with Quetico Provincial Park and other surrounding public lands, the Boundary Waters ranks among the biggest expanses of roadless country in the eastern U.S.
It's a paradise of northern hardwood and boreal forest rippled over rocky, lake-strewn Canadian Shield backcountry. Rose Lake Falls is only one of many superb wildland plunges and cascades amid this treasured landscape, and it's notable for being enjoyed on a staircase portage between Duncan and Rose lakes.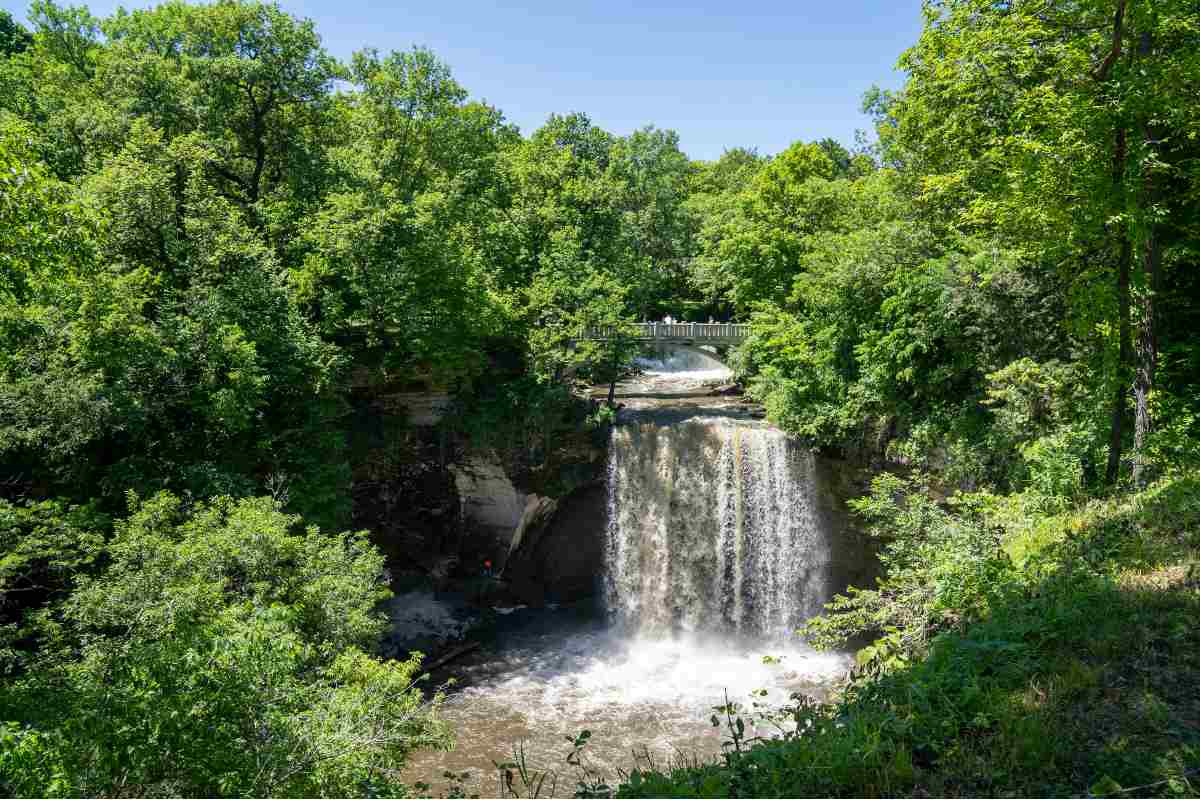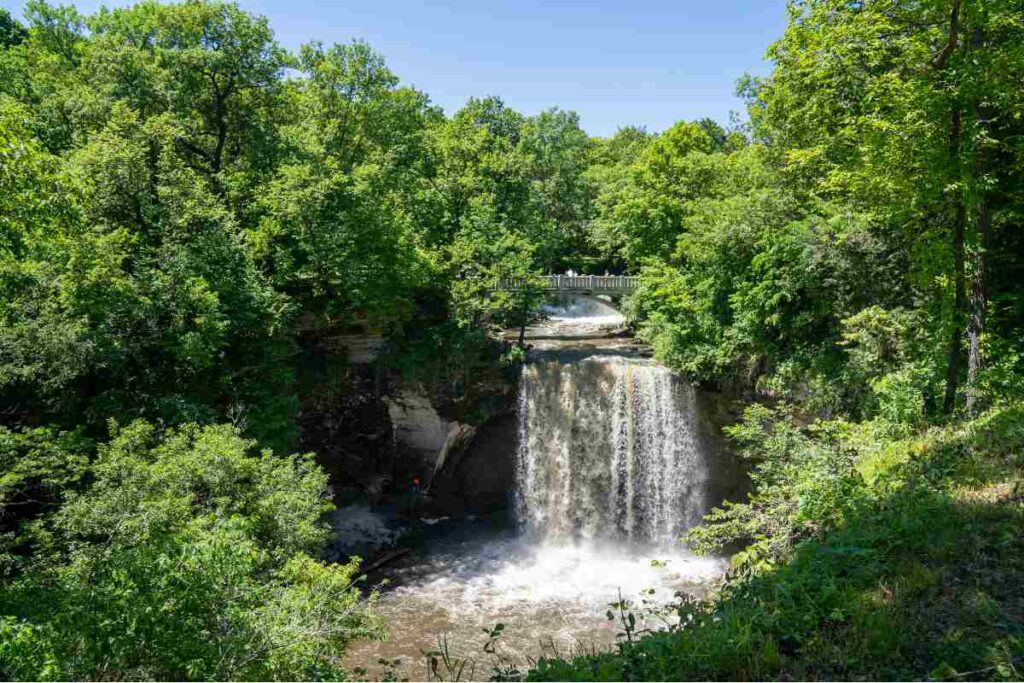 Explore the Best Waterfalls in Minnesota
From the wolf-padded banks of the Gooseberry River to the cityscape magic of Minnehaha, Minnesota's waterfalls cover a lot of scenic and atmospheric territory, but all of the above are most definitely worth seeking out.
These tumbles of water tend to distill the beauty of their surrounding landscape to an amazing, meditative, even downright awe-inspiring point. There's a seasonal spice to all of this, too: In the depths of winter, the above waterfalls can look extra-magical with frosty coatings of ice, and in October, more than a few of these flows come flanked by some of the country's most stupendous displays of fall colors.
There's nothing like seeking out these best waterfalls in Minnesota, in all of their seasonal guises: Reason enough to keep coming back, getting to know a particular plunge as it looks and feels throughout the year.
Love spending time outside? Then discover the Minnesota Outdoors to continue learning new ways to reconnect with nature!
Ready for more Minnesota advice, info, and guides? Whether you're a local or a passerby, discover the best of Minnesota that our great state has to offer!
Looking for some warm weather recommendations? Discover spring and summer in Minnesota for best destinations, travel recommendations, small (and big!) town events, and more!