The Boundary Waters Canoe Area in northern Minnesota has solidified itself as a premier freshwater fishing destination. In terms of the different types of fish you can catch, the number of fishing areas, and the diversity of the waters, few places can hold a torch to the BWCA. If you're planning a big Boundary Waters fishing expedition, you've come to the right place.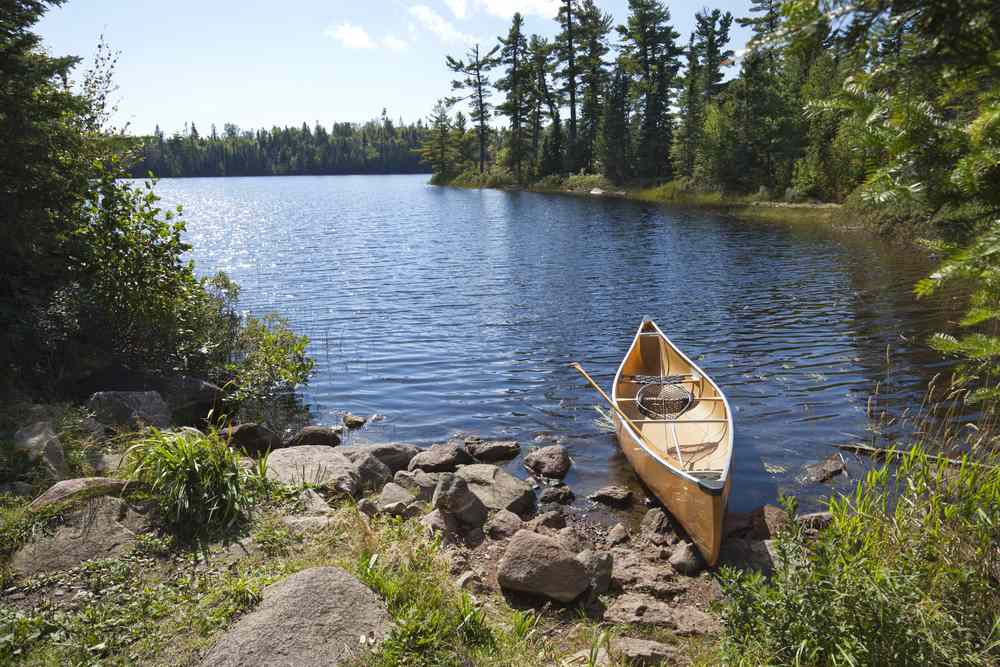 This article will serve as your ultimate Boundary Waters fishing guide. We'll discuss the best places to fish, the type of fish you can expect to encounter, and everything you need to make it the fishing trip of a lifetime.
What Is the Boundary Waters?
The Boundary Waters, better known by its full name of the Boundary Waters Canoe Area Wilderness, is a protected piece of land within Superior National Forest in northeastern Minnesota.
The BWCA was established in the early 1900s. However, the terms and amount of land included in the BWCAW underwent changes until 1978, when the current boundaries and rules were established.
The Boundary Waters consists of over 1 million acres of land and over 150 miles of aquatic coastline along the Canadian border. There are nearly 2,000 lakes and rivers that are in or run through the BWCA, and nearly all of them offer excellent fishing opportunities.
Best Boundary Waters Fishing Spots
There are literally thousands of fishing spots in the Boundary Waters Canoe Area. For that reason, it's important to have an open mind when doing any Boundary Waters fishing. If you're not catching anything in one spot, don't be afraid to move somewhere else either the next day or even the same day. Let's look at a few popular spots and ideas to get you started.
The Sunken Islands or Underwater Humps
No matter which lake or river you choose for the starting point of your fishing trip, make sure to focus on areas with raised bodies of land under the water. Often, smaller fish roam shallow waters to hide from larger fish that seek out deeper waters.
However, because of this dynamic, the large fish know where they need to go to get feed, which means there's a good chance you'll run into a few trophies in these areas.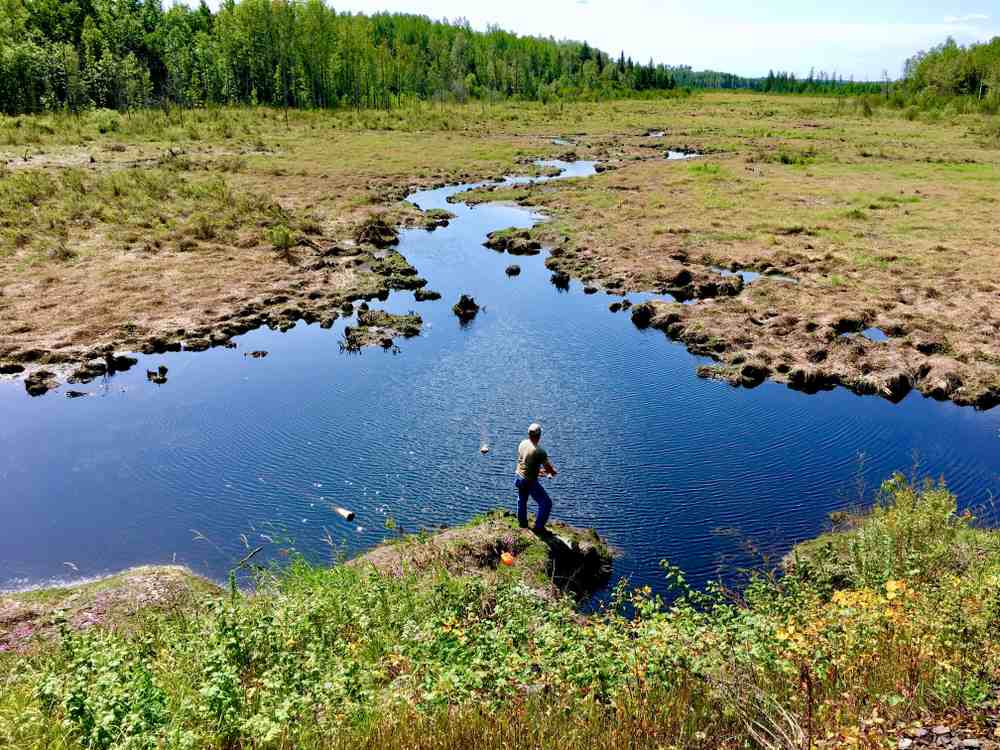 From Shore
While most of the best Boundary Waters fishing spots are from a boat, there are plenty of shore fishing opportunities. The best places to try your hand are on one of the rivers that run through the BWCA. Focus your time at the bottom of waterfalls or around rapids because many of them will have deep holes below them filled with larger fish.
Basswood Lake
In terms of specific Boundary Waters fishing spots, Basswood Lake is consistently one of the top options. Basswood is considered world-class in terms of the smallmouth bass that roam their waters.
Additionally, you'll likely encounter northern pike, walleye, and many other fish species. Pipestone Bay and Jackson Bay are the two best areas on the 14-mile lake, but there's no such thing as a bad fishing area.
Sea Gull Lake
If you're looking to target massive walleye and northern pike, add Sea Gull Lake to your fishing list. It's one of the biggest lakes in the BWCA and is also a great location for first-timers looking for a unique and fruitful fishing experience. Although it's best known for its trophy lake trout, Sea Gull Lake is home to the big four: trout, smallmouth bass, walleye, and northern pike.
Quetico Park
Technically, Quetico Park is actually in Canada rather than Minnesota. However, the waters of Quetico Park butt up against the Boundary Waters in Minnesota, and the two are often combined in terms of fishing. Many of the major lakes in the Boundary Waters – Knife Lake, Fall Lake, Birch Lake, and more – are halfway in Minnesota and half in Canada.
For that reason, it's best to plan on catching fish from both countries when fishing certain lakes in the Boundary Waters.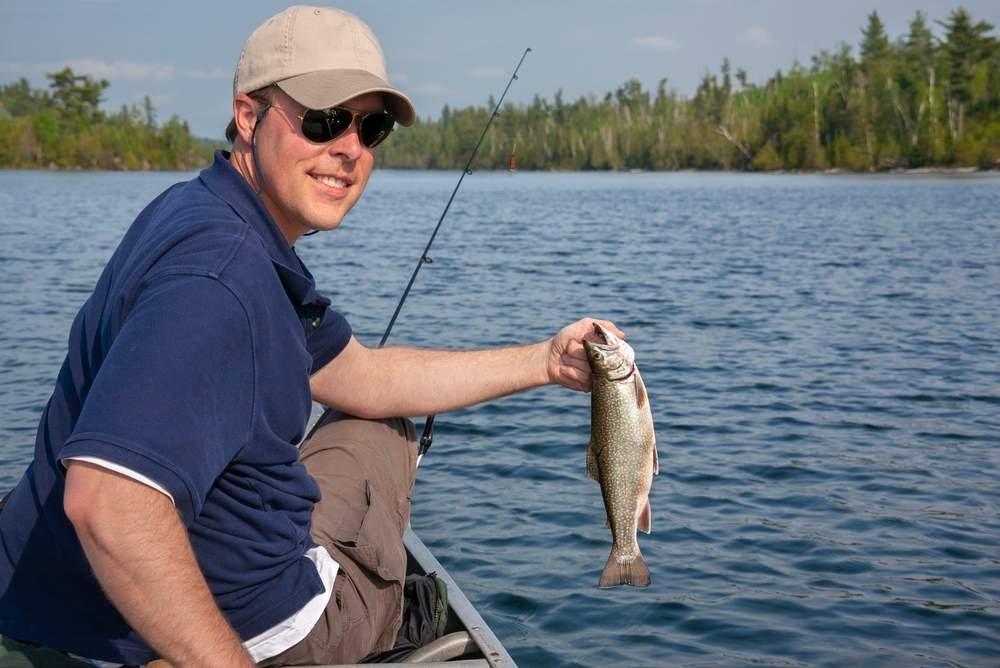 Type of Fish in the Boundary Waters
While there are hundreds of different types of fish in the Boundary Waters Canoe Area, most people focus on five different species.
Walleye
While each of the other fish on this list is prizes in their own right, walleye is probably the highest prized. Walleye are one of the more difficult fish to catch because of how smart and elusive they are, which further expands their value. They're also one of the tastiest freshwater fish that you can catch in North America.
The best time to fish for walleye is June to July because they spawn in early to late May. You should alter your fishing between the shallow, rocky waters and the deeper portions of the rivers and lakes. Keep in mind that the biggest walleye caught in Minnesota history is 17 pounds and 9 ounces, and it was caught in a Boundary Waters fishing area.
Northern Pike
Northern Pike is second in taste and prize value only to the walleye. Northern pike is also one of the biggest and most aggressive freshwater fish you'll find in the Boundary Waters. Their average length is between 16 and 22 inches, but some have been recorded to grow over four feet long and weigh nearly 30 pounds. If you're going to catch one of these monsters, the BWCA is a good place to do it.
The prime time for northern pike is earlier in the fishing season than walleye. April through May are the best times to fish for pike, but you can go even earlier if the snow and ice melt. Bring plenty of bait when targeting northern pike because they're one of the most aggressive and hungry fish in the Boundary Waters.
Smallmouth Bass
Smallmouth bass is a classic freshwater fish and one of the most abundant and popular in the Boundary Waters. They're smaller than their relative, the largemouth bass, but are just as tasty and prized. The best time to target these fish is in May, June, August, and September when the waters are between 50 and 65 degrees Fahrenheit.
If you go Boundary Waters fishing early in the season with smallmouth bass as your target, you should focus on shallow areas. However, as the season progresses, shift your casts to deeper waters. The longer into the season you go, the bigger the bass will get and the deeper into the water they'll swim.
Trout
If you're more of a late-season or early-season fisherman or woman, then lake trout is the species for you. Lake trout typically spawn in the fall and love colder water temperatures, which means that summer is out of season. Lake trout are loved for their taste because of the fight they put up when you catch them. They tend to be wide and stout compared to northern pike and walleye, which are long and skinny.
In terms of sheer size, lake trout grow to an average length of between 20 and 30 inches long and can weigh up to 15 or even 20 pounds. However, the record for the biggest lake trout reportedly caught was 102 pounds and 50 inches long! Lake trout in the Boundary Waters don't usually get this big, but they have the potential to.
Aside from the big four, there are hundreds of other fish species you can target and catch on a Boundary Waters fishing trip. Crappie, largemouth bass, perch, catfish, and more are abundant in the BWCA.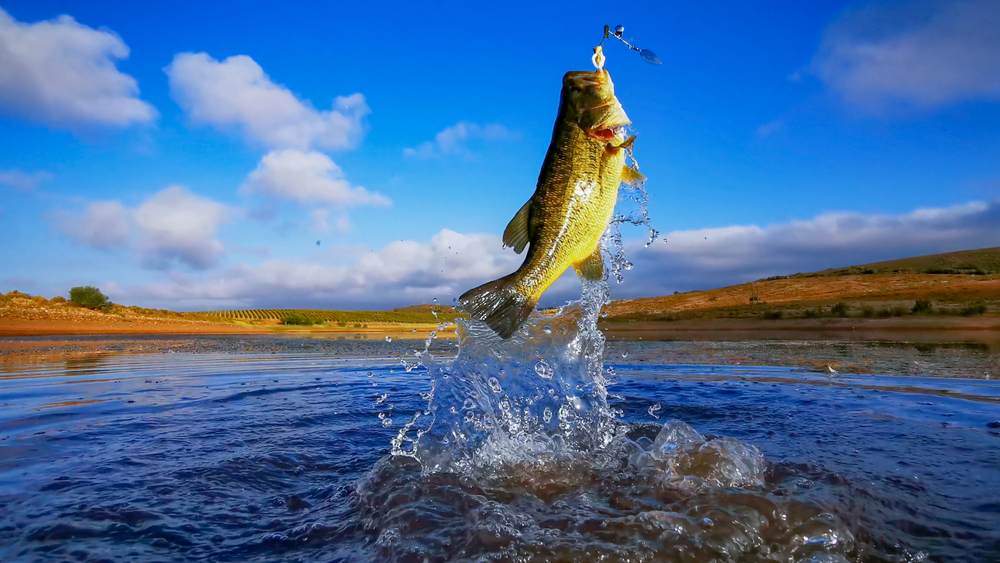 Best Boundary Waters Fishing Bait
The tackle you bring with you will largely determine the type of fish you end up catching. Here are a few recommendations.
Walleye
Minnows, including shiner or flatline minnows, are the preferred bait to fish for walleye.
Northern Pike
Because of how big and aggressive northern pike tend to be, you can use anything from suckers to nightcrawlers to shad. When fishing for northern pike, you can even use small fish, known as baitfish, such as bluegill or perch.
Smallmouth Bass
Smallmouth bass is one of the more plentiful and easy fish to catch in the Boundary Waters. When targeting smallmouth bass, you can use either live bait or fake bait, including spinners, jigs, jerkbait, crankbaits, or topwater lures. They'll also go after live bait, such as smaller worms and insects.
Lake Trout
Lake trout prefer live bait such as minnows, worms, nightcrawlers, salmon eggs, and other insects or foods.
In general, live bait is the best all-around bait when you're fishing in the Boundary Waters. Worms, nightcrawlers, leeches, crickets, grasshoppers, and other large, juicy insects make the best options.
If you forgot to bring some of your tackle, there's no shortage of excellent fishing stores and outdoor outfitters near the Boundary Waters area. However, you should never take more with you than you can carry on your person. The only way to get to most of the top Boundary Waters fishing spots is by canoe or backpacking.
Other Boundary Waters Fishing Tackle to Bring
Regardless of what you're targeting, you should take a wide variety of fishing tackle and equipment.
Several different sizes of hooks and lures
Different sizes of weights and sinkers
Colorful ball head jigs and fishing line because the Boundary Waters tend to be very dirty
Snap and 2-way swivels
Anything you need to fillet and prepare fish
Forceps or needle-nose pliers to remove hooks
A variety of jigs, rigs, and bobbers
Do I Need a Fishing License or Permit for Boundary Waters Fishing?
If you plan to do some Boundary Waters fishing, you most definitely need the proper licenses and permits. You'll need a permit to get into the Boundary Waters Canoe Area and a Minnesota fishing license if you plan to do any Boundary Waters Fishing. Make sure to have your social security number handy, as you'll need that to get your license.
You'll also need an Ontario fishing license if you plan to venture into the Canadian waters of Quetico Park, which are adjacent to the Boundary Waters.
Tips and Tricks for Boundary Waters Fishing Success
In general, the same fishing tips and tricks you use anywhere else will apply to Boundary Waters fishing. It's important to be patient and not get too eager if you're not catching anything right away. The Boundary Waters are filled to the brim with hungry and eager fish, but it's important to wait for them to strike.
While patience is crucial, you should also be versatile and willing to change your plans when the time comes. Most of the lakes and rivers of the boundary waters are connected, and there are over 1,500 canoe routes to travel them. Just make sure to take a map and compass, so you don't get lost!
As long as you have the right bait and equipment for the fish you're targeting, you should have no trouble catching your fill of fish in the Boundary Waters Canoe Area.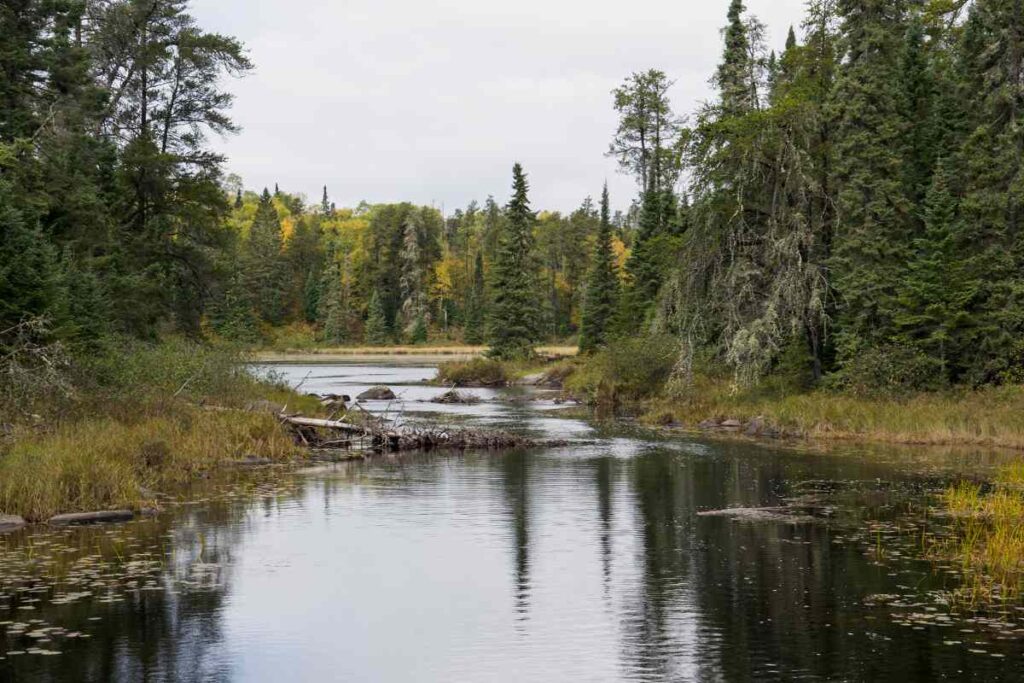 Boundary Waters Fishing Tours Vs. Going Alone
If you don't feel comfortable fishing the Boundary Waters on your own, there are plenty of guided fishing tours to choose from.
Ready for Boundary Waters Fishing
Boundary Waters fishing is easily some of the best freshwater fishing globally. There are hundreds of species that you can catch, including a chance at breaking state and national records. However, no matter how your Boundary Waters fishing trip is going, the most important thing is to leave the waters the way you found them.
The BWCA is one of the most unique and scenic areas in the country, and maintaining its beauty and serenity is more important than catching fish.
Want to learn more about fishing, discover more fishing spots, and or read up on the best fishing gear? Then continue your fishing adventure with our comprehensive guides, info posts, and more!
Love spending time outside? Then discover the Minnesota Outdoors to continue learning new ways to reconnect with nature!