Tucked away in the northeastern corner of Minnesota, just south of the Canadian border, lies one of the country's most beautiful and natural pieces of land. Superior National Forest is one of the many pride and joys of Minnesota, and it's the home to some of the most scenic and enchanting places in the US. Whether you're looking for high-quality hunting, fishing, canoeing, or exploring, Superior National Forest is the place for you. Let's learn more about what this inviting piece of land has to offer!
History of Superior National Forest
Before it was known as Superior National Forest, northeastern Minnesota was a hotbed of mining, lumber, mineral exploration, and westward expansion. However, locals quickly learned that the land was suitable for many things, but farming wasn't one of them. Because this was a necessity for most homesteaders and settlers, many moved away. The only ones that stayed behind were loggers, miners, and their families.
It wasn't until February 13, 1909, that President Theodore Roosevelt signed a proclamation that officially created Superior National Forest. Initially, the forest consisted of just over 600,000 acres of the most unused and burned-out land in the vicinity. Over the years, however, Superior National Forest has grown and expanded and now consists of just under 4 million acres.
While much of the forest is used for recreational and production purposes such as logging, a decent chunk of it has been set aside as a wilderness reserve. This area, known as the Boundary Waters Canoe Area, consists of just over 1 million acres of land along the Canadian border. The BWCA, as it's better known, is one of the most beautiful and natural spots in the world and is considered to be one of National Geographic Magazine's 50 Places of Lifetime.
Like all national forests, Superior National Forest has undergone changes, expansions, and attacks throughout the years. It's home to some of the largest mineral deposits in the country, which means that corporations and miners would love nothing more than to sink their teeth into it. However, forest conservation groups have been able to largely hold these entities at bay and protect the natural beauty of Superior National Forest.
The Layout of Superior National Forest
Now that you know the history of the forest let's go over some of the physical and geological details. Superior National Forest is bordered by Canada to the north, Voyageurs National Park to the West, and Lake Superior to the south and east. It consists of over 2,000 lakes, over 1,300 miles of rivers and streams, and nearly 1,000 miles of warm-water streams. There are a number of mountains, cliffs, ravines, depressions, and even occasional glaciers within Superior National Forest, making it one of the most unique and versatile national forests in the country.
Things to Do
You can spend months in Superior National Forest and never run out of different things to do and places to see. There is an excellent mixture of modern amenities and attractions and backwood things to do in Superior.
Hiking
There are over 2,000 miles of hiking and biking trails throughout Superior National Forest. That's essentially like walking from Florida to Arizona! You can hike for days on end and never see all of the trails that Superior has to offer. The LeVeaux Mountain Trail, the Manitou Overlook Trail, and the Eagle Mountain Trail, which will take you to the highest natural point in Minnesota, are some of the top options in the forest.
Hunting and Fishing
Much of Superior National Forest and the BWCA is hunting-approved land. Because many areas are accessible only by walking or canoeing, a good chunk of Superior is untapped for its hunting potential. You have the opportunity to score some big game if you secure the proper permits and are willing to pack your kill out of the forest on foot or horseback.
Fishing, on the other hand, can only be described as legendary in Superior National Forest. There are thousands of lakes and hundreds of miles of rivers and streams. Best of all, much of it is extremely difficult to access, which means that you might have an entire lake to yourself! Walleye, smallmouth bass, largemouth bass, trout, and dozens of other fish species are waiting for you in Superior National Forest.
Kayaking and Canoeing
In the same way that fishing is a featured activity in Superior, kayaking and canoeing are equally as popular. Specifically popular is the Boundary Waters Canoe Area, which consists of over 1,000 lakes that are largely only accessible via the water. If you're an avid canoer or kayaker, putting the BWCA on your bucket list is an absolute must.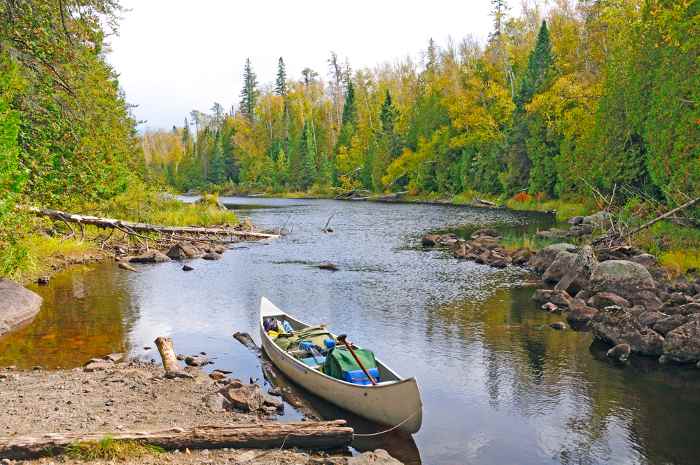 Winter Activities
There are also a number of winter sports and activities to enjoy in Superior National Forest. Winters in northern Minnesota are absolutely brutal, and you can expect tons of snow and sub-zero temperatures. This means that snowmobiling, cross-country skiing, dog sledding, ice fishing, and so much more are on the table during the winter months in Superior.
Horseback Riding
While not all the hiking and biking trails are open to horseback riding, a good majority of them are. Horseback riding is also one of the only ways to access many of the backcountry parts of Superior National Forest, and they're especially popular with hunters going after big game.
RV Camping
There are more than a dozen RV-friendly campgrounds dispersed throughout Superior National Forest. None of these campgrounds are full hookups, and very few of them have electrical hookups for larger RVs. You'll likely be boondocking unless you camp at Fall Lake Campground or Bear Head Lake State Park Campground, which are two of the largest in the forest and some of the only ones with 30 and 50-amp electrical hookups.
Tent Camping
Tent camping is much more popular and accessible in Superior National Forest. There are thousands of developed campsites throughout the forest and the Boundary Waters Canoe Area, with over 2,000 alone. You have the option of dispersed camping, backcountry camping, group camping, wilderness camping, or traditional campground camping.
Backcountry and dispersed camping require hiking or canoeing back to a campsite, which typically has nothing more than a latrine. You're guaranteed plenty of privacy and a free night's sleep at one of these sites. Group camping is available at these backcountry sites or in organized campgrounds and is a great way to spend time with family or a group of friends.
No matter what type of tent or RV camping experience you're looking for, Superior National Forest has something for everyone! Here are some of the top organized campgrounds in the forest.
Cabins and Lodges
If you're not in the mood to rough it, there are also a number of cabins, lodges, and resorts throughout Superior. The towns of Ely and Grand Marais are both located within Superior and are hubs for tourists who would prefer not to get their hands too dirty.
Wildlife at Superior National Forest
Aside from dozens of fish species and over 200 different bird species, Superior National Forest is crawling with wildlife diversity. The forest is home to the largest contingency of wolves in the United States and typically has between 300 and 400 roaming throughout. You should also expect to see black bears, moose, caribou, deer, lynx, and so much more during your time in Superior. If you're lucky, you might even spot a rare and treasured Bald Eagle.
Ecology of Superior National Forest
The only thing more stunning than the wildlife in Superior National Forest is the flora, ecology, and geology. The forest contains a small slice of true boreal forest and a mixed conifer-hardwood forest known as the North Woods, a transition province between the northern boreal forest and deciduous forests to the south. You can expect to run into dozens of tree species, including mountain ash, maple, birch, oak, and pine.
Places to Visit in Superior
Boundary Waters Canoe Area
It's difficult to put into words how beautiful and remarkable the Boundary Waters Canoe Area is. Like I said before, it's one of National Geographic Magazines' "50 Places of a Lifetime," which doesn't even begin to touch on how wonderful this area is. No visit to Superior National Forest is complete without at least traveling the Gunflint Trail, which is a paved highway going from the northern to the southern boundaries of the BWCA.
State Parks
There are also a number of state parks within the national forest itself. These parks include Lake Isabella State Park, Bear Head State Park, and Soudan Underground Mine State Park. Each of these locations offers unique experiences and attractions that you'll be hard-pressed to find anywhere else in the country.
Lutsen Mountains
The Lutsen Mountains on the North Shore of Superior National Forest are as close to the Alpines as you'll get to in Minnesota. The Lutsen Mountains consist of four different mountains that are home to numerous ski and snowboarding resorts and 95 different ski runs. It's part of the larger Sawtooth Mountains that span nearly 30 miles from Carlton Peak to the coastal town of Grand Marais. If you're a winter sports enthusiast, the Lutsen Mountains should be on your list.
International Wolf Center
The International Wolf Center is a research and educational organization located in Ely, Minnesota, which is within Superior National Forest. It was founded in 1985, and its sole purpose is to research the wolves of North America and educate curious learners about their habits. It's a great place to visit if you're a wolf fanatic or if you're on a family vacation.
Tourist Attractions
Additionally, the towns of Ely and Grand Marais have a variety of attractions, restaurants, shops, and sight-seeing opportunities that offer fun times outside of the wilderness.
Fees to Expect
Campground fees range from $15 to $70 per day depending on the campground you stay at and the time of year you go.
The cost to get into the Boundary Waters Canoe Area is an additional fee of $16 per adult and $8 per kid per trip into the BWCA.
You can purchase an annual pass to Superior National Forest that costs $80 and is good for one year.
Any type of research, hunting, or fishing, requires additional permits and licenses.
Explore Superior National Forest
Superior National Forest truly is a treasure of the northern United States. From the Boundary Waters Canoe Area to its state parks, to the Sawtooth Mountains to Lake Superior, there are more things to see in this part of Minnesota than entire states have to offer. Whether you're planning a family vacation, or want to escape to a snowy mountain range, there are few better places to do it than in Superior National Forest.
Love spending time outside? Then discover the Minnesota Outdoors to continue learning new ways to reconnect with nature!
Looking for some warm weather recommendations? Discover spring and summer in Minnesota for best destinations, travel recommendations, small (and big!) town events, and more!
Looking for more autumnal activities? Then visit our Minnesota Fall page to find inspiration for sweater weather fun!