Are you thinking about traveling to the Twin Cities? Or did you already book your trip and need help deciding what activities to plan? You've come to the perfect place!
Minneapolis and St. Paul, or the Twin Cities, are beautiful places bursting with culture. They have plenty of fun opportunities to explore, including parks, museums, shopping, restaurants, and more!
There are hundreds of choices that make your activity decisions challenging, especially if you're on a budget. To make your trip easier on your wallet, use these fun things to do in the Twin Cities as inspiration!
---
Fun Things To Do Outdoors in the Twin Cities
1. Visit the Como Park Zoo & Conservatory
Como Park sits on 384 acres of land filled with fun like golf, walking, fire pits, and more. And located smack in the middle of it is where you'll find the beautiful 14.5-acre Como Park Zoo & Conservatory!
While this zoo is a little smaller than most zoos, that doesn't mean it comes up short of fun. There are 32 animals to visit, along with gardens, ponds, artwork, and seasonal attractions. Check out Sparky's daily sea lion show to see these beautiful animals showcase their intelligence and bring you a much-needed laugh.
Enjoy strolling around, riding on the carousel, and even enjoying an amusement park within the zoo. There is also an indoor cafe, outdoor cafe, and food carts throughout the zoo to keep you fed and hydrated. The zoo is a fun thing to do for all ages in the Twin Cities.
The best part about this zoo and conservatory is that it's free, so this activity definitely won't blow your budget!
2. Walk Around the Minneapolis Sculpture Garden
Do you enjoy the outdoors and art? The Minneapolis Sculpture Garden could be the perfect outdoor activity for you. It's open every day until midnight, so there are no time constraints to worry about, and it's free!
This beautiful and intriguing garden is part of the Walker Art Center and has been open since 1988. The 11-acre garden/park features massive sculptures, statues, paintings, abstract art pieces, and a small pond. It's the perfect fun thing to do in the Twin Cities if you like walking and snapping pictures.
Just be sure to admire the art with just your eyes. You can't climb on or touch the sculptures.
3. Take a Walk Through Minnehaha Regional Park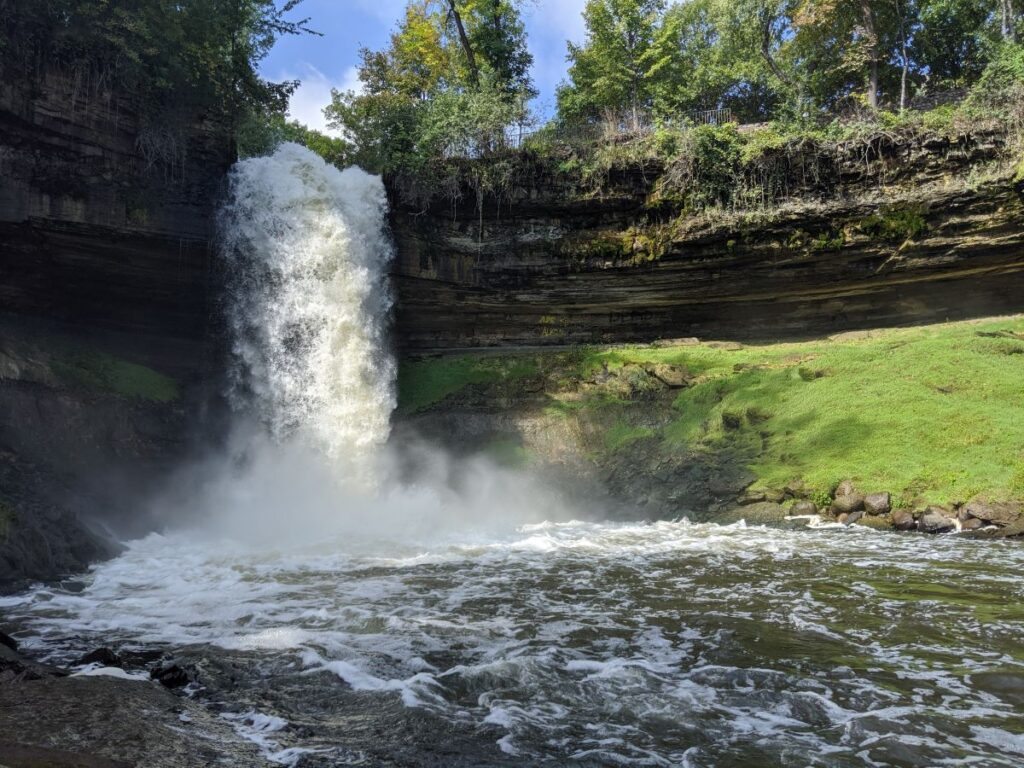 If a sculpture garden isn't your thing, try walking through Minnehaha Regional Park! As one of the first parks in the United States, it offers 167.24 acres for you to explore. And admission and parking are free!
Plenty of paved walking paths, hiking and biking trails, gardens, a 53-foot waterfall, and even a wading pool exist! Visiting Minnehaha Regional Park is one of the most fun things to do in the Twin Cities for nature lovers.
The disc golf course or volleyball court can offer great activities for the whole group. And if you have little ones, you can keep them entertained at the playground. But don't leave your fur babies out of the fun! They can enjoy the visit, too, as the entire park is dog-friendly and has a beautiful dog park.
There's also a restaurant in the park called the Sea Salt Eatery. So, don't worry about forgetting to pack lunch!
4. Walk and Shop Around Grand Avenue
Grand Avenue is a popular fun thing to do in the Twin Cities if you like shopping and delicious food. Located in St. Paul, the 25-block area is full of coffee shops, restaurants, local shops, and plenty of bars.
During the day, you'll find people walking up and down the manicured street with coffee and shopping bags in their hands. Restaurants are typically packed for lunch, especially during the warmer months, with outdoor seating. By evening the street lights turn on, and a bustling nightlife emerges at the local bars and restaurants.
Due to its public atmosphere, all you need to pay for while visiting Grand Ave is the metered parking. Even if you decide not to buy anything, it is a nice area to window shop and enjoy some fresh air.
5. Grab Some Fresh Produce and Lunch at St. Paul Farmers' Market
Take a trip to the farmers' market in St. Paul to see what the locals offer. Not only do they have fresh produce, but some vendors also have food for you to enjoy on the spot.
You'll find great local products like honey, syrup, roasted coffee beans, meats, cheeses, freshly-baked bread, and beautiful, freshly-cut flowers. They have a growing list of vendors that changes every year.
The farmers' market is fun in the Twin Cities year-round, even though it is outside. They recently implemented outdoor heating so you can enjoy your time even in the cold Minnesota winters! The market is free to enter and offers free parking.
7. Explore the Arts at the Minneapolis Institute of Art
Do you have a keen eye for artwork? Strolling through the Minneapolis Institute of Art might interest you. It is home to almost 90,000 artistic works, artifacts, and other objects to explore! The museum is one of the most fun things to do in the Twin Cities if you love to learn.
Within the three-story building, you'll find a range of artwork mediums to view. There is something for everyone, whether you enjoy paintings, photography, drawings, or period-specific or location-specific pieces.
If you're hungry during your exploration, the museum offers delicious treats at its cafe and full meals at its restaurant. They also offer free admission and small parking fees to enjoy the arts without breaking your budget.
9. Shop, Eat, and Drink at the Keg and Case Market
With free admission, the Keg and Case Market is another fun thing to do in the Twin Cities. Located in an old, historic brewery, the market offers a range of delicious restaurants, craft beers, and local shops. You'll also find a market area chock full of regional foods and goods.
Stop by during the weekend when different artisans and local businesses visit with their products at pop-up markets. It's a hot spot in the summer, as the market hosts free entertainment nights and a summer festival. But it also offers plenty of other activities throughout the year, including movies, indoor music events, and more. There's always something happening!
---
Wrapping Up Fun Things To Do in the Twin Cities
Don't let your budget prevent you from enjoying fun things to do in the Twin Cities! There are plenty of free or inexpensive things to do to keep you busy. Whether you're looking for places to eat, shop, or learn, the Twin Cities have it all at affordable prices!
Do you need more activity ideas? Check out Minneapolis & St. Paul: Everything the Twin Cities Has to Offer for more options!