Are you a history buff? Or do you just enjoy learning about historic sites in the United States? Historic hotels in Minnesota are some of the oldest hotels in the country and they are worth the visit!
Many old Minnesota hotels are over 100 years old and served multiple purposes over the years. Hotels can have some significant history behind them due to their power to connect people from around the world. They also offer a look into the past, with many containing period-specific original furnishings, designs, and architecture.
Let's take a look at some of the most historic hotels in Minnesota and learn about their pasts.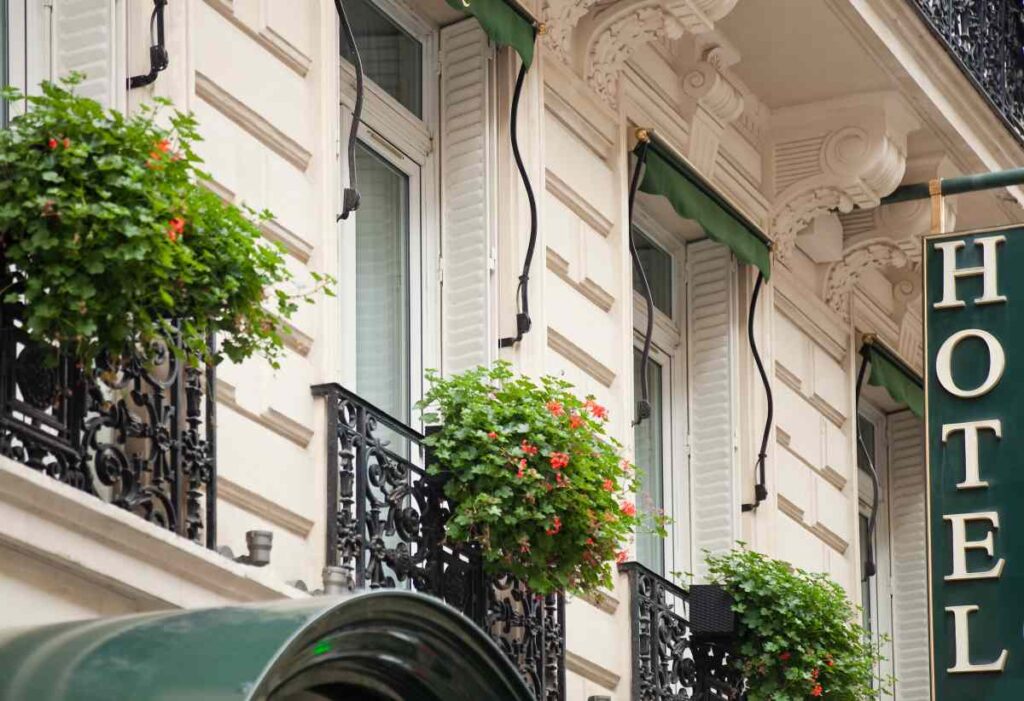 ---
1. The St. James Hotel in Red Wing
The St. James Hotel has been a hospitality symbol in Red Wing for years. And it's one of the most historic hotels in Minnesota since it opened in 1875.
Its opening year fell within the Victorian era, which lasted roughly from 1820 to 1914. This was around the time of Queen Victoria's reign. Due to this, you can expect Victorian-style rooms, architecture, and design elements throughout this boutique hotel.
It truly is a sight to see, as it feels like you're stepping back into time! You can expect beautiful wood furnishings, intricate wallpaper, and elements of opulence. The hotel has been on the National Register of Historic Places since 1977 due to its well-preserved nature. There are some modern additions, but it mostly sticks to its Victorian roots.
This family-owned luxury hotel attracted many people over the years, including Bob Dylan, Mark Twain, and previous presidents.
Currently, the historic hotel in Minnesota offers 67 individually-design rooms and suites for you to enjoy. They also have a stunning cocktail lounge called The Port, as well as a delicious restaurant called the Scarlet Kitchen and Bar. There's also a relaxing spa called River Blu Spa to help you wind down after a long day.
---
2. The Radisson Hotel in Minneapolis
The Radisson Hotel opened its doors in 1909 as a luxury hotel, offering amenities to mostly wealthy visitors. It wasn't uncommon to see presidents, royals, or celebrities taking a pit stop at this hotel. President Taft visited this historic hotel in Minnesota a few times during his presidency.
Design elements and the architecture of the Radisson Hotel mainly focused on French-inspired designs. This makes sense, as the hotel's name stems from a French explorer named Pierre-Esprit Radisson.
Before walking in, the hotel featured a beautiful canopy designed with glass and iron. Then, once inside, you'd see marble and bronze accents and elegant furnishings. The wallpaper throughout the hotel came from overseas, offering one-of-a-kind designs that you typically wouldn't see in the United States.
The hotel also had exclusive carpets, parquet flooring, and a beautiful gray and pink marbled floor in the lobby. This fancy atmosphere made it a great place for parties and other events during this period.
Over the years, the Radisson Hotel changed quite a bit. It turned into Radisson Blu until a few years ago when it switched management, attempting to keep the Radisson name. However, the hotel got renamed under new management once again, calling it the Royal Sonesta.
The historic hotel in Minnesota remains a luxury hotel and features 360 modernized rooms and suites. It also has 21 event spaces consisting of 30,000 square feet, which can host anything from weddings to parties.
If you get hungry, the hotel offers a tasty restaurant that serves up some mid-western food. Or you can visit their bar and lounge for cocktails.
---
3. Hotel Ivy in Minneapolis
Hotel Ivy is a luxury collection hotel, created by Marriott. The building itself has been on the National Register of Historic Places since 1986. This was before the hotel even existed.
The Second Church of Christ, Scientists commissioned and built the original building, officially opening it up in 1929. They were going to use it as office space and classrooms, but the church eventually sold it.
Its design focused heavily on the Ziggurat style, which featured a terraced pyramid design with receded floor levels. Along with the Ziggurat style, the building focused heavily on French Art Deco from the 1920s. However, this style changed after it became a hotel in the early 2000s.
Since becoming a historic hotel in Minnesota, the building offers a very modernized atmosphere. It uses neutral shades with pops of color and plenty of metal and wood accents. There are now 136 rooms and suites, as well as penthouses, available for you to enjoy a luxurious hotel experience.
You don't even have to leave the hotel for food. It offers not one, but three restaurants and bars. You'll find traditional American, Italian, and mixed cuisine at these eateries. They also offer a relaxing spa, a fitness center, and wellness classes during your stay.
---
4. The Grand Hotel in Minneapolis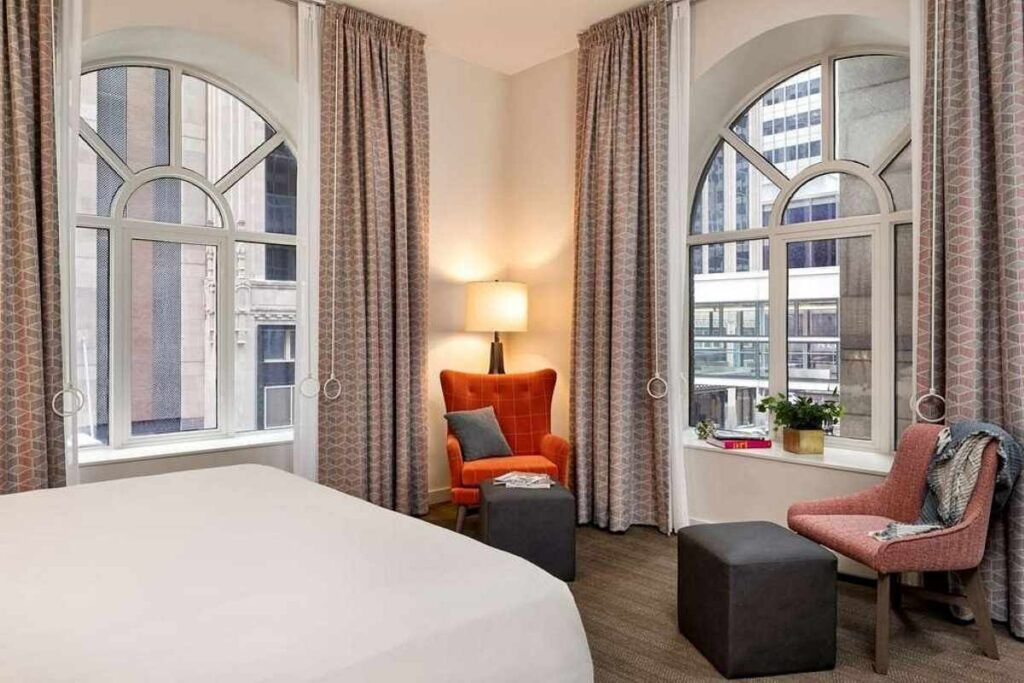 The Grand Hotel started its hosting journey as the Minneapolis Athletic Club around 1912. This athletic club served as a prestigious social club for the wealthy and offered an extensive amount of fitness options. Not too long after this, the building got converted into a hotel.
At the time, the historic hotel in Minnesota was popular for its intricate architecture and elegant-looking interior design. It kept its name of the Grand Hotel up until just a few years ago. Now it is the Hyatt Centric of Downtown Minneapolis. It still has a reputation for luxury and all things fine in life, but the design is much more modern.
Currently, the hotel has 154 rooms and suites for you to stay in. It also has a bar, lounge, and restaurant that serves American cuisine with hints of Nordic roots. If you're into exercising, the hotel still sticks to its roots of the athletic center. It has a 7,000-square-foot fitness center that comes equipped with an indoor running track.
You can also bring your furry friends with you to this hotel, as they are pet-friendly!
---
5. Hotel Duluth in Duluth
Hotel Duluth finished its building process in 1924 and was a popular spot for the wealthy due to its luxury. President John F. Kennedy was even a visitor at one point!
After years of serving as a historic hotel in Minnesota, the building was converted over to a senior living apartment complex called Greysolon Plaza. But, you can still see hints of the elegance that the hotel once offered.
This previously historic hotel in Minnesota focuses heavily on the Renaissance style with aspects of symmetry and geometry. Its original beautiful gold leaf ceilings and twinkling crystal chandeliers offer a feeling of royalty. You'll also notice decorative towering Corinthian columns along with carved rosettes in the furnishings.
This complex no longer functions as a hotel, but it does offer 150 one-bedroom apartments with stunning views of Lake Superior.
---
6. Hotel 350 in St. Paul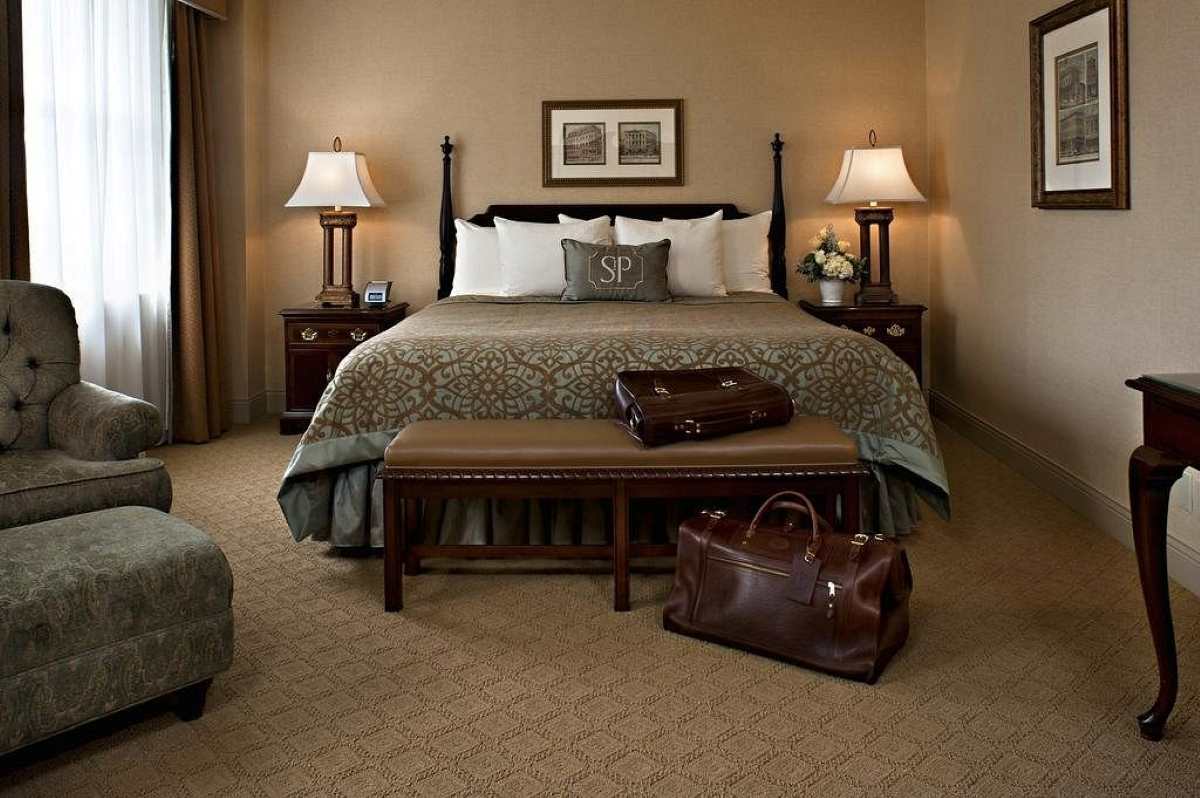 Hotel 350 most likely got its first name from its address, which is 350 Market Street.
It started as the home of John Summers, who allowed travelers to rest on their journeys. It became a hotel and then sadly burnt down in 1878. After this, another hotel took its place, and people considered it one of the most luxurious hotels in the area.
Years later, in 1910, the historic hotel in Minnesota became the St. Paul Hotel. The building was highly sought after due to its European-inspired elegance. It was a popular meeting spot for many politicians and business travelers alike. President John F. Kennedy and Charles Lindberg were among some of their guests!
The luxurious hotel now consistently sits in the top ten hotels to visit in Minnesota. It offers 225 deluxe hotel rooms and suites, the St. Paul Grill restaurant, and the Lobby Bar to its guests. The hotel is also a popular wedding venue.
---
7. The Historic Summit Avenue Hotel in St. Paul
The Historic Summit Avenue Hotel, also known as the Davidson Hotel, finished its building process in 1915. It started as the home of Watson and Sarah Davidson who created it with a Tudor manor-like design. Due to this, you'll notice Medieval castle-like architecture.
After the Davidsons left the home, the house served multiple purposes. In the 1960s, it housed the College of Visual Arts until 2013. Then a company bought and renovated the house. The home finally opened its doors as a boutique hotel in October 2019.
This historic hotel in Minnesota currently offers eight rooms for guests, which all include a kitchen or kitchenette. Inside the hotel, you'll find a combination of old and new furnishings and designs. It has a cozy and inviting atmosphere.
---
Wrapping Up Historic Hotels in Minnesota
Hopefully, this list of historic hotels in Minnesota gives you some inspiration for your future travels! Old hotels like these offer great insight into what our world looked like before we were in it. They offer learning opportunities and a place to stay all wrapped in one!
If you need more accommodation suggestions, take a look at our article on the 10 Best Hotels in Minnesota.