People don't just flock to Minnesota for the lakes; the state has a wide variety of attractions to enjoy — some strictly for adults and others for the whole family. Whether you want to fish, enjoy the outdoors, or enrich yourself in the history of the North Star State, there's something for everyone here.
No matter what your purpose is for coming to Minnesota, though, one thing is for sure, you're going to need a place to stay. Luckily, the state has some of the most incredible hotels in the world, especially in Minneapolis.
If you're looking for the best hotels in Minnesota, you're in the right place. We've compiled 10 of them in this article to help you get the most out of your next trip to the North Star state!
The AC Hotel is my personal favorite and one that is considered to be one of the best hotels in Minnesota by many due to the fact that it defines modern comfort.
Located in the historic Minneapolis Downtown area, this hotel was designed with clean lines and marble details — which are warmed with hints of brass, wood and mirrors. The careful detailing, combined with the vast, comfortable rooms, gives the hotel the feeling of an enticing getaway,
This trendy design carries over into AC Hotel's amenities. The continental breakfast fashions itself after European buffets, offering cold cuts, cheeses, fruit, fresh breads and cereals. Of course, this feast is accompanied by robust espresso. Later in the day, the hotel eschews traditional room service in exchange for tapas and an enticing snack menu.
AC Hotel also features a small library, packed with design books and magazines for visitors looking for a public, yet peaceful, spot in which to relax.
If you're looking to venture out, consider paying tribute to Minnesota-born Bob Dyan at the popular mural located at the end of the block. Guests may also explore the nearby Nicollet Mall, a 12-block walking trail winding by corporate headquarters, shops, restaurants and more. These attractions make the AC the perfect choice for a modern traveller bent on exploring the city.
For something a little more in-tune with the modern Minnesotan aesthetic, check out the Hewing Hotel in the North Loop — a hip and trendy neighborhood in Minneapolis.
The hotel celebrates the region's Scandanavian roots with a lobby featuring a Nordic design accentuated with Faribault wool flannel pillows, exposed brick walls, custom wallpapers and rustic details. This aesthetic continues into each room. Guests visiting the rooftop bar can enjoy an aquavit cocktail — another nod to the region's heritage — while soaking in a jacuzzi and gazing at unparalleled downtown views.
Visit the hotel lobby bar to sip handcrafted cocktails featuring award-winning local spirits and to nosh on appetizers including duck fat fries and charcuterie boards. Guests craving a larger meal should venture into the neighborhood's acclaimed culinary scene. 112 Eatery, located within walking distance of the hotel.
If you're not feeling like venturing out, the hotel's brunch keeps up with the competition by offering delicacies including Nordic waffles, thick-cut bacon and aromatic local coffees. While you're brunching, you may just spot a few of the famous guests who take advantage of the hotel's custom services.
The Mall of America isn't the same attraction you remember from years past. The institution recently received a facelift in the form of a deluge of restaurant openings, installations, and brand partnerships.
The Mall of America is located just minutes from the Minneapolis-St. Paul International Airport; making the JW Marriott Mall of America — located on the mall's recently renovated north wing– a perfect destination for weary travellers. Just hop on the light rail in the airport terminal and head straight for this action-packed hotel experience.
Guests of this mall-centric hotel are surrounded by more than 500 shops, including Zara, Anthropologie, H&M, and the RAAS local market, where tourists can find authentic Minnesotan brands.
Visitors also have more than 50 restaurants to choose from in the mall — but eating in the JW Marriot itself is also a delight. The hotel's restaurant, Cedar & Stone Urban Table, has a diverse menu. For a low-key night, try cozying up in the restaurant's cocktail lounge to sip a Paisely Park, a cocktail named after The Purple One's famous abode.
The JW Marriott Mall of America offers the perfect accommodations for both business and family travel. Guests of all ages can enjoy the full amusement park and the recently opened cinema — not to mention the ability to shop until you drop!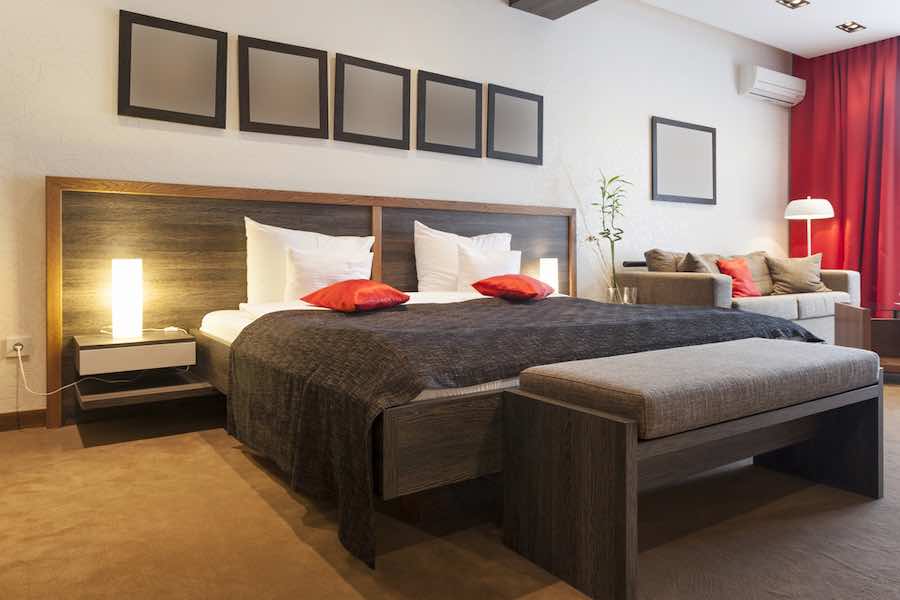 Guests seeking a break from the typical hotel experience need look no further than the Grand Hotel Minneapolis. The Kimpton brand shows its true colors through this hotel's whimsical lobby full of dark wood paneling and vibrant furniture. Travelers stopping into the Grand Hotel enjoy luxurious beds and spacious living areas. They can also take advantage of a spa, business center and lounge — among other amenities.
Fitness enthusiasts can maintain their active lifestyles throughout their stay at the Grand Hotel Minneapolis. Each room features a yoga mat as well as access to the complimentary bike program, a great way to experience America's most bikeable city. Guests are also welcome to enjoy the 60,000-square-foot Minneapolis Lifetime Athletic Club.
Take a quick dip in the hotel pool to cool off after an active day. The Grand Hotel Minneapolis' indoor pool features a dreamy mural of a cloud-speckled blue sky painted across the ceiling.
The hotel also offers pet-friendly rooms for no-extra charge — and the Kimpton team has been known to go above and beyond to make special arrangements for guests on request.
The luxurious traveler will appreciate the Hotel Ivy for an experience that's between a relaxing spa retreat and a restful business travel spot situated downtown.
The hotel lives within the renovated Ivy Tower, a building that was completed in 1930 and has earned its place on the National Register of Historic Places due to its Ziggurat charm and ability to transport you into the past. The antiquity of the building is juxtaposed by Hotel Ivy's modern suites, decorated with lush carpeting, leather, wood accents and limestone bathrooms.
The Ivy's varied amenities package makes spoiling yourself (or that special somebody!) both easy and tempting. The Hotel Ivy spa offers signature massages, pedicures, facials, and manicures with a host of products unique to the hotel. After all that pampering, choose from a list of delicacies to be delivered to your room.
Even the locals flock to Hotel Ivy for its in-house Italian restaurant Monello, where the Meditteranean cuisine shines on a diverse menu. For many, dinner concludes in Constantantine, the relaxed basement lounge, where an experienced bartender can craft drinks special for each patron.
The hotel's downtown location gives it convenient access to the bustle of the Minneapolis Convention Center, making it a perfect accommodation for attendees of the many events held there each year.
Craving a hotel in Paris? Skip the expensive plane ticket to Europe. The Hotel Alma, designed by James Dayton and Spring Finn & Co, gives guests that Parisian feeling without the intercontinental travel.
Imaging waking each morning to smell baked goods made in-house daily at the restaurant and cafe located just below your boutique accommodations. Each of Hotel Alma's radiant rooms combines the old with the new, creating the feeling of a European getaway in the heart of Minneapolis. Some rooms feature a private balcony, ideal for enjoying the cool breezes that make Minnesota a favorite temperate travel destination.
Don't wait until you've reserved a room in the hotel to book a table at Alma's restaurant. Alma's Owner/Chef Alex Roberts has crafted a carefully curated menu for guests to pair with an immaculate wine list and enjoy in the hotel's exquisite dining area.
And of course: you can't enjoy an authentic morning in Paris without a romantic breakfast in bed. Order pastries and coffee to your suite to get one last feeling of France before you head out to bike, walk or jog the Mississippi Riverfront.
If you want to be a part of the exciting vibe of the East end of Downtown Minneapolis, you should consider a stay at the Radisson Red. This trendy hotel sits in one of Minneapolis' newly hip restaurants, popularized by the US Bank Stadium — the venue for the Minnesota Vikings, Super Bowl 52 and various concerts and events.
The Red's tech-forward amenities have made it a popular destination for trendsetters and the younger generations who enjoy features including easy streaming of all your favorite devices to the in-room television, keyless entry, and a Red App for a modern twist on room-service ordering.
The modern amenities bleed over into a contemporary design. For instance, neon colors catch the eye in OUlbar + KTCHN, which serves cocktails and craft food. Guest rooms feature explosions of vibrant color, unique bathroom tiles, and large wall murals.
Dogs are welcome at the Red, so your fur baby can come along while you take a visit to nearby Guthrie Theatre, a walk in Gold Medal Park or a stop at Izzy's Ice Cream.
Don't let its sleek design throw you off — the Loews Minneapolis offers a home-spun warmth to make guests feel at ease during their downtown visit. In fact, this hotel caters to family travelers by offering the Leows Loves Kids program, providing child-friendly entertainment, a library, babysitting arrangements and even child-proofing kits.
While the kids are entertained, Leows Minneapolis likes to pamper its adult guests, too. Tired parents can refresh at the Embury spa or at the Releve wine room on the fourth floor.
The Leows sits across the street from the Target Center, the homebase of the Minnesota Timberwolves and Lynx as well as the venue for a series of can't-miss concerts. During baseball season, the hotel concierge can help guests arrange an outing to a Twins game at the open-air stadium. Head over to Fulton Brewery after the game to celebrate (or drown your disappointment) with the locals.
The hotel also boasts access to Minneapolis' famous skyway system as well as stunning downtown views. And, of course, don't forget to pay homage to hometown legend Prince at the famous First Avenue and 7th Street Entry music venue across the street from the Loews.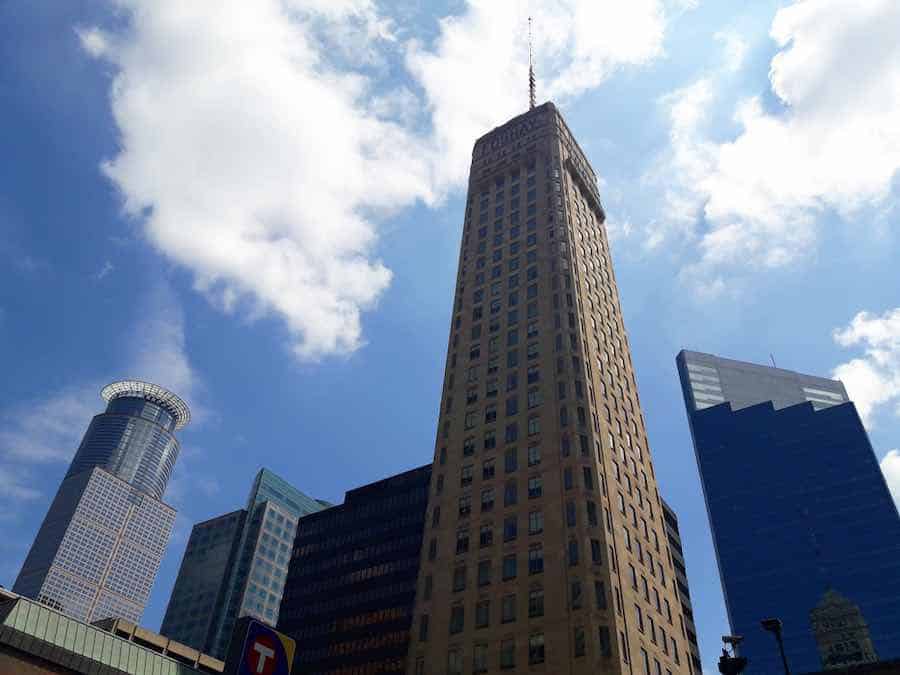 Lines of palm trees sitting on a smooth tile floor and bathed in pink light entice guests to explore further as soon as they enter the 1920s-era tower housing the W Minneapolis Foshay. And it only gets better from there.
The same pink mood lighting continues into the lounge where a stylish and urban crowd usually congregates around a series of interesting seating vignettes. For them, the hotel is an extension of the bustling part of downtown in which it's located — an area close to several business headquarters, the Dakota Jazz Club, and the Target Center.
The guest rooms upstairs offer a quiet oasis from the bustle of the lobby and lounge. Visitors can settle into large living areas complete with simple black-and-white linens and luxurious mattresses. When they're not relaxing in their rooms, guests are welcome to enjoy a fitness room, valet parking, a business center, and a bar.
W Minneapolis Foshay is situated near an abundance of restaurants; and the responsive staff is glad to help guests find the perfect spot for their next meal. Adjoining restaurant Manny's Steakhouse, for instance, allows customers to choose their own cut of meat for an experience that's at once both unique and classically Midwestern.
For dessert, consider a visit to Angel Food Bakery, a hotspot serving up gluten-free baked goods so renowned even Justin Timberlake once enjoyed them while celebrating his birthday in town.
Topping the list of the best hotels in Minnesota is Le Meridien Chambers, an intimate and unique 60-room hotel situated in two renowned revival buildings renovated and designed by David Rockwell.
This hotel — seated in the city's robust theatre district — houses more than 200 pieces of artwork. Visitors can find additional installations in the ornate lobby and public areas.
Guests of Le Meridien Chambers can enjoy their stay in a variety of rooms, ranging from a Classic Queen Room to an astonishingly beautiful Penthouse Suite with an uncompromised view of Downtown Minneapolis. Because of the unique Unlock Art card partnership, each room at Le Meridien Chambers comes complete with an artist-designed key card, which can be used for free access to the adjacent Walker Art Center.
Art enthusiasts can ride the hotel's complimentary bikes through the center to visit the museum restaurant, Esker Grove, and the neighboring Minneapolis Sculpture Garden — home of the well-known Sponbridge and Cherry. The whole ride provides a delightful acknowledgement of the city's signature brand of kitsch.
Hungry after that bike ride? Perfect. Take a stop at Le Meridien's Restaurant and Bar where Chef Mike Rakun sources the best local ingredients for a creative reimagining of Midwestern cuisine. Diners enjoy Chef Rakun's delicious creations among the atmosphere created by the full oyster bar, a wood burning oven, a wine cellar, and a plush library lounge bar.
Still haven't found your perfect getaway? Then keep learning about unique places to stay in Minnesota to book the perfect reservation for your next trip!
Ready for more Minnesota advice, info, and guides? Whether you're a local or a passerby, discover the best of Minnesota that our great state has to offer!