Check out this guide to the best hotels in Duluth!
Whether you're hoping to skip rocks on the shores of Lake Superior or check out the world-famous Aerial Lift Bridge, Duluth is a city with many treasures.
The perfect trip needs the right accommodation. That's why we compiled this list of the top hotels in Duluth.
Whether you're looking for a pet-friendly option or something with a great pool, you'll find the best hideaway for your next vacation.
---
Hotels in Canal Park
Home to the renowned Aerial Lift Bridge, Canal Park is a bustling neighborhood in Duluth with a lot to offer.
Jazz clubs, coffee shops, and hip restaurants are all strung along a picturesque waterfront, so you can indulge your inner urbanite while wafting in the lake's scent. Below, you'll find the best hotels in this desirable neighborhood.
The Inn on Lake Superior
The Inn on Lake Superior offers a one-of-a-kind lodging experience, making it one of the best hotels in Duluth.
This hotel offers 175 luxurious rooms and suites, most of which have private balconies with panoramic views of Lake Superior. Imagine taking your complimentary breakfast to the balcony and gazing at the scenery while sipping your morning coffee.
The rooms are modern, comfortable, and will welcome you with open arms after a long day of sightseeing.
You won't have to go far to soak up all that Canal Park has to offer. This hotel's central location provides easy access to the hip neighborhood.
---
Hampton Inn Canal Park
The Hampton Inn Duluth Canal Park lets you live the lakeside life since it's situated a mere 50 yards from Lake Superior. You really can't find accommodation closer to the shore than this fantastic hotel.
You'll discover fun-filled activities in the area, such as the Great Lakes Aquarium, Spirit Mountain, and the Lake Superior Railroad Museum. This is one of the best family-friendly hotels in Duluth that will pack your itinerary with merriment.
Don't think this inn forgot about the adults. There's an outdoor terrace with sweeping lake views, perfect for relaxing in the sun with your better half.
---
Pet-Friendly Hotels in Duluth
It wouldn't be a family vacation without bringing the fur babies along. If you're looking for accommodation to house the entire crew (including Rover), check out one of these pet-friendly hotels in Duluth.
Fitger's Inn
If you're a sucker for turn-of-the-century architecture, you must plan a stay at Fitger's Inn. This premiere historic hotel has a lot to offer aside from accommodating pets.
The elegant design will transport you to a bygone era, with industrial-chic design and Victorian touches.
Just because this hotel is historic doesn't mean it lacks modern amenities. Many rooms include skylights, jacuzzi tubs, fireplaces, and balconies with spectacular Lake Superior views.
Despite the prohibition-era architecture, this inn boasts a bustling brewery that offers craft lagers by the pint. After taking the dog on a walk by the shoreline, you can cool off with a chilled brew in an inviting atmosphere.
---
Country Inn & Suites by Radisson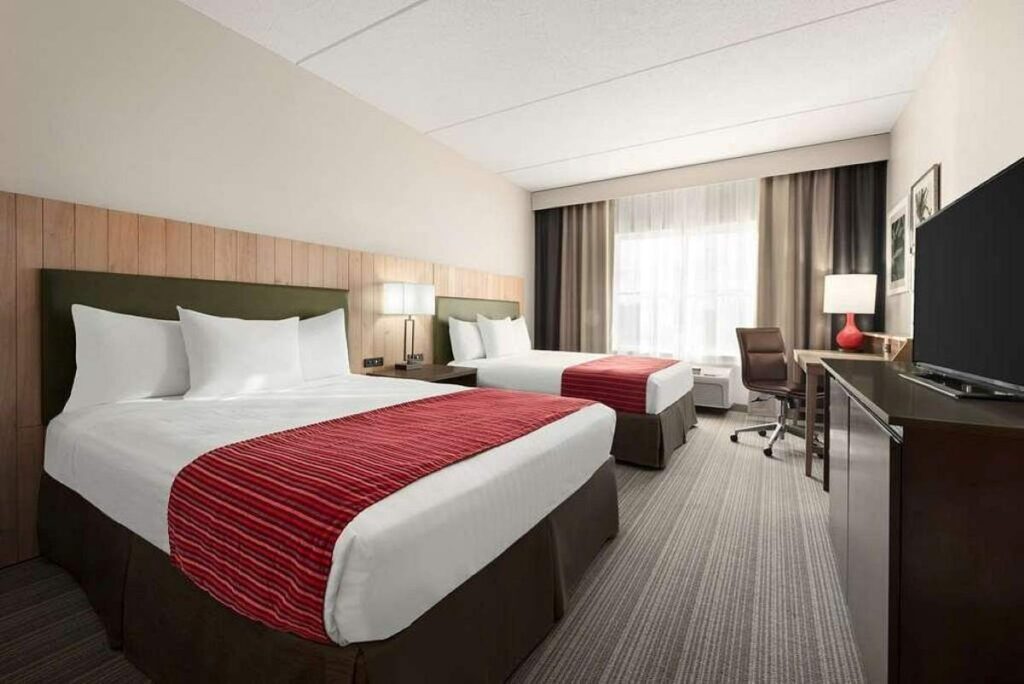 This pet-friendly inn is one of the best hotels in Duluth for fun with the whole family. Kids stay free at the Country Inn & Suites, and along with the complimentary breakfast, this hotel boasts incredible value.
Who wouldn't love plunging down a swirling water slide into a large indoor pool? This hotel is an excellent option for planning a getaway to beat the winter blues since it has many indoor amenities like a mini waterpark, workout room, study space, and lounge.
If you want to visit during the summer, this hotel is close to Canal Park and Spirit Mountain for fun outdoor activities. There's even a complimentary airport shuttle that makes transportation a breeze.
---
Cheap Hotels In Duluth
Do you want to plan a trip without breaking the budget? Check out these hotels in Duluth for wallet-friendly accommodation without sacrificing quality.
La Quinta Inn & Suites by Wyndham Duluth
La Quinta Inn & Suites offers the ideal mix of comfort, convenience, and value. In addition to free breakfast and pool access, you'll also appreciate the favorable location.
This hotel is situated 3 miles from Enger Park and Tower, a must-see historic landmark that offers soaring views of the city.
When you're exhausted from the day's activities, you can rest comfortably in the modern suites, complete with TV, air conditioning, and high-speed wifi.
---
Tru by Hilton
Located just minutes from downtown, Tru by Hilton is an affordable lodging experience. The modern suites cover all your basic needs and then some, offering a 55-inch TV, fridge, large bathroom, and free WiFi.
The free breakfast buffet is well-stocked and will help fuel you up for a busy day of sightseeing. If you choose to relax at the home base, you can enjoy the pool and patio for some much-needed R&R.
---
Hotels With Pools
If your dream vacation includes basking in the water, check out these hotels in Duluth with pools. Each location offers a great watering hole to take a dip, as well as many more impressive amenities.
Park Point Marina Inn
Park Point Marina Inn is a one-stop destination for nautical lovers. You'll be eating, sleeping, and relaxing just 50 feet from the water's edge, enchanting you with the refreshing lakeside aroma 24/7.
Most suites include private balconies where you can sit and watch the boats go by. If you can be torn away from gazing at the lake to explore the rest of the hotel, you'll find an indoor pool, hot tub, sauna, and even a seasonal s'mores bar.
Start your morning with a complimentary 73-item breakfast buffet, then go check out Park Point Beach or Canal Park, both within walking distance.
We only covered half of what this hotel has to offer. It hasn't won TripAdvisor's Travelers Choice Award Winner seven years in a row for nothing.
---
Beacon Pointe on Lake Superior
Wanna stay at the only inn in Duluth with uninterrupted views of Lake Superior? If your perfect vacation entails lounging by the water with a glass of vino, you can't beat Beacon Pointe.
This is the only hotel in Duluth on this list that offers condo-style lodging. You'll find a full kitchen in each suite, so you can whip up a charcuterie to enjoy on your private balcony.
Beacon Pointe is located right on the Duluth lake walk, so you can embark on a coastline stroll as soon as you wake up.
If you're planning an early fall trip to take in all the autumn foliage, warm up with the heated indoor pool, sauna, and hot tub.
---
Hotels With Jacuzzi in Room
Whether planning a romantic getaway or treating yourself to a solo spa trip, finding a hotel with a jacuzzi in the room is easier (and cheaper) than you think. Below you'll find hotels in Duluth that include a hot tub a stone's throw away from your bed.
South Pier Inn
Located at the foot of the famous Aerial Lift Bridge, South Pier Inn is one of the best hotels in Duluth for ship-watching. This inn offers 20 boutique suites with waterfront views, and each unit offers unique amenities.
Would you rather take in the sweeping landscape lounging on the private balcony, basking in the jacuzzi, or sitting in front of the fireplace? It's a tough choice, so be sure to book a long enough stay to enjoy all 3 options.
When not enjoying the impressive suite, you can take a stroll through Canal Park, which is just a hop, skip, and a jump away.
South Pier Inn was given the title "Best Small Hotel in Minnesota" by the Minnesota Lodging Association, so see what all the fuss is about and book your stay today.
---
Canal Park Lodge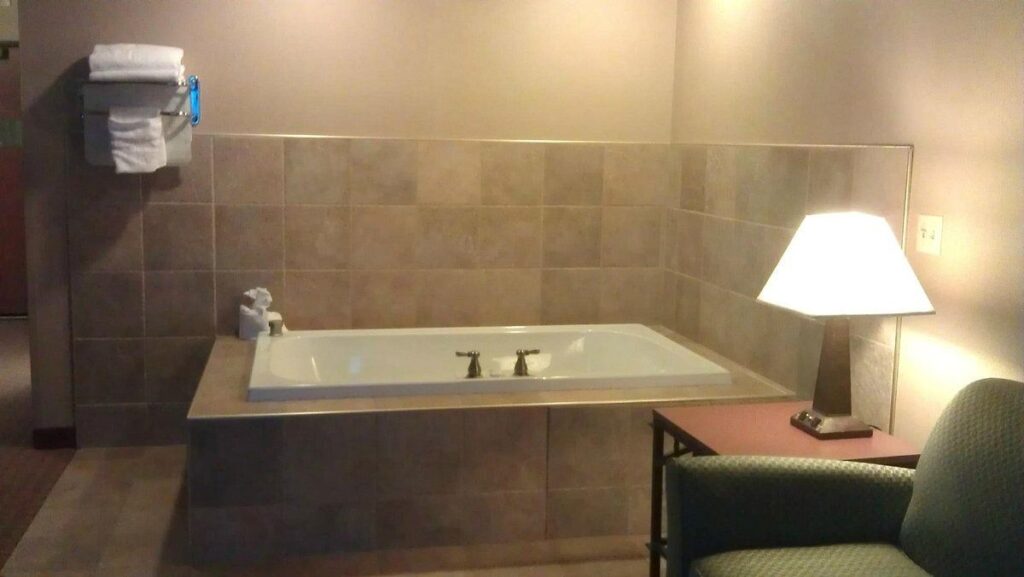 Canal Park Lodge offers a rustic hotel experience reminding you of dwelling in a log cabin, minus the zero electricity and bugs.
You'll find unparalleled views of Lake Superior from the comfort of your room. Some units offer a private jacuzzi tub right in the living room, so you can relax in the waters while catching up on your favorite show.
The location provides easy access to the Lake Walk, so you can enjoy miles of walking, running, or biking.
The Canal Park Brewing Company is located right next to this hotel, allowing you to grab a quick pint to cool off from your lakeside adventures.
---
Wrapping up the Best Hotels in Duluth
Whether you want to explore the sights and sounds of Canal Park, traverse down the Lake Walk, or just watch ships cross the Aerial Lift Bridge, one of these hotels in Duluth will make your travel dreams come true.
While all these listings offer something unique to set them apart, they're all reasonably priced and well-reviewed, so you can rest easy with any pick.
Now that you've discovered the best hotels in Duluth, read about the 31 best attractions in the Northern city.
About the Author
Latest Posts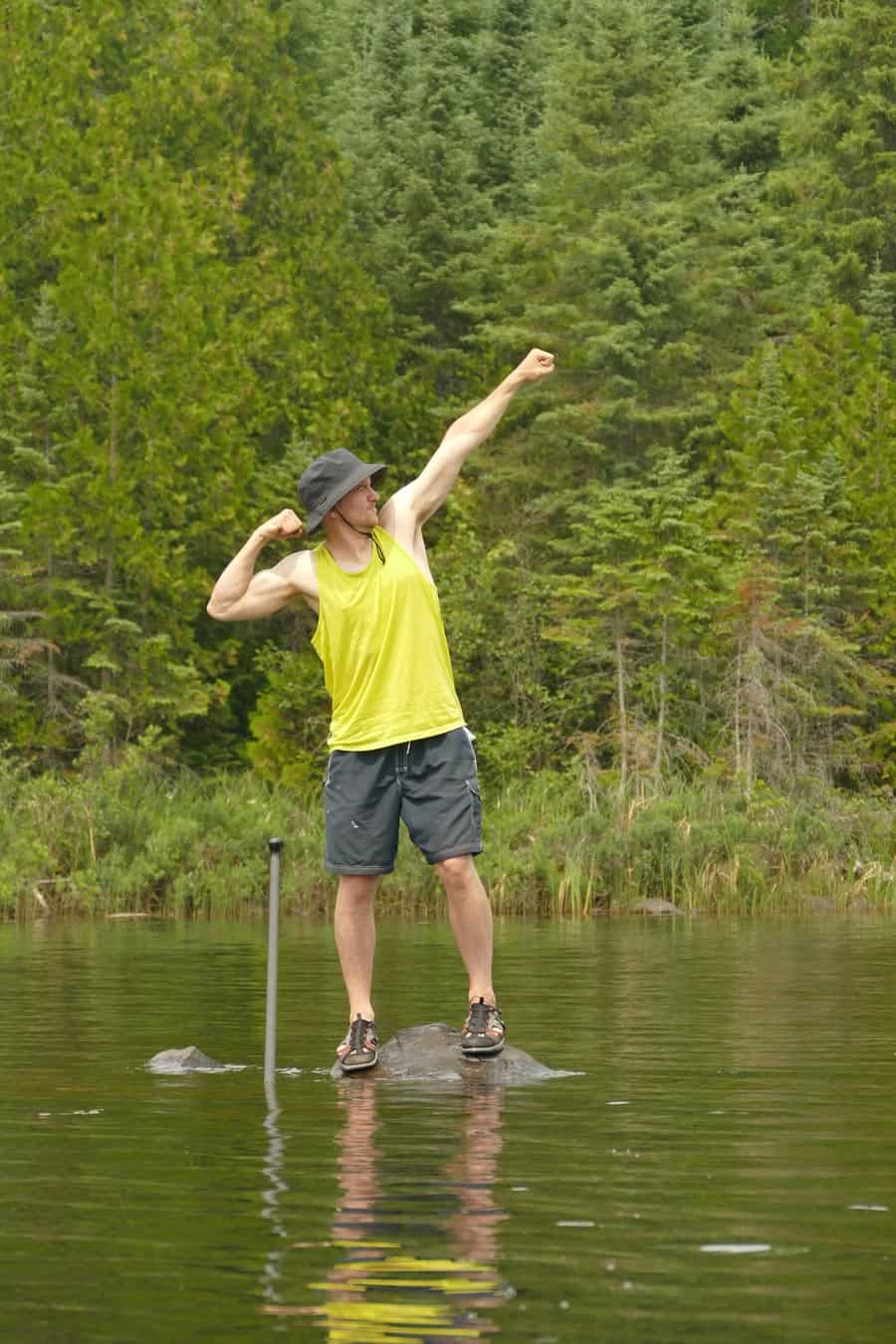 Born in Madelia, MN, to a now 5-generation Minnesota family, Ryan's MN roots go deep.
A painter by day, Ryan founded Life in Minnesota in 2013 with his wife Kelly to chronicle their musings on everything Minnesota. Ryan and Kelly are raising their 7 kiddos in Maple Grove, MN.
When he's not shuttling his kids around to hockey practice, you might find him in the shop working on his leatherwork. Undoubtedly, there will be a family trip to the Boundary Waters Canoe Area every summer, and of course weekends at Grandpa's cabin up north in the summer.