Visiting Stillwater, Minnesota, means a charming getaway full of historic sites, views of the St. Croix River, and activities to do every season. So if you want to stay overnight to enjoy all that the town has to offer, you'll need a place to unwind.
If you're looking for the best hotels in Stillwater, you've come to the right place. We've gathered a list of all the best options, including luxury options, hotels in downtown Stillwater, hotels in surrounding towns, pet-friendly options, historic bed-and-breakfasts, and much more!
Read on to find the perfect Stillwater hotel for your stay.
---
Hotels in Downtown Stillwater
Downtown Stillwater is where all of the action is! To be within walking distance of historical sites, great restaurants, bars, and so much more, choose a hotel in this part of town!
Keep reading for our picks.
1. Hotel Crosby
Amenities: Fitness center, rooftop hot tub, bar and lounge, spa
Pets Allowed: No
Price: $$$$
Hotel Crosby is a luxury boutique hotel in the heart of downtown Stillwater. With a design inspired by Rivertown's rich history and a laid-back yet luxurious ambiance, this hotel offers a truly unique experience.
Many visitors choose Hotel Crosby for special occasions like weddings and birthdays, though it's perfect for any type of getaway. Rooms are incredibly spacious, with tall ceilings and a variety of layouts to choose from. It also has luxury amenities, an on-site tapas restaurant, and a relaxing rooftop.
---
2. Lora Hotel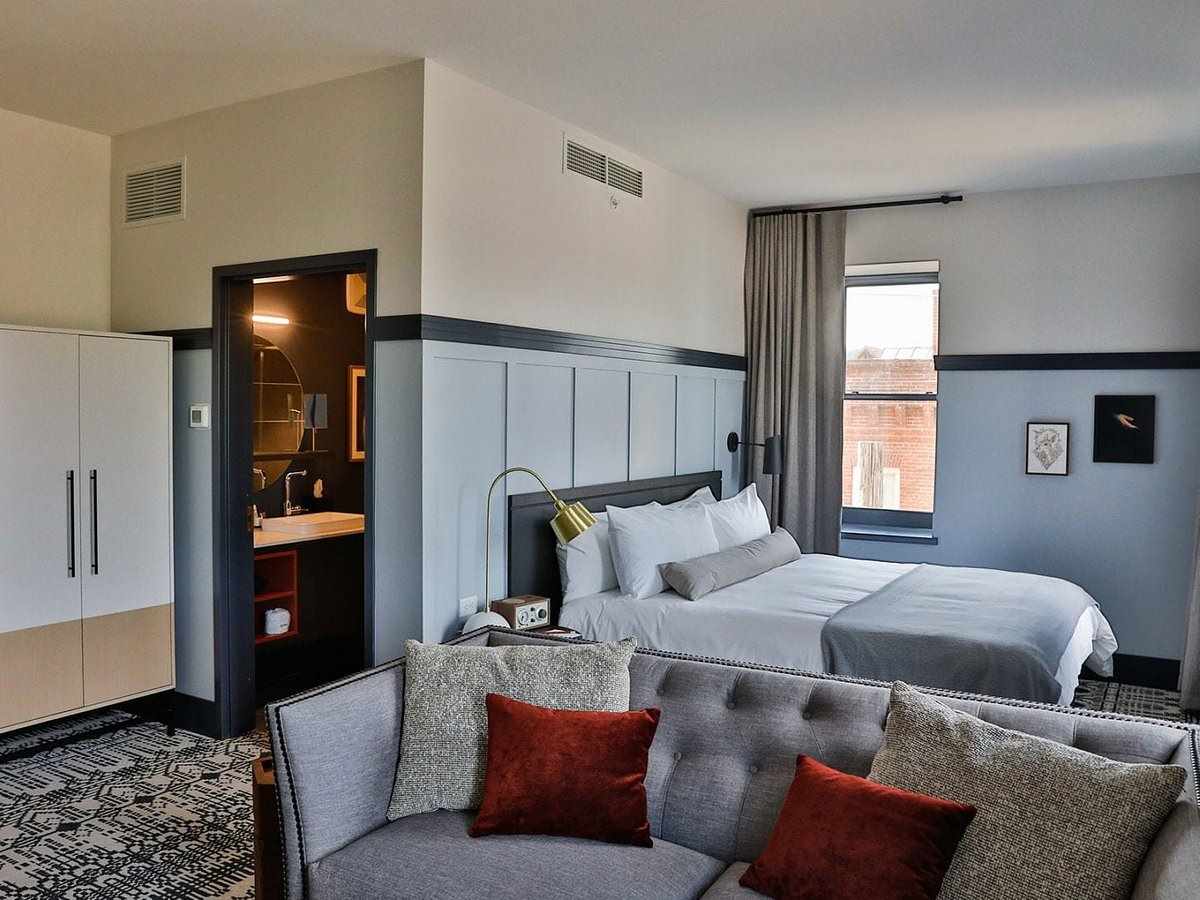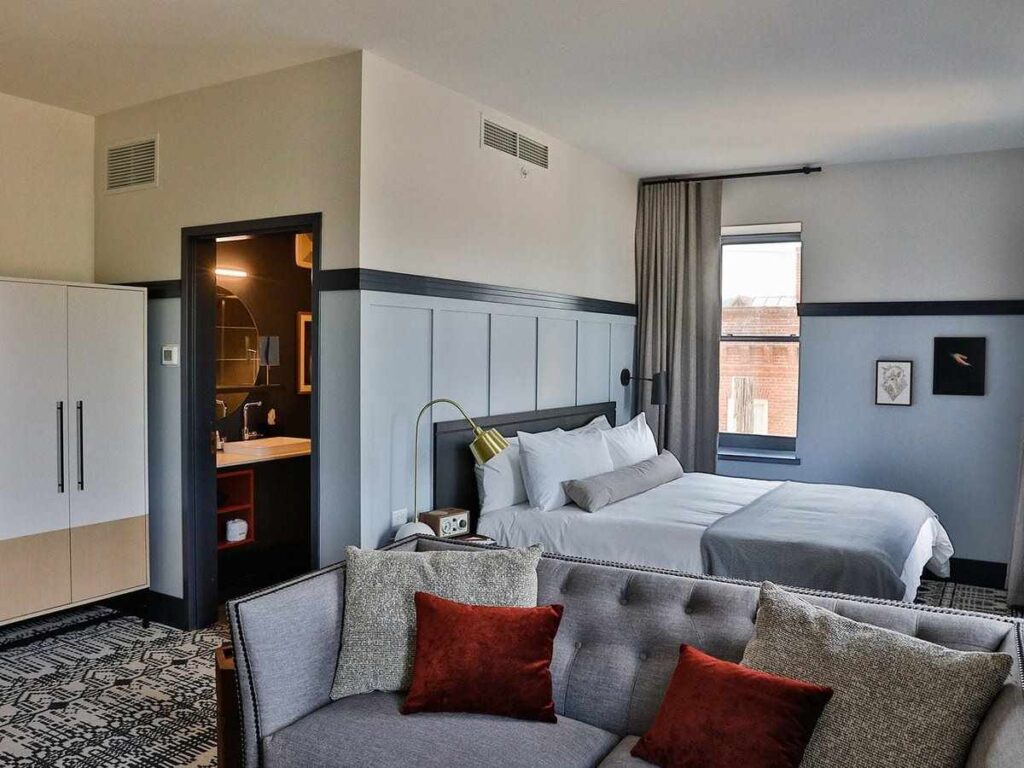 Amenities: On-site restaurant, coffee shop, and bar
Pets Allowed: Yes
Price: $$$
Set inside a former 19th-century brewery, the Lora Hotel is another unique Stillwater destination. The hotel's history is infused throughout the building, with the old brewery's stone walls, caves, carriage passageways, and vaulted warehouses still present today. But it also has a modern and luxurious feel.
The Laura Hotel is located in downtown Stillwater, on the St. Croix riverbank. Because of the prime location, visitors find that they can walk to so many restaurants and activities around the town.
---
Hotels on The St. Croix River
The St. Croix River offers stunning views and activities, including cruises, paddleboats, and fishing. To really immerse yourself in the riverfront experience, choose a hotel on the St. Croix River.
Below, we recommend a few great options.
3. Water Street Inn
Amenities: Two on-site restaurants
Pets Allowed: Yes
Price: $$
Located on the St. Croix River next to the Historic Lift Bridge, the Water Street Inn is the only river-front hotel that's truly in Stillwater. It's situated in the heart of downtown, making it easy to walk to all that Stillwater offers.
Established in 1890, the Water Street Inn has a Victorian feel with modern amenities. Depending on which guestroom you choose, in-room features can include a view of the river, an in-room fireplace, a jacuzzi bathtub, a balcony, and more.
---
4. Phipps Inn
Amenities: On-site breakfast, in-room fireplaces, and in-room jacuzzis
Pets Allowed: No
Price: $$
Although the Phipps Inn is technically in Hudson, Wisconsin, if you're looking for a St. Croix River hotel, this one can't be beaten. And because it's less than a 20-minute drive from Stillwater, everything you want from the charming town is still extremely accessible.
Set in an 1884 Victorian Mansion, Phipps Inn is an elegant bed and breakfast. The building's history gives it a unique charm, perfect for a relaxing getaway. The hotel's specialty is its multi-course breakfast, which you can enjoy in the dining room or from the comfort of your suite.
---
5. Afton House Inn
Amenities: On-site dining options, free breakfast
Pets Allowed: No
Price: $
Located in Afton, Minnesota, the Afton House Inn is another great riverfront hotel near Stillwater. As a historic bed and breakfast, it features antique decor, yet has all of the luxurious, modern amenities that you need for a comfortable stay. Most rooms offer in-room fireplaces, jacuzzis, and televisions, just to name a few.
The Afton House Inn also has a boat charter, which is great for a daytime river cruise or a special event. In- fact, the hotel's private boat charters are excellent for weddings, corporate events, anniversaries, and anything else you want to make extra special.
---
Pet-Friendly Hotels
Sometimes, you can't just leave your pets behind. If you're visiting Stillwater with your furry friend by your side, check out these pet-friendly hotels!
6. La Quinta Inn & Suites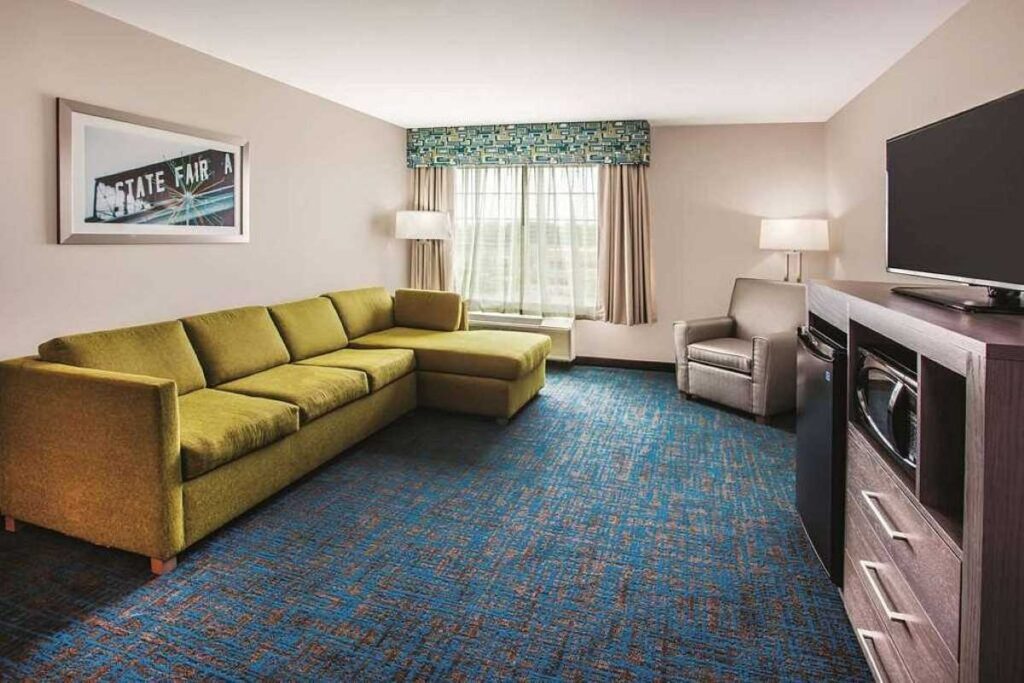 Amenities: Pool, fitness center, free breakfast
Pets Allowed: Yes
Price: $
The La Quinta Inn & Suites St. Paul-Woodbury is a great pet-friendly hotel located just 20 minutes away from Stillwater. And not only is it close to the historic town, but it's also located within walking distance of Woodbury's shops, restaurants, and more.
Reviewers love the complimentary hot breakfast, friendly staff, and other amenities. They also note that rooms are clean, modern, and comfortable – just what's needed for a great stay near Stillwater!
---
7. GrandStay Hotel & Suites
Amenities: Pool, free breakfast
Pets Allowed: Yes
Price: $
The GrandStay Hotel & Suites is a great value hotel in Stillwater. Situated near downtown, its location is convenient, providing access to all of Stillwater's charm. And because it's pet-friendly, you can enjoy your vacation with your furry friends by your side.
Although it doesn't have all the charm that historic bed-and-breakfasts in the area do, the hotel is clean, comfortable, and offers great amenities. An indoor pool, hot tub, and free breakfast make the GrandStay Hotel & Suites an excellent choice for the value.
---
Cheap Stillwater Hotels
Traveling on a budget? We have you covered. See below for our favorite cheap hotels in Stillwater!
8. Country Inn and Suites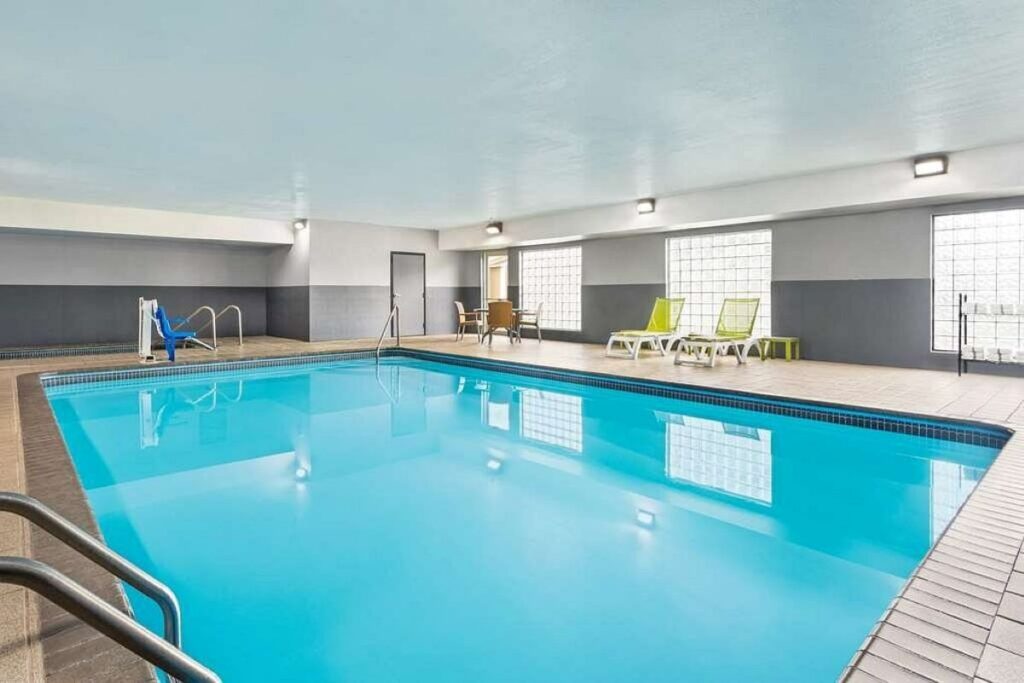 Amenities: Pool, in-room fireplace, free breakfast
Pets Allowed: No
Price: $$
The Country Inn and Suites in Stillwater is a great, affordable hotel. Although it's not necessarily the cheapest on the list, we've included it here because it's relatively low-cost, and you get great value for your money.
This hotel is located near the St. Croix River, close to many of Stillwater's attractions. The hotel's website notes that guests are just minutes from the historic downtown, Aamodt's Apple Farm, a bowling alley, a golf course, and more!
---
9. Hilton Garden Inn
Amenities: Pool, fitness center, on-site bar
Pets Allowed: Yes
Price: $
Just 20 minutes from Stillwater in Oakdale, Minnesota is the affordable Hilton Garden Inn. Its location is also just 10 minutes from downtown St. Paul, making even more restaurants and attractions easy to get to.
Reviewers note the hotel's friendly staff, low price, and clean rooms as highlights of their stay. Even though it's not a luxury hotel, it's a great place to call "home" during your trip to Stillwater.
---
Historic Stillwater Hotels
As the birthplace of Minnesota dating back to 1848, Stillwater is rich with historical sites and buildings. Many of its hotels embrace and preserve this history for a truly charming and immersive getaway.
10. Aurora Staples Inn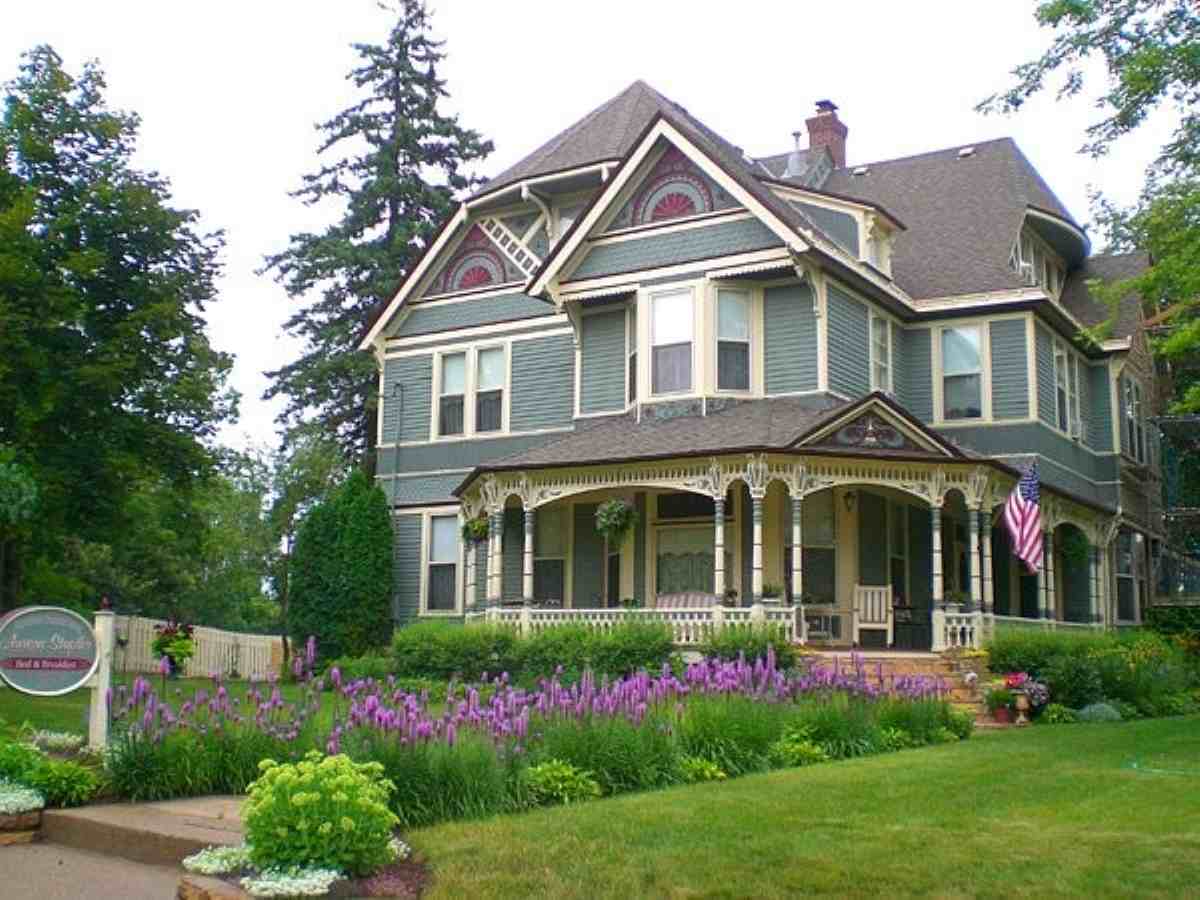 Amenities: Lounge area, board games, in-room fireplaces
Pets Allowed: No
Price: $$
Set in an old Victorian home, the Aurora Staples Inn is a charming bed-and-breakfast. Located just a few blocks from downtown Stillwater, it's convenient and walkable from so many of the town's attractions.
The hotel features Victorian decor with modern comforts, like air conditioning, Whirlpool bathtubs, and more. Reviewers note that the hotel is welcoming and its rooms are quite comfortable!
---
11. Celeste of St. Paul
Amenities: Fitness center, free breakfast, on-site bar
Pets Allowed: No
Price: $
The Celeste of St. Paul is a wonderful hotel near Stillwater. Located in a former Catholic convent and arts conservatory, it's rich with history. Visitors can stay in a room that was the former chapel, see historic art and furniture throughout the hotel, and explore the building's history.
Overall, this hotel is beautiful, comfortable, and affordable. The rooms are spacious, the breakfast is delicious, and the staff is friendly.
---
12. Historic James Mulvey Carriage House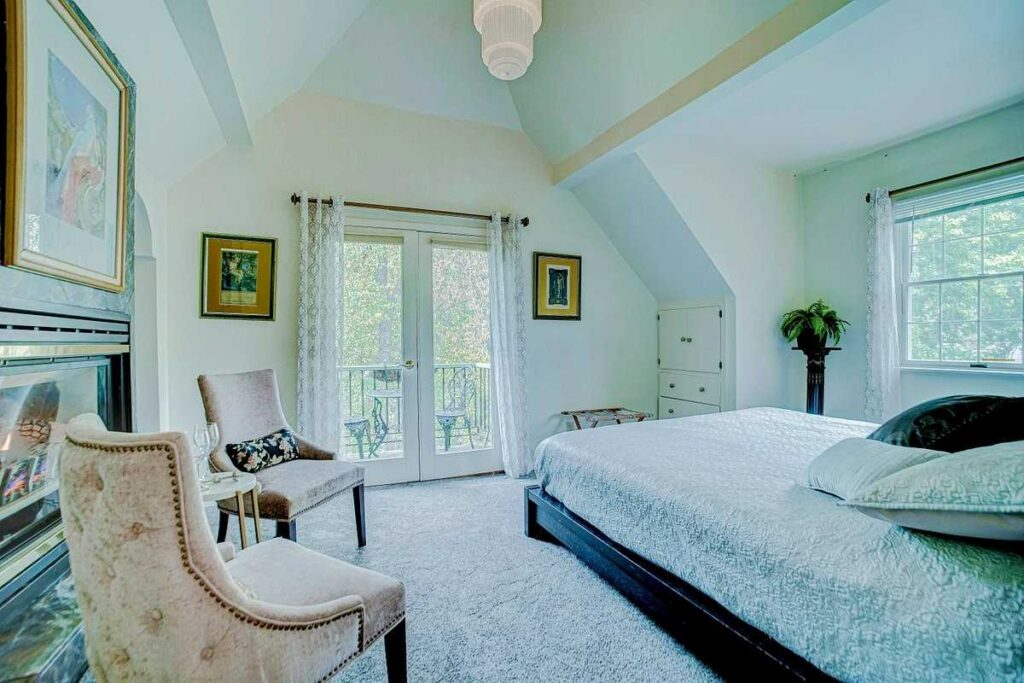 Amenities: Pool
Pets Allowed: No
Price: $$$$
As its name suggests, the Historic James Mulvey Carriage House is located in the former estate of James Mulvey. It was built nearly a century and a half ago to house his family's fine horses and carriages.
Today, the Stillwater hotel resembles an English cottage, with themed rooms that range from French wine country to the Art Deco style. It's in a quiet location that's walkable from downtown Stillwater, making it the perfect destination for a weekend (or more) away.
---
Wrapping Up Stillwater Hotels
With so many wonderful options, you're sure to find the best hotel in Stillwater for you. Whether you want a budget-friendly option, a hotel that allows you to bring your pet, something scenic, or a historic bed and breakfast, there is something for everyone!
Ready for more Stillwater recommendations? Check out our page about Unbeatable Things to Do in Stillwater for all you need to know to plan a perfect trip!
About the Author
Latest Posts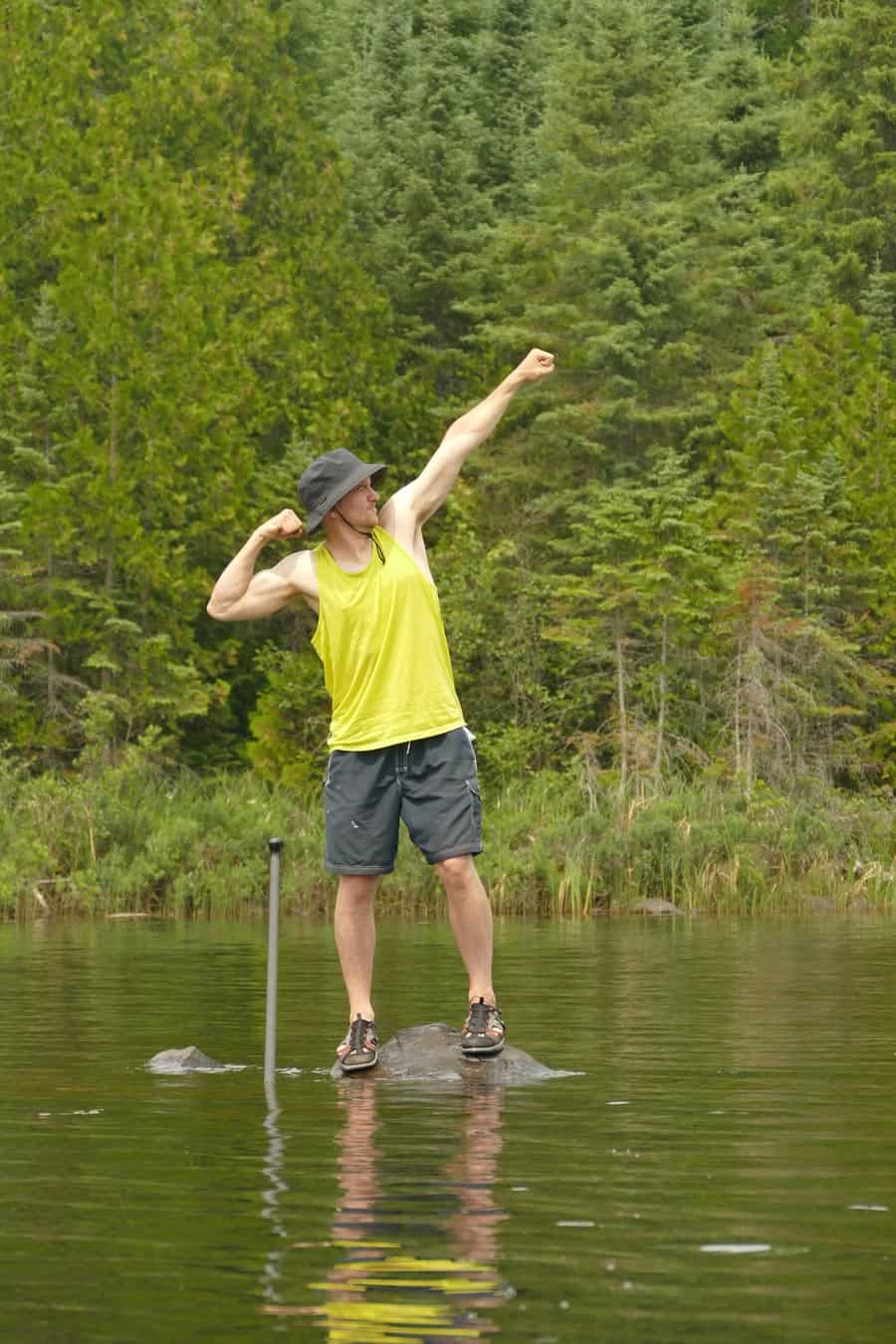 Born in Madelia, MN, to a now 5-generation Minnesota family, Ryan's MN roots go deep.
A painter by day, Ryan founded Life in Minnesota in 2013 with his wife Kelly to chronicle their musings on everything Minnesota. Ryan and Kelly are raising their 7 kiddos in Maple Grove, MN.
When he's not shuttling his kids around to hockey practice, you might find him in the shop working on his leatherwork. Undoubtedly, there will be a family trip to the Boundary Waters Canoe Area every summer, and of course weekends at Grandpa's cabin up north in the summer.