Driving in and out of cities is good, but there is only so much scenery on the roads. With bike trails, you can access more routes and see more than you would while driving.
Minneapolis is known for being one of the top bike cities in America. Thanks to railways abandoning train lines over the years, Minneapolis's bike trails have become convenient for civilians to explore the city.
Read on to learn about our 10 picks for the best Minneapolis bike trails!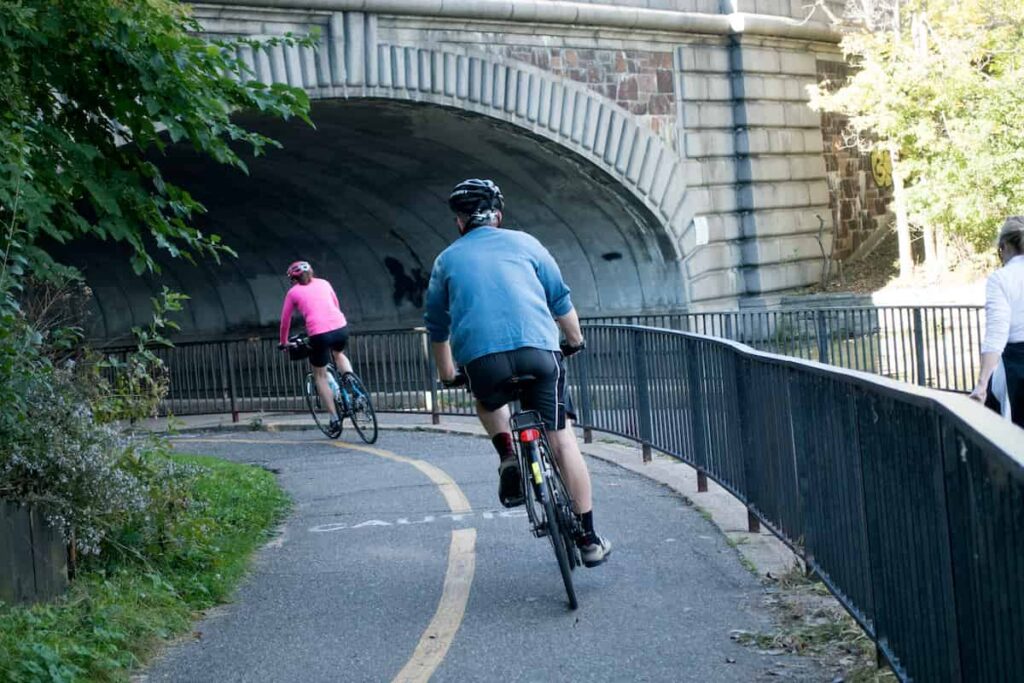 ---
Minneapolis Bike Trails Less Than 5 Miles
1. Dinkytown Greenway
The mile-long Dinkytown Greenway is one of the best Minneapolis bike trails for commuting bicyclists. It's crucial for connecting the Twin Cities. Access between the University of Minnesota and downtown is available, and more connections to St. Paul are possible.
Starting near the TCF Bank Stadium, it runs through the University of Minnesota's modern cycle track on the Mississippi's east bank. Part of the trail runs through a former railway trench, where cyclists ride under the Dinkytown community.
On Northern Pacific Railway Bridge No. 9, cyclists will see St. Anthony Falls and the Stone Arch Bridge. At the trail's end on the river's west bank, it merges with the West River Parkway trail. And close by is the next trail on our list!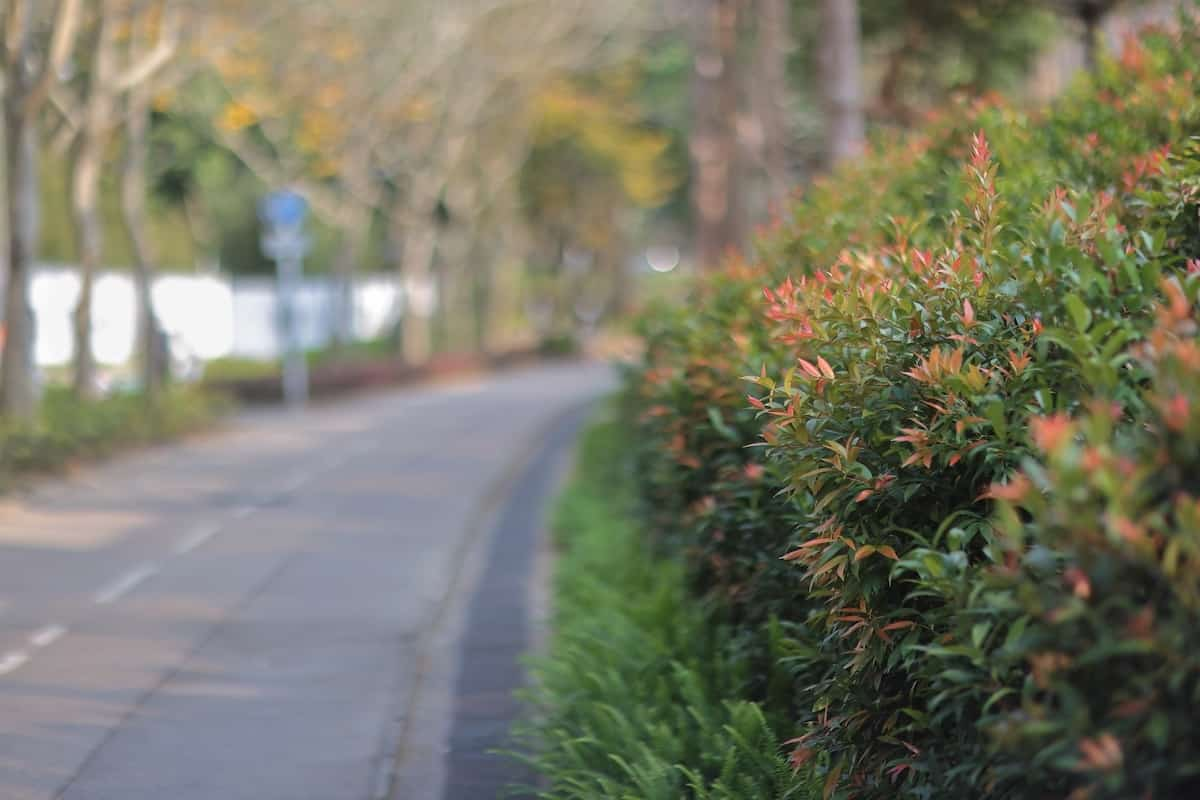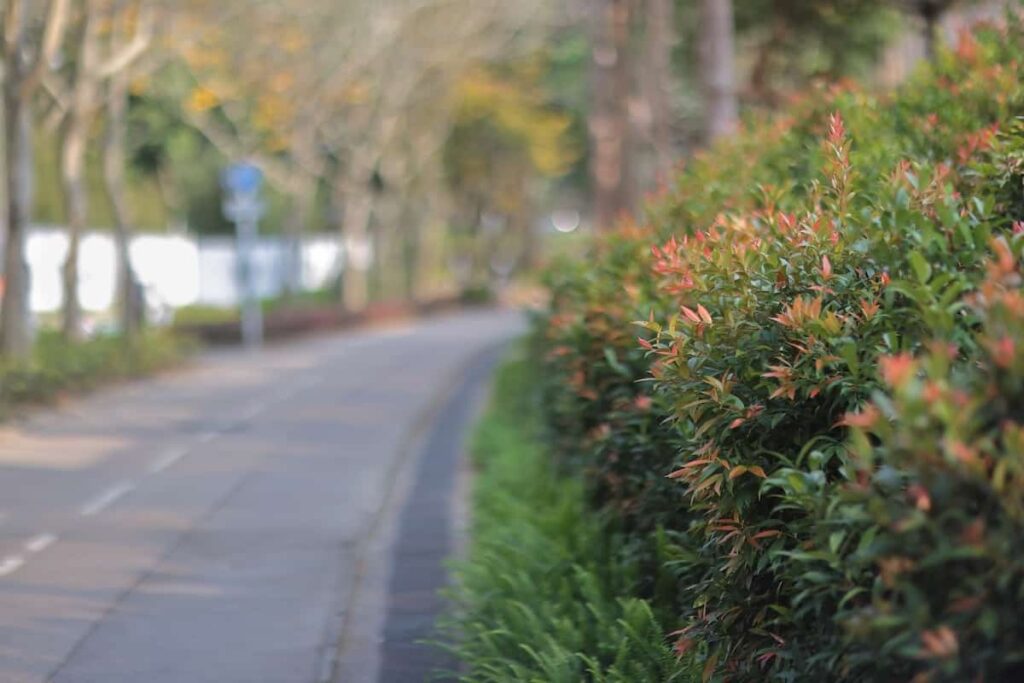 2. St. Anthony Falls Heritage Trail
The St. Anthony Falls Heritage Trail is a Minneapolis bike trail for industrial history buffs. The 1.8-mile trail loops along the Mississippi Riverfront within the National Register Historic District from the Falls' Lock and Dam.
Throughout the trail, cyclists will see signs describing the district's past. The trail's highlight is the 23-arch, limestone-and-granite Stone Arch Bridge, a former railroad across the Mississippi. As cyclists ride along the bridge, they'll receive an upriver view of St. Anthony Falls.
The trail passes near Father Hennepin Bluff Park and Southeast Main Street, where cyclists can break for meals and shopping. At the park, they'll have two options on where to go next along the route if they want to continue riding.
3. Minneapolis Diagonal Trail
The 3-mile Minneapolis Diagonal Trail, or the Northeast Diagonal Trail, is mostly a commuter route with interstate 35W crossings. However, this Minneapolis bike trail has certain areas worth visiting, like the Gross Golf Club and the Quarry Shopping Center.
After cyclists pass the large Hillside Cemetery, they can climb the hilltop for beautiful views of Minneapolis's skyline. And on the industrial portions of the trail are kiosks that describe the neighborhood's history.
An extension to the trail goes south toward East Hennepin Avenue from Stinson Boulevard before the trail's end. It adds up to a third endpoint, but that segment will have cyclists crossing intersections and driveways.
---
Minneapolis Bike Trails Between 5 and 10 Miles
4. Great Northern Greenway
Urban routes don't exclusively have commercial buildings; the 5-mile Great Northern Greenway is proof of that. This route to destinations like the West Broadway business district and the Northeast Arts district is also scenic for cyclists.
There are culturally diverse and historic neighborhoods, even outdoor sculptures, along the way. For both rest and beautiful scenery, the Great Northern Overlook on 26th Avenue provides river views of the Mississippi.
This Minneapolis bike trail connects the North and Northeast parts of the city across the river via the Broadway Bridge. Cyclists will traverse through the West River Road and East Bank riverfront trails on both sides of the bridge. In the end, it connects with the Diagonal Trail.
5. Midtown Greenway
The best Minneapolis bike trails are shared ones with more room for cyclists and are well-maintained, like the Midtown Greenway. Formerly a railroad corridor in south Minneapolis, this trail sports three lanes: two for cyclists and one for runners and walkers.
It runs west from the Mississippi to the Chain of Lakes area, and both ends connect with other trail systems. Examples include the West River Parkway and Hiawatha Trails. Cyclists enjoy crossing the long, scenic Martin Olav Sabo Bridge over the busy Hiawatha Avenue as they ride.
What makes this 5.5-mile trail popular is that it's open 24/7. It's lit at night and plowed and maintained during the winter. Another reason is that it runs parallel to the road, so cyclists don't have to dodge cars as they ride.
6. Shingle Creek Regional Trail
For a quieter bike ride, try the 8.4-mile Shingle Creek Regional Trail. This Minneapolis bike trail mostly passes through residential communities, businesses, parks, and schools.
Like the Dinkytown and Midtown Greenways, you'll have more choices between other trails and parks. The route connects with Brooklyn Park's Rush Creek Regional Trail and later to Shingle Creek Parkway and other trails southward.
Along the way, cyclists will see Brookdale Library, Athlos Leadership Academy, and Brooklyn Center City Hall points of interest. On the nature side of it, cyclists can also get a glimpse at the bird-filled wetlands and the Palmer Lake Basin.
7. West River Parkway Trail
The West River Parkway Trail is also called the Mississippi River Gorge Regional Trail. The trail offers much to see, mixed with urban amenities and natural areas. It's another one of many Minneapolis bike trails that gives you more access points to other trails.
From north of Plymouth Avenue to Minnehaha Park, cyclists follow the Mississippi downstream on a tree-lined route. They'll have views of the river, access to downtown Minneapolis, and no stop signs interrupting their pace.
Other trail highlights include the Stone Arch Bridge and the Interstate 35W Bridge Remembrance Garden. Once cyclists reach Minnehaha, they gather to see the river's gorge and watch plumes of whitewater tumble into it.
---
Minneapolis Bike Trails More than 10 Miles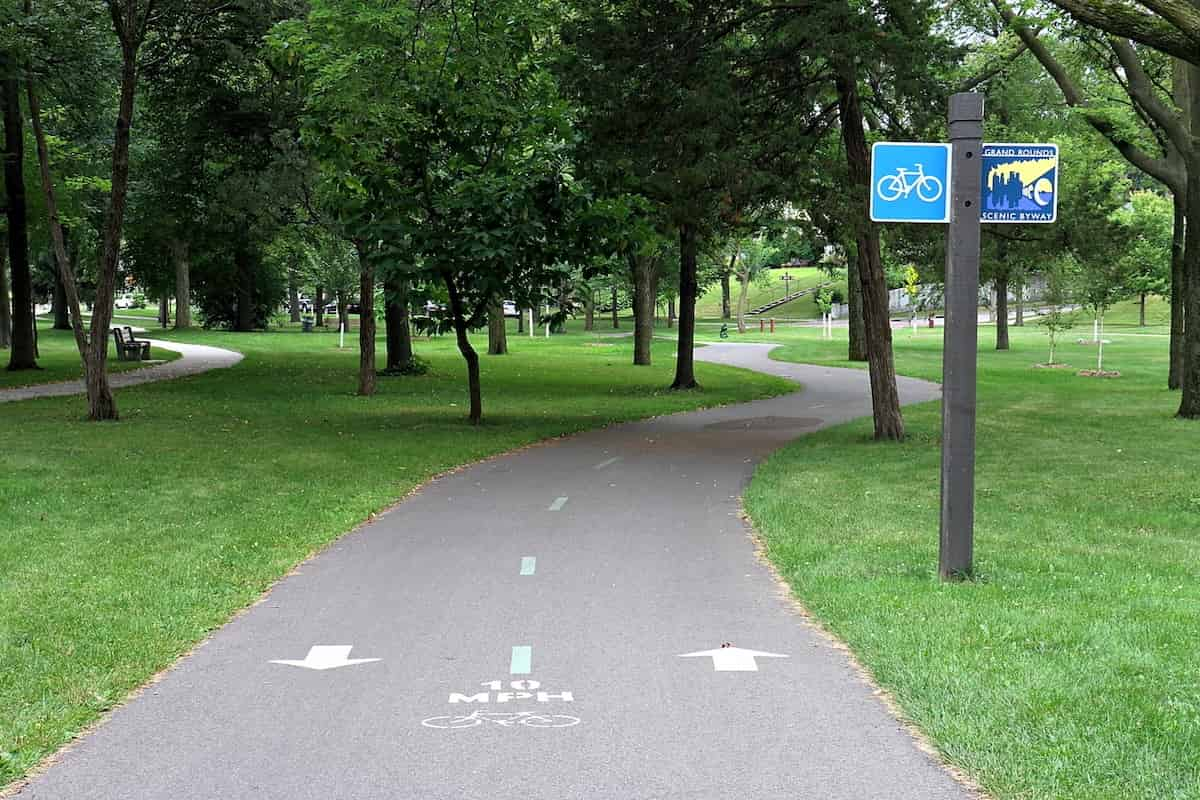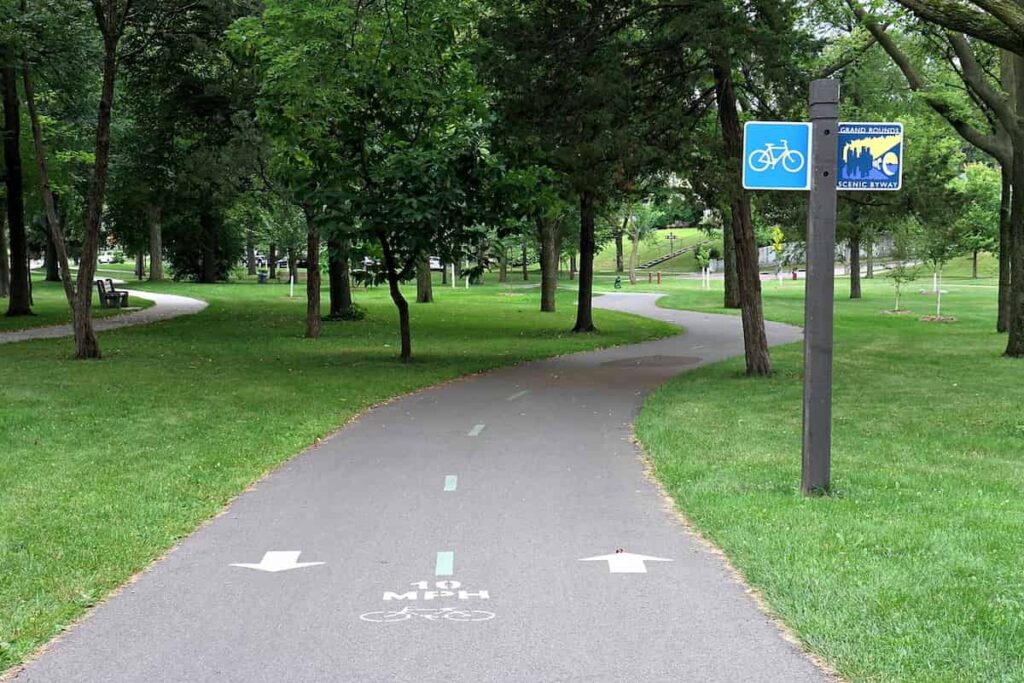 8. Chain of Lakes Loop
The best Minneapolis bike trails include ones that are extended to give you more time to ride your bike. The Chain of Lakes Loop does that, and better yet, you can enjoy the ride with your leashed dog!
The Chain includes Bde Maka Ska (Lake Calhoun, Minnesota's largest lake), Lake Harriet, and Lake of the Isles. Each lake has a loop that's about 3–3.5 miles long. Cyclists can ride one or all of the trails for an 11-mile trip.
Besides lake views, cyclists will see a nearby bird sanctuary and rose gardens at the Lake Harriet Loop. If you love birdwatching, try this loop before going through the entire Chain.
9. Grand Rounds Scenic Byway
Check out the 50-mile circular Grand Rounds Scenic Byway for a real bike trip around Minneapolis. It's the heart of the city's world-class trail system, linking many parkways and trails for an all-day tour circling Minneapolis.
The Chain of Lakes Loop is part of the byway, so if you're a dedicated cyclist, you could extend your trek! Other segments of the byway include the Downtown Riverfront, the Mississippi, Minnehaha, Theodore Wirth Park, Victory Memorial, and Northeast Minneapolis.
A long Minneapolis bike trail like this has many highlights, including ones you've read in the abovementioned trails the byway touches. Others include Theodore Wirth Park's sunflower garden, the Minneapolis Sculpture Garden, Guthrie Theater, and the Weisman Art Museum.
10. Luce Line Trail
Of the Minneapolis bike trails listed, the Luce Line Trail is the longest at nearly 75 miles. It's one of Minnesota's first rail trails, occupying what used to be the Electric Short Line Railroad.
The Luce Line Regional Trail is between Theodore Wirth Regional Park and Plymouth and Golden Valley in west Minneapolis. Medicine Lake forms a backdrop to wooden bridges in that trail segment. From there, cyclists can see the Bassett Creek marshlands.
Adventurous cyclists who'd like a break from the city can ride from urban west Minneapolis through the city's rural landscape. They'll travel through neighborhoods and various ecosystems into the countryside, riding through paved and gravel surfaces and past various wildlife.
---
Where to Rent Bikes
Now that you're acquainted with 10 Minneapolis bike trails, you'll need a bike to travel through them. If you live around Minneapolis, you're all set, but what if you're visiting or don't have a bike?
You can rent a bike in Minneapolis in a rental shop or Minnesota's shared bike program (more about that below). Rental costs may vary depending on the shops, the riding hours used, and the bike's brand and style.
Rental Shops
Tangletown Bike Shop
Situated in southern Minneapolis, the Tangletown Bike Shop lets you rent new and used bikes at varied prices. You can also book a bike rental online.
Tangletown is near the Chain of Lakes Loop, ultimately near the Grand Rounds Scenic Byway. Ideally, you're ready to ride a few Minneapolis bike trails once you've rented your bike.
Reviewers compliment the friendly service and even the conversations with staff on biking.
Angry Catfish Bicycle
Close to the West River Parkway and Hiawatha LRT Trails is the Angry Catfish Bicycle. It's a bike rental and repair shop and a coffee shop. Before you rent a daily or weekend bike, don't forget to grab a cup!
A reviewer reported having limited bike knowledge and praised the associates for assisting in selecting the right bike. You also get to apply the rental price toward your purchase of a certain brand within 90 days of your rental.
Shared Bike Program
Because biking is a common activity in Minneapolis, the city has a shared bike program. If you're not renting from a shop, you can ride the city's electric bikes (e-bikes) through the Minneapolis bike trails.
The e-bikes are locked to bike racks or signposts (not a stop or bus stop sign) throughout the city. You can unlock them through the apps of two bike vendors: Lime and Veo. Lock them up at these locations when you're through riding.
Though you may ride an e-bike on any bike trail, some routes through the National Park Service prohibit them. One example of such a trail is the Luce Line Trail. Also, depending on your e-bike class, you must follow certain rules before riding bike trails in Minneapolis.
---
Pedal, Don't Drive, Through Minneapolis!
Don't let driving in cars limit your exploration of Minneapolis. By biking through the city, you'll be able to see more than you would behind a windshield.
Ride the best Minneapolis bike trails for a scenic and custom tour of one of the top bike cities in America! Visit our Twin Cities page to learn about other exciting sights and activities in Minneapolis and St. Paul.