Minnesota's craft beer scene shows no sign of slowing down, and we're not upset about it. From bold IPAs to mellow lagers to funky sour ales, the land of 1,000 lakes is full of exceptional brews. Let's discuss some of the best Minnesota beers that are sure to enthrall your tastebuds.
1. Castle Cream Ale – Castle Danger Brewing
ABV: 5.3%
IBUs: 20
Style: Cream Ale
The moment you pop one of these open, you'll be entranced by a gentle malty aroma. Castle Cream Ale is a Minnesota classic, and rightfully so. This cream ale is a perfect balance of sweet and bitter with a buttery smooth finish.
Despite opening in just 2013, Castle Danger Brewery has quickly established itself as the ninth-largest brewery in Minnesota. Their slogan, "Dangerously Good Ales," perfectly encapsulates the feeling those experience while indulging in their classic cream ale.
2. Peanut Butter Porter – Dangerous Man
ABV: 5.8%
IBUs: 26
Style: American Porter
Regardless of your drinking preferences, Peanut Butter Porter is a must-try for all. This American Ale has a mouth-watering flavor profile made up of toffee, peanut butter, chocolate, and hints of coffee. If that doesn't pique your interest, many claim it tastes exactly like a Reese's Peanut Butter Cup.
Created by Dangerous Man, Peanut Butter Porter is brewed right in the heart of Minneapolis. If you're looking for a dark, semi-sweet, frothy beer with a roasted peanut finish, this one should be at the top of your list.
3. Extra Pale Ale – Summit Brewing Company
ABV: 5.1%
IBUs: 49
Style: English Pale Ale
A delicate balance of biscuit malt and light hoppy bitterness, Extra Pale Ale is a pioneer craft beer in St. Paul. With an upbeat flavor profile composed of caramel, grain, honey, and citrus – this beer makes for a perfect daytime refreshment.
Commonly considered one of the best Minnesota beers around, the Summit Extra Pale Ale has won numerous awards, including the gold medal for English-Style Pale Ales at the 2010 World Beer Cup. First brewed over 35 years ago, this timeless beer will forever remain a favorite among Minnesotans.
4. Dreamyard American IPA – Modist Brewing
ABV: 7.1%
IBUs: 16
Style: Hazy Single IPA
It's no secret that Minnesotans are crazy about their IPAs. One of the most sought-after IPAs is Dreamyard American IPA by Modist Brewing.
It has a sweet, fruity smell that can only be described as captivating. Fortunately, it has the palate to match – with notes of strawberries, apricot, peach, and mango. Its versatility, approachable bitterness, and smooth finish make it an easy-to-drink, enjoyable IPA.
5. Size 7 – Steel Toe Brewing
ABV: 7%
IBUs: 77
Style: American IPA
Size 7 by Steel Toe Brewing is a beautifully-balanced IPA with a rich, floral aroma. A favorite among Minnesotans, this IPA pours a deep amber color with a thick, bubbly white head.
It has a strong, bitter taste going down, followed by a robust earthiness and pine finish. Its fruity, hoppy flavor makes it feel like a West Coast IPA, but with that unparalleled Minnesota charm.
6. Grain Belt Premium – Schell's Brewing Company
ABV: 4.7%
IBUs: 45
Style: Adjunct Lager
Starting right after the cessation of Prohibition, Grain Belt Premium has been a decades-old staple in the Minnesota drinking scene. Originally brewed by the Minneapolis Brewing Company, the famous recipe was purchased by Schell's Brewing Company in 2002, which continues to keep this legendary beer alive today.
With its distinct hop aroma and luscious malt flavor, this is a must-try for any lager-lover. It leaves a sweetened corn taste on the tongue with a clean and crisp finish.
7. Duck Pond Nut Brown Ale – Jack Pine Brewery
ABV: 4.4%
IBUs: 12
Style: American Brown Ale
For those that prefer a lower alcohol content beer, Duck Pond Nut Brown Ale is more than approachable. With a caramel malt backbone and velvety feel, you'll be hooked the moment you try this brew.
The primary scents include nut, caramel, and toast, with an equal flavor palate. For those that prefer a darker beer, this one will have your tastebuds thanking you.
8. Bourbon Barrel-Aged Darkness – Surly Brewing Company
ABV: 12%
IBUs: Moderate
Style: Russian Imperial Stout
A perfect concoction of vanilla, burnt sugar, caramel, oak, coffee, and molasses – this Russian imperial stout has a rich, dark chocolate flavor with notes of black fruit. Despite its innovative taste, Bourbon Barrel-Aged Darkness displays characteristics of old-school imperial stouts.
The palate isn't the only thing noteworthy about this bourbon. The lively carbonation and distinguished smell perfectly compliment the range of flavors. Are you ready to get a taste of the dark side?
9. Hamm's – Hamm's Brewing Co.
ABV: 4.6%
IBUs: 13
Style: Adjunct Lager
Imagine a hot summer day, you're with your buddies, and you just reeled in a 60 lb Pike. When you reach for the cooler, this is the beer you're grabbing.
Dating all the way back to 1865, this timeless lager is an American classic. Simple, smooth, and light – Hamm's lager is the perfect thirst-quencher. With hints of hops and highlights of fruity deliciousness, this is Hamm's down, one of the best Minnesota beers.
10. Mango Blonde – Lift Bridge Brewery
ABV: 4.75%
IBUs: 15
Style: American Blonde Ale
If you're into fruity beers, Mango Blonde by Lift Bridge Brewery may be the beer you've been looking for. With a tropical breeze aroma with hints of sweet mango, this beer is excellent for those that don't like standard brews.
In addition to its great taste, Mango Blonde comes at an equally great price. Even those that typically shy away from fruity beers tend to enjoy this Ale.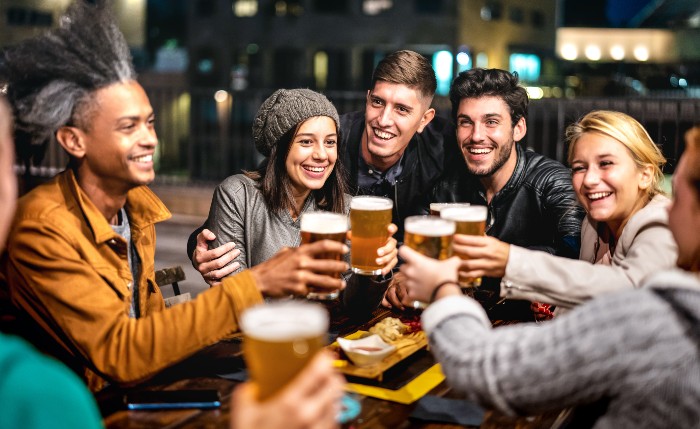 11. Roselle – Fair State Brewing Cooperative
ABV: 5.7%
IBUs: 19
Style: Kettle Sour
This sour is as charming as it is tasty. Pouring a deep, rose-color, and strong white head, Roselle produces a pleasant aroma of raspberry, citrus, grape, lemon, and pineapple. Its palate follows a floral, yeast, and pepper sequence and leaves a tart aftertaste.
Due to its popularity, Roselle can be found in cans across the country. However, if you want to experience it on tap, you'll have to make a stop at the Fair State Coop taproom in Northeast Minneapolis.
12. Masala Mama India Pale Ale – Minneapolis Town Hall Brewery
ABV: 6%
IBUs: 70
Style: American IPA
If you go back and ask Minnesotans what their favorite IPA was in 2006, you'd consistently get the same answer: Masala Mama India Pale Ale. This American Ale is often considered the most influential IPA to come out of Minnesota – having a heavy influence on future generations of IPAs.
Fortunately, this original Minnesotan IPA continues to live on today. The bready malt base, notes of floral hops, and nice bitter finish make this IPA a go-to for both younger and older generations.
13. Lavender Uprising IPA – Broken Clock Brewing Cooperative
ABV: 7.5%
IBUs: 89
Style: American IPA
If you're a fan of IPAs with something beyond the standard fruity formulation, Lavender Uprising IPA is one of the best beers around. Its aroma is distinctly lavender, along with floral notes and traces of light citrus.
Like the aroma, the taste has an incredible lavender flavor with light herbal notes in the background. The creamy, luscious texture and soft carbonation make Lavender Uprising IPA exceptionally drinkable.
14. Fine! IPA – Big Wood Brewery
ABV: 6.5%
IBUs: 75
Style: American IPA
Described as a "hop lover's dream IPA," Fine! IPA has a vibrant orange pour with a sweet, citrus aroma. It has a smooth, creamy body with a perfect dose of soft carbonation.
Straddling the line between American and English IPA, Fine! IPA has flowery and fruity hops that give it an earthy yet deliciously bitter flavor. This versatile brew is a must-try for all Minnesotan IPA lovers.
15. Schell's Dark – August Schell Brewing Company
ABV: 4.8%
IBUs: 20
Style: American Amber Lager
This American lager pours a crystal clear, amber color with a nice khaki head. Schell's Dark, made by August Schell Brewing Company, has a tantalizing aroma with notes of toasted malt, dark bread, and a hint of sweetness.
Claimed to be "the lightest, dark beer you will find," Schell's Dark is only referred to as "Dark" because the barley is roasted longer. If you're in the mood for a lager with a trace of mild hop bitterness and light maltiness, this beer will be sure to satisfy you.
16. Miraculum IPA – Pryes Brewing Company
ABV: 6.4%
IBUs: 75
Style: American IPA
A blend of East Coast and West Coast IPA – Miraculum IPA has a deep bronze pour with a strong khaki head. Its captivating aroma emits waves of apple, citrus, orange, and red grapefruit.
With strong pinecone, stone fruit, and citrus flavors, Miraculum IPA finishes with lingering spiced caramel. There's a reason this brew is Pyres Brewing Company's signature IPA.
Let's Have a Toast to the Best Minnesota Beers
Home to more than 180 breweries and growing by the year, Minnesota is full of some of the best beers across the country.
Now that you know the best Minnesota beers, which one are you going to try first? Be sure to leave a comment and let us know! Looking for a brewery to enjoy one of these cold ones? Be sure to check out our list of the best Breweries in Minnesota.