Visiting a local brewery to grab a pint has become a popular hobby for many and a lifestyle for some. Although the Pacific Northwest is known as the home of craft beer, Minnesota has its own amazing collection of local breweries with more opening up all the time. Grab your keys, your designated driver if needed, and off we go to visit the 18 best breweries in Minnesota.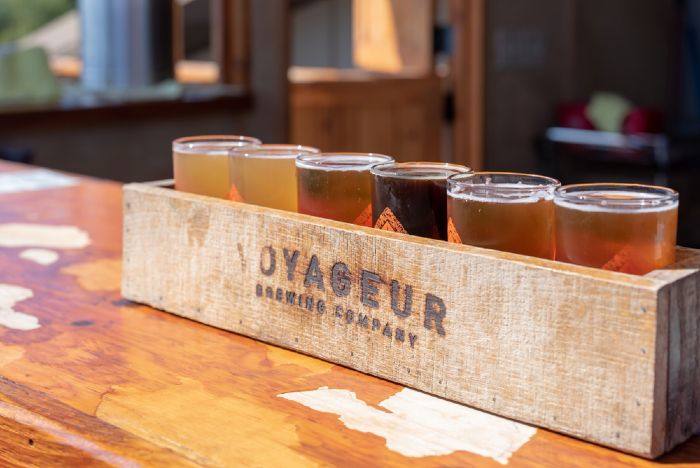 Northwest
1. Lake of the Woods
Originating across the border in Ontario, Lake of the Woods Brewing Company now has three locations, with one in Warroad, Minnesota. Finding their home in a 1970s refurbished fire hall, it's not only one of the best breweries in Minnesota, it's also the northernmost brewery in the state.
Taking its name from the water it's built near, Lake of the Woods brews up a variety of styles with the freshest hops and premium grains to ensure every pint they serve is worthy of its namesake. With three available taprooms, you can "Do the Loop" to visit them all and score a free T-shirt.
2. Drekker
Although not a Minnesota brewery, we couldn't mention the northwest region without encouraging you to pop over to Fargo to check out Drekker Brewing Company. Their beers are known throughout the Midwest as being some of the best in the country, and they can frequently be found at beer fests and liquor stores across northern Minnesota.
Operating out of a renovated railroad shop that was built in 1883, their huge taproom contains much of the wood and brick that's original to the building. The outdoor fire pit is the perfect place to watch the sun go down on another beautiful Minnesota (or North Dakota) night.
Northeast
3. Castle Danger
If you're feeling a little risky, check out the "dangerously good ales" being brewed at Castle Danger Brewery in Two Harbors. Overlooking Lake Superior, the downtown taproom boasts 22 taps so they're sure to have something for everyone.
Just like many of the best breweries in Minnesota, they use water from the nearby lake to brew their year-round beers and pilot series creations which include small batches of experimental brews. The expansive patio and outdoor area is the perfect spot to soak up some summer sunshine and feel the wind coming off the waves of Lake Superior.
4. Bent Paddle
No trip to Duluth is complete without a visit to Bent Paddle Brewing Company. On the west side of town, in the Lincoln Park neighborhood, you'll find a 10,600 square foot space being owned and managed by two married couples.
Brewing 100% of their beers with water from Lake Superior, the team focuses on providing high-quality beers in a sustainable way and giving back to the community. Through their "Paddle It Forward" program, they have been able to donate over half a million dollars to more than 500 nonprofits since opening in 2013.
5. Voyageur
Number 5 on our list of the best breweries in Minnesota is Voyager Brewing Company.
Summer in Minnesota is gorgeous, and what better way to enjoy it than from the rooftop patio at Voyageur Brewing Company in Grand Marais. Using water from Lake Superior, they brew up a balanced portfolio of styles year-round as well as a few new flavors to match each season as it comes along.
In the taproom, you can enjoy appetizers such as cheese curds, pretzels, tacos, and wings. Stop by on Wednesdays for Raise a Pint Night which is a fundraiser for local non-profit organizations. Before you leave, don't forget to grab a hat, shirt, or glass to take home!
West Central
6. Beaver Island
In the center of the state, you'll find Beaver Island Brewing Company in St. Cloud. The brewers here enjoy crafting solid beers with a thoughtful twist that you just have to tell others about. With great respect for quality ingredients and brewing history, they have developed a thorough menu of year-round, seasonal, and limited release beers. To give back to the community that has given them so much, they host Tending for a Cause on Wednesday nights to raise money for local nonprofits. Be sure to check out their weekly specials and plan your visit accordingly.
7. Spilled Grain
You know you've found one of the best breweries in Minnesota when you visit Spilled Grain Brewhouse in Annandale. They have won over 25 national craft beer medals, including two from GABF. This is likely because of the attention to detail they put into every batch.
Their focus on small batch production allows them to maintain the highest quality of beer while remaining a dedicated partner to their community. Their "Spill it Forward" program hosts several fundraising events each year which has enabled them to raise tens of thousands of dollars for local nonprofits and families.
8. Talking Waters
With only three full-time staff members, the three co-owners, Talking Waters Brewing Company is small, but mighty. They chose their name from the county they call home, Lac Qui Parle, which translates to "lake which speaks" or "talking lake".
Being such a small operation, the brewers are able to be involved in every step of the brewing process. They love to push boundaries, defy expectations, and experiment with new styles and ingredients to create great beer for their adventurous community. The taproom opened in July 2016 and serves a range of beers including cream ales, lagers, IPAs, sours, and stouts.
MSP Metro
9. Surly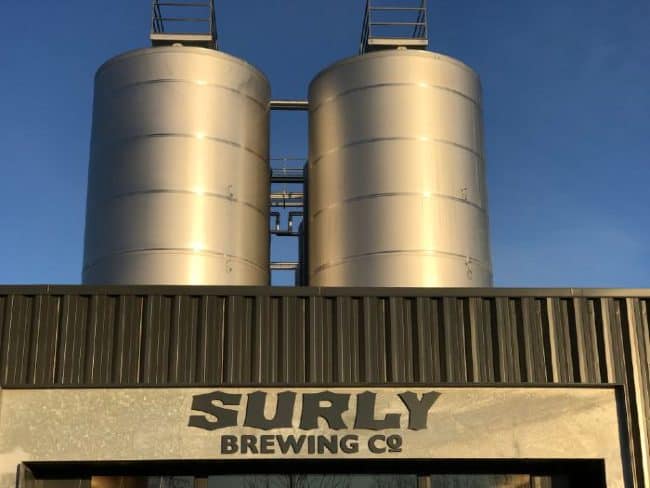 If you've only heard of one brewery from Minnesota, chances are it's Surly Brewing Company. These beers are brewed with hard work and a little attitude for people from the North. Pulling inspiration from dive bars, they focus on brews that are distinct and defiant.
The team at Surly is also dedicated to their community and state. Their volunteer program, Surly Gives a Damn, connects Surly employees and fans to charitable organizations throughout the Twin Cities. They are also champions of beer laws to change the way beer is delivered and consumed in Minnesota.
Plus, Surly's also sells J's Kombucha, made by an international award-winning Minnesota kombuchery dedicated to crafting approachable, refreshing, mellow kombucha. J's Kombucha offers classic kombucha flavors crafted with fresh, cold-pressed juice from organic fruits and herbs, available in cans, kegs, & growlers.
10. Summit
If you take a poll on the best breweries in Minnesota, you'll likely hear about Summit Brewing Company. The art of brewing beer goes back centuries, and they like to keep the tradition alive while still incorporating modern ingredients.
Their first beer, the Extra Pale Ale, is still a popular choice for drinkers today. Summit focuses on brewing in an eco-friendly way. They recycle the water used to clean inside and outside of beer bottles. They make the most of Minnesota winters by using the cold air to chill the glycol for fermenting tanks, process water, yeast tanks, and even the beer.
11. Utepils
If you're a purist or just prefer traditionally-brewed beers, you must stop by Utepils Brewing (pronounced "oo-ta-pills") in Minneapolis. Here, they focus on brewing European-style lagers and ales as well as a few local favorite styles.
When the weather is nice, step outside to their beer garden and patio area with Adirondack chairs around the fire pit and picnic tables with large umbrellas. With 16 rotating taps, you might have a hard time deciding what to get. No worries, just grab a flight-ski! Made from actual skis, this flight features five different beers so you can find your favorite.
12. Fulton
Thanks to legislation passed at just the right time, Fulton Brewing Company was able to be the first taproom in Minneapolis in March 2012. Their popularity grew at rapid speed, and just 18 months later they had already purchased a second location.
This 51,000 square foot space in Northeast Minneapolis now houses an 80 barrel brewing system, offices, warehousing, and QC/QA laboratory. This is where most of Fulton beer comes from. The original downtown brewery now focuses on small batch and experimental brewing while also hosting the taproom and new kitchen.
Southwest
13. Forbidden Barrel
Sometimes the smallest towns have the best breweries in Minnesota. That's definitely true of Forbidden Barrel Brewing Company in Worthington. They like to serve up experimental, unique, and just plain fun beers for friends old and new.
Opened in 2019, the taproom is located in downtown Worthington, just one block from Lake Okabena. It features a limited menu with street corn nachos, wings, and pizza. To truly get a taste of something new, ask for a pint of their Paycheck Jalapeño Honey Wheat to go with their tater tot hotdish pizza.
14. Brau Brothers
As is often the case with craft breweries, Brau Brothers Brewing Company has had several homes as they've expanded over the years. Starting in 1999, their two bbl system was hardly larger than a fire truck.
By 2006, they had upgraded and added a bottling line to their new 15 bbl system. In 2013, they moved to their current home in Marshall where they opened a taproom. They love to use local ingredients whenever possible, including locally-grown hops and barley. This makes their beers truly part of the small-town community they call home.
South Central
15. Mankato Brewery
The best part of visiting a local brewery is experiencing the local flavor. Nowhere is this more true than at Mankato Brewery. They craft authentic beers that reflect the heritage of Southern Minnesota and its people.
Begun in 2012, this is the first production brewery in Mankato since 1967. The menu features five year-round beers including a brown ale, sour, IPA, amber ale, and a lager. They also offer limited releases in the taproom and with nearby distributors. Look for their signature comic-book-style artwork on cans and see if you can spot the references.
16. Schell's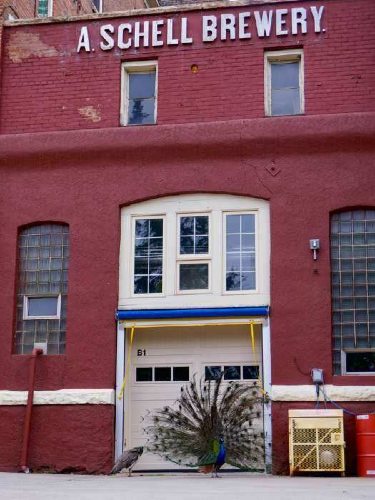 Although the craft beer industry feels somewhat new, August Schell Brewing Company has been in production since 1860, making it Minnesota's oldest brewery. Co-founded by August Schell and Jacob Bernhardt, the brewery was owned and operated by the Schell family until 1911.
At this time it was taken over by George Marti, the husband of August's daughter, Emma, and remains in the Marti family to this day. Today, August's great-great-great-grandson, Jace Marti, is the Brewmaster and responsible for the Noble Star Collection of sour beers. Stop by and tour the facility in New Ulm to see why this is one of the best breweries in Minnesota.
Southeast
17. Forager
More breweries are also starting to add food menus to their taprooms and you won't find a tastier selection in Southwest Minnesota than Forager Brewery. Along with lagers, pilsners, IPAs, stouts, and sours, they also serve appetizers, soup & salads, wood-fired pizzas, sandwiches, a kid's menu, and desserts.
The brewers like to be spontaneous, creative, and unrestricted with their recipes, which leads to some unique beers you won't find anywhere else. Using traditional brewing methods with modern innovations, their beer is made with locally foraged ingredients and regionally native grains for a true taste of the Driftless Region.
18. Thesis
Last on our list of best breweries in Minnesota, but not in thirst-quenching flavor is Thesis Beer Project. When you're feeling "Good and Thirsty" (as their tagline implies) head to Uptown Rochester and visit Thesis Beer Project for a refreshing brew. This small batch brewery and taproom also features a dedicated music stage with regular live music events.
Their range of beers starts with light options such as Mexican lagers, Helles lagers, and wheat ales. If you like beers a bit stronger, check out the IPAs and red ales. For the dark beer lovers, they also have a few stouts on tap. Be sure to pay attention to their Facebook page for upcoming events, music, and food trucks.
Raise a Glass to the Best Breweries in Minnesota!
Next time you're out and about and feeling a bit thirsty, check out one of these best breweries in Minnesota. Of course, there are over 160 more in the state, so if you visit one not listed here, please be sure to leave a comment below and tell us about it! Cheers!
For more information about the best breweries in Minnesota, check out Awesome Minnesota Breweries.
If wine is your choice of beverage, check out the 10 best wineries in Minnesota Or visit these 13 Minnesota wineries for some fun.
Still thirsty? Then continue exploring Minnesota food and drinks for a complete culinary adventure!