A backyard should be a place you retreat to after a long day to relax and rejuvenate your mind. If this doesn't sound like your backyard, it might be time to consider modern backyard ideas to do some revamping.
Tackling a huge project like this can feel a little overwhelming because it's hard to figure out where to start.
You'll need to think about materials, what features you want, and the timing for the overall design process. These things are especially important to think about since everything you build needs to withstand Minnesota's harsh winters.
If you're ready to create the backyard of your dreams, use this list of modern backyard ideas to get started!
---
Hardscaping Ideas
1. Use Pebbles and Rocks as Filler
Typically, most people fill their flower beds with mulch or dirt. Sure, it looks nice, but these materials don't last. You'll most likely have to refill the beds every year due to rain, snow, and other weather issues. Animals also have a habit of digging holes and displacing the mulch and dirt, which you have to clean up.
Using landscape rocks as filler instead could be a great modern backyard idea for you. Simply bury the roots of your plants and then cover the rest of the area with rocks. You can also use these rocks to fill in the gaps between pavers, around your pool, or for pathways.
Landscape rocks are versatile and practical products that will keep your backyard looking neat and up-to-date with current trends.
If you need ideas on what to plant in your flower beds, use The 16 Best Perennials for Minnesota Gardens.
2. Build Horizontal Fences
The old way of using fencing uses vertical pieces, or bars, which can be a bit off-putting. Vertical fencing can make your backyard feel tight and as if you're in a cage. Luckily, vertical fencing is a thing of the past and there are now horizontal fencing options.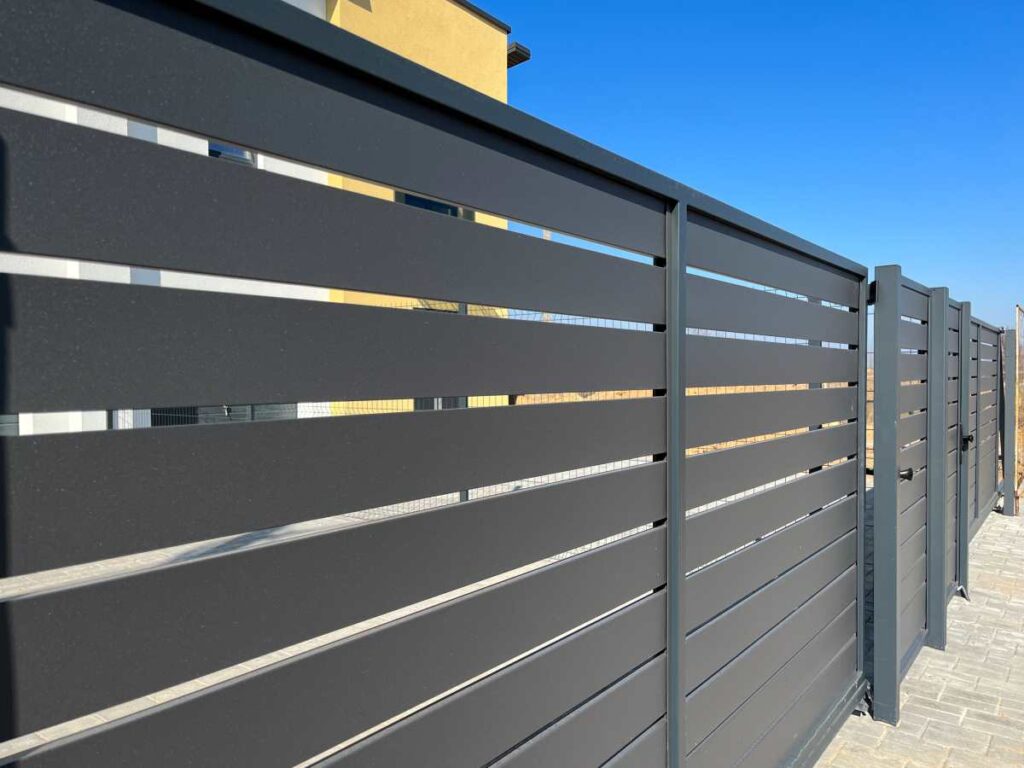 Horizontally-paneled fences can make your backyard feel more open and free. They have a unique look to them and get rid of that claustrophobic cage feeling. However, the contemporary and modern design of these fences still allows you the privacy you're looking for. They can be a great option for families with children and pets.
3. Build a Ground-Level Deck
Building a ground-level deck is a much easier process than building a raised deck, and it looks much sleeker.
A ground-level deck allows for a flat area where you can put furniture sets, grills, and much more. It'll create a space for you to enjoy yourself with family and friends during the warmer months in Minnesota.
Another perk to building this modern backyard idea is that you won't need to worry about railings or height-related injuries. Decks like this don't rise far off the ground, with the highest height typically being around one foot. It's a great option for elderly homeowners and families with small children for this reason.
4. Use Pavers or Bricks for Walkways
Having a pathway in your new modern backyard is essential, as it will help limit widespread foot traffic. Instead of simply pouring cement to make an unappealing pathway, try using pavers or bricks.
Flagstone is the perfect option that can integrate naturally with your yard and keep it looking sleek.
This modern backyard idea will serve to help separate areas of your backyard. Create sections with varying purposes within your backyard, and use the pathway to lead visitors to each one.
You can simply lay the flagstone pieces on the grass for a natural look. Or, you can fill in the cracks with rocks or cement.
---
Design Features
5. Use a Simple Color Palette
One of the primary modern backyard ideas you need to think about is your backyard's color palette. Try not to overdo it with a long list of colors. You should try to stick to three or four colors and figure out how to incorporate them throughout the space.
Modern backyards tend to stick to neutral colors, like shades of brown or gray with white accents.
A great way to start is by picking a neutral color to paint your deck, such as gray. Ensure you use patio paint for this, as other types of paint will chip and crack. From here, you can determine what color your furniture and decorations need to be.
6. Use a Sleek Fire Pit as a Centerpiece
Fire pits can make beautiful centerpieces for your backyard space. To make a modern fire pit, you should try to opt for casted concrete. This material gives a sleeker look compared to rough rocks, stone, or those metal fire pits.
You can easily create a concrete fire pit at home if you make a mold. Or, if that isn't necessarily your thing, you can hire a company to do it for you. Your third option is buying a pre-made cast concrete fire pit.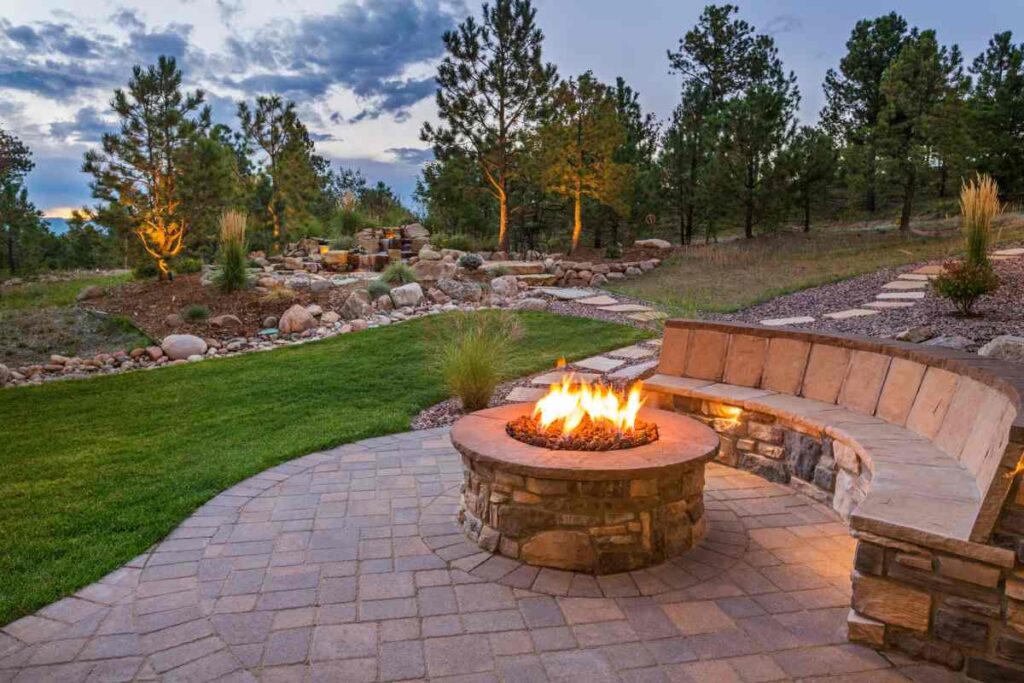 Casted concrete fire pits are quite strong and rust-resistant, which means they'll last throughout many Minnesota winters. Modern fire pits like this usually use propane to ignite, so they're easy to set up as well.
Use this modern backyard idea along with a seating area so everyone can gather and enjoy the warm ambiance together.
7. Build an Outdoor Kitchen and Create an Open Dining Set-up
A great modern backyard idea is to figure out how to incorporate a kitchen into your outdoor set-up. There's nothing like cooking a homemade meal outside in the warm weather and sharing it with loved ones.
Create the outdoor kitchen of your dreams with things such as a grill, pizza oven, fridge, counters, and sink. Just make sure all the products and materials you use are outdoor-safe.
Ensure you have room for a dining set-up in the kitchen area as well. An outdoor dining set in the kitchen will create a beautiful open dining area, allowing everyone to converse together. Open dining also allows for easy serving right from the kitchen.
8. Incorporate Water
To make your backyard a little more serene, incorporating water is a great idea. Research proves that hearing nature sounds, like water, can increase the effects of the rest-digest system. This means your body will feel more relaxed.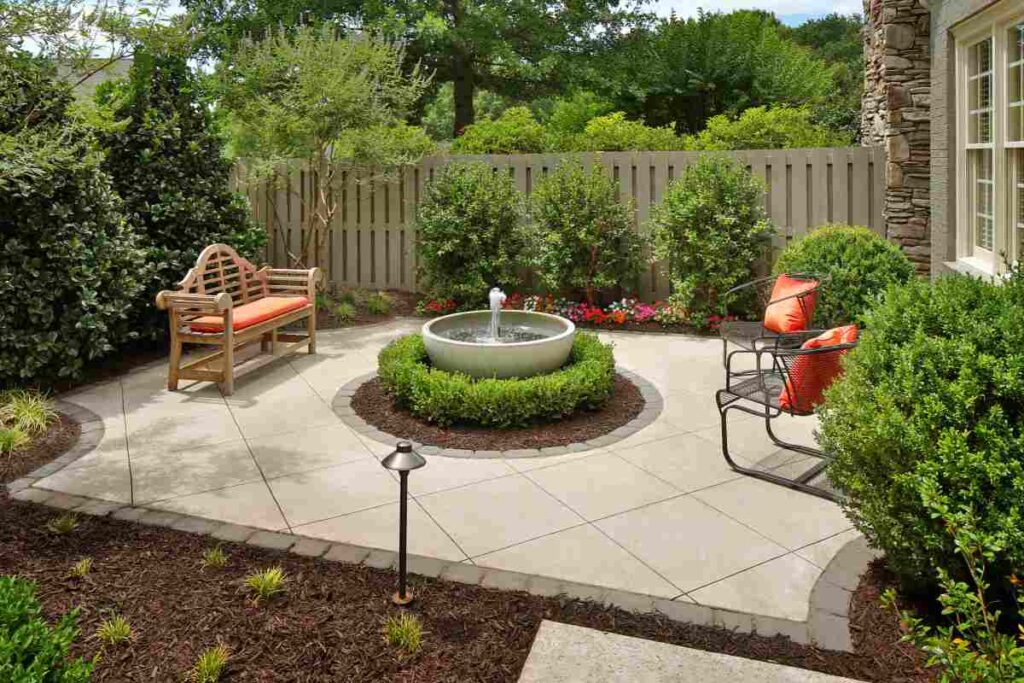 Serenity can come from things such as ponds, waterfall fountains, or even geometrical modern pools. Running water is an essential modern backyard idea that can help create the oasis you're looking for. Ensure there is a seating area near your water fixture so your body can hear the sounds and relax.
---
Decorating With Functionality
9. Hang String Lights
Creating a relaxing ambiance with lights is another modern backyard idea that's essential.
Without lighting, you can't enjoy your backyard when the sun goes down. Sure, you can use floodlights or spotlights, but that's not relaxing. Bright, harsh white lights like that can make you feel alert and prevent you from relaxing.
Hanging string lights across your backyard space will help bring in soft yellow lighting. Soft, warm lights like this can help tell your body and mind to wind down, creating a sense of peace. You can get poles to hang them up or attach them to your house or trees.
10. Build a Modern Shed
Outdoor tools, lawnmowers, and other gardening materials can clutter your yard or garage if you don't have proper storage. To help keep things neat, building a modern shed will keep everything hidden in a beautiful structure.
Modern sheds have a sleek look to them and almost look like tiny houses. So, you can have storage space without it sticking out like a sore thumb.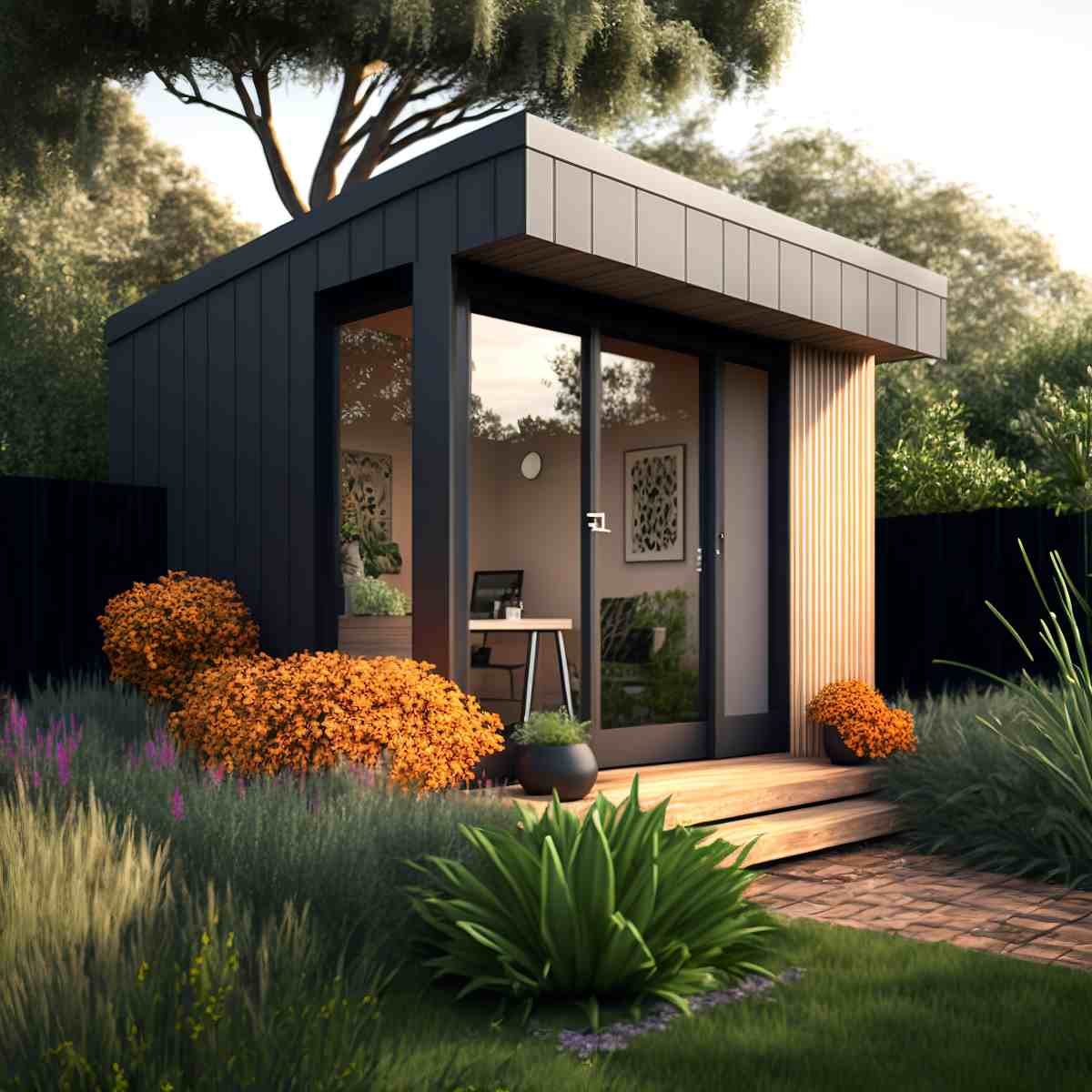 If you don't necessarily need this modern backyard idea for storage, you can also use it for indoor seating. Use it as an extension of your home. Furnish the shed and use it as a hang-out area when it's a little chilly outside.
11. Add a Hammock
Your backyard should have multiple hang-out areas, so everyone doesn't congregate in one space. This creates a sense of claustrophobia, which can get quite uncomfortable if you have parties often. One way to do this is to use hammocks.
Netted hammocks are a great modern backyard idea that can create areas for people to wander to. Attach them to trees for a natural look or simply hang them on hammock stands if you don't have trees.
Hammocks are perfect for unwinding at the end of the day as well. It's the perfect napping place!
12. Use a Pergola for Shade
Sunshine is great for the body and soul, but too much of it can cause overheating and sunburns. To keep you and your guests cool in the Minnesota summers, a slatted pergola can make an excellent addition.
This modern backyard idea offers a fair amount of shade while still allowing a little sunshine to come through. A great idea is to put your open dining set-up underneath the pergola, so you can eat without feeling blinded. You can also put a simple seating area underneath it for some after-dinner talking and relaxing.
---
Wrapping up Modern Backyard Ideas
If your backyard looks a little boring and doesn't make you happy, start the modern revamping process now! Simply make a list and decide what hardscaping materials you want, features you like, and how you want to decorate. If you feel a little lost, use these modern backyard ideas as inspiration to create the backyard of your dreams!
Don't forget to add some plants to your new modernized backyard! Take a look at 20 of the Best Trees to Grow in Minnesota Yards for some beautiful foliage ideas.
Looking to upgrade your outdoor spaces at home? Then find inspiration for your Minnesota backyard with our landscaping ideas, outdoor furniture suggestions, gardening recommendations, and more!
About the Author
Latest Posts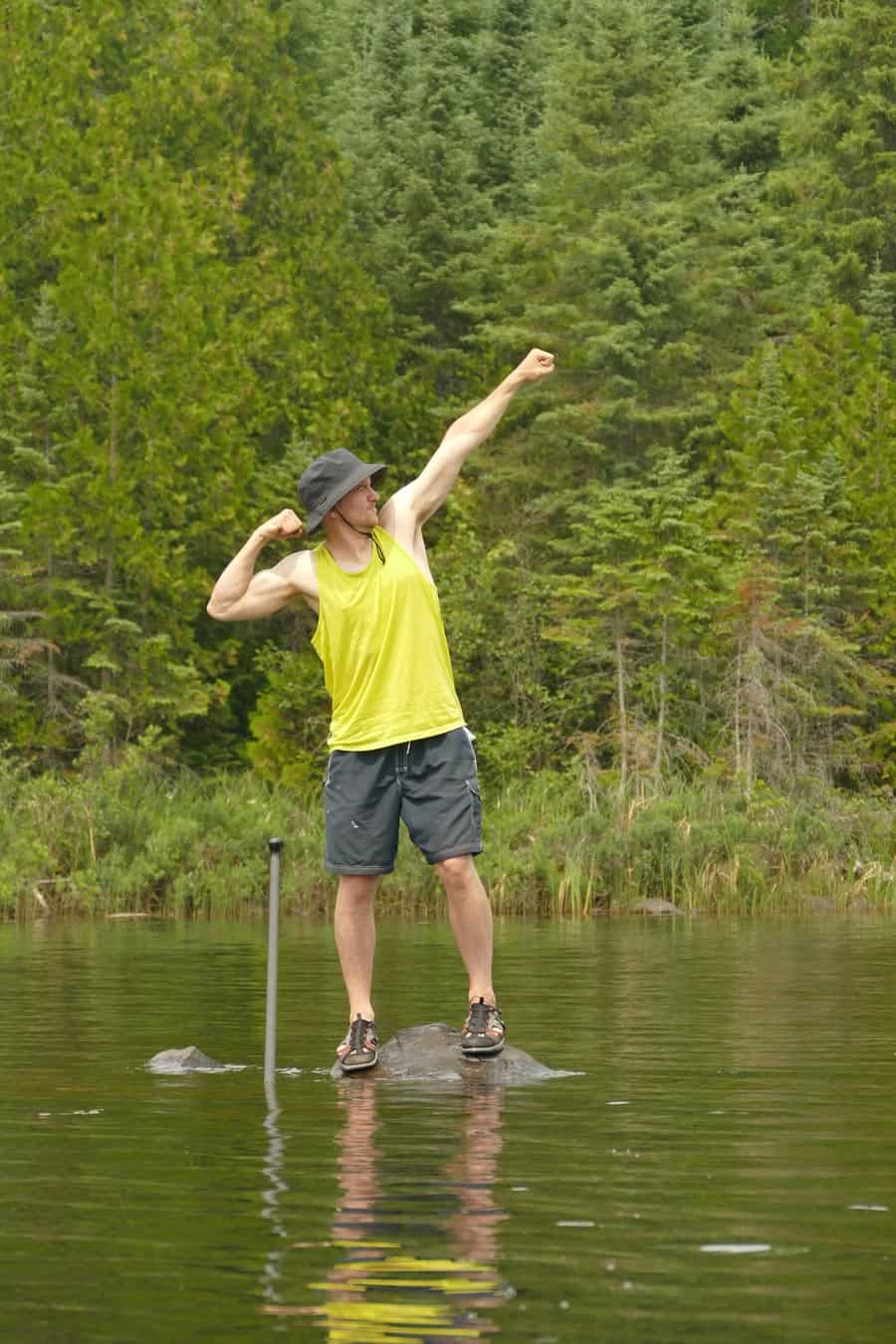 Born in Madelia, MN, to a now 5-generation Minnesota family, Ryan's MN roots go deep.
A painter by day, Ryan founded Life in Minnesota in 2013 with his wife Kelly to chronicle their musings on everything Minnesota. Ryan and Kelly are raising their 7 kiddos in Maple Grove, MN.
When he's not shuttling his kids around to hockey practice, you might find him in the shop working on his leatherwork. Undoubtedly, there will be a family trip to the Boundary Waters Canoe Area every summer, and of course weekends at Grandpa's cabin up north in the summer.