Nathan Beck may not seem, at first glance, like the most likely candidate to run a food operation that was named one of the best food trucks in America by Expedia and Thrillist. His background isn't really food-based, although he describes himself as a self-taught cook.
Instead, the affable father of five daughters has a background in musical theater. "You know how that goes," he said. "While you're waiting to break in, you either wait tables or work retail." He did the latter and ended up as the manager for Birkenstock stores at 50th and France in Edina and Grand Avenue in St. Paul. It was a job with great family hours (10 a.m.-6 p.m.), but he knew he didn't want to do that forever. He began working with a friend who was starting a remodeling business, but that didn't pan out.
Yet all along, there was something else that Nate liked: hot dogs. He remembers developing this love from his dad and from trips to the Minnesota State Fair. The idea of a food truck interested him, but they're an expensive proposition to get into. He had friends telling him, "Nate, you should do a hot dog cart."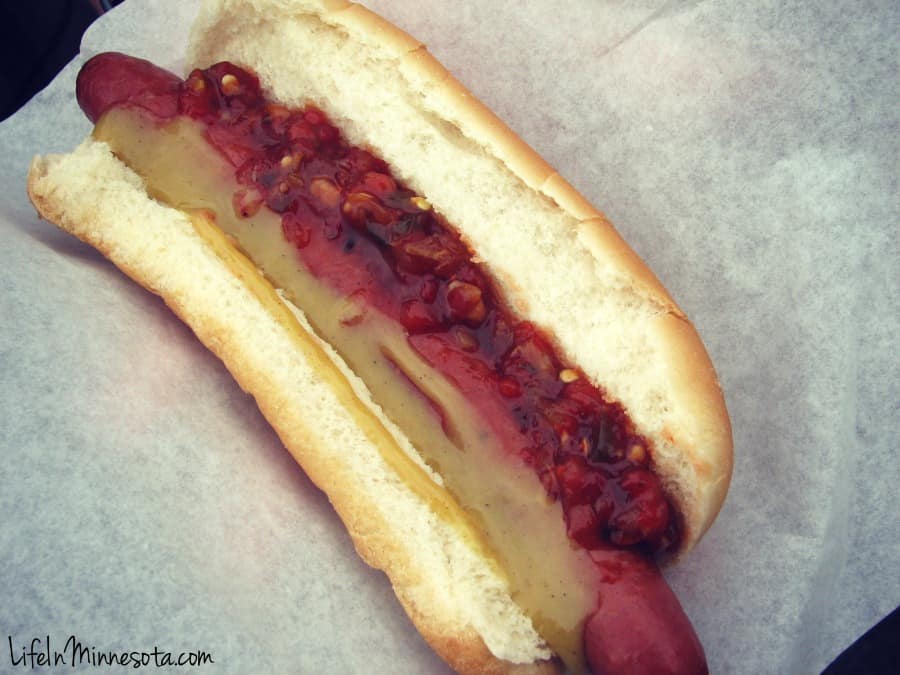 "I thought about that, and I realized that no one else was doing this the way I would do it," he said. "I wanted to focus on dogs that were either local, or all-natural, or made from scratch. And toppings that were the same."
Thus Natedogs was born, a sassy orange hot dog cart attached to a similarly branded van. The food remains true to his vision: the pork comes from Willmar's Pastures a Plenty, and Nate works with Kramarczuk's in Minneapolis as well. He creates his own mustards using local beers and honey.
As for ketchup, well…he's not a believer in ketchup. It's nothing personal. "I used to have a homemade ketchup," he said. "Ketchup is OK in sauces or slaw, but on a good hot dog? With a good hot dog, the flavors are subtle. Ketchup is sweet, and it gets slathered on too heavily and overwhelms the hot dog." Mustard is a much better choice, he said. "Mustards are acidic. Ours are not so assertive. They balance the fatty richness of the hot dog." We should add that at Natedogs, you can choose the toppings, and they'll be added for you in the right proportions.
Most of the time, he doesn't carry ketchup at the cart, although if he's catering a family friendly event, he will. He understands that some kids must have the red stuff. Or as some of his customers call it, the "sauce of shame." Put it on a dog, and? Shame dog. "But really, it's tongue-in-cheek, not rude or obnoxious," he said. "Customers came up with it. I have some customers who insist on ketchup, and they even call their dogs the shame dog."
Unlike many food trucks who focus on getting business in downtown Minneapolis or St. Paul, Natedogs goes to a wide variety of places, including suburban office parks and local breweries (where he tries whenever possible to use their beer for his mustard). Some companies pay to have him serve their offices, while others invite him to set up and sell to individuals. Part of what they get is Nate himself. He dresses in a fun vintage outfit, and he has more than a little personality. "That's something I excel at. I have this background as a performer, and when I'm at the cart, I put on a show. A little bit of theater with your dog." He sees his repeat customers—of whom there are many—as friends, and they love that part of the experience. "It's all about how food and experience come together as a total package."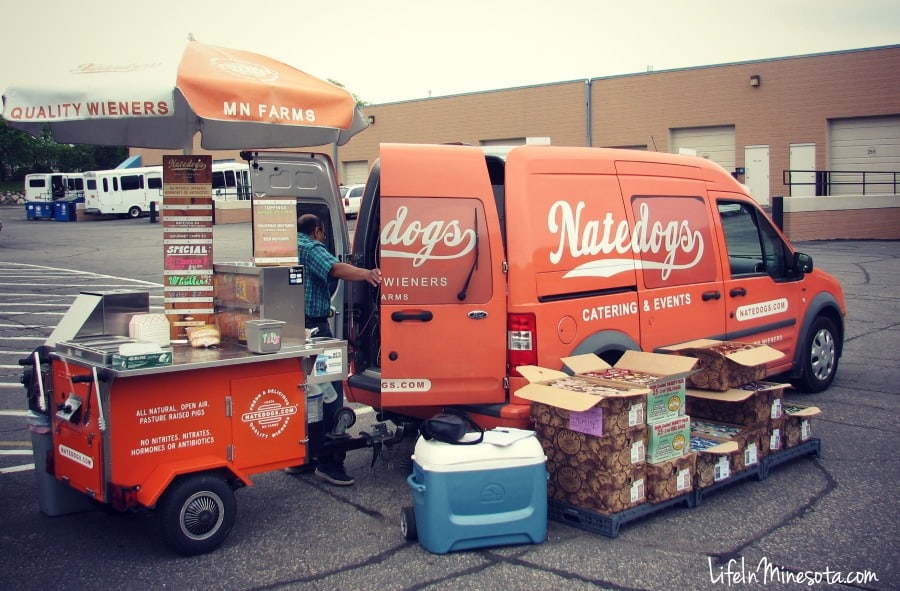 Natedogs launched in May 2011, and he's already added a second cart, along with a friend, Dave Smit, to help run it. Sometimes they work different events, but if it's an especially large gathering, they'll take both carts to the same place. They may show up just about anywhere, especially during the warmer months. In May 2015, they had their biggest day ever at Art-a-Whirl, where they sold over 1,300 hotdogs.
They also have indoor-safe equipment, which allows them to continue catering during the winter months, when many food trucks shut down for the year. He keeps an updated calendar on his website, so you can see where he'll be in the near future. Because you know you want to try one of those all-natural, smoky, locally sourced hot dogs, and you want it with Nate's homemade mustard and relish. Right?
About the Author
Latest Posts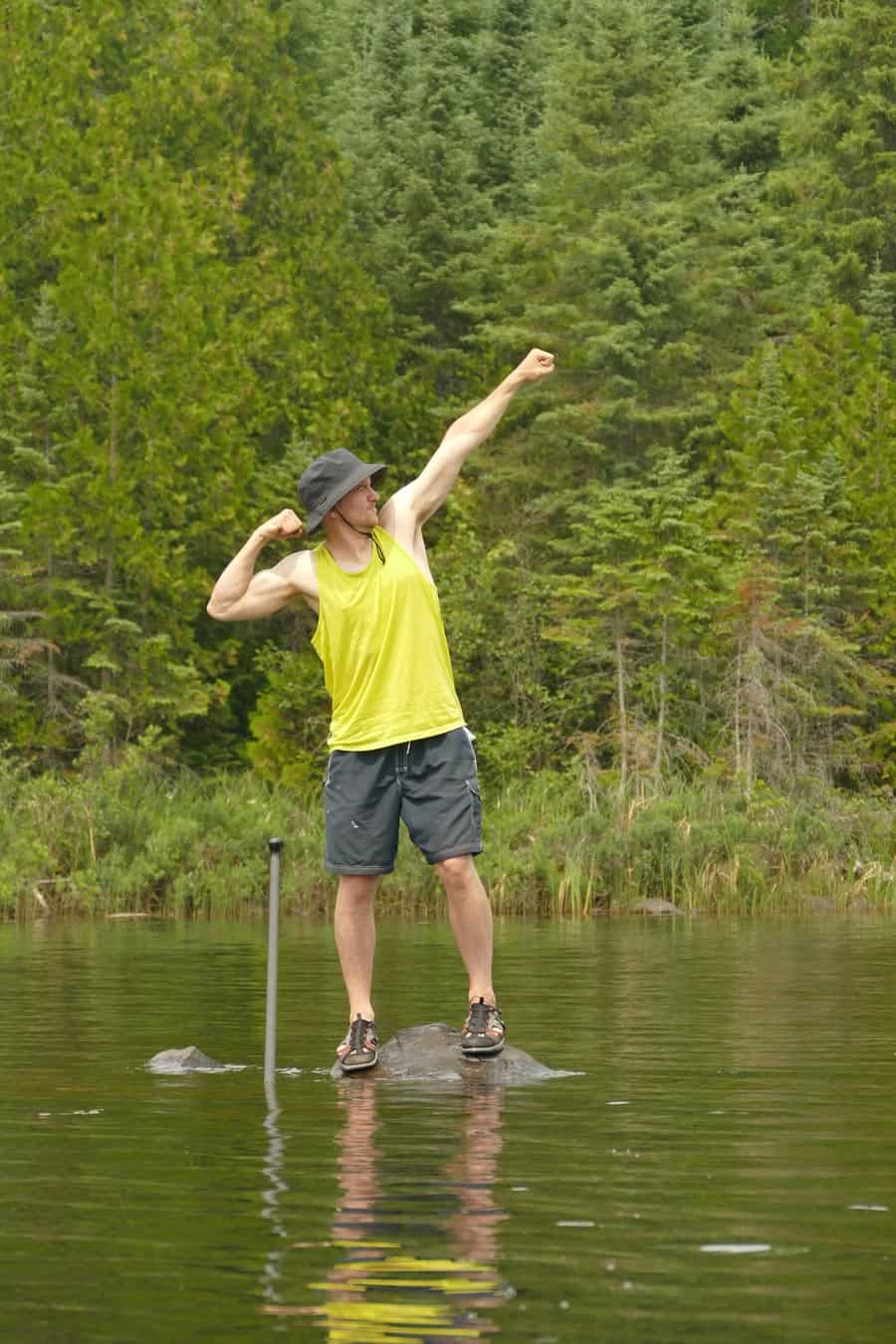 Born in Madelia, MN, to a now 5-generation Minnesota family, Ryan's MN roots go deep.
A painter by day, Ryan founded Life in Minnesota in 2013 with his wife Kelly to chronicle their musings on everything Minnesota. Ryan and Kelly are raising their 7 kiddos in Maple Grove, MN.
When he's not shuttling his kids around to hockey practice, you might find him in the shop working on his leatherwork. Undoubtedly, there will be a family trip to the Boundary Waters Canoe Area every summer, and of course weekends at Grandpa's cabin up north in the summer.