With so many sights to see and so much to do, planning your exploration of Minnesota may feel overwhelming. One great way to maximize your trip and enable you to see all this state has to offer is by way of a car.
Keep reading to learn all about 10 scenic Minnesota road trips to take and how you can set yourself up to experience all the wonders of this beautiful state.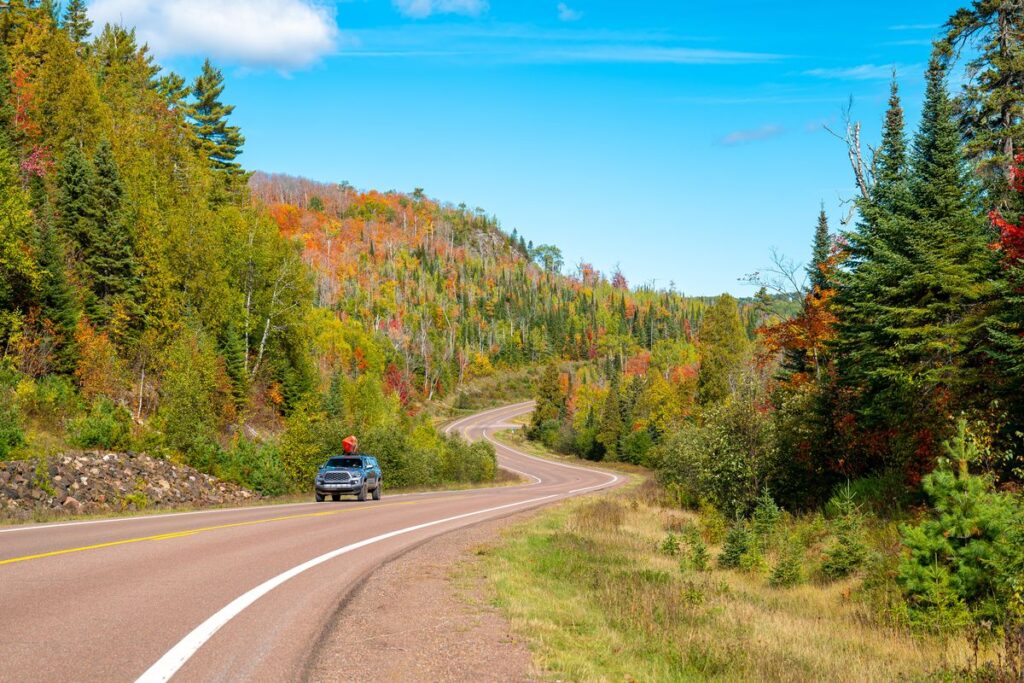 ---
The Best Scenic Road Trips with Stops Along the Way
1. North Shore Scenic Drive
This drive spans 154 miles and is between Duluth and the Canadian Border (highway 61). While driving along this famous road, you can expect spectacular views of pine forests, rocky cliffs, lighthouses, and Lake Superior.
Another amazing aspect of this scenic Minnesota road trip is its abundance of stops along the way. For food, drink, and sweets lovers, an array of local breweries, restaurants, and candy shops is waiting to be explored. With stops like Bettie's Pies Diner, Candy Kitchen, and Castle Danger Brewery, you'll be sure to have a full belly by the end of this scenic road trip.
To get your daily dose of the outdoors, you can also make a pit stop at Gooseberry Falls to experience this natural wonder. From short walks to long hikes, Gooseberry Falls is definitely not to be missed.
2. Haunted Scenic Minnesota Road Trip
The Haunted Scenic Minnesota Road Trip is the perfect choice if you are looking for a thrill. Whether you're a ghost believer or a skeptic, everyone who travels this path agrees that it will leave you with an eerie and creepy feeling.
The total trip covers around 350 miles and takes about hours of driving. This scenic Minnesota road trip will take you through some spooky spots and give you a tour of the state's most haunted spots.
Some stops that you can expect are the Glensheen Mansion, where Elizabeth Congdon and her nurse were murdered, Old Jail Bed & Breakfast, Grey Cloud Island, and more. To make the journey even more frightening, you can stay in one of Minnesota's many haunted hotels.
3. Minnesota Christmas Road Trip
Imagine immersing yourself in the perfect Christmas winter wonderland. This Minnesota road trip will make you feel like you've been placed in the middle of your favorite Christmas movie.
You'll be taken through magical Christmas towns in Minnesota. It's a shorter route, about 275 miles long, and can be done all in one weekend! Take a look at the exact route details here.
You'll begin this trip in one of the cutest towns in Minnesota, called Stillwater. During Christmas time, carolers stroll through the streets while horse-drawn carriages are available to take you from one adorable shop to another.
You'll later head to Owatonna, which has more Christmas activities than you could ever imagine, making it a great stop for an overnight stay. You can check out the holiday lights and crafts of the art center and even experience a magical Christmas-themed origami display.
With this scenic road trip, all your Christmas dreams will surely come true.
4. Historic Highway 75
Known as the King of Trails, highway route 75 makes its way through not only Minnesota but also Canada, Clay Country, and five other U.S. States.
This scenic road stretches along 414 miles of Minnesota's entire western border. In regard to scenery, you can expect to see abundant prairies and plenty of farmland.
Because of its expansive stretch, the opportunities for exploration along the way are endless. For the history buff, check out the History Center of Luverne, which carries artifacts dating back to the 1870s. Or, if you need to stretch your legs, make sure to stop at Casey Jones State trail, which consists of three separate segments up to 13 miles long.
The opportunities really are endless, from performing arts centers to national monuments, and art galleries, this scenic road trip has a stop for everyone.
---
The Water-Side Scenic Trips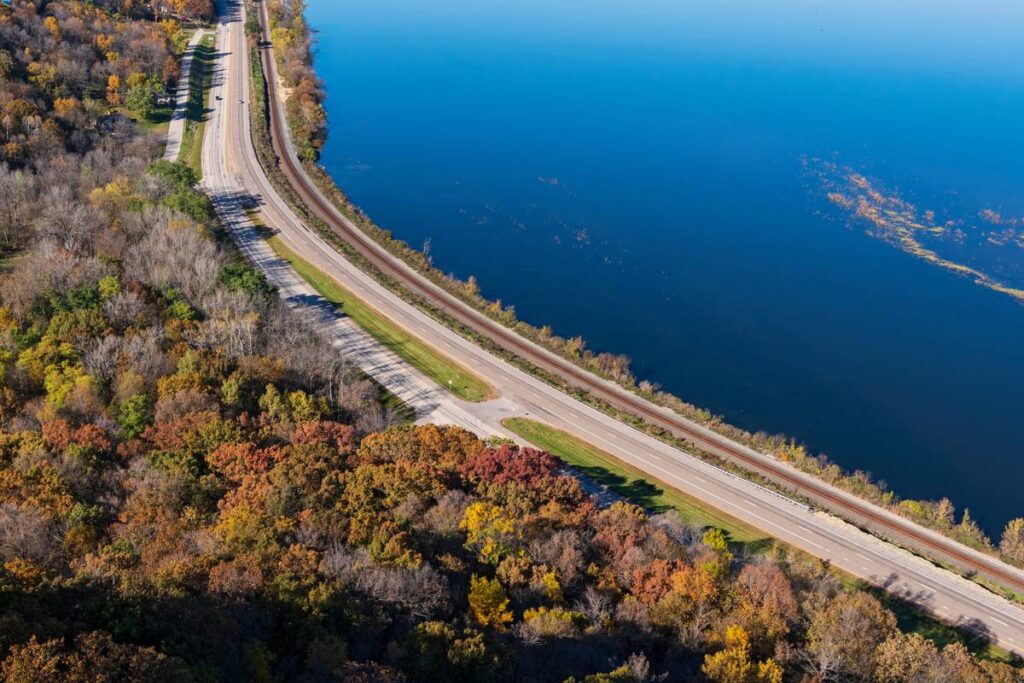 5. Lake Mille Lacs Scenic Byway
This 68-mile scenic trip includes highways 169, 18, and 47 and some county-owned loops. This route is a great way to learn about Minnesota's natural history and has recreational and cultural opportunities to explore.
This is also a great trip for bird watching, as Mille Lacs is listed as an IBA (or Important Birding Area). The Mille Lacs IBA includes the entire body of water and its islands, as well as an expansive area that is adjacent to the lake.
Make sure to check out a spectacular sunrise or sunset at the Scenic Overlook on the east side of the lake. You can find this on Highway 47, just a few miles north of the City of Isle.
There are also some scenic secrets along this road trip, including the Twilight, Vista, and Whistle road spurs. Or, check out the mythical mermaid that overlooks Lake Mille Lacs on Conifer Street (on the North Shore).
6. Great River Road Scenic Byway
This scenic route is one of America's most iconic road trips. It follows the course of the Mississippi River and extends over 565 miles and 20 counties of Minnesota territory.
It begins in Itasca State Park and weaves its way along back country roads. At Itasca State Park, spend some time exploring outdoor amenities and old-growth pine forests. While traveling the expansive road trip, you can also make a stop at Bemidji, a lakefront community that offers canoeing, waterskiing, and ice fishing opportunities.
Make sure you also check out the Judy Garland Museum, which houses the World's largest collection of Judy Garland Memorabilia, and the Minneapolis Sculpture Garden, which includes over 60 works of art.
7. Scenic Minnesota Waterfalls Road Trip
This route is perfect if you are looking to cool off along your scenic Minnesota road trip. You'll see endless waterfalls in seven different locations while traveling along the picturesque North Shore.
This waterfall road trip will take over 3 hours, giving you plenty of time to stop and experience the beauty of these natural wonders.
Along this scenic road trip, your first stop will be at the legendary Gooseberry Falls, which gives an incredible view of a three-tier waterfall in any weather. Next, head to High Falls, Falls at George H, Crosby Manitou State Park, Temperance River Falls, and more.
Each of these stops has something unique to offer, and if you're interested, make sure to check out this layout of the scenic route here.
---
The Trips with the Most Unforgettable Landscapes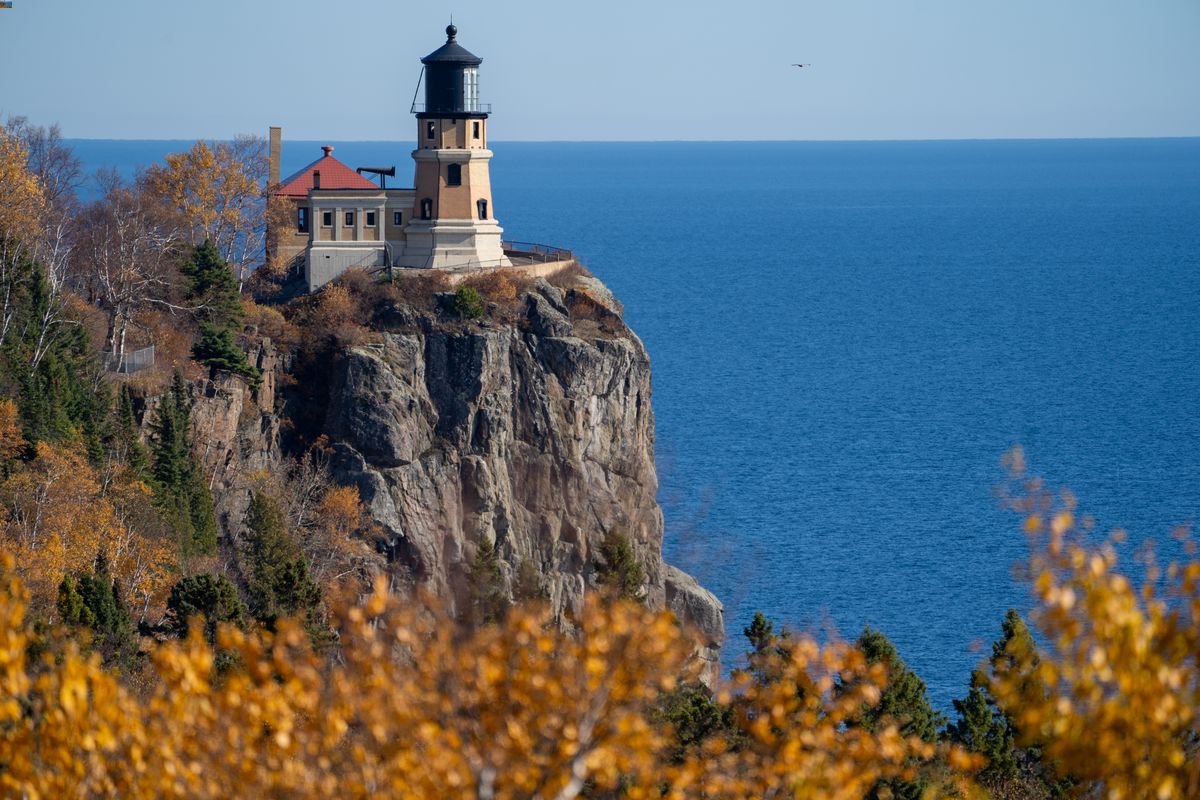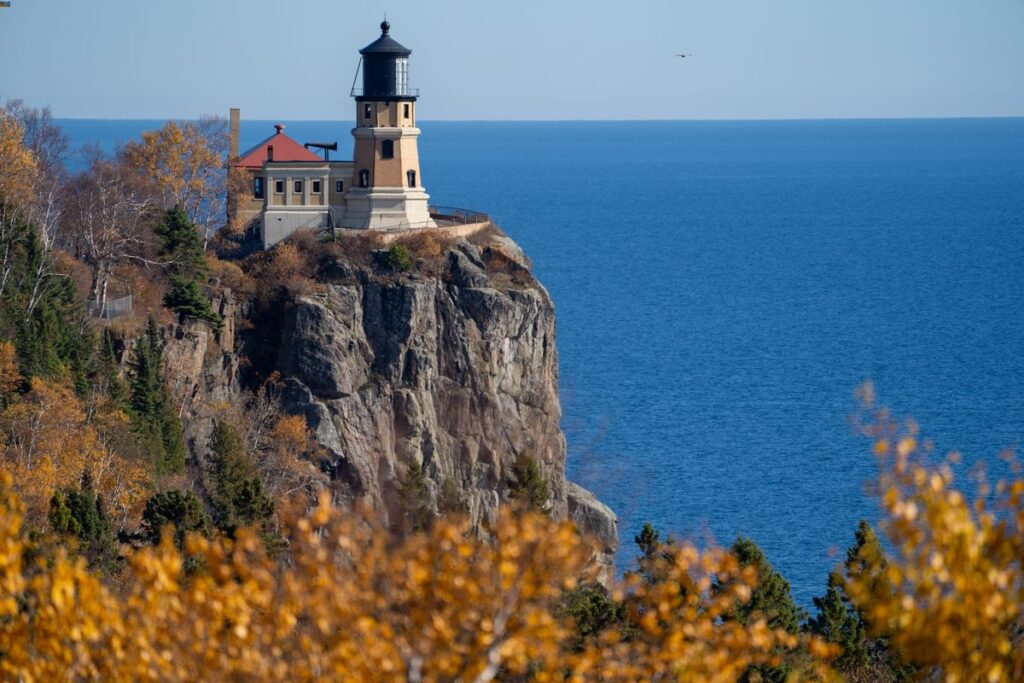 8. Bluff Country Byway
This byway is one of Minnesota's shorter trips, but that doesn't make it any less deserving of recognition. Bluff Country Byway links together some of Minnesota's most notable historical, natural, and recreational resources.
While following this route, you'll wind your way through breathtakingly beautiful landscapes that display woodsy hills and dramatic bluffs. This 88-mile stretch has plenty of opportunities to explore the surrounding nature and ensures you get the most out of your travels.
Visitors can expect to pass restaurants, art galleries, and many outdoor opportunities throughout this scenic road trip, including canoeing, biking, skiing, horseback riding, and much more.
9. Avenue of Pines Scenic Byway
The Avenue of Pines has a diagonal path that cuts directly through the heart of the Chippewa National Forest. This scenic road trip offers some of the most exquisite views of Minnesota's red pines, lakes, marshes, and aspen stands.
While exploring this open road, travelers will also glimpse the state's northern ecosystems. While on this 47-mile-long byway, expect to see eagles, deer, raccoons, squirrels, and a variety of local songbirds.
This drive stretches from Deer River to Northome, Minnesota, and also has plenty of gas stations, restaurants, shops, and lodging options along the way.
10. Glacial Ridge Trail Scenic Byway
Last but most definitely not least, on our list of best scenic Minnesota Road trips is the Glacial Ridge Trail Byway. It's 220 miles of astonishing views of the local lakes, woods, and farmlands. This trip is full of ecological history, as the scattered lakes were once massive glaciers and now reside among nearby hills and ridges.
There are three state parks with a mix of forest and prairie land that are perfect for hiking, bird-watching, and fishing.
If you plan to stay overnight, don't overlook the highly-rated local inns and lodges. And, definitely take a look at the local calendar online so you don't miss out on events like the annual Stearns County Fair!
---
Start Packing the Car!
Now that you know about the 10 best scenic Minnesota road trips, it's time to begin planning your next adventure. Whether you love to stop and explore or simply prefer sightseeing from the comfort of your vehicle, any route you choose is sure to please.
If you're interested in learning more, check out our Best of Minnesota page for all you need to know.
About the Author
Latest Posts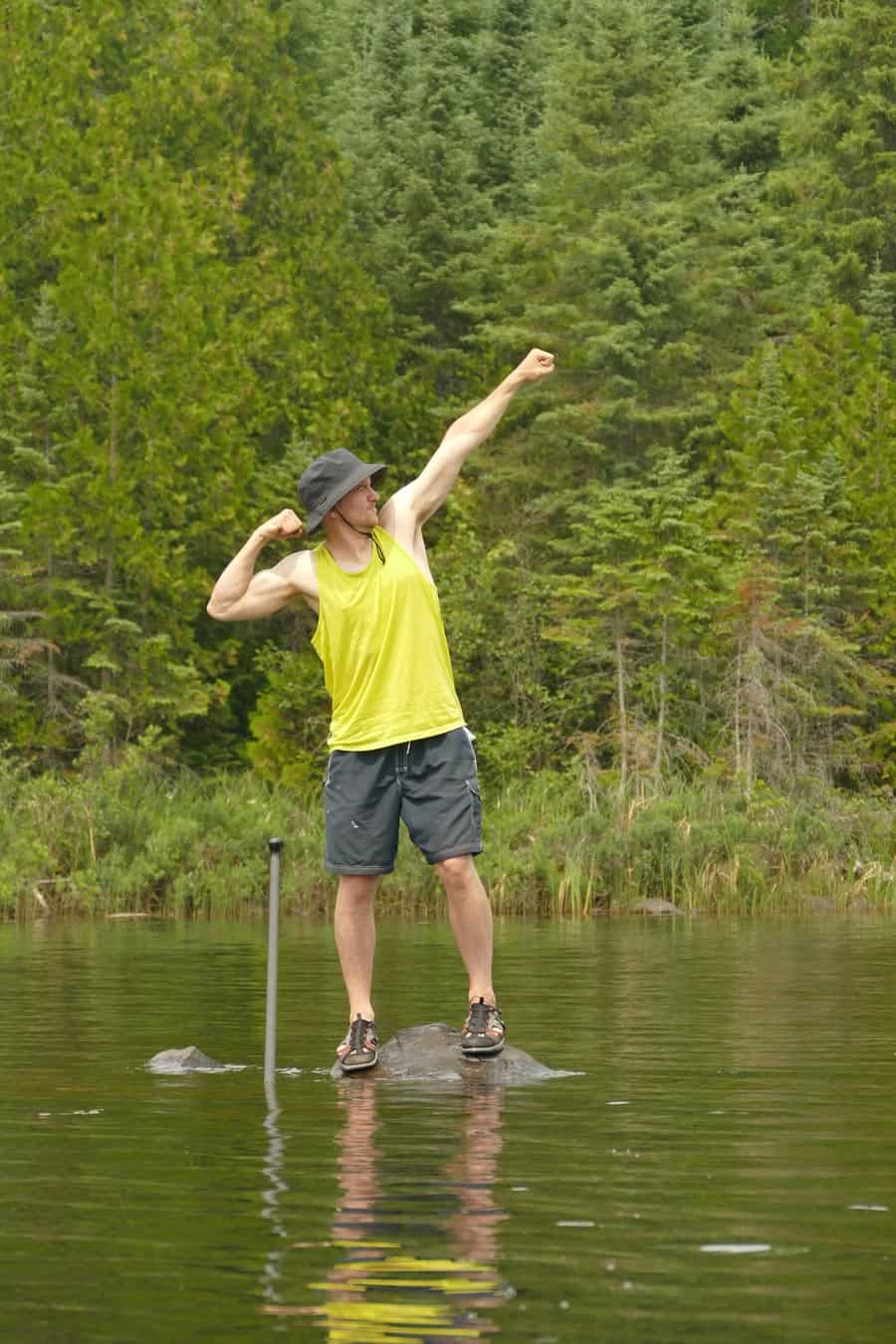 Born in Madelia, MN, to a now 5-generation Minnesota family, Ryan's MN roots go deep.
A painter by day, Ryan founded Life in Minnesota in 2013 with his wife Kelly to chronicle their musings on everything Minnesota. Ryan and Kelly are raising their 7 kiddos in Maple Grove, MN.
When he's not shuttling his kids around to hockey practice, you might find him in the shop working on his leatherwork. Undoubtedly, there will be a family trip to the Boundary Waters Canoe Area every summer, and of course weekends at Grandpa's cabin up north in the summer.