The United States is one of the most diverse and beautiful countries in the world. We offer a unique combination of natural and manmade wonders that inspire the imagination. Many of these locations are difficult to access and remain relatively untouched and unknown. Voyageurs National Park is the perfect example of one such location.
Voyageurs is nestled deep in the wilderness of northeastern Minnesota, just south of the Canadian border. The goal of this article is to dive deeper into the origins of this national park and inform you about all the amazing things you can do and see when you visit.
A Brief History of Voyageurs National Park
Voyageurs National Park was first deemed a national park in 1975. The park was so named in honor of the early fur trappers nicknamed voyagers, who were the first European explorers to settle the area in the 1700s and 1800s. While the park was named a national park in 1975, locals were advocating for it to become one as early as 1891. Thankfully, the national government finally saw fit to agree with the locals, and Voyageurs became Minnesota's first and only national park.
Early Inhabitants
Voyageurs National Park was first inhabited by Native American tribes as far back as early BC. However, the exact tribes and people groups that settled here and the duration of their stays are primarily unknown.
The first documented visit to Voyageurs came in 1688 by the French explorer Jacques de Noyon. The ensuing years saw an onslaught of fur traders, miners, explorers, and others looking for a fresh start or to strike it rich. They joined the known Indian populations in the area, including the Cree, Monsoni, and Assiniboine. By the mid-1700s, however, the Obijwe became the primary residents of most of the park area.
In addition to fur trading, the Voyageurs region was the subject of several other lucrative discoveries. The region became famous for the logging industry and the fishing industry, and there was even a gold rush in the late 1800s. Today, however, Voyageurs is mostly untouched by modern industry. It remains one of the most remote and beautiful locations in the northern United States.
Things to Do
There is no shortage of things to do in Voyageurs National Park. It's one of the most remote national parks in the country and is accessible primarily by boat. With 218,055 acres of land and water to roam, Voyageurs is an outdoorsy person's dream world and playground. Whether you're a swimmer, kayaker, rock climber, survivalist, or fisherman, there's something for you to do. Here are some of the top activities at this diverse and beautiful park.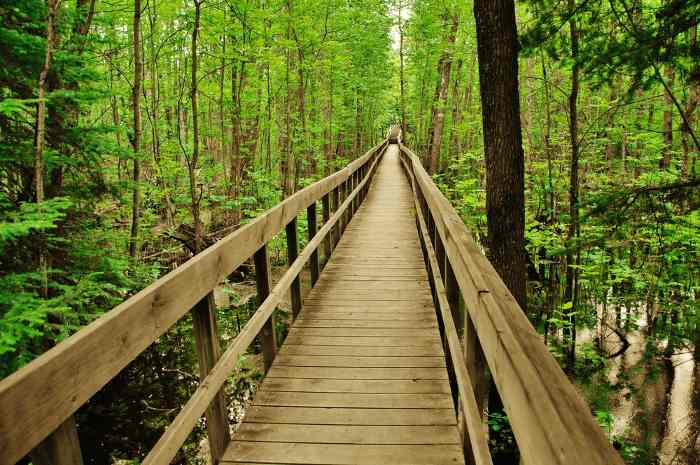 Hiking
There are 15 established hiking trails within the park, five of which are only accessible by boat. The longest and most notable of these trails is the Hike Kab-Ash Trail. This is a strenuous, 28-mile trail that will take between one and five days to complete, so plan accordingly. If you don't feel like doing the whole thing, though, there are several trailheads, so you can hike one section at a time.
Fishing
Fishing is arguable the highlight of Voyageurs National Park. There are 30 lakes to choose from, including Kabetogama Lake and Namakan Lake, which are each over 15 miles long. The top option in the park, however, is the 60-mile-long Rainy Lake which is renowned for its amazing fishing opportunities. There are over 50 different species of fish in the 30 lakes, with some of the most notable being walleye, sauger, perch, bass, crappie, and northern pike.
Kayaking and Canoeing
Because most of the park is only accessible by boat, kayaking and canoeing are extremely popular at Voyageurs National Park. Motorboats are also allowed on most of the larger lakes, so plan your summer vacation accordingly.
Winter Activities
Voyageurs is a year-round affair and is just as popular during the winter months as it is in the summer months. The inner peninsula, which is only accessible by boat during the summer, freezes over and becomes accessible to snowmobilers and cross country skiers. Ice fishing is also extremely popular during the winter months, as is snowshoeing and ice road trucking.
The Rainy Lake Trail, Voyageurs Trail, Kettle Falls Trail, and the Rudder Bay Trail are some of the most popular snowmobiling trails during the winter months.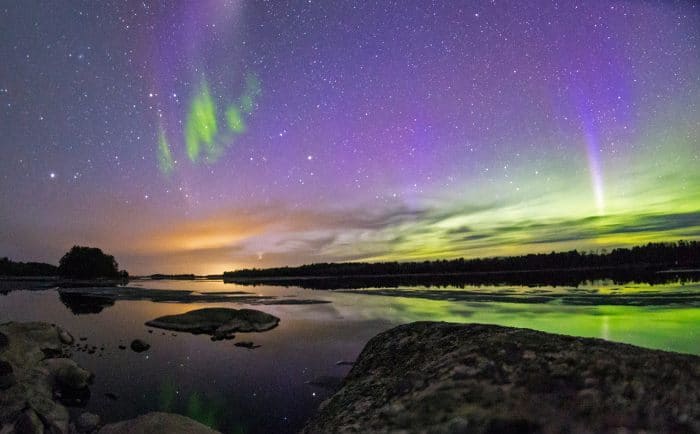 View the Northern Lights
Finally, Voyageurs National Park is one of the southernmost points in North America where you can get good, consistent views of the great Northern Lights. Stargazing, in general, is one of the most popular things to do at Voyageurs, especially during the summer months when the Milky Way Galaxy is visible.
The skies seem unnaturally clear in most areas of the park, but the best spots to stargaze and view the Northern Lights are at the Kettle Falls Dam, The Voyageurs Forest Overlook, or Beaver Pond Overlook.
Wildlife at Voyageurs National Park
The wildlife at Voyageurs National Park is as diverse as the number of things there are to do. There are many large and small birds and land animals that you should keep a lookout for. Some of the top animals to write home about include bears, moose, beavers, wolves, bald eagles, double-crested cormorants, and a number of rare amphibians.
Ecology and Geography of Voyageurs National Park
There's also no shortage of trees, shrubs, or plants to experience at Voyageurs National Park. The park consists of a combination of deciduous forests and boreal forests depending on what part of the park you're in. As such, you'll see several different ecological systems, plants, terrains, landscapes, and more.
Voyageurs is absolutely packed with hundreds of different tree, fern, moss, grass, flower, and shrub species. It's also a great place to practice your foraging skills as there are a number of berry bushes and edible plants to eat.
Places to Visit in Voyageurs National Park
If you run out of things to do, which isn't likely, there are also a number of scenic and historic locations to visit within Voyageurs National Park. Here are some of the most popular.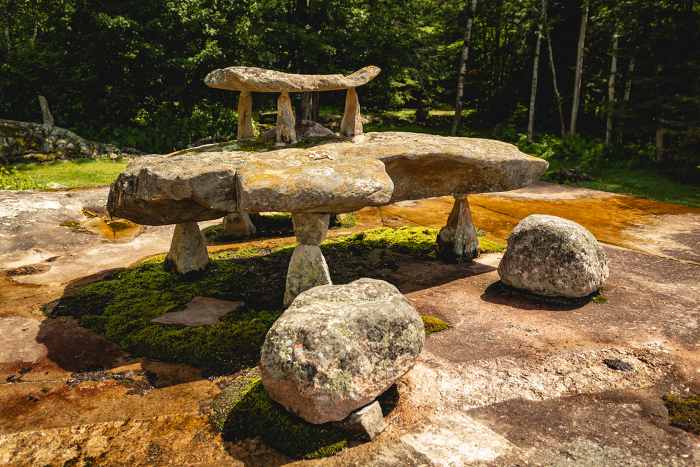 Ellsworth Rock Garden
The Ellsworth Rock Garden is located on the shores of Lake Kabetogama. While there are some incredible natural rock features here, the main event belongs to the manmade pieces of rock art done by Jack Ellsworth from the 1940s through the 1960s. The rock garden has become one of the focal points and most visited parts of the park.
Grassy Bay Cliffs
Voyageurs National Park really does have a little bit of everything, including scenic cliffs located on the shores of Sand Point Lake. The Grassy Bay Cliffs are pure granite monoliths and tower upwards of 125 feet above the lake.
Kettle Falls
Make sure you bring your kayak or canoe because Kettle Falls is only accessible by water. Kettle Falls is a small establishment deep in the heart of the park that consists of a historic hotel where people like to sit back, relax, and enjoy an ice-cold beer. The paddle to Kettle Falls is beautiful and long, which makes getting there an even bigger reward.
Junction Bay Falls
If you like waterfalls, then making your way to Junction Bay Falls is a must. These falls are located where Johnson River flows into Nauman Lake and the best time to visit them is during the fall months when the leaves are changing and form a scenic canopy over the top of the falls.
RV Camping
While there aren't any established RV parks or resorts within Voyageurs National Park, there are plenty of boondocking opportunities. Voyageurs is very RV-friendly in this way and offers over a dozen top-notch spots.
Sherry Lake
Erskine Lake
Sucker Lake
Kelly Lake
Scooty Lake
Nickel Lake
Big Rice Lake
Myrtle Lake
Aside from these lakes, there are a number of other boondocking opportunities. Keep in mind most of these areas have limited availability, no amenities, and the spots might be tight for larger RVs and motorhomes.
If you're looking to stay at an actual RV resort, there are a number of solid options in the nearby towns of International Falls, Kabetogama, and the surrounding area. Some of these include the Voyageurs Sunrise Resort Campground, The Pines of Kabetogama, and the Pine Aire Resort.
Tent Camping
Tent camping is much more popular and available in Voyageurs National Park. There are just under 300 front country and backcountry dispersed sites to choose from. The big catch for all of the campsites in Voyageurs is that they're only accessible by boat, kayak, or canoe. Fifteen of the sites are considered backcountry, which means that the trailhead to get to the campsite is only accessible by water.
You'll definitely be feeding your adventurous side when you decide to tent camp in the wild of Voyageurs National Park. All forms of overnight camping require purchasing a permit and making a reservation.
Houseboating
One of the more popular ways to explore the waters of Voyageurs National Park and stay overnight is by renting a houseboat. All houseboat rentals are operated by commercial companies and contain sleeping facilities, cooking and eating facilities, and bathrooms. You'll feel right at home when you enjoy exploring this park in the comfort and convenience of a houseboat.
All houseboat rentals require a reservation and a permit. Here are some of the other rules about renting a houseboat.
You may use designated houseboat sites on a first-come, first-served basis.
There is a limit of two houseboats per designated site.
Houseboats can stay at an undesignated site as long as they are a minimum of 200 yards away from any developed site or structure.
Houseboat users who want to build a fire may do so in existing metal fire rings, but only at designated houseboat sites.
Houseboats may not moor overnight at docks within the park.
Cabin cruisers and sailboats may stay overnight at tent sites, but only with an additional advanced campsite reservation.
Permits and Fees
Voyageurs National Park doesn't charge an entry fee to visitors.
Camping permits range from $10 to $32 per site based on the size of the site and the time of year you camp.
Group sites are $60 per night.
Houseboat sites are $15 per night plus a $10 service fee.
Houseboat and canoe rentals are chartered by private companies that have their own prices.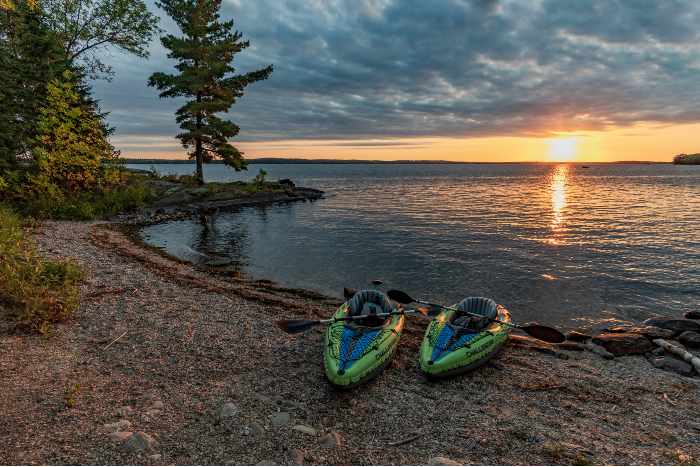 Explore Voyageurs National Park
As you can see, Voyageurs National Park is full of sites and places waiting to be explored. Whether you're into fishing, hiking, canoeing, or winter activities, there's something for everyone. If you haven't done so yet, you should definitely put this national park on your bucket list of must-see locations!
Love spending time outside? Then discover the Minnesota Outdoors to continue learning new ways to reconnect with nature!
If you are passionate about fishing, check out our Fishing page to learn all you need to know for your next big catch.
About the Author
Latest Posts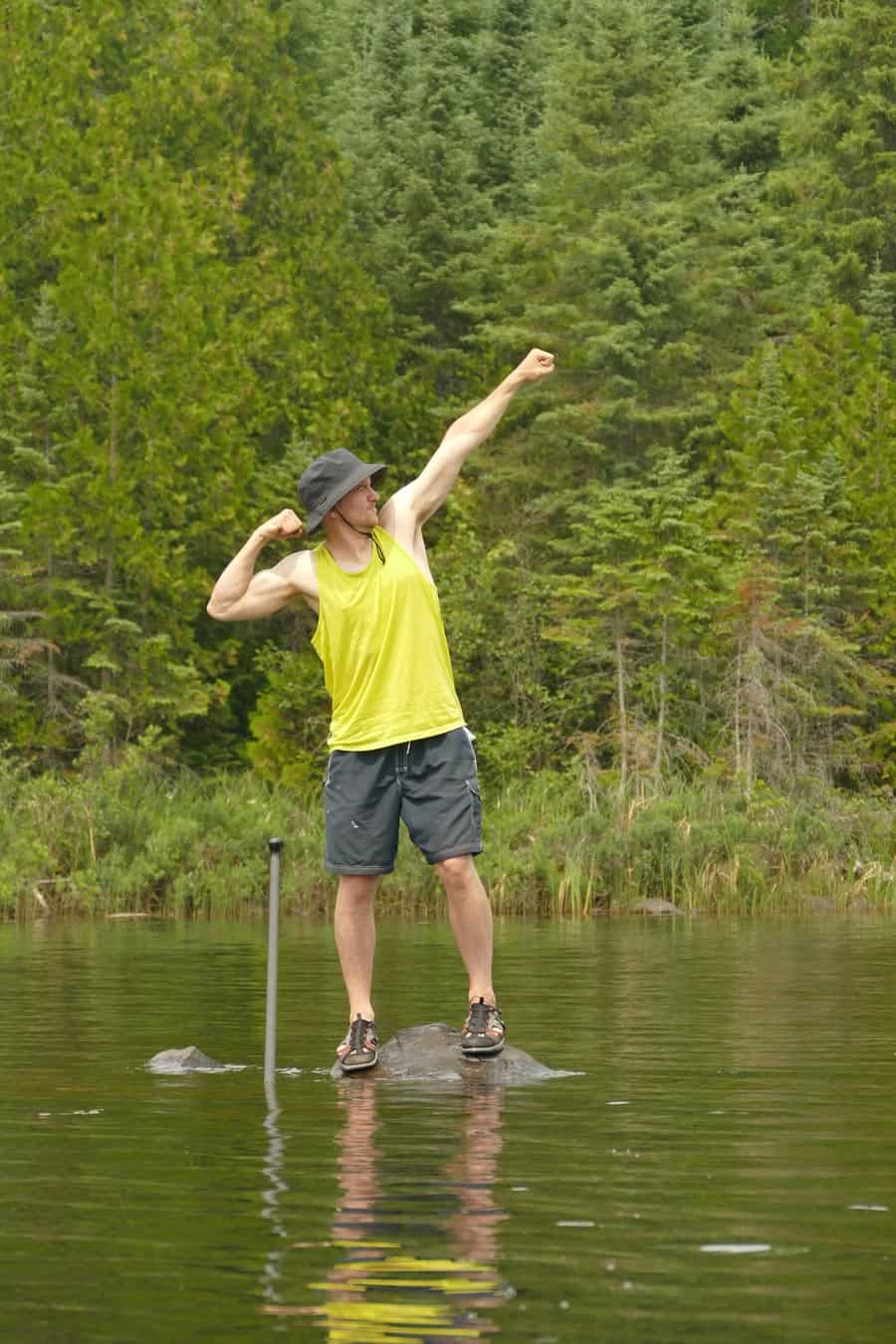 Born in Madelia, MN, to a now 5-generation Minnesota family, Ryan's MN roots go deep.
A painter by day, Ryan founded Life in Minnesota in 2013 with his wife Kelly to chronicle their musings on everything Minnesota. Ryan and Kelly are raising their 7 kiddos in Maple Grove, MN.
When he's not shuttling his kids around to hockey practice, you might find him in the shop working on his leatherwork. Undoubtedly, there will be a family trip to the Boundary Waters Canoe Area every summer, and of course weekends at Grandpa's cabin up north in the summer.