When one talks about ice fishing in North America, the conversation has to start with Minnesota. With 10,000 lakes, the state of Minnesota is heaven for fishing, particularly ice fishing.
The winter hits this northern state sooner and leaves later than the rest of the United States. It allows the lakes to have a thick frozen layer of ice for relatively long days. And when you have as many options offered here, you need a guide on which lake to visit for your ice fishing adventure. You don't have to worry about that, though! We took our time to list the best ice fishing lakes in Minnesota.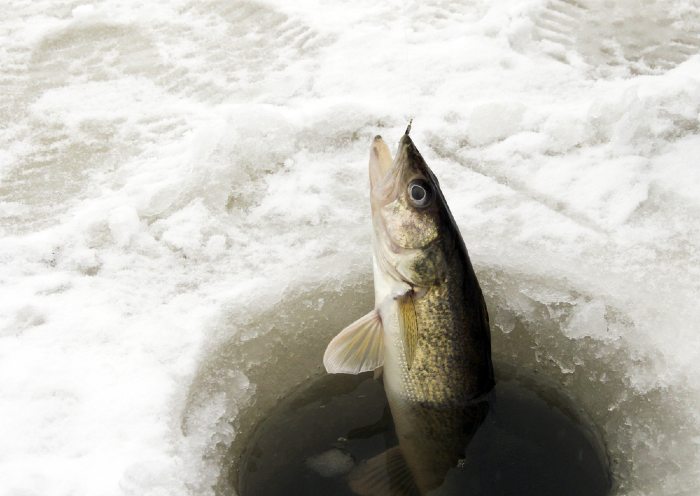 1. Lake of Woods
Lake of Woods is the 6th largest inland freshwater lake in the United States, next to only the Great Lakes. It is the first on our list for the great ice fishing adventure and hospitality features the lake comes with. There are more than 50 resorts, hotels, and sleeper house outfitters to assist your great ice fishing experience.
Ice fishing season at Lake of Woods starts in late November and early December and takes full gear by the middle of December. Visitors can enjoy ice fishing up to late March in the frozen lake. You can get some great walleye, crappie, panfish, lake trout, and sauger fish. You can even get some big pikes over 40″ if you are lucky!
In the Lake of Woods, ice fishing does not mean fighting against the freezing wind and cold. There are a wide variety of winter services like warm cabins, condos, motels, or even a sleeper fish house to stay at your fishing site 24/7.
2. Upper Red Lake
Head towards Beltrami County, Minnesota for our second choice for best ice fishing lakes in Minnesota. The Upper Red Lake freezes early. By early, we mean as early as November. You have dozens of varieties of fish waiting for you under the thick layer of ice.
Black bullhead, black crappie, bluegill, brown bullhead, lake sturgeon, northern pike, walleye are just a few to name. One thing to be noted is that many parts of the lake are not open to the general public and require a tribal guide. So, access the lake through the public access points, or through the lodges, and you have more than enough in this lake.
3. Mille Lacs Lake
Let's move to Garrison for our next ice fishing destination. Lake Mille Lacs is the second largest lake in Minnesota. You will see as many as 5,500 ice houses on the frozen lake in the middle of the winter season. Walleye, northern pike, jumbo perch, and tullibee are the attractions of the most popular fishing lake of Minnesota.
This must-visit ice fishing destination is well known as the "Walleye Factory" among anglers. The ice houses and dark houses, along with all other fishing equipment, are available for rent so that you can enjoy a seamless ice fishing adventure on the lake that is spread across more than 200 square miles.
4. Lake Minnetonka
Located about 24 kilometers from Minneapolis, this metropolitan lake is one of the most easily accessible ice fishing destinations. Lake Minnetonka is a collection of several interconnecting lakes with more than 14,500 acres of surface.
The multispecies lake offers black bullhead, black crappie, bluegill, bowfin, common carp, green sunfish, largemouth bass, muskellunge, northern pike, yellow bullhead, yellow perch, and many more to make your fishing adventure a special one.
There are multiple services available to assist your ice fishing adventure. You can acquire all equipment required for ice fishing. For accommodation, you may check into a hotel or lodge, or maybe rent out an ice house on wheels.
5. Lake Harriet
The next on our list of "best ice fishing lakes in Minnesota" is for the new folks looking forward to entering the ice fishing adventure. Lake Harriet is an inner-city destination in the middle of Minneapolis. You will not get to see or rent any ice house, snowmobiles, or ATVs in this location. But with its relatively small size of about 335 acres, you will not feel the need for an ice house.
The lake contains black crappie, bluegill, largemouth bass, muskellunge, northern pike, walleye, white sucker, yellow bullhead, and yellow perch. You can catch some really big walleyes in this lake!
6. Lake Winnibigoshish
Located in Chippewa National Forest, Lake Winnibigoshish is commonly referred to as Lake Winnie. The lake is just half an hour away from Grand Rapids. You can get multiple lodges and ice house rentals to fight the cold during your ice fishing adventure.
The lake is a go-to spot for catching jumbo perch when the ice fishing season starts in Minnesota. Lake Winnie is one of the most popular lakes when it comes to walleye. Also, you can add more to your ice fishing trip with snowmobiling and cross country skiing in Chippewa National Forest.
7. Gull Lake in Cass & Crow Wing Counties
The largest charitable ice fishing event in the world takes place on Gull Lake. Attracting more than 10,000 anglers, the event is held on Lake Hole-in-the-Day Bay. The Gull Lake covers around 9,400 acres and is as deep as 80 feet in places.
The largest lake in the Brainerd Lakes region of Minnesota is best known for walleye and northern pike, followed by bass, perch, trout, and muskie. Icehouse rentals, lodges, and resorts are available in great numbers, making it an easy ice fishing destination for the anglers.
8. Lake Phalen
Are you in search of an easily accessible ice fishing destination located closer to an urban center? Lake Phalen is the perfect choice for you. The urban lake is one of the largest lakes in Saint Paul, Minnesota. Unlike the lakes up in the North, you will see a lesser crowd here. If you are somebody who enjoys solitary fishing, this lake is a perfect destination for you. However, do not get surprised if you see a huge crowd occasionally.
You can catch some pretty big fish when ice fishing in Lake Phalen. Walleye, northern pike, tiger muskies, crappies, largemouth bass, and sunfish are very common in the Twin Cities Lake.
9. Lake Pepin
Ice fishing season in Lake Pepin starts in early December. The vast span of the lake has dozens of ice fishing zones. Alongside fishing, the stretch of community around the lake is filled with incredible eateries and shopping destinations. With all these on board, Lake Pepin makes it to the 9th spot on our list of "best ice fishing lakes in Minnesota".
Popular for walleye, northern pike, and crappie, Lake Pepin is located on the Mississippi River between Minnesota and Wisconsin. Whether you are up for a day trip or stay for the ice fishing weekend, you are going to have a great time on this lake.
10. Lake Vermilion
Our 10th ice fishing lake on this list takes you to the northeastern part of Minnesota. Lake Vermilion is situated in Cook and Tower, Minnesota. This lake is for walleye and muskie. Anglers also find black crappie, muskellunge, bluegill, smallmouth bass, brown bullhead, largemouth bass, northern pike, rock bass, tullibee (cisco), white sucker, and other species.
11. Lake Bemidji
Our 11th lake on the list of "best ice fishing lakes in Minnesota" is Lake Bemidji. It is one of the most favored destinations for fishing families.
Located in Bemidji, the lake is popular for walleye, crappie, perch, and bass. In the snowy winter season, the fishing spots feel like cozy villages with anglers driving in from all across the country and the world.
12. Zippel Bay
The Zippel Bay is the 12th entry in our "Best Ice Fishing Lakes in Minnesota." The lake is most known for being one of the best walleye ice fishing lakes in Minnesota.
Located in Williams, Minnesota, the Zippel Bay State Park is a year-round recreation spot with activities like snowshoeing, snowmobiling, cross country skiing, and much more.
You will have more than enough options for lodging and food in the area while you catch some amazing walleye, northern pike, perch, and sauger with your friends and family.
13. Oak Lake
Oak Lake is a very popular ice fishing destination located in Kerrick Township in the middle of the state of Minnesota. One of the great things about this lake is that you are able to stop by Oak Lake on your way to the lakes farther north. You can enjoy daylong fishing or stay for the weekend with the variety of lodging facilities available. You will catch some amazing walleye, northern pike, and perch alongside other fishes in Oak Lake.
14. Lake Elmo
Lake Elmo is close to the metropolitan area, making it an easily accessible ice fishing destination for anglers. You will catch some northern pike and panfish in this lake. When it comes to perch, they are available in abundance at Lake Elmo.
Located in Lake Elmo, Minnesota, it is one of the not-to-miss lakes of the region. The lake is partially part of Lake Elmo Regional Park Reserve, which allows you to have some add-on adventures to your ice fishing trip.
15. Rainy Lake
The Rainy Lake, with 360 square miles, shares its waters with Ontario over the US-Canada border. As you might have guessed by now, Minnesota is a "Walleye Heaven", this lake is no different.
The lake is filled with mid-size and large walleyes under the thick layer of ice. So, get your ice house on the lake and catch your fortune from the hole in the ice.
Saugers, northern pikes, crappies, smallmouth bass, and muskies are the other attractions of the lake, making it an ice fishing hotspot when it comes to the "best ice fishing lakes in Minnesota.
16. Big Stone Lake
Shared with South Dakota, the lake is the perfect place to catch some perch while ice fishing in Minnesota. Big Stone Lake is ideal for ice fishing at the beginning of your ice fishing trip or for your last ice fishing destination to close the season.
Covering 12,610 acres of surface area, the lake stretches 24 miles in length with an average of 1 mile in width. You have plenty of restaurants in the area to try different food and a variety of lodging services to stay in over the weekend.
Ice fishing lakes in Minnesota
Ice fishing is a great winter adventure you wouldn't want to miss. Sometimes, it might turn risky. Take safety measures when ice fishing. Get your fishing license, follow the norms, and don't go alone. Stay in a safe site and enjoy the sport. Get ice fishing guidance and head towards the Northern state of Minnesota for a great ice fishing season.
After spending the weekend ice fishing from one of the best ice fishing lakes in Minnesota, let us know about your catch.
Can't get enough of Minnesota lakes? Then keep living the Minnesota lake life with the help of my info posts and guides!
Want to learn more about fishing, discover more fishing spots, and or read up on the best fishing gear? Then continue your fishing adventure with our comprehensive guides, info posts, and more!
Love spending time outside? Then discover the Minnesota Outdoors to continue learning new ways to reconnect with nature!