Minnesotans know never to underestimate winters in their home state! But you don't have to let Minnesota's harsh weather conditions keep you cooped up inside. You can go out and take full advantage of outdoor activities including skiing, snowshoeing, ice skating, and more, as long as you have a reliable and cozy coat.
14 Best Winter Coats
If you don't have much time, take a quick look at this table to compare the top brands. Then, if you want to know more, keep scrolling!
Best Winter Coats For Minnesota

The North Face Gotham III - Men's

The North Face Gotham Down Jacket - Women's

Columbia Heavenly Hooded Jacket - Women's

Fjällräven Vidda Pro Wool Padded

The North Face ThermoBall Eco TriClimate - Men's

Outdoor Research Super Alpine Down Parka - Women's

Outdoor Research Super Alpine Down Parka - Men's

The North Face McMurdo Bomber

Marmot WarmCube Cortina Jacket

TACVASEN Special Ops Tactical Jacket

Helly-Hansen Svalbard Parka Coat

Fjällräven Expedition Pack Down

Berne Heritage Duck Hooded Jacket

Caterpillar Heavy Insulated Parka

Propper 3 in 1 Hardshell Coat

MOERDENG Hooded Winter Coat
---
The North Face Gotham III
The Gotham III from The North Face is just another example of the brand's wide range of innovative designs and innovative jackets. With its affordable price and quality materials, it's a steal, especially considering its weatherproof construction, maximum warmth, helmet-compatible hood, and long-lasting performance.
Furthermore, one of its key features is its excellent duck-down fill. The North Face Gotham III has a strong nylon shell and 550-fill-power down to keep you warm in cold temperatures. Despite the sub-freezing temperatures, this jacket option can keep you warm and protect you from the elements while allowing a free range of motion.
---
Fjällräven Vidda Pro Wool Padded
Like most wool coats, Vidda Pro Wool is heavy and built from durable fabric that can survive harsh weather. Despite being on the heavy side, this trekking jacket isn't stifling. One of our testers said it felt like a second skin. The G-1000 Lite Eco shell provides more flexibility and breathability than the conventional G-1000 fabric.
On a cool fall day, the G-1000 shuts out the wind despite the massive wrist cuffs. A recycled polyester-based cornstarch blend is added to the wool to keep it from compressing during frigid temperatures. The waxed jacket has lots of pockets including stash pockets to give it a military look while keeping your things handy.
---
The North Face McMurdo Bomber
This 600-fill recycled down insulation coat has a cozy hood with fur lining and is made of water-proof, breathable fabric to keep out the elements. That means you can wear it in both cold and wet conditions. Jackets with classic styles might sound boring, but this one features plenty of utilitarian pockets, and a sturdy quality. Plus, you'll look stylish in its relaxed fit, which allows for comfortable movement and layering.
---
MarmotwarmCube Cortina Jacket
First on our list of best winter coats for Minnesota is the Marmot West Rib. Reach for the West Rib Parka when faced with frigid conditions to provide protection from wind. Its 3D warmCube structure combines 800-fill-power goose-down plush material with synthetic insulation for exceptional protection and lots of warmth.
The Marmot puffy jacket uses Marmot MemBrain fabric to regulate temperature and moisture while still ensuring excellent insulation. The cube structure prevents the down fill from moving for maximum heat retention no matter the weather. It's one of the warmest jackets you'll wear – even better than most burly parkas made with heavier materials!
---
The North Face ThermoBall Eco TriClimate
Our favorite 3-in-1 jacket, the North Face Thermoball ECO Snow Triclimate, has been around for several generations and continues to provide exceptional versatility at a reasonable price with tons of practical features and a good range of sizes. The jacket can be worn as a stand-alone hard shell or as an insulated sweater by removing the waterproof, breathable hard shell jacket.
The combination of the jacket and the shell keeps out the worst of the Minnesota winter weather. It's fashionable, especially for the price, and packed with ski-specific features. This jacket can surely keep up with your activity levels.
---
TACVASEN Special Ops Tactical Jacket
Next on our list of best winter coats for Minnesota is the warm, cozy, and well-equipped TACVASEN Special Ops Tactical Jacket. A full-zip stand collar with detachable hood and a polyester soft shell with fleece lining are among the features this jacket offers in addition to its water resistant and windproof capabilities.
There are certain drawbacks to the lower price tag though. Some reviews complain that the sizing was not a true fit, and that the zipper isn't very sturdy. But the general opinion is still overwhelmingly positive, with 4.4 stars out of 5 and over 650 reviews.
---
Helly-Hansen Svalbard Parka Coat
The Helly-Hansen Parka Coat has a lot going for it: a laidback style with a large adjustable hood, zippered pockets, multiple exterior and interior pockets, articulated arms, wrist gaiters, and waterproof, windproof, and breathing capabilities.
One of the best things about it is that it's machine washable! It styles a 3/4th length with a tail drop to protect your backside when you sit on a cold bench, and fully seam sealed construction. More features also include glove d-rings, YKK zippers, and some pretty neat HH logos and badges. This is certainly a great outdoor lifestyle jacket. You can even remove the faux fir trimming on the hood if it's not your thing.
---
Fjällräven Expedition Pack Down
The Pack Down Hoodie by Fjällräven Nuuk Parka pays homage to the Expedition Down Jacket. The Pack Down, on the other hand, is more of a puffer coat than a parka. It has synthetic insulation and padding at the shoulders, which is great for when you're carrying a pack and need extra cushioning under the straps.
The 700-fill power Canada goose down is layered between a recycled nylon shell and lining, making it a portable lightweight jacket. With the drawcord at the waist, you'll keep the cold out. It's also more adjustable than other premium puffies thanks to the classic face drawcord and the back cinch-cord.
---
Berne Heritage Duck Hooded Jacket
The Berne jacket is one of the best warm jackets to wear in cool wet conditions like wet snow and light mist, since it has a water-repellent finish. Its features include 100% cotton duck, heavyweight insulation quilted to polyester for the body lining, and medium-weight insulation quilted to polyester for the sleeve lining. In other words, it will keep you warm, especially with its three-piece insulated hood and knit storm cuffs and waistband!
Pleats at the elbows and large shoulder seams make it easy to move around without the shoulders or sleeves riding up. You'll also find patch pockets and heavy-duty brass zippers on the front of the jacket. Keep in mind that these comfortable coats fall under the category of shorter jackets.
---
Caterpillar Heavy Insulated Parka
The best workwear coat on our list of best winter coats for Minnesota is the Caterpillar Heavy Insulated Parka. With storm blocker plus technology, this parka is sure to keep you warm while working outside: that means its waterproof, windproof, breathable, and seam taped! A detachable hood gives you the flexibility to choose, and adjustable cuffs with hidden ribbed storm cuffs keep the cold from seeping up your sleeves.
You'll also notice a series of clever pockets, including ones to keep your devices away from the cold, and others with snap flag closure and side entry. Plus, the adjustable drawcords at the waste allow you to keep your body warmth trapped within the parka!
---
Propper 3 in 1 Hardshell Coat
In addition to being a stylish and functional winter jacket, the Propper 3 in 1 Hardshell Coat also provides excellent weather protection with its classic silhouette. There are two ways to wear it: with the full 3-in-1 layering system, as a light raincoat, or as a simple and sleek sweatshirt.
This flexibility is perfect for your outdoor adventures. Plus, enjoy the warm insulating fleece and discreet pockets to protect your valuables. A single-piece jacket may give you extra warmth than a two-piece one, but the Propper 3-in-1 gives more adaptability and value than any other jacket available on the market.
---
Outdoor Research Super Alpine
The Outdoor Research Alpine Down Hooded Jacket is a formidable contender in the category of 800-fill hooded down jackets. An adequate amount of down was utilized in the construction of this jacket, giving it the cozy appearance of a traditional belay jacket. Given the inexpensive Amazon check price point, the quality of the shell fabric and mapping construction is outstanding.
As a result, we've yet to see a full-down belay jacket of this quality that comes with one of the best warranties at this price point. It's impossible to go wrong with this garment when worn in the truly frigid conditions Minnesota is known for.
---
MOERDENG Hooded Winter Coat
Last, but not least on our list of best winter coats for Minnesota is the MOERDENG Hooded Winter Coat. Despite the complicated brand name, this jacket is rewarded for its high quality and yet still very affordable price with almost 20 thousand reviews that average at a 4.6.
That shouldn't be a surprise, however. This jacket is waterproof and windproof, which means its also a great option for skiers. The inner soft shell is wear-resistant, and the sleeve cuffs are adjustable to help seal in the warmth. Overall it has great heat retention, and will keep you warm in a variety of different cold weather activities.
---
Overall Buying Advice: Best Winter Coats for Minnesota
Here's our buying advice: overall, the best winter coat will depend on what you need. If you're looking for a great workwear coat, the Vidda Pro Wool will serve you well. If you want something for outdoor activities, the Feathered Friends Khumbu Jacket is a great choice. If you want something that can do it all, the North Face Gotham III is one of our favorite winter coats for Minnesota.
Whatever your needs are, there are plenty of options when it comes to the best winter coats for Minnesota. What are you waiting for? Get yourself a jacket that can serve you well during the coldest Minnesota winters!
Did we miss one? If you live in the beautiful, yet brisk, state of Minnesota and have a great winter coat you feel should be added to our list of best winter coats for Minnesota, please let us know in the comment section.
Need some more Minnesota gear? Trust our recommendations to guide your next shopping trip!
Looking for Minnesota winter inspiration? Check out our Minnesota winter guide for activity ideas, winter apparel suggestion, and endless ways to enjoy the snow!
About the Author
Latest Posts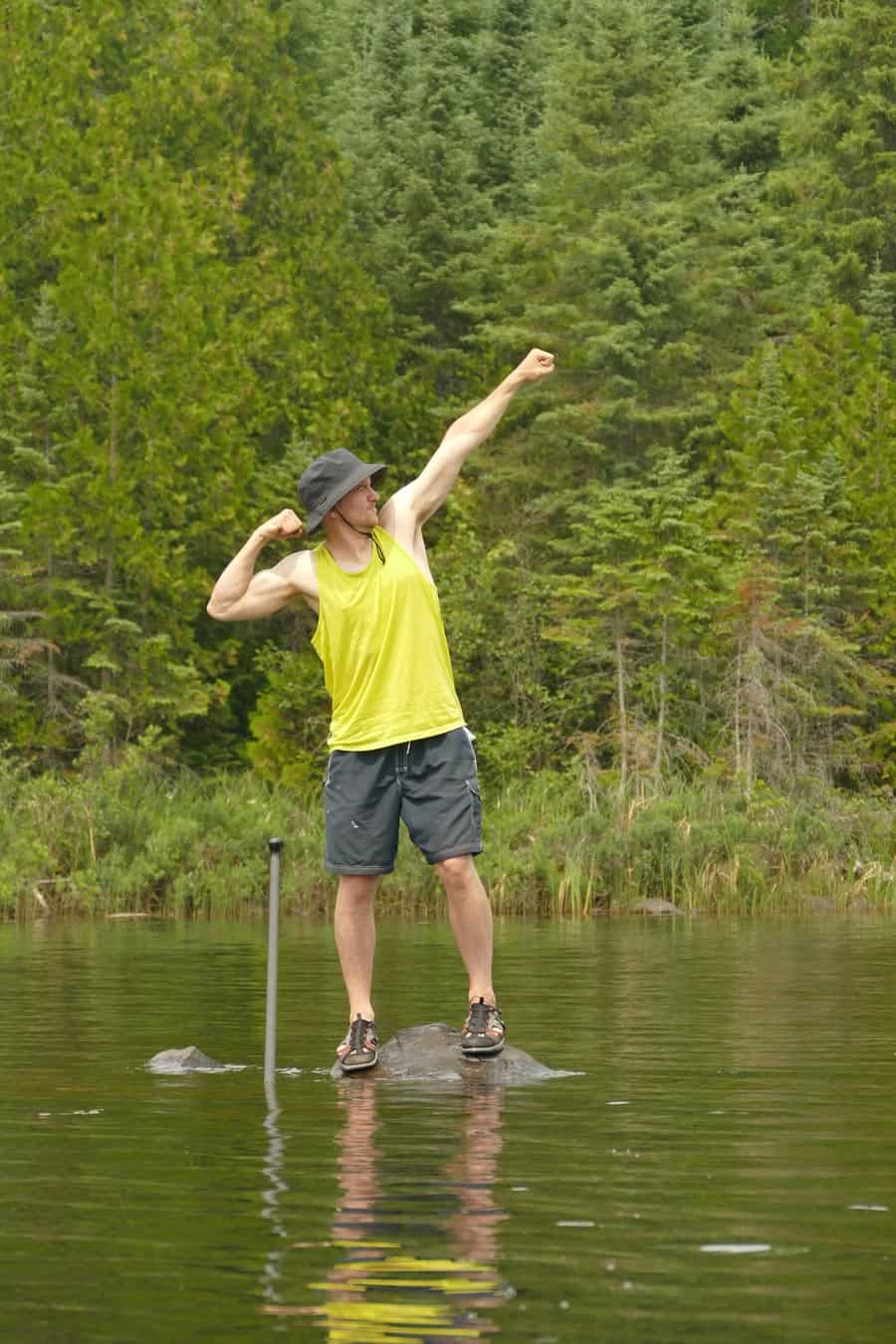 Born in Madelia, MN, to a now 5-generation Minnesota family, Ryan's MN roots go deep.
A painter by day, Ryan founded Life in Minnesota in 2013 with his wife Kelly to chronicle their musings on everything Minnesota. Ryan and Kelly are raising their 7 kiddos in Maple Grove, MN.
When he's not shuttling his kids around to hockey practice, you might find him in the shop working on his leatherwork. Undoubtedly, there will be a family trip to the Boundary Waters Canoe Area every summer, and of course weekends at Grandpa's cabin up north in the summer.